The Miune – Tenguzuka Traverse Part 4 | Staying at Okameiwa Hut
Ringed by some of the highest mountains in western Japan, the remote Iya Valley of Tokushima Prefecture's Miyoshi City offers superb opportunities for hiking. In this 6 part series, we detail a two-day hiking route full panoramic views that is accessible by public bus, with an overnight in one of the secluded mountain-ridge huts.
previous post>>
The Miune & Tenguzuka Traverse Part 3 | To Mt Nishikuma and Okameiwa Hut
The Miune & Tenguzuka Traverse Part 2 | Climbing the Mighty Mt Miune
The Miune & Tenguzuka Traverse Part 1 | A Two-Day Hike in the Shikoku Mountains
Settling into Okameiwa Hut
Perched on the side of Mt. Nishikuma and actually located just over the border in Kochi Prefecture, Okameiwa Hut is one of the nicest of the unstaffed huts along the Tsurugi Ridge.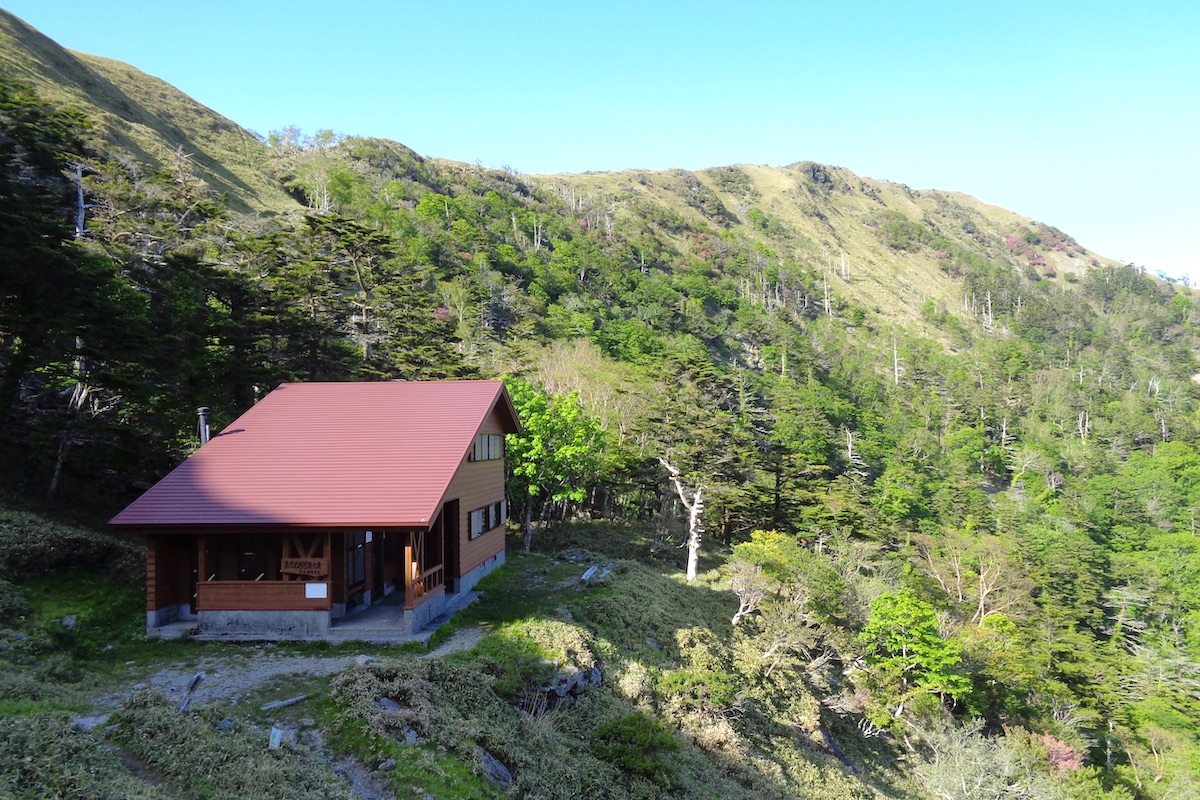 At an elevation of 1640 meters, the well maintained hut has a wonderful view of Mt Shiraga looking out to the east and an ample amount of space outside to relax and enjoy the peaceful solitude.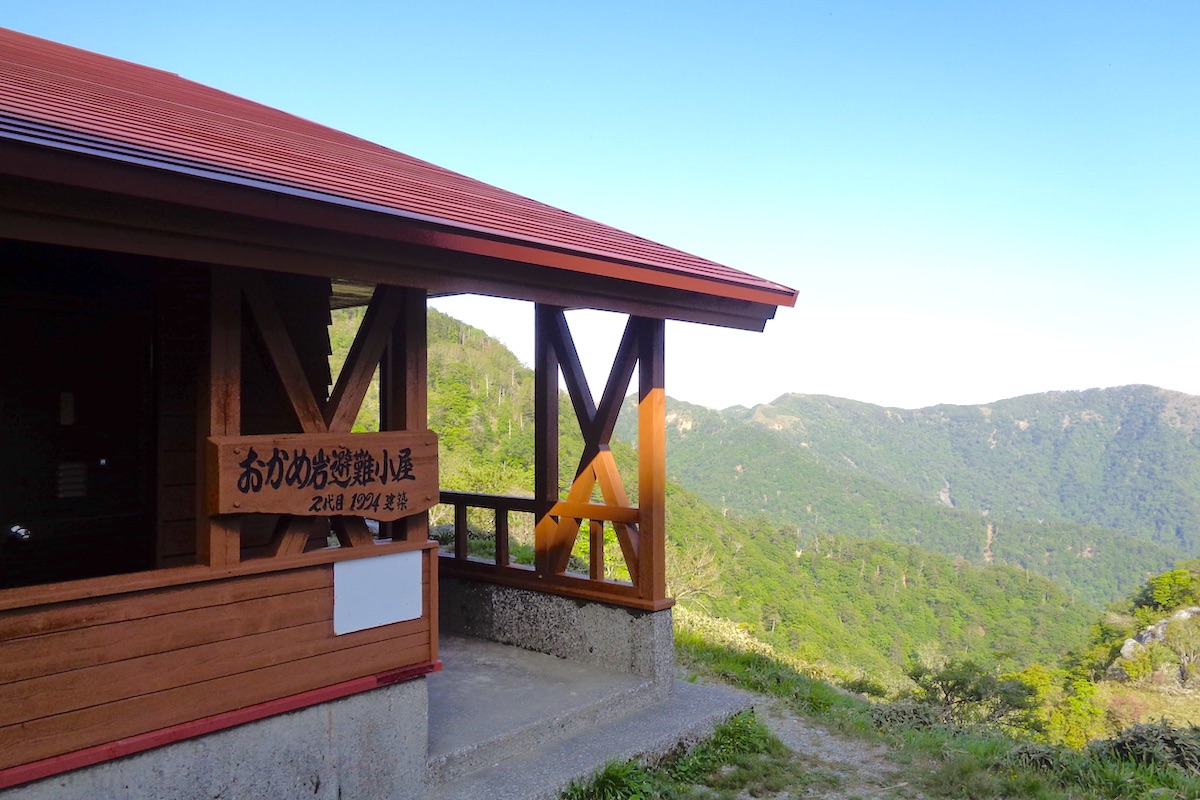 Inside, there is space for about 20 people to sleep on two floors, and enough space for a few tents outside if you prefer. Toilets are within the same building and accessed from outside.
Like Miune Hut, there is no staff and no reservations, so space is decided on a first-come basis. There is also no electricity and you need to bring all of your own cooking and sleeping gear.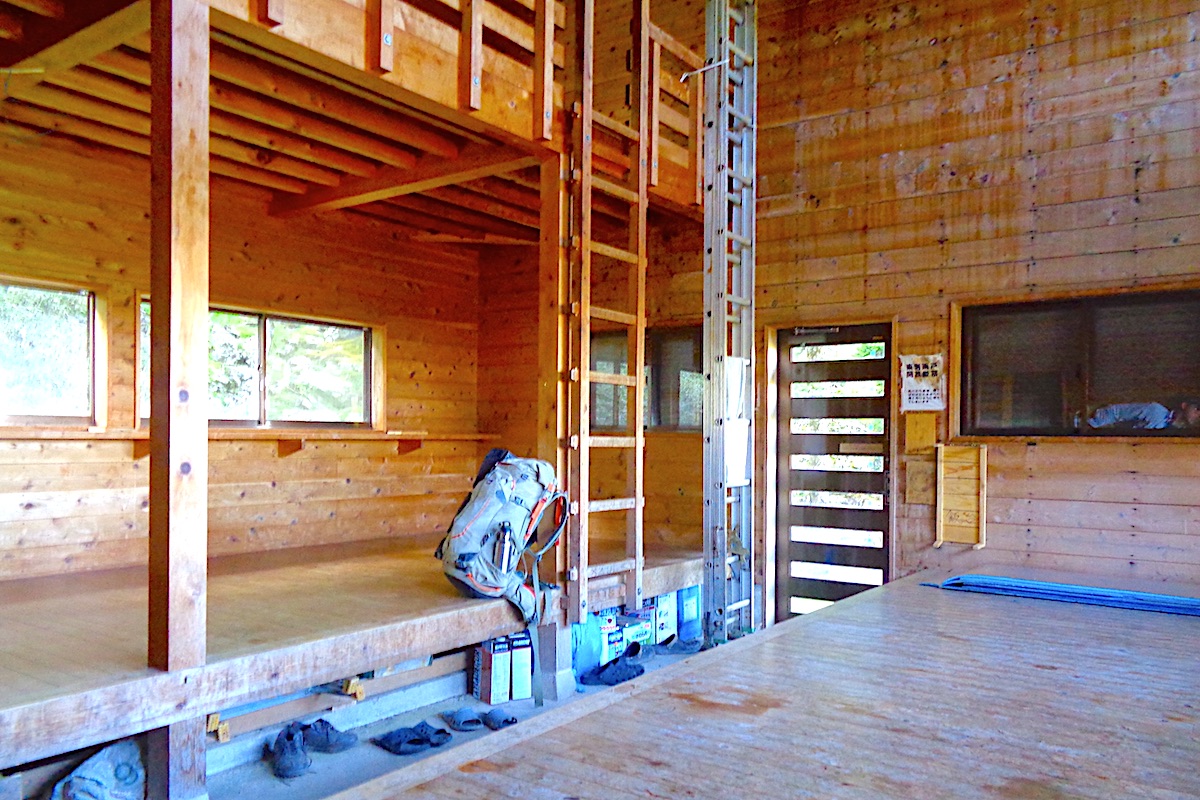 There is a water spring that can be found about 5 minutes further down the path below the hut. The area above the spring is netted off to keep out animals from contaminating the source, but it would still be advisable to treat your water before drinking it.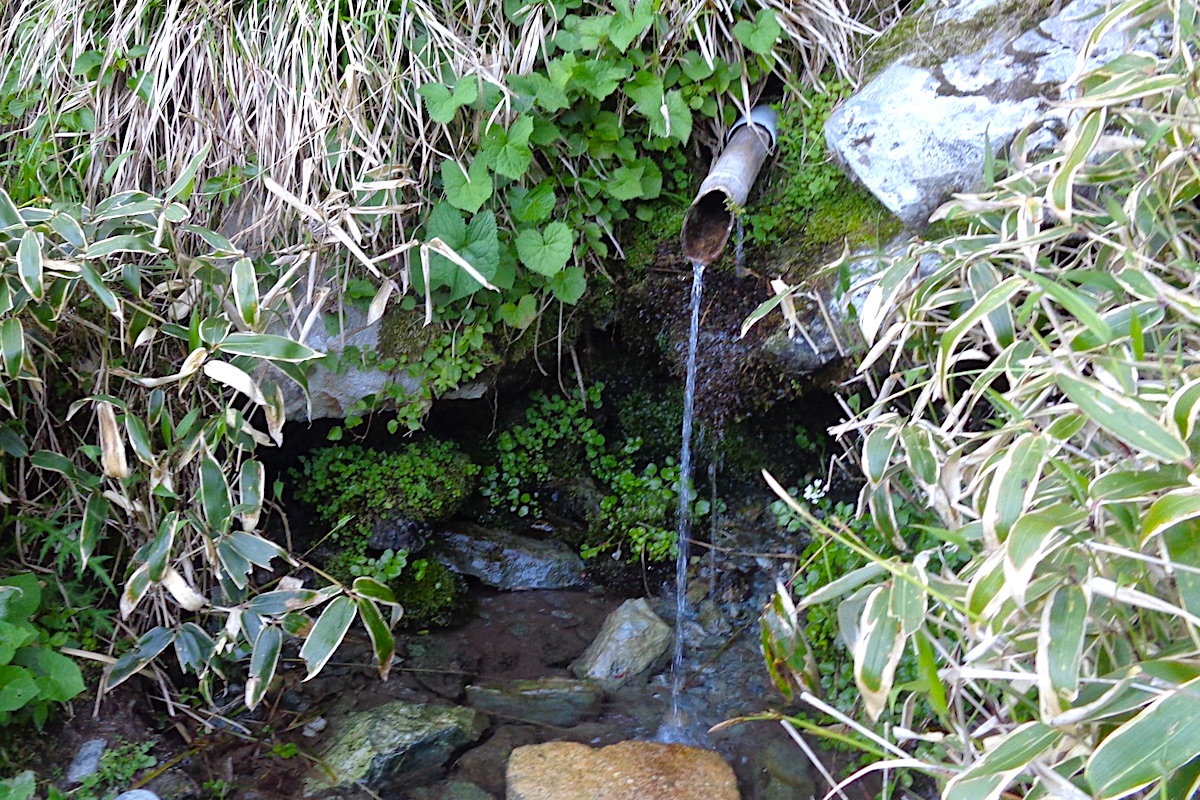 Natural warmth
But what is unique about the hut is that it has an additional entrance room that is equipped with a wood stove, which would be particularly useful if coming in a colder season. I was happy to see that the stove was replaced since I last visited several years ago, because the previous stove was in pretty bad condition.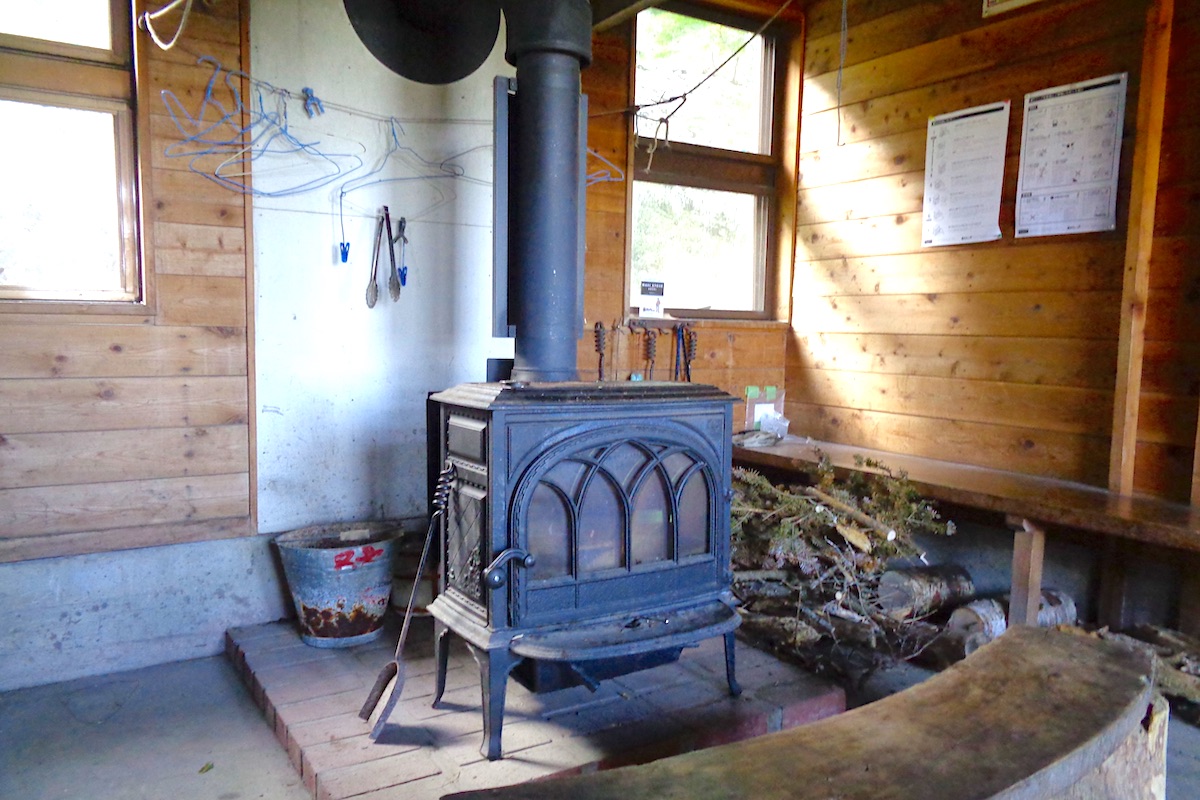 Do note, wood is limited and you should only use the stove if it is truly necessary, and be extra cautious if you do. I knew that I would be using the stove so I brought in a few pieces of my own dry wood to burn so as to avoid depleting their small supply.
After getting water and taking a bit of a break, I went about making some dinner, which tonight would be some instant ramen mixed with some pre-chopped vegetables and a hard boiled egg. There are several square wood coasters around that signs ask you to use under your cooking stove canister so that they do not leave a permanent water-mark on the wood surfaces.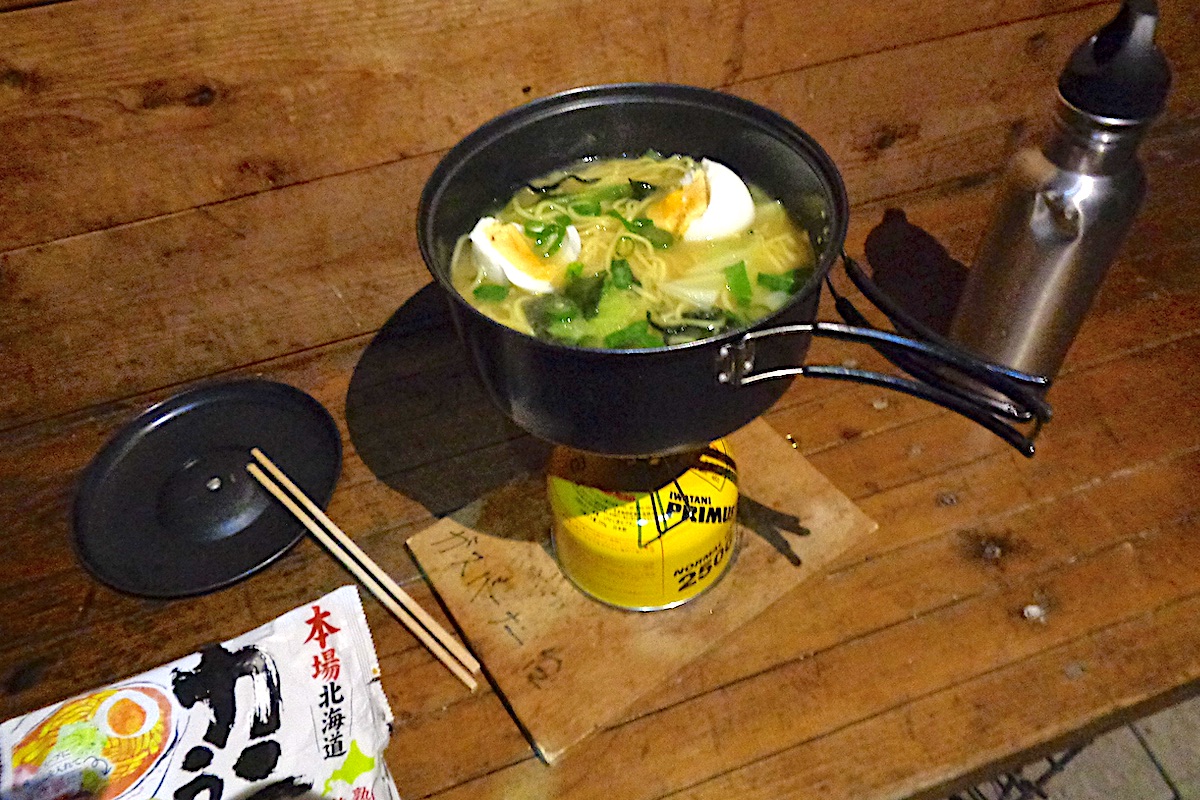 Enjoying a tranquil evening
Since it was early June, the daylight lasted till after 7pm, but in order to see the sunset here it is necessary to hike a couple minutes back up to the ridge. So as dusk began I set off up the trail.
As I came to the top I spotted 7 or 8 deer bouncing off through the pasture of sasa grass. Unfortunately, I wasn't fast enough with my camera to photograph any of them.
But regardless, the setting sun was still a beautiful spectacle.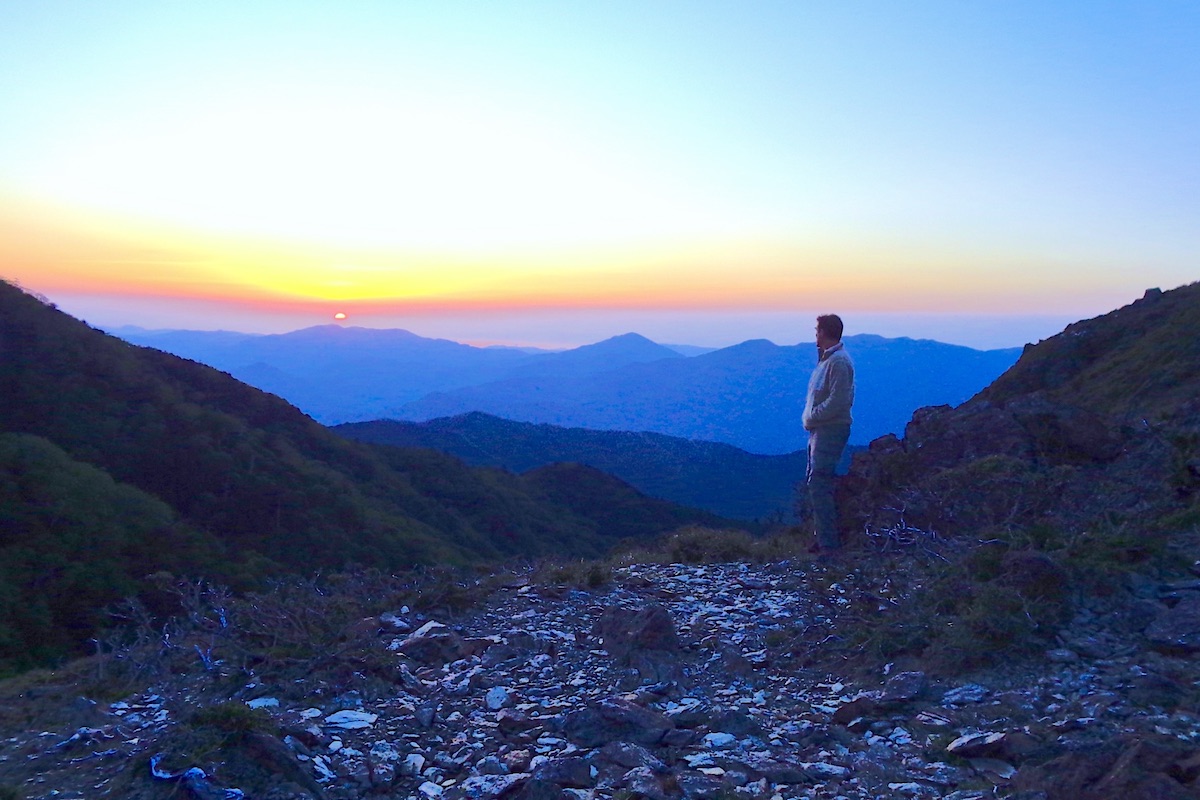 After getting back to the hut I lit the fire in the wood stove, but first I cleaned out all the ash (including in the drawer below). It worked well, and even though it was now about 6 or 7 degrees outside (43F) I only needed to burn it for about an hour to fully heat up the small room. As a treat, I also made some popcorn on my camping stove to enjoy by the fire.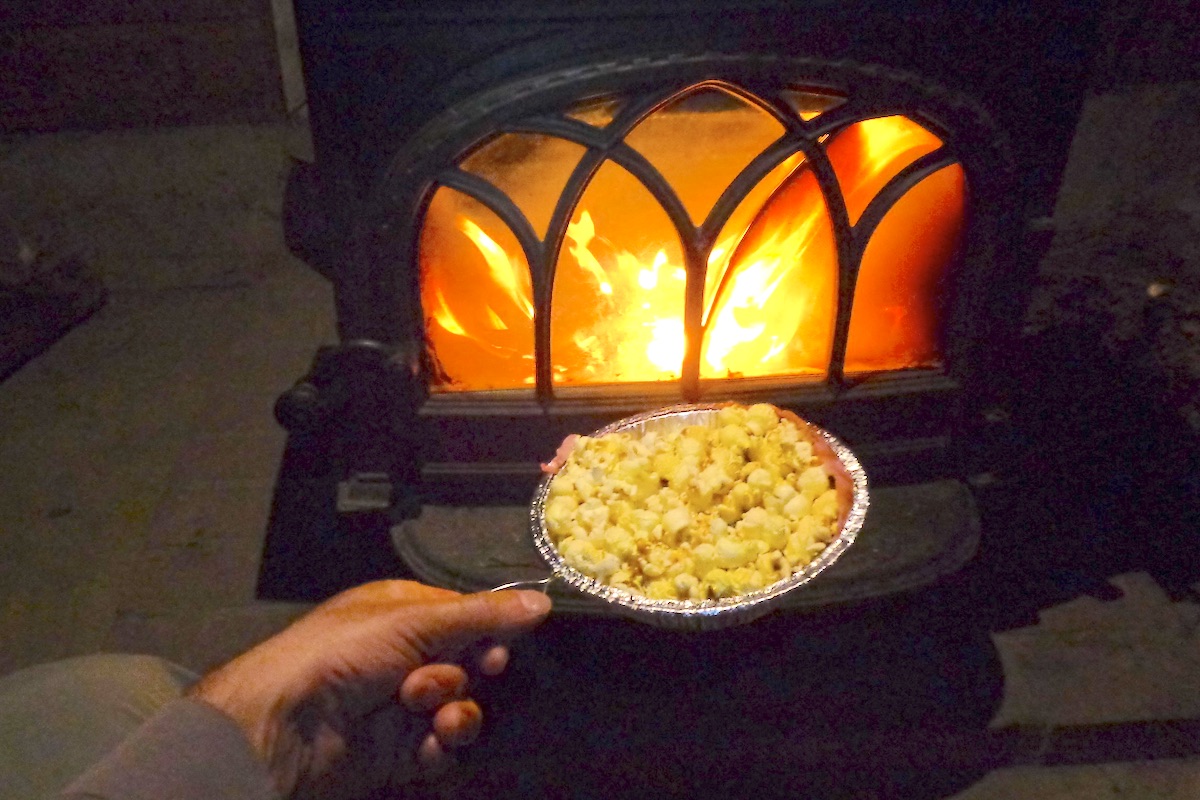 Things that go bump in the night
Before going to sleep, I spent some time outside to enjoy the starry night. Off from out in the darkness the gentle croaking of frogs in the stream below filled the air.
I slept well, but was awoken a few times by the sound of things scurrying around in the stove room. I was the only person staying there that night and I was sure to clean up everything well, but all mountain huts are notorious for having mice.
Therefore, be sure to put all of your food, trash, and anything with an odor (like soap) into a bag and hang it from either a hook in the ceiling or from one of the clothes lines that are around.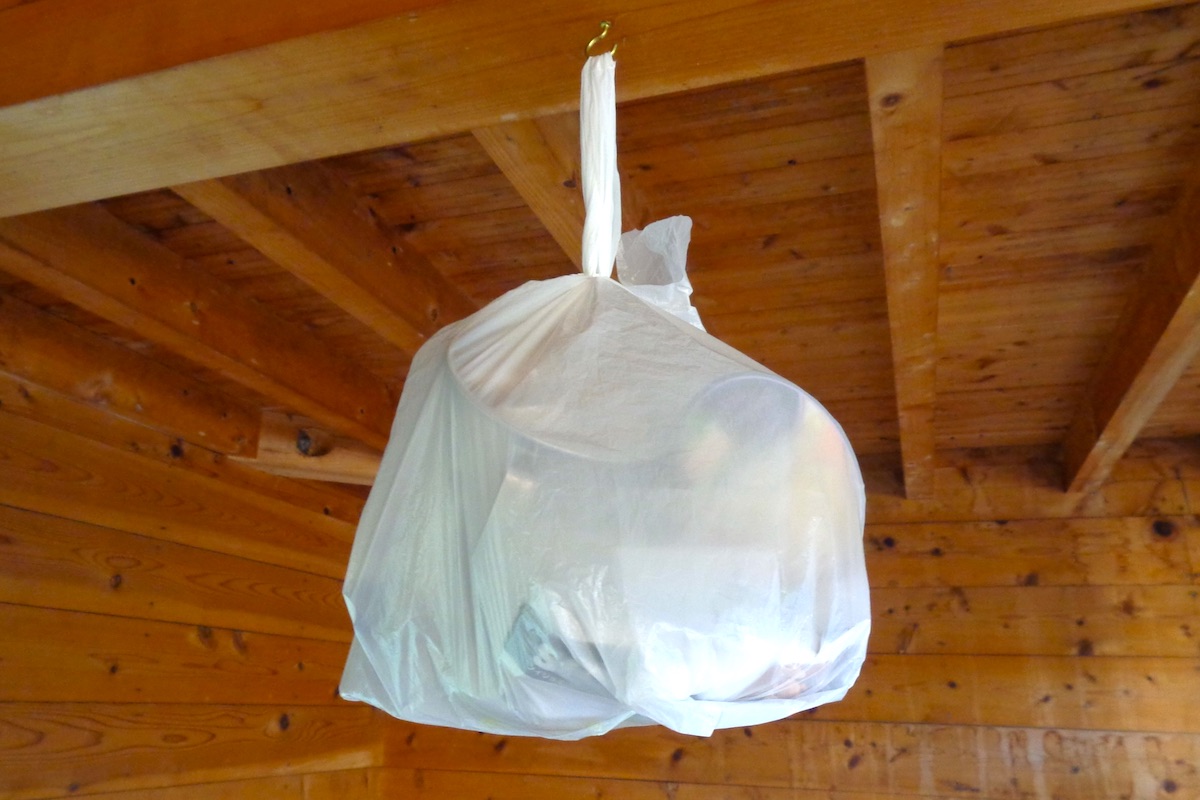 Many people do not realize the benefit of doing this only to find out the next morning that their food had been invaded overnight by a hungry little critter.
In Part 5, I set off the next morning for Mt Tenguzuka.
next post>>
The Miune & Tenguzuka Traverse Part 5 | Encountering Mt. Tenguzuka
More Information:
For more info about this trail, including interactive maps in English, check the Mt Miune page on the IyaTime website:
https://www.iyatime.com/mt-miune
(Text & Photos by: Shaun Lamzy)