Exploring Oboke Gorge – Part 2 | A Place for Food, Fun… and Monsters?!
The thrilling cliffs of Oboke Gorge are formed by the mighty Yoshino River as it cuts its way through the rugged mountains of western Tokushima Prefecture in central Shikoku. Home to dramatic scenery, strange legends, and enchanting experiences, there is a lot on offer in this impressive natural monument.
【Previous post】
>>Exploring Oboke Gorge – Part 1 | A Natural Wonder of Miyoshi City
Arriving at JR Oboke Station
The main way many people access Oboke Gorge is via train, and the JR Dosan line goes completely through the gorge, with hourly limited express trains connecting to Kochi City in the south and to Takamatsu and Okayama in the north.
The cute little Oboke Station has a nostalgic feel, and as soon as you step off the train you will immediately feel that you are in a remote place.
The station building is small, and inside is a waiting area as well as some coin lockers and a variety of free local maps and brochures in English.
Just across the train tracks from the station building is a pathway that goes to a lovely viewpoint that overlooks the Yoshino River and the nearby Oboke Bridge.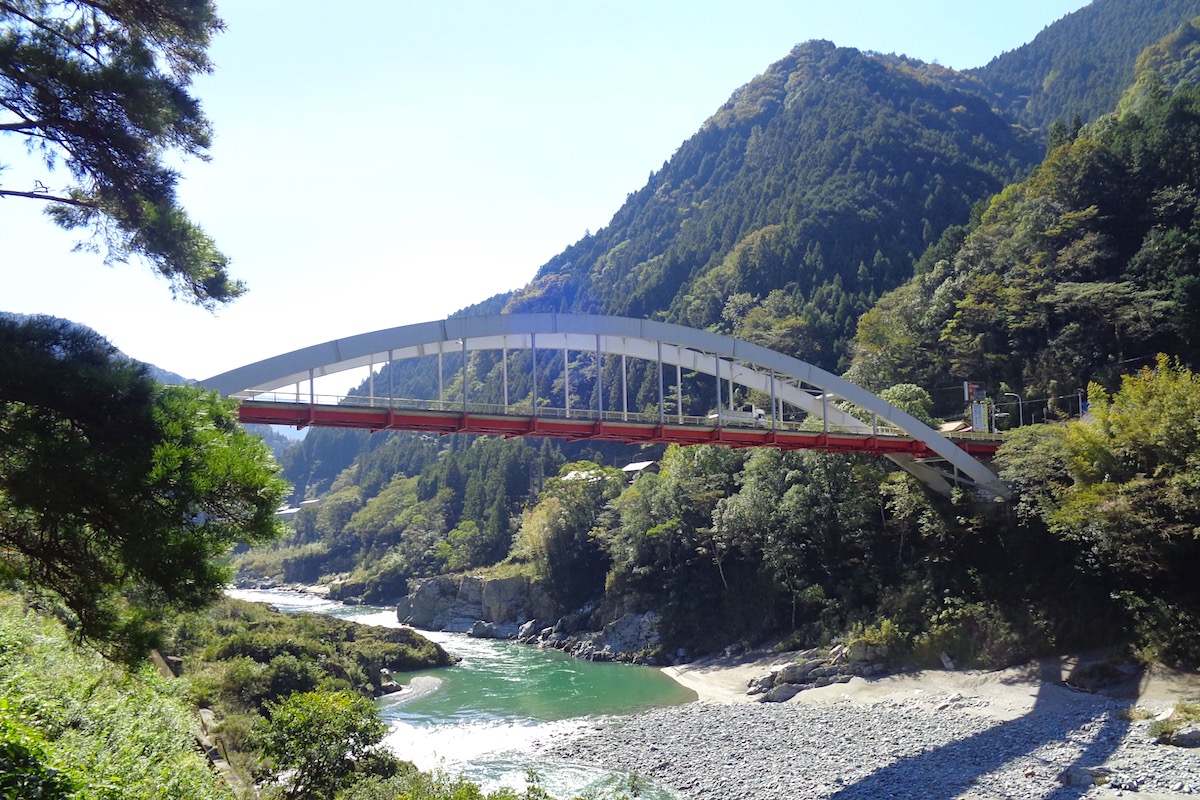 And surrounding this viewpoint pathway is a dense row of cherry trees which are usually in bloom during the final days of March and into the first week of April.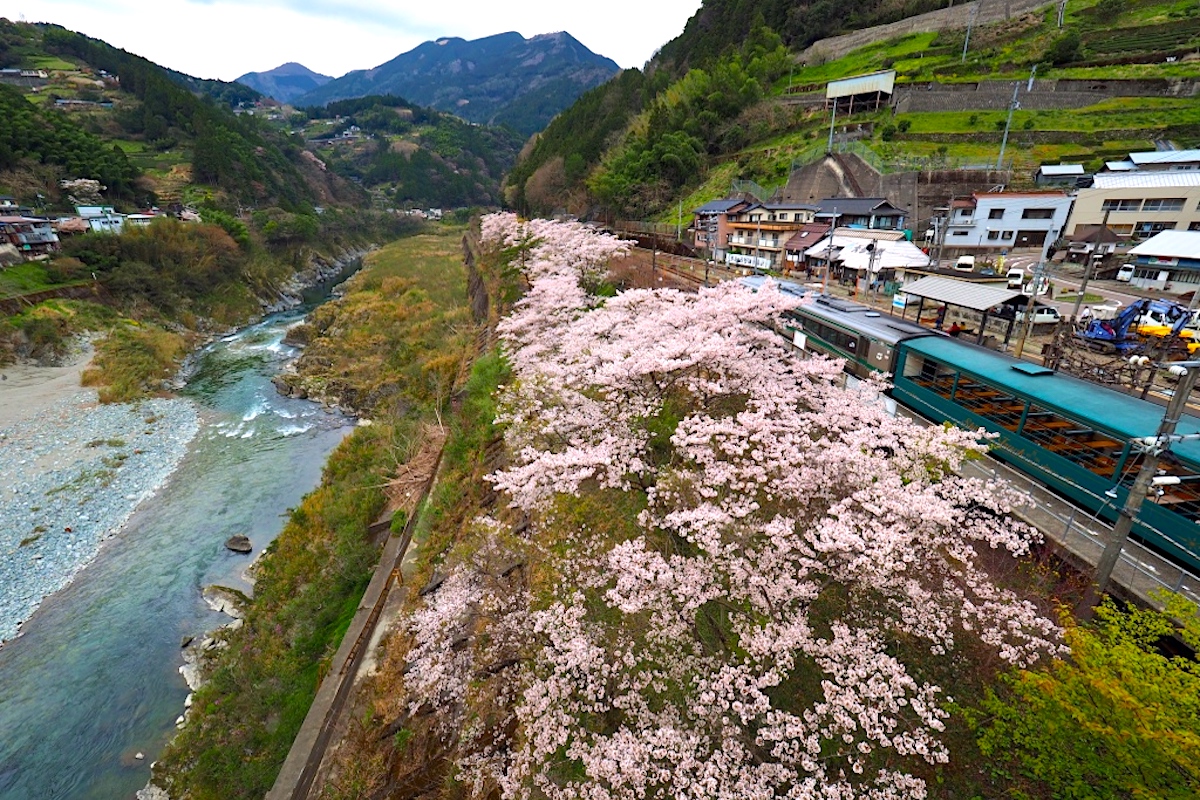 Also, in the evenings during cherry blossom season, special spot lights are set up to illuminate the trees into the night, giving the station area a lovely atmosphere.
Enjoying the local tastes
A short walk just up the hill from Oboke Station is a grocery store and cafe called Boke Mart.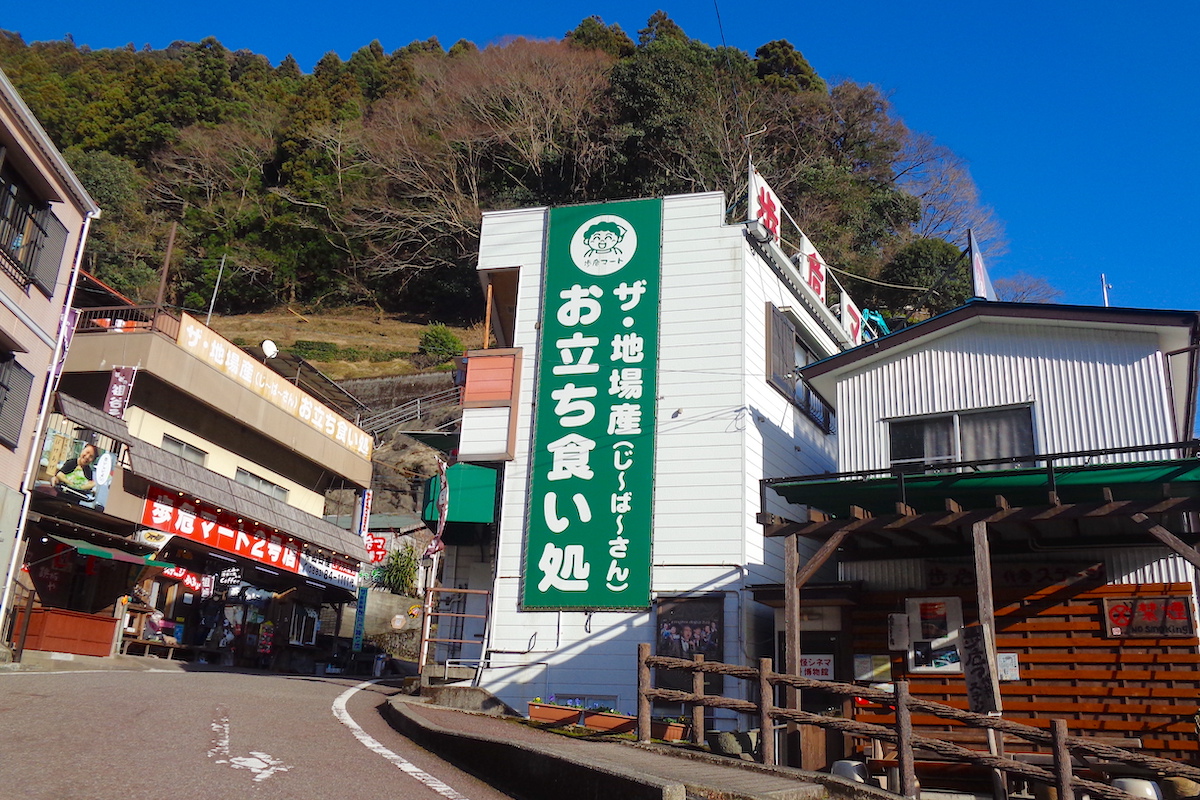 Though it is small, it is one of the biggest stores in the area and popular with the local people. They have a wide variety on offer, including bento lunch boxes, fresh local foods like Iya "stone" tofu and konnyaku (yam gelatin), and their signature creation called "Boka-age" which is a gigantic piece of deep-fried Iya tofu.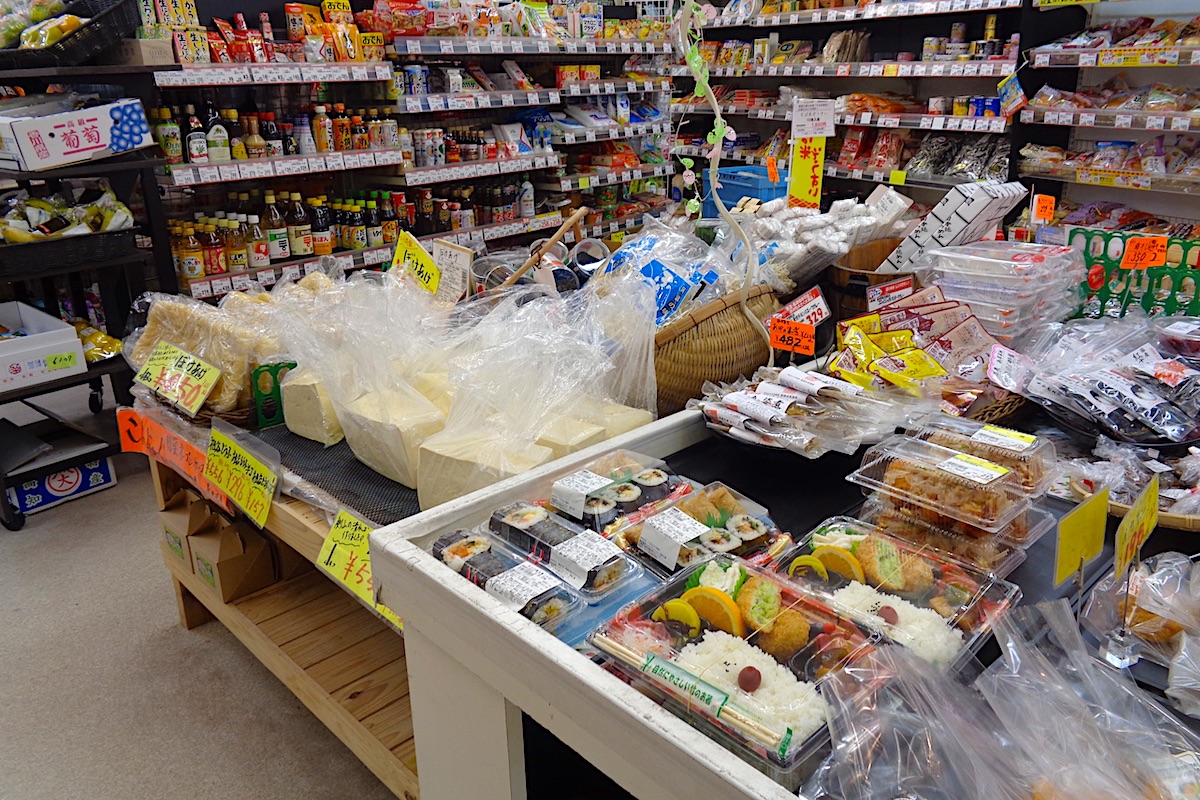 Across the street from the grocery store is their cafe, which serves hot and cold drinks as well as bowls of Iya soba noodles and other dishes.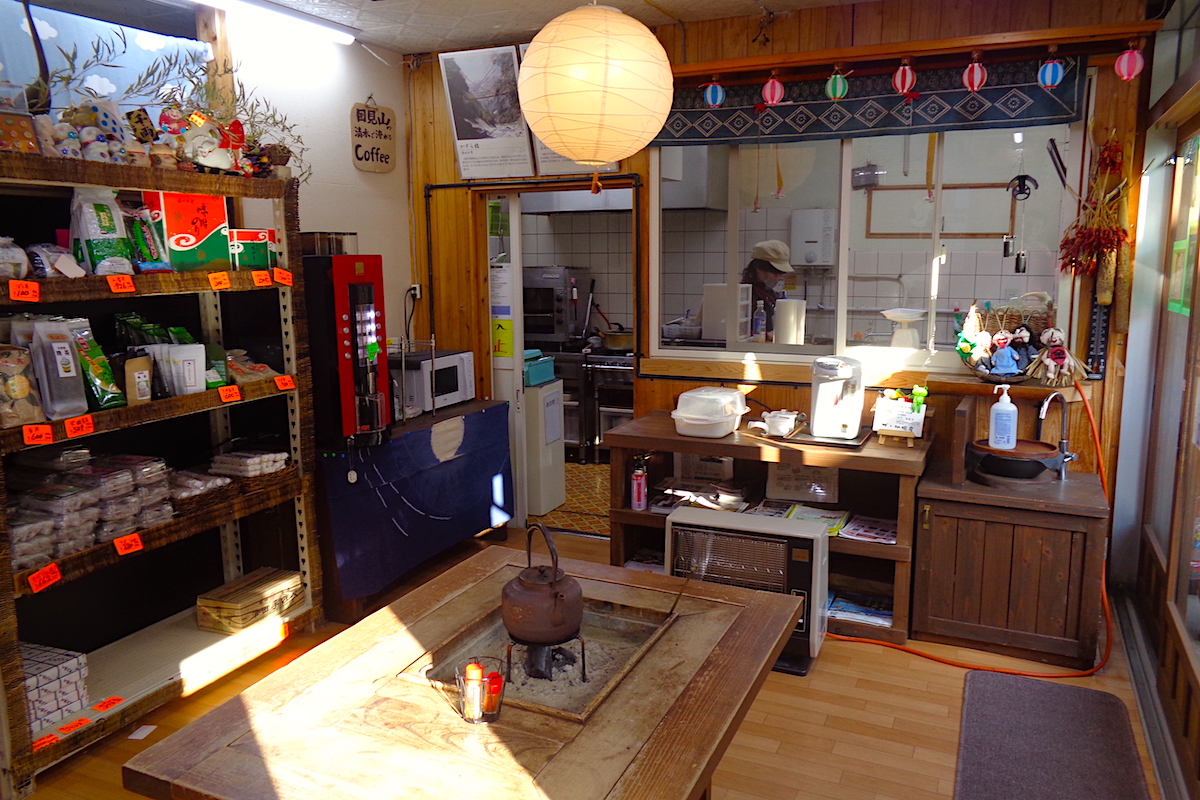 If looking for a nice place to relax, just across the bridge from the station is a cafe named Hanan Coffee, which has a wide variety of freshly made drinks on offer.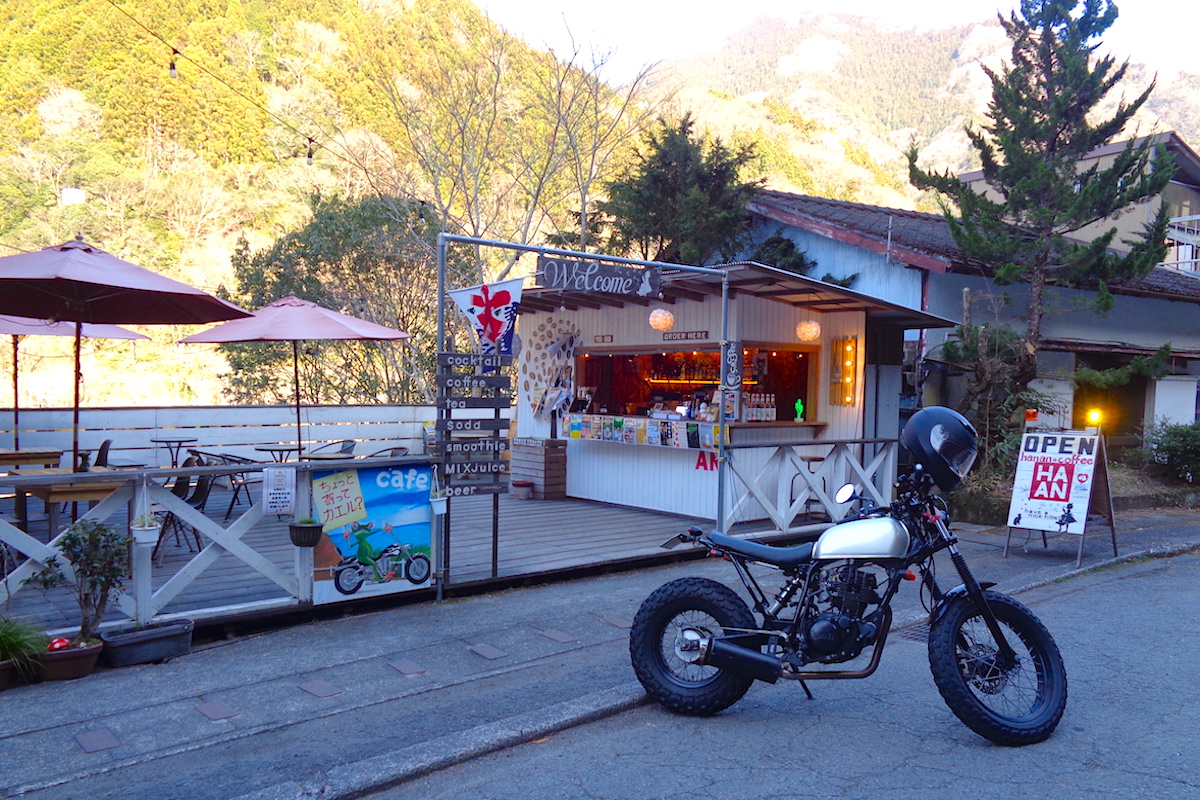 They have both an outside terrace space overlooking the river, which is delightful on summer days, as well as a snazzy indoor space next to here which has a stylish retro decor.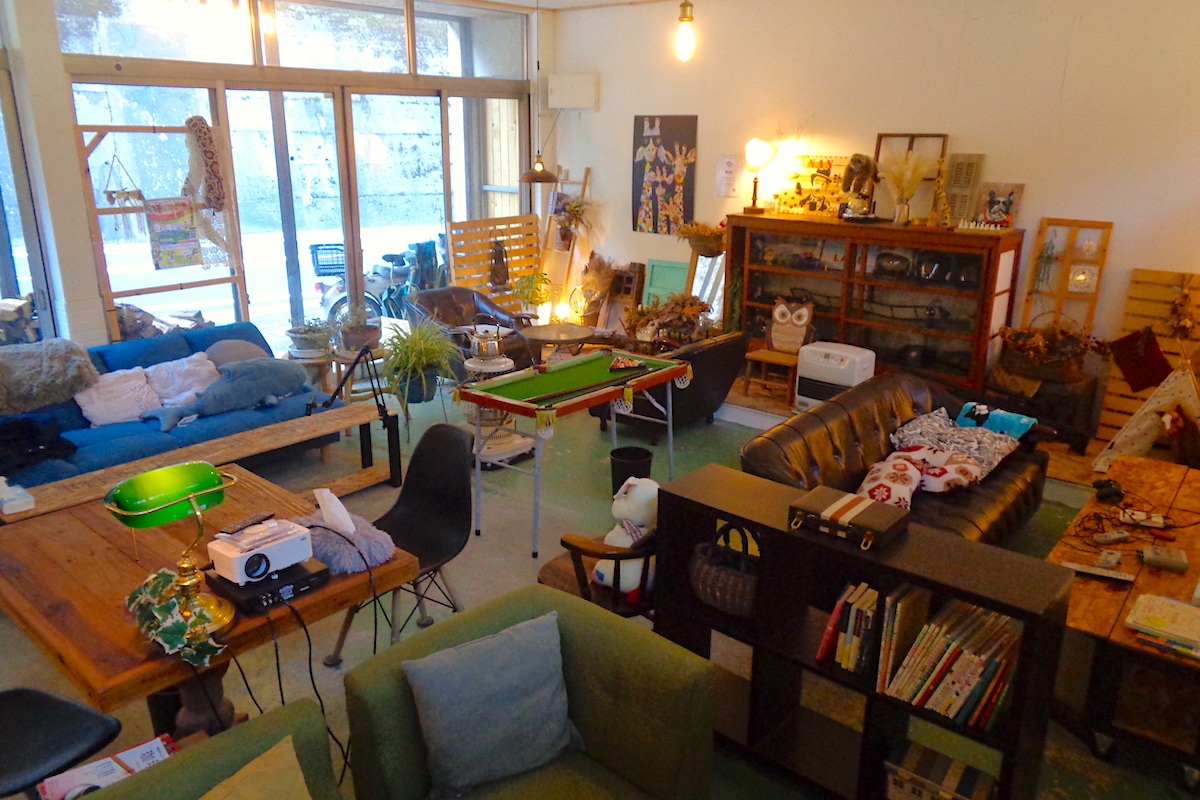 It's easy to pass your time here in the colder months next to their wood stove while enjoying fun things like their collection of board games and even classic TV games.
And if looking for a unique place for lunch, about a 15 minute walk (1 km drive) down the road from the Oboke Bridge on Rt 32 is the Michi-no-Eki Oboke (Roadside Station).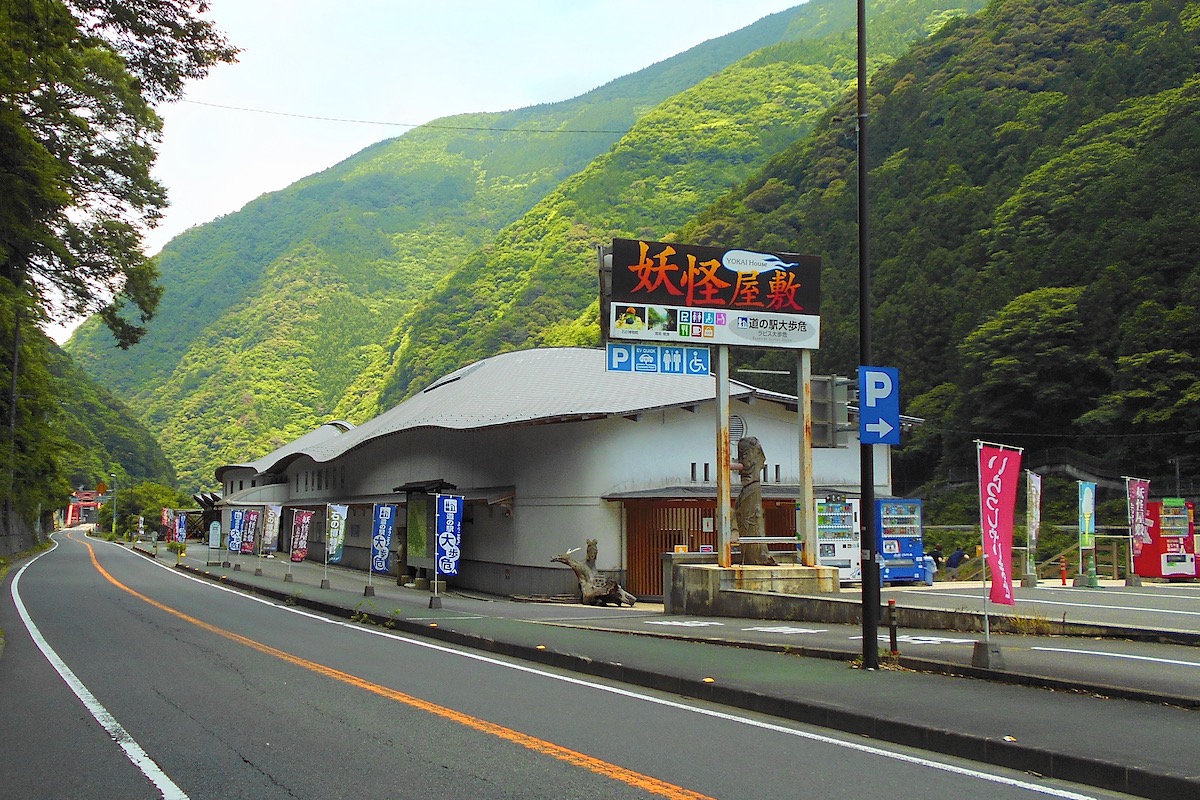 In here you can find a variety of souvenirs and local information, as well as a restaurant called Cafe & Jibie (Cafe & ジビエ).
In Japan, the term "jibie" refers to wild game meat, and that is what is on the menu here.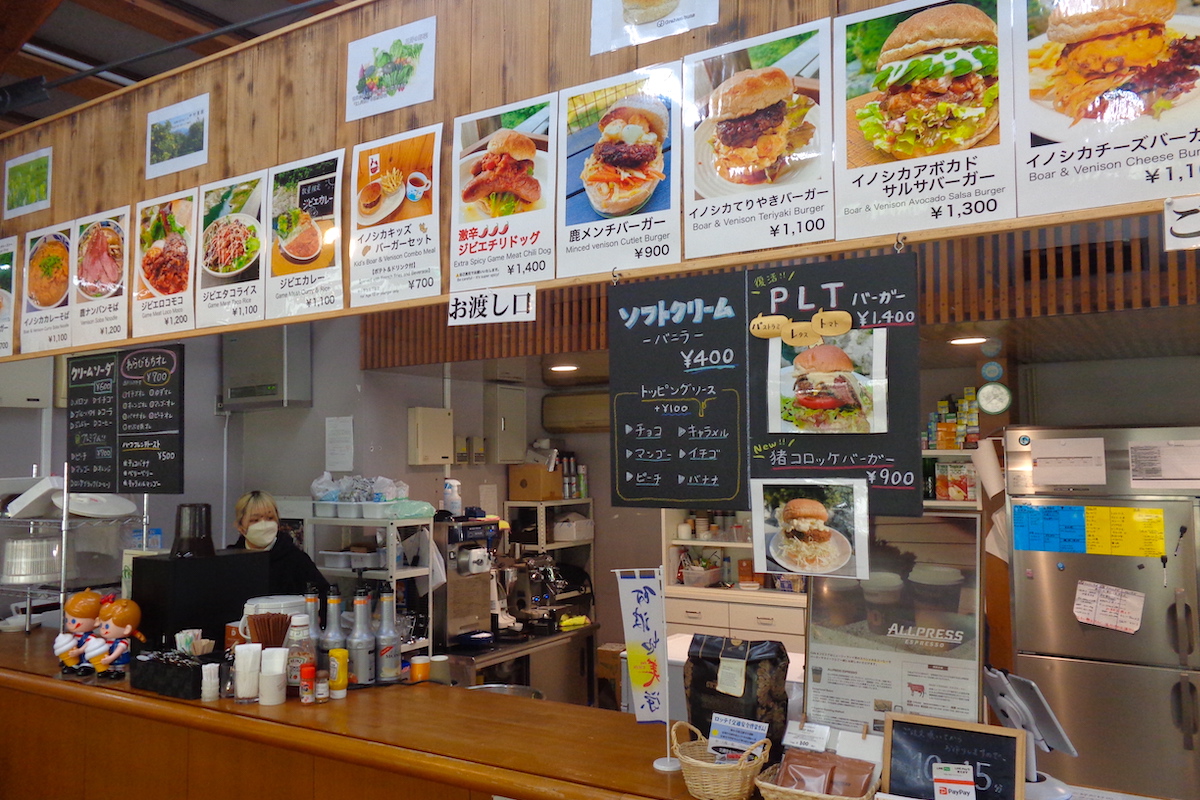 They serve a range of burgers made with locally hunted deer meat, as well as fried potatoes, and a variety of other dishes and drinks. And with fantastic views overlooking the Yoshino River and the rugged Oboke Gorge, it is definitely a great place to connect with the landscape.
Discovering the legendary monsters of Oboke
Also inside the Michi-no-Eki Oboke is the "Yokai House". In Japan, "yokai" are legendary monsters which all have their own unique characteristics and super powers, and there are literally hundreds (maybe even thousands) of these fabled creatures that just about any child would know.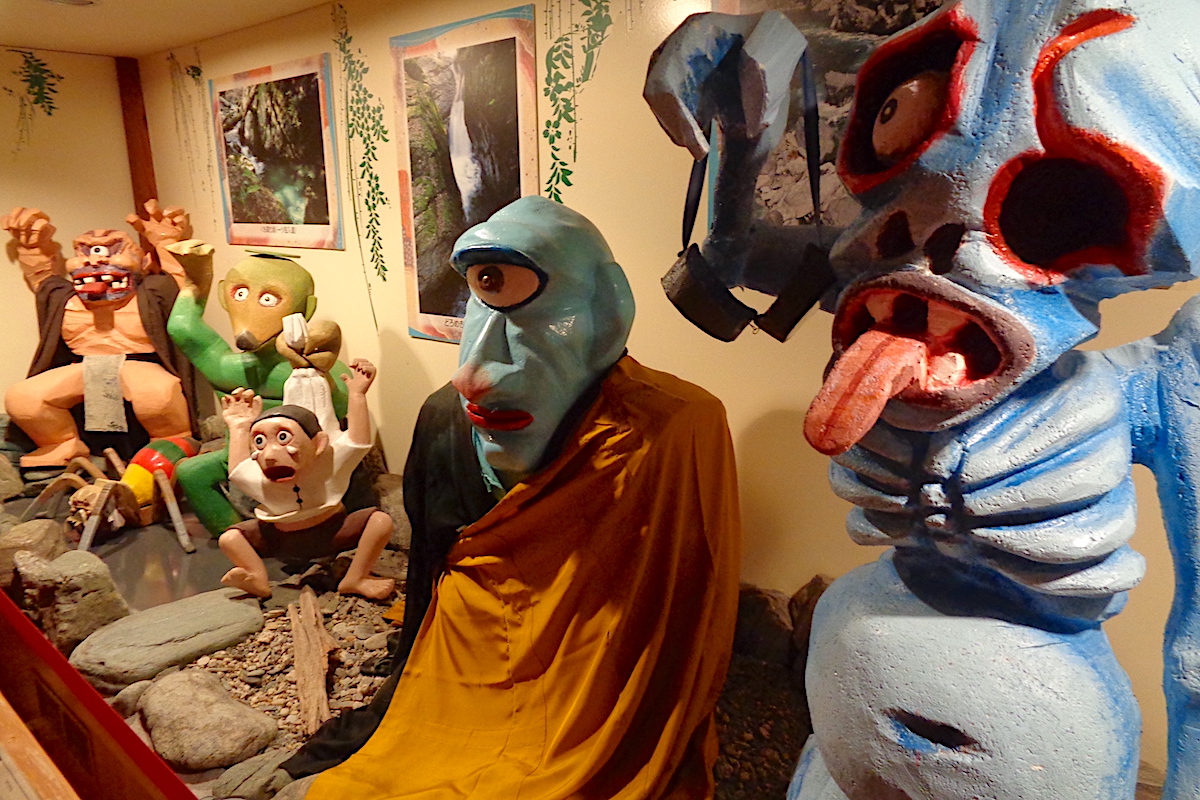 And being that the steep cliffs of the gorge have historically been considered a pretty scary place, many of these nationally known yokai originate from the Oboke area.
Accordingly, the Yokai House here is where to go in order to find out about these spooky monsters. Part museum and part interactive play place, the extensive displays in here also have English language explanations.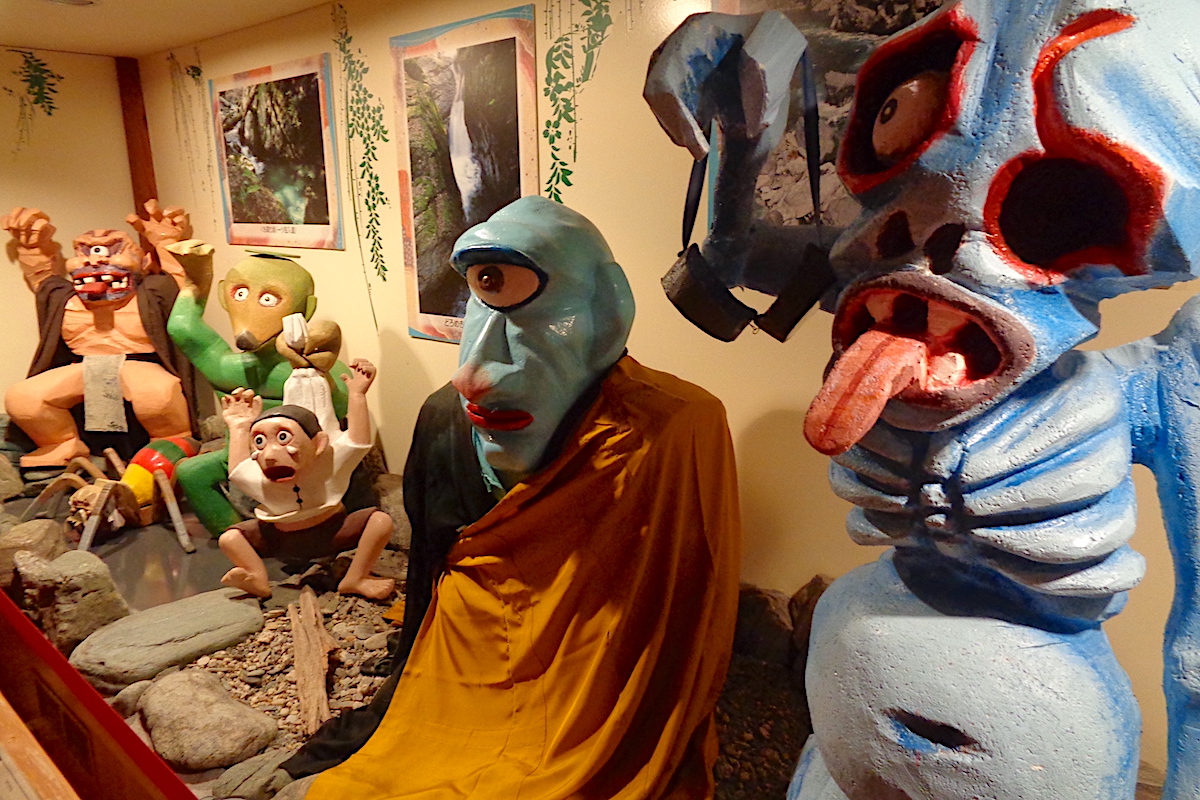 Upstairs within the Yokai House is the Lapis Oboke Stone Museum. The collection of geological wonders and exhibits here is actually pretty impressive, with rare crystals, geodes, and fossils coming from not just Oboke Gorge but also from places around the world.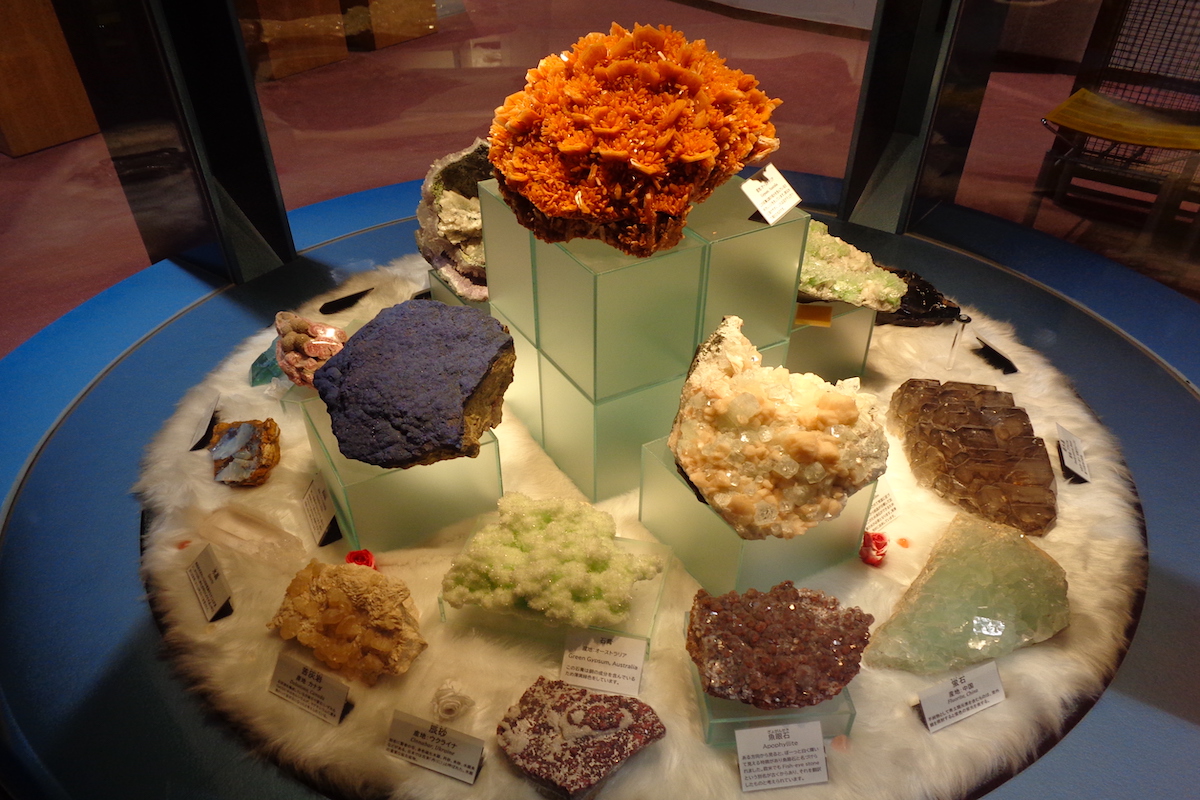 But even if you do not go to the Yokai House, it is likely that you will see images of yokai all around the area. One of the most famous Yokai from Oboke is called "Konaki-Jiji", and a carved wooden statue of him is set up at the entrance to Oboke Station, greeting all visitors as they arrive.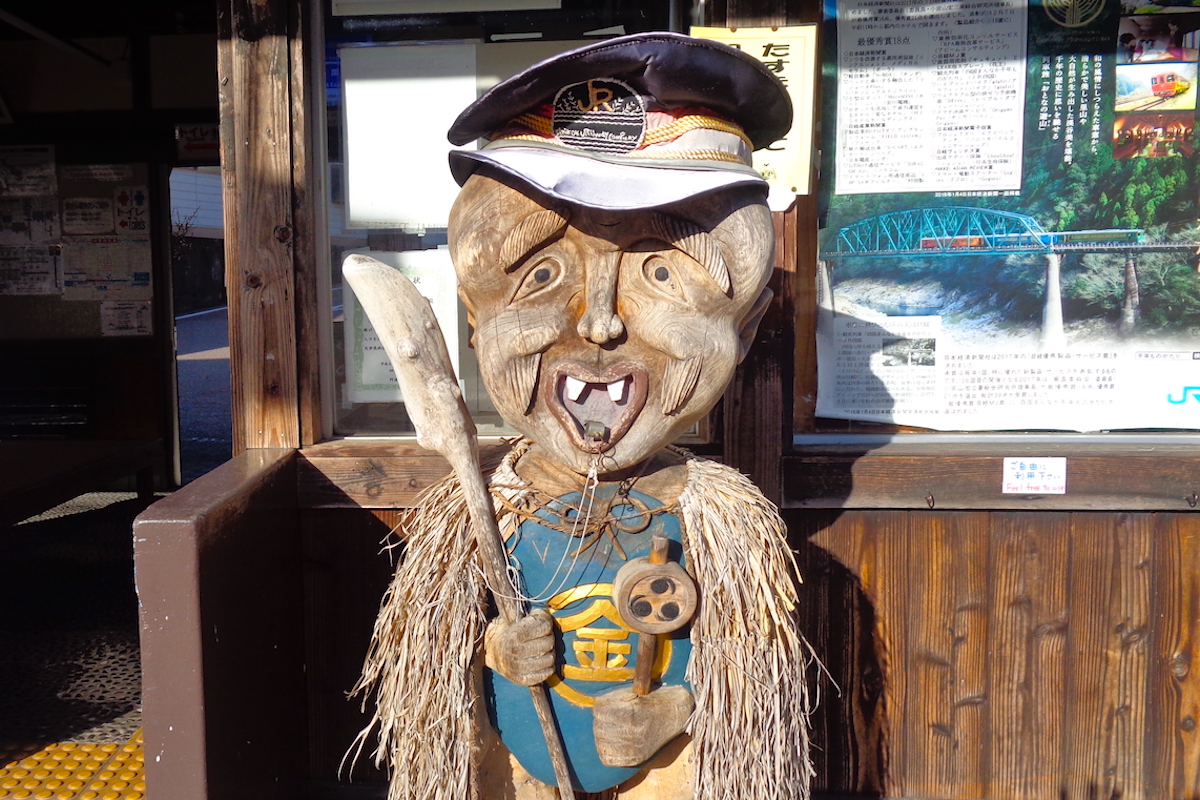 No doubt, there is something for everyone to enjoy within the Oboke Gorge area, including delicious local foods, whimsical myths, and of course, "gorgeous" views.
For more info about Oboke Gorge
IyaTime Travel Website
https://www.iyatime.com/oboke-koboke
Boke Mart
http://www.bokemart.jp/index.html
Hanan Coffee
https://www.instagram.com/hanancoffee0013/
Cafe & Jibie
https://www.instagram.com/cafe.and.jibie/
Michi-no-Eki Oboke and Yokai House
http://wx07.wadax.ne.jp/~yamashiro-info-jp/cp-bin/wordpress/
(Text by: Shaun Lamzy, Photos by: Shaun Lamzy & Miyoshi Tourism)