The Shikoku "Yukigassen" Snowball Fight – Part 2 | The Heat of the Battle in Icy Conditions
The 19th annual "Yukigassen" Snowball Fight Tournament was held recently in the deep mountains of Miyoshi City's Iya Valley. With lots of snow on the ground, teams from around the region as well as from across Japan came in to challenge themselves in this unique winter competition.
【Previous post】
>>The Shikoku "Yukigassen" Snowball Fight – Part 1 | A Winter Event in the Iya Valley
Too much snow for a snowball fight?
With its mountainous landscape, snow is not uncommon for the Iya Valley, but the heavy snow that occurred both before and during this year's Yukigassen tournament was a bit more than usual.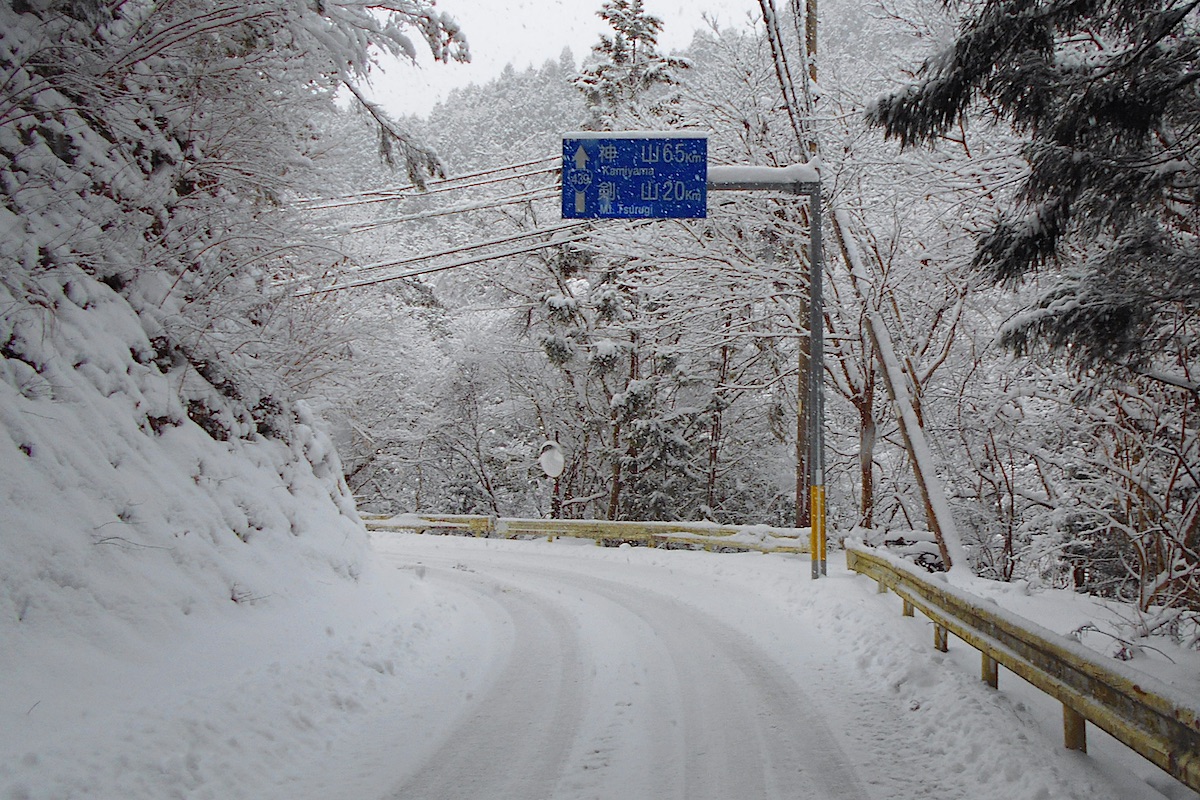 Actually, the severe weather conditions extended well beyond the Iya Valley, and unfortunately it proved too difficult for a few teams from outside the area to travel in, so they couldn't make it. But most teams succeeded in reaching the competition without issue as well as all the local staff and food vendors.
Playing in the Yukigassen tournament
Though the idea of a snowball fight may seem like a simple children's game, the teams at the Yukigassen were pretty well organized, and they made strategic plans for how they could win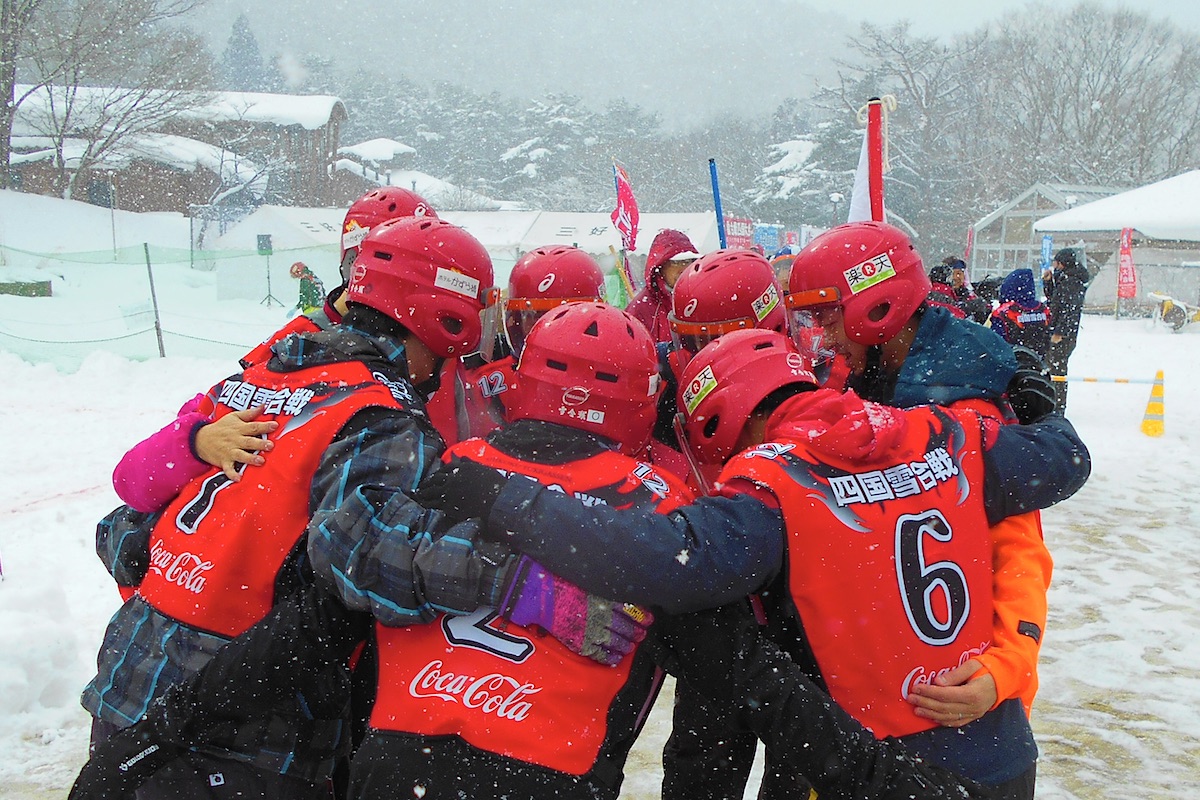 Of course, good aim and throwing speed are certainly helpful, but with the slippery field, various barriers to hide behind, and a limited number of snowballs allowed, having some strategy is equally important, as well as the ability to nimbly dodge oncoming snowballs.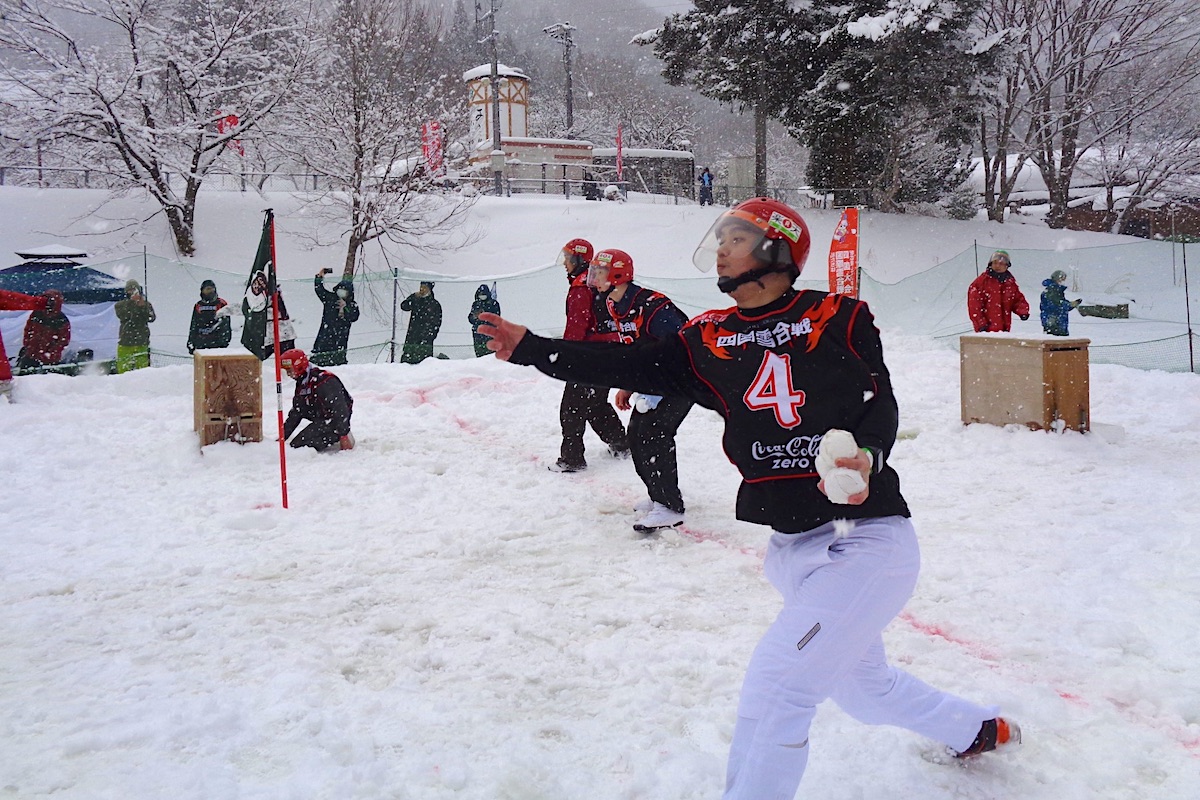 With referees watching on intensely to check if anyone gets hit or even step out of bounds, along the sidelines the coaches called out plans to players hiding behind the barriers. Sometimes just peeking a few centimeters out around a barrier was enough for a well placed throw to hit someone in their helmet.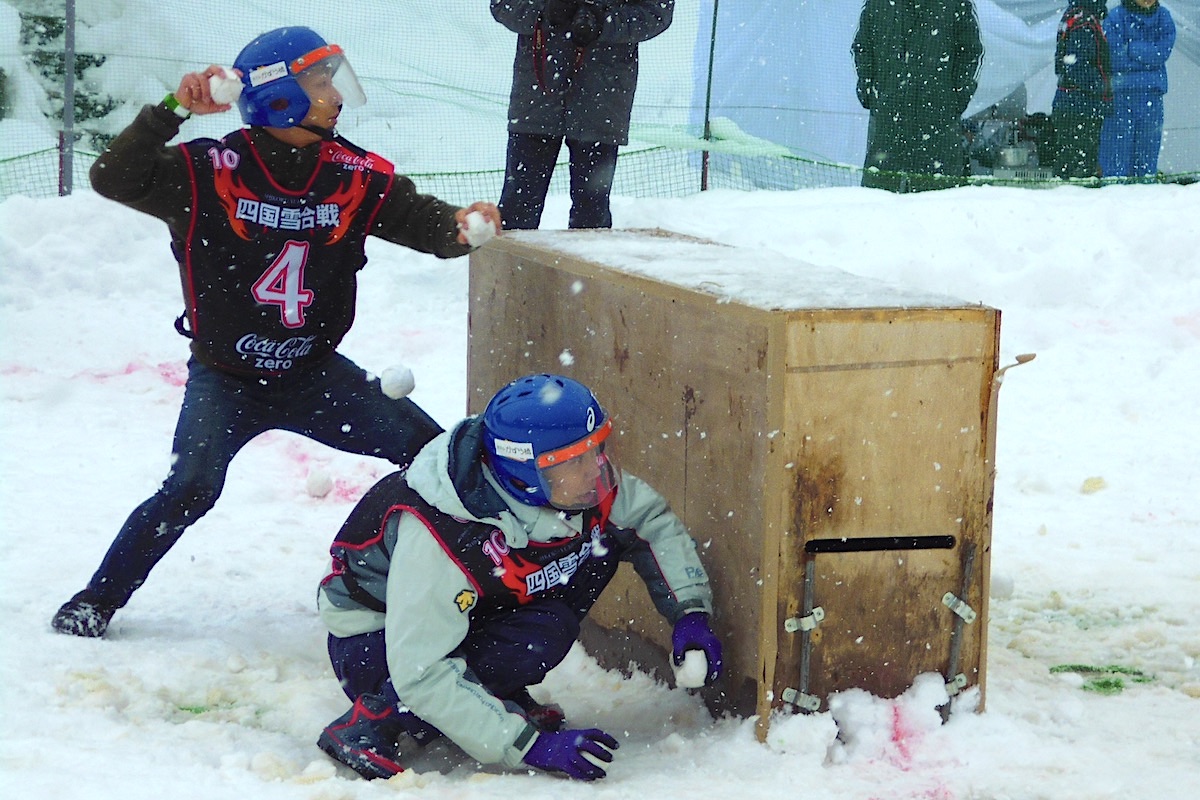 Players coming from far and wide
Even though not all the teams could manage to reach the competition due to the weather, it wan't just the local teams of Miyoshi which were here. Teams from all four prefectures of Shikoku were able to come, as well as from other parts of Japan.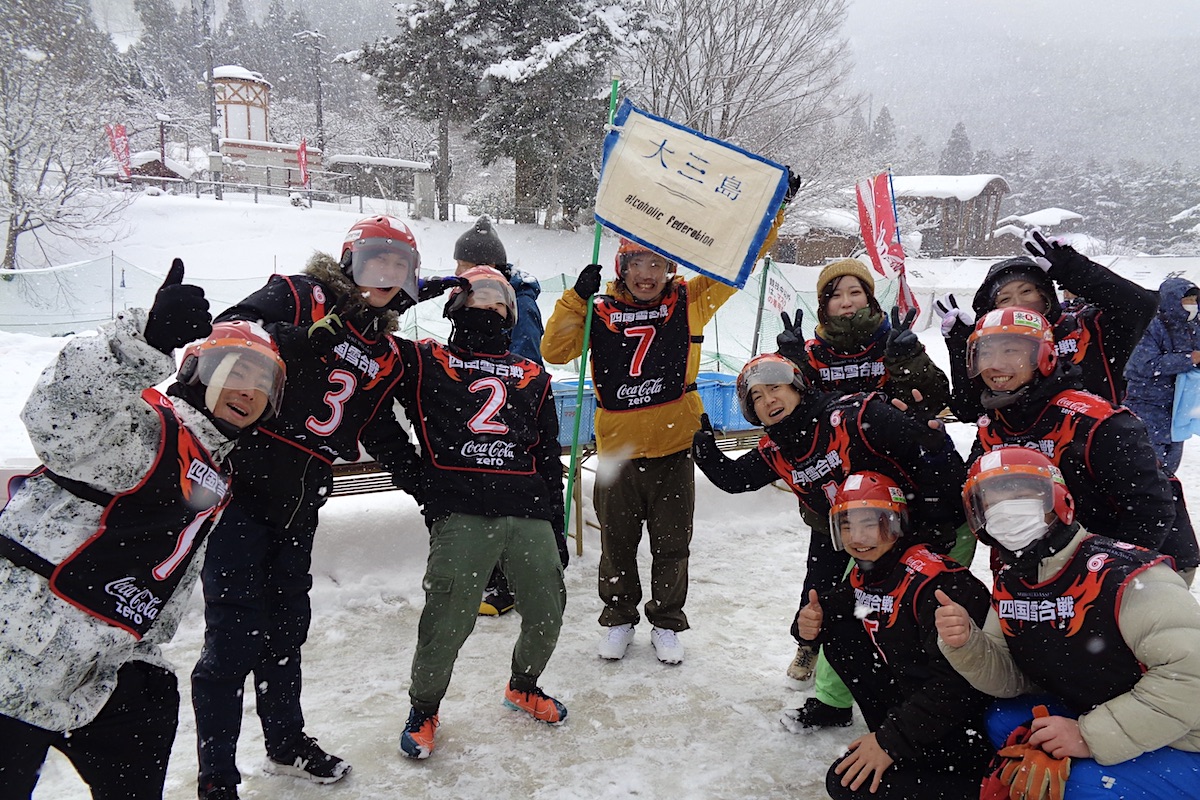 "This is not just my first Yukigassen experience but also my first time visiting the Iya Valley," explained Ryoji, who was a member of Team Circle K. I met him with his team as they were eating some steamy bowls of Iya Soba noodles, and like most of his teammates, he had flown in from Tokyo the previous day to specifically take part in the tournament.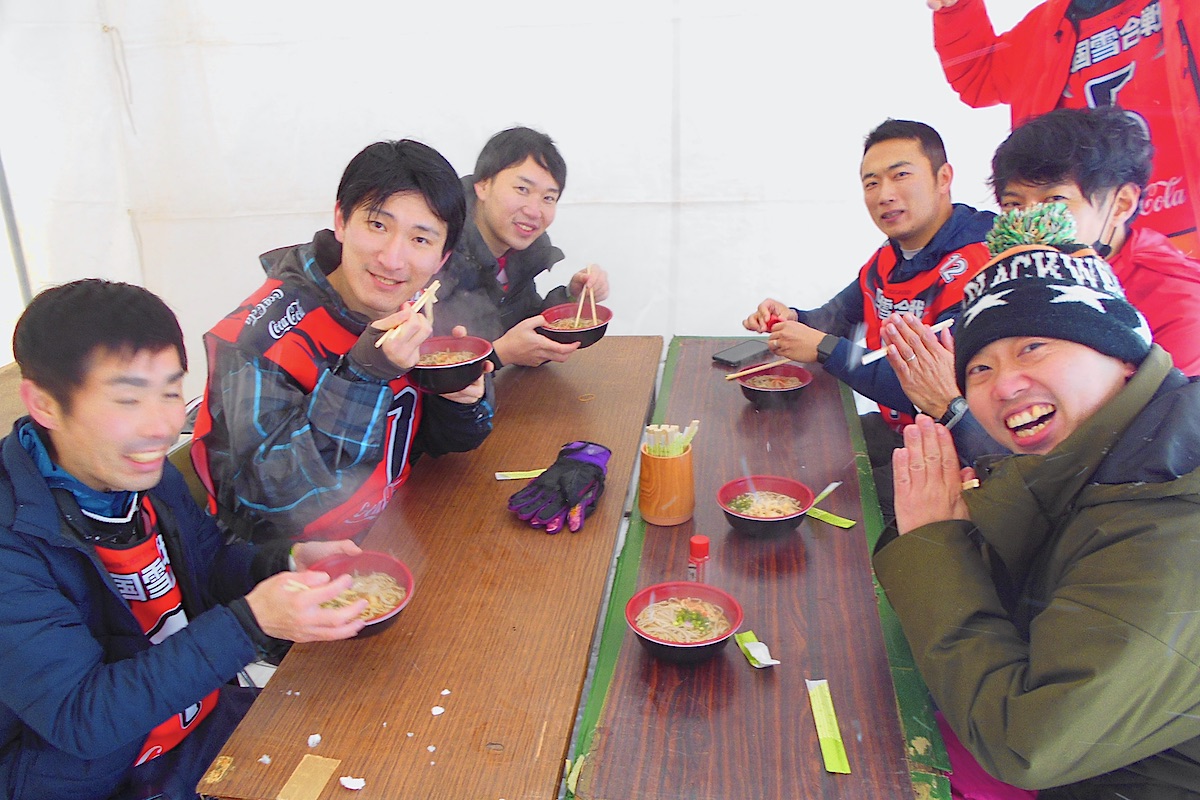 "Even though we didn't win, it's fun to participate in a local event like this. It's so different from Tokyo here. And now I'm really looking forward to taking a hot onsen (hotspring) bath at our hotel."
Miyoshi's mayor takes the field
Despite the rough weather, the mayor of Miyoshi City (where the Iya Valley is located) braved the conditions to travel far out this day to kick off the event with a welcoming speech.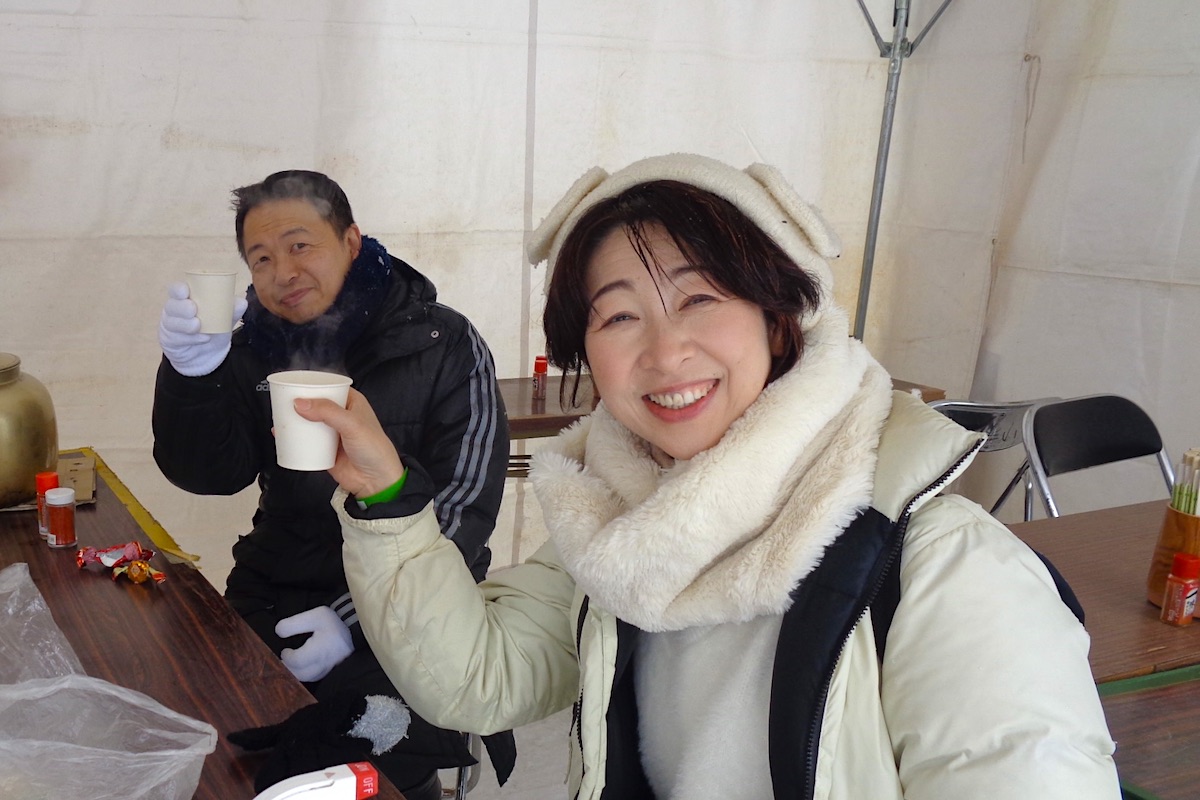 And while it's been customary in year's past for the city's chief executive to make such a laudatory introduction at the Yukigassen, what was unique was that mayor Miho Takai didn't thereafter just sit harrumphing the whole time with stuffy bigwigs like a more typical Japanese politician would do. No, she donned a team jersey and got on the field to play!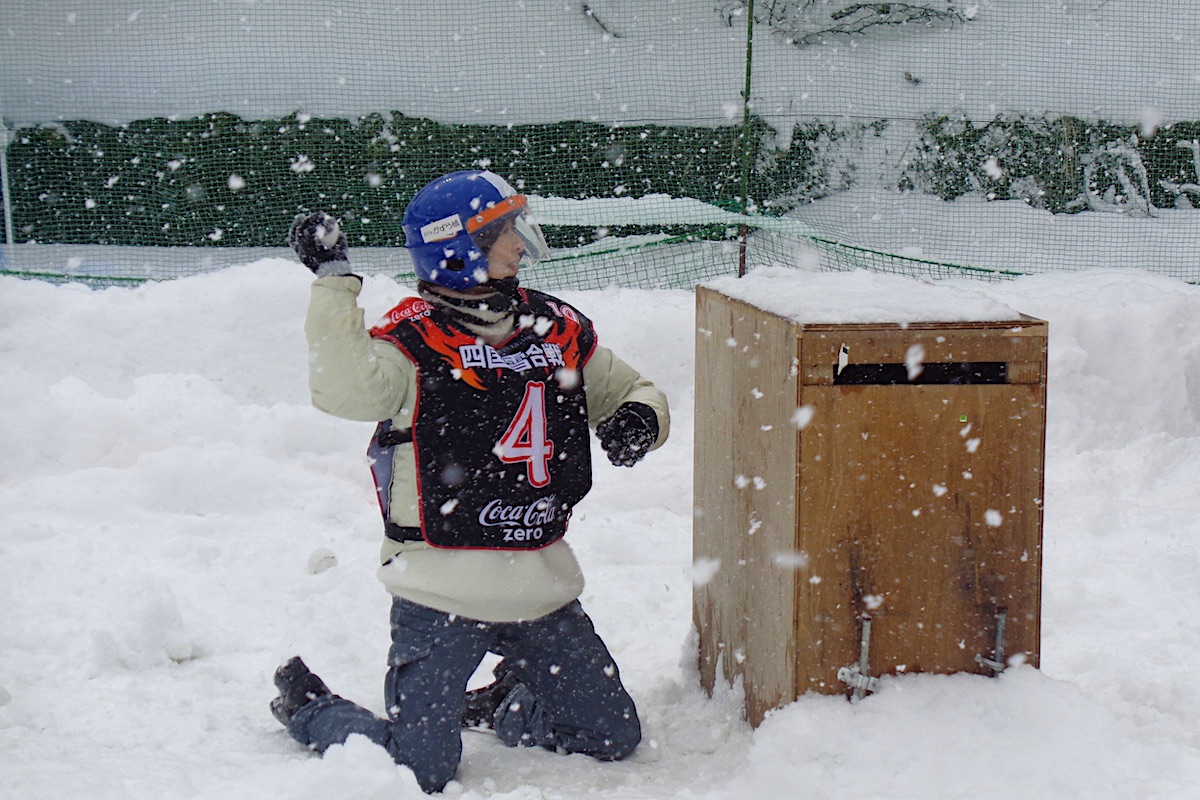 Elected during the coronavirus, this was the first Yukigassen for Ms Takai to preside over, but her vaulted status certainly didn't stop her from fully enjoying the event. She crouched behind the barricades with her teammates, acrobatically dodged oncoming assaults, took out others with snowballs, and even got hit several times as well.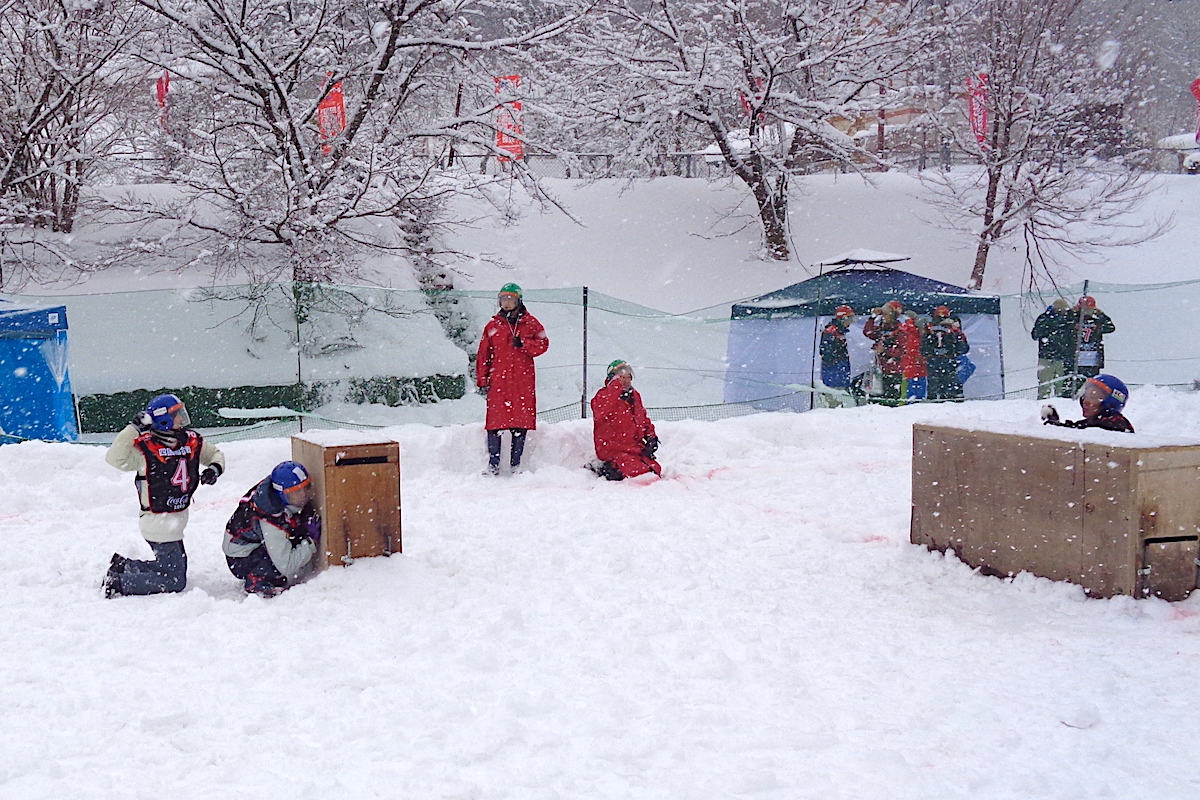 The final game to decide the champions
As the tournament moved into the afternoon, teams slowly became eliminated and eventually only two teams remained. With big prizes on the line on top of being crowned the overall victors, tension filled the air as the players took their positions.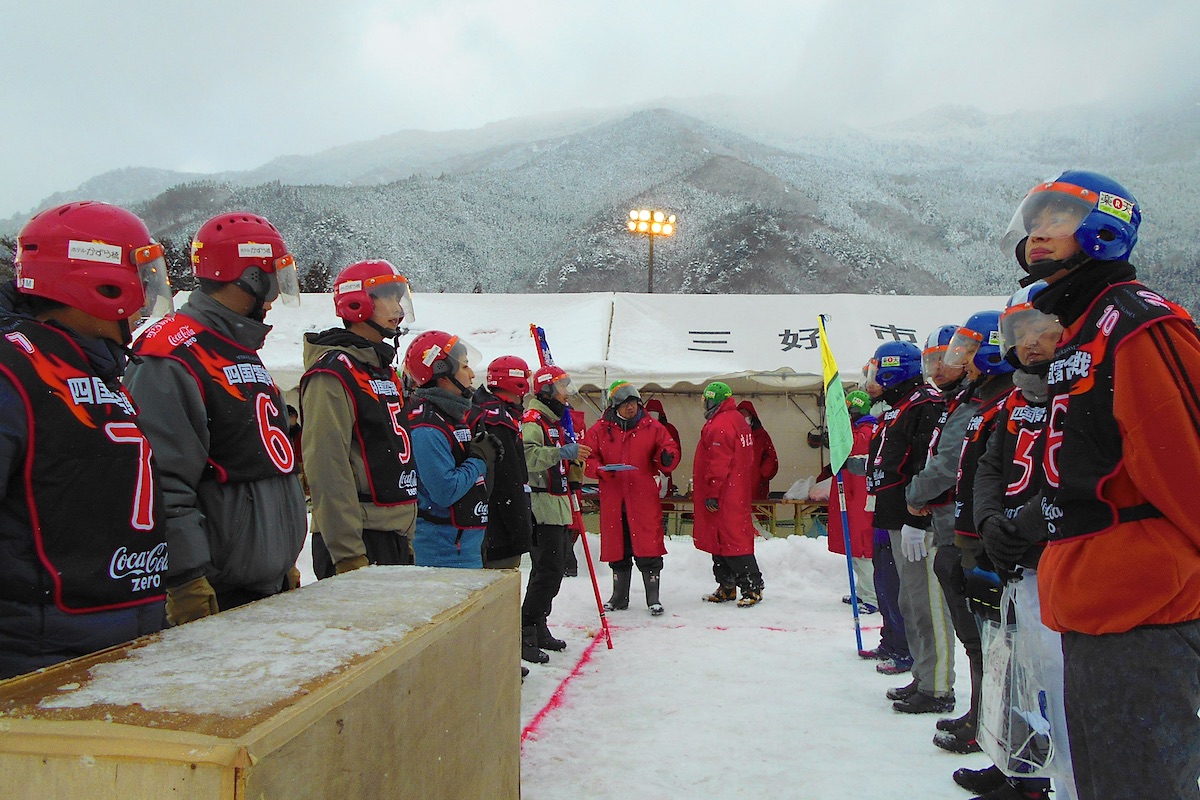 Being that this was the final game, both teams had only reached this point due to the impressive abilities, which included precision throws, evasive maneuvering, and spirited cooperation. 
With both teams winning one match each, their set went into a third and final match to decide who would be champion. As this last match progressed, one by one players from both sides got eliminated.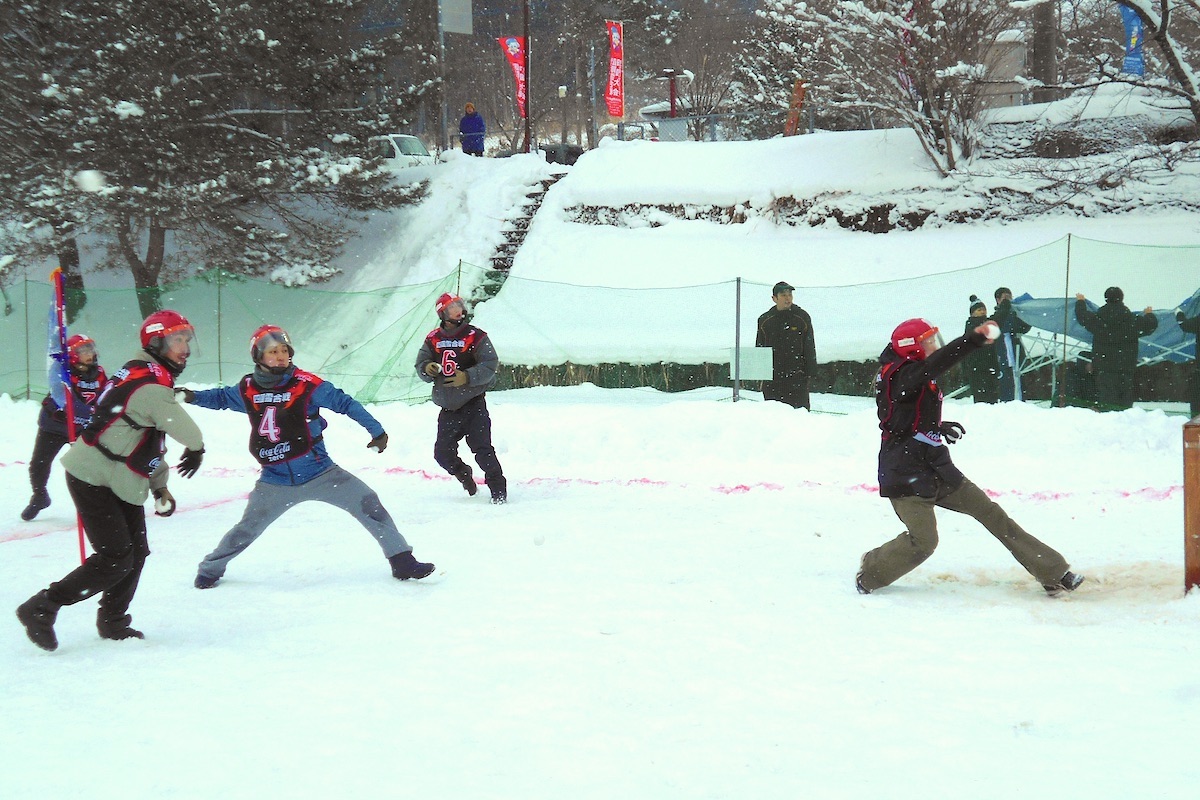 But as time expired, one team prevailed with the most player remaining, and this was Team Dekomawashi from Nishi-Iya, which is the lower and western part of the Iya Valley. Smiles and expressions of delight swept over the group, and though she didn't play in this final match, it just so happened that Team Dekomawashi was the actually the team the mayor played with, so she joined in to celebrate their win.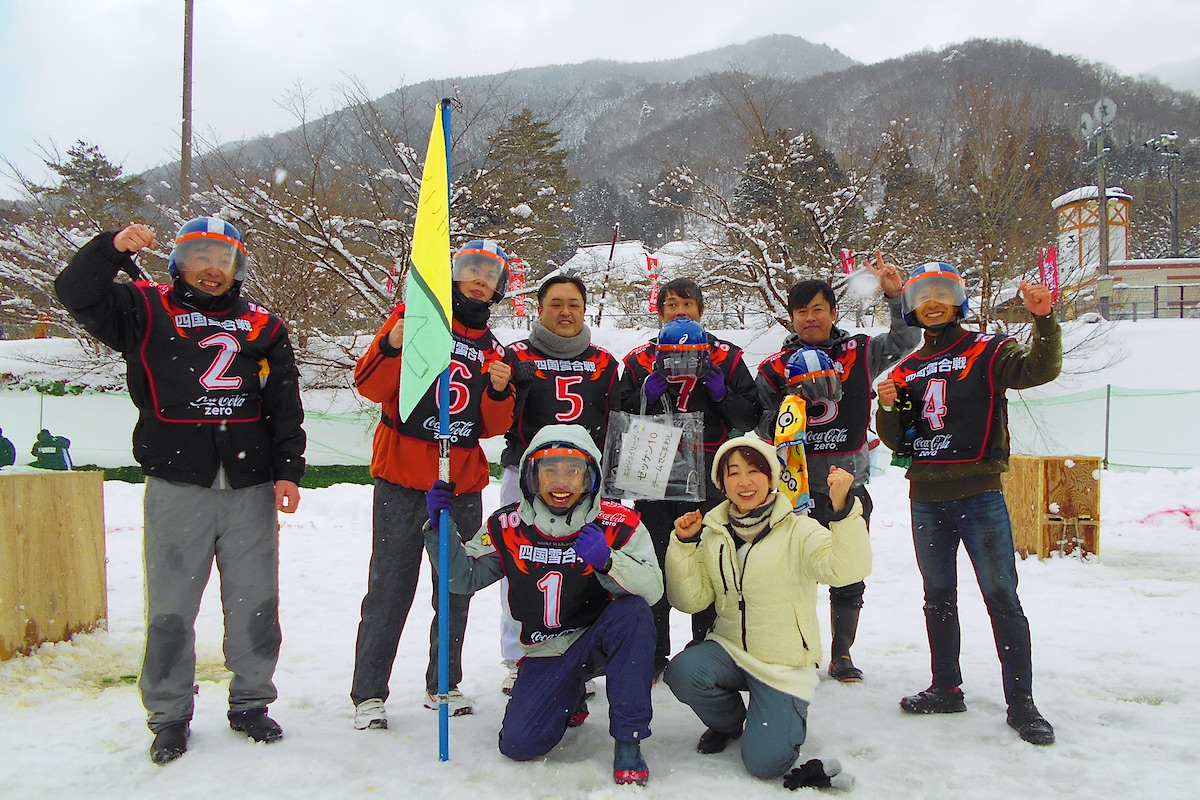 At the closing ceremony, Chairman Kenji Fujimura handed out the prizes to the top teams, which included cash awards along with a variety of Miyoshi products such as local wine and sake.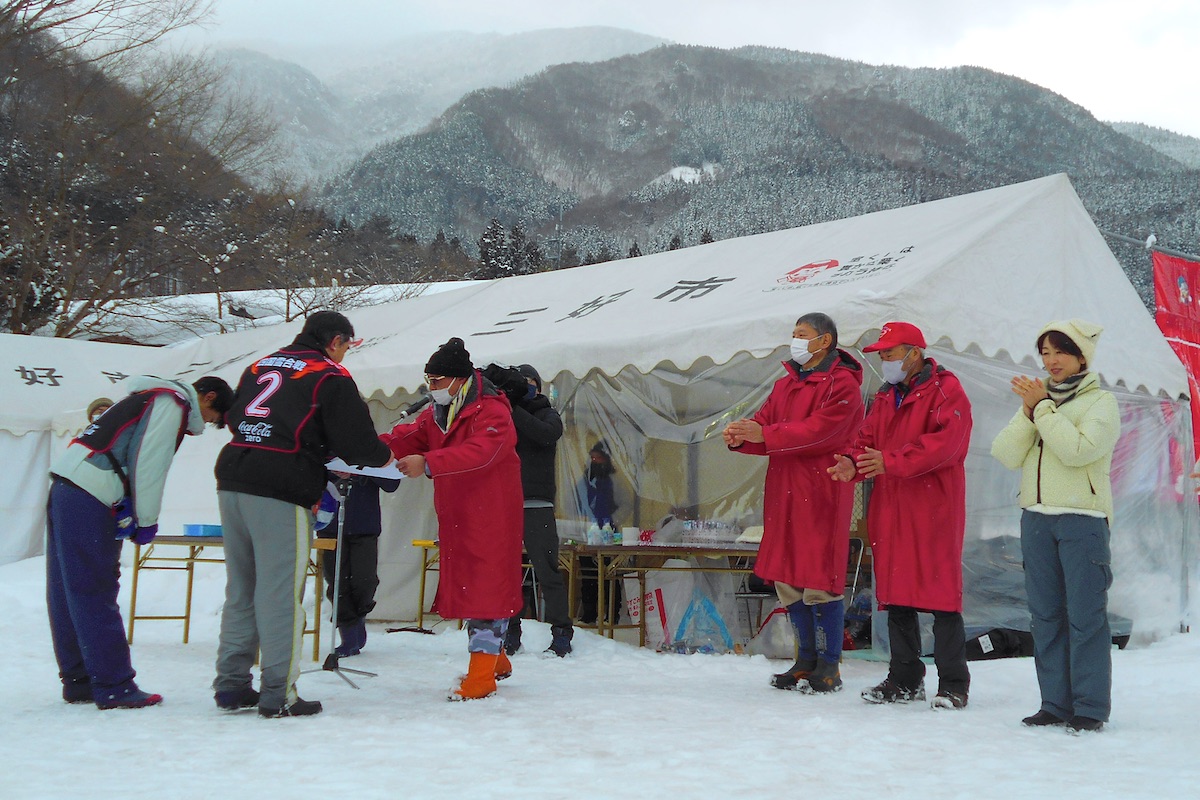 Planning for the future
I also spoke with Satoshi Tani, who is the overall chairman of the Shikoku Yukigassen Federation to ask about next year's event. "I hope we can return to the previous scale once again, with a two day tournament and different levels for teams to play". 
Head referee Keishiro Takahashi agreed, "It would certainly be nice to get back to normal so that more teams can come to participate. This is such a fun way for people to come out to Iya and enjoy the winter environment."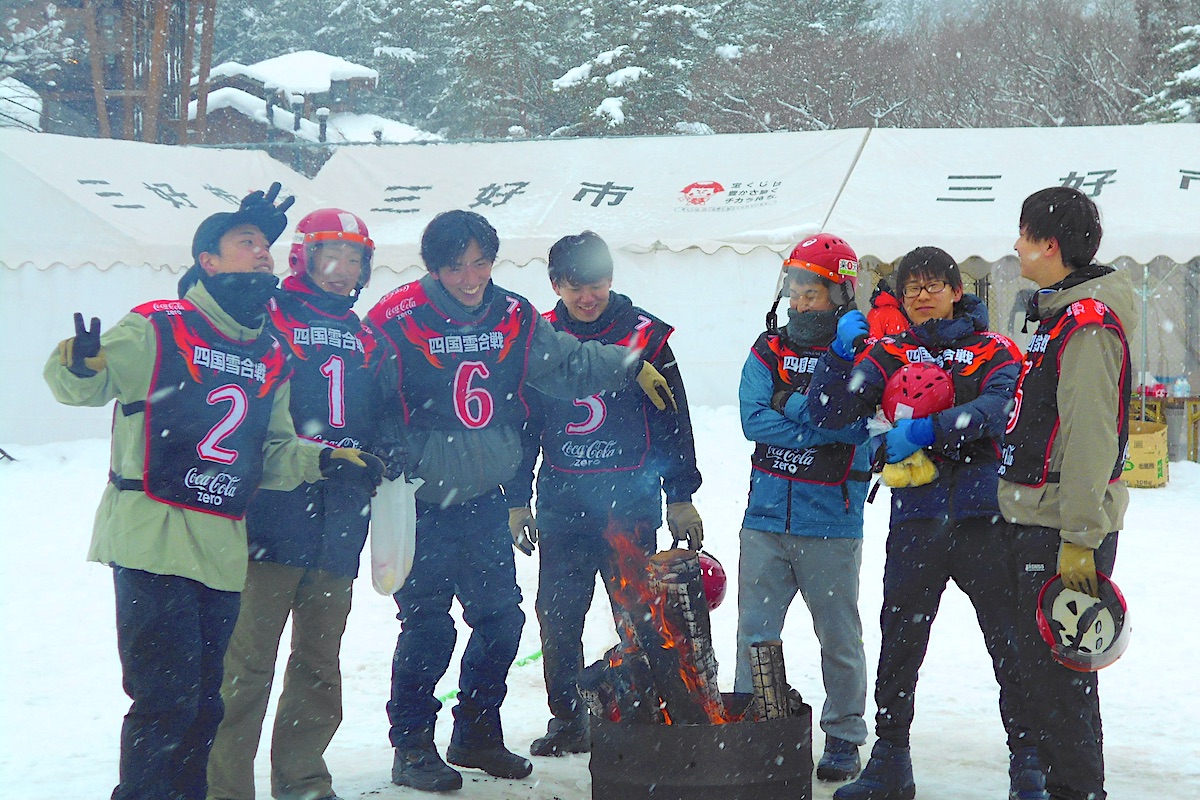 Shikoku Yukigassen
Held the final weekend of January in Higashi-Iya, Miyoshi City, Tokushima Prefecture.
Team applications are in the autumn, starting about mid-September. 
Foreign players are welcome to participate, but at least one team member should be able speak and read Japanese for understanding the rules and requirements. 
For more information and applications, check their website:
https://www.shikoku-yukigassen.jp/
(Text & Photos by: Shaun Lamzy)