Iya Kanko Ryokan – Part 3 | Inheriting the Tastes of the Iya Valley
Just a few minute walk from the famed Kazurabashi Vine Bridge, the Iya Kanko Ryokan has been welcoming guests for decades. Along with enjoying the inn's traditional style, the fabulous meals served are the epitome of home-style Iya cuisine.
【Previous post】
>>Iya Kanko Ryokan – Part 1 | A Traditional Inn near the Kazurabashi Vine Bridge
>>Iya Kanko Ryokan – Part 2 | A Family-Run Business Where Life is a Juggle
A Family's Meal
The kitchen for the Iya Kanko Ryokan is on the ground floor just next to the large dining room. Peering into the kitchen, I could see Fukuko Deguchi and her son Kazuya busily preparing the inn's extravagant meals.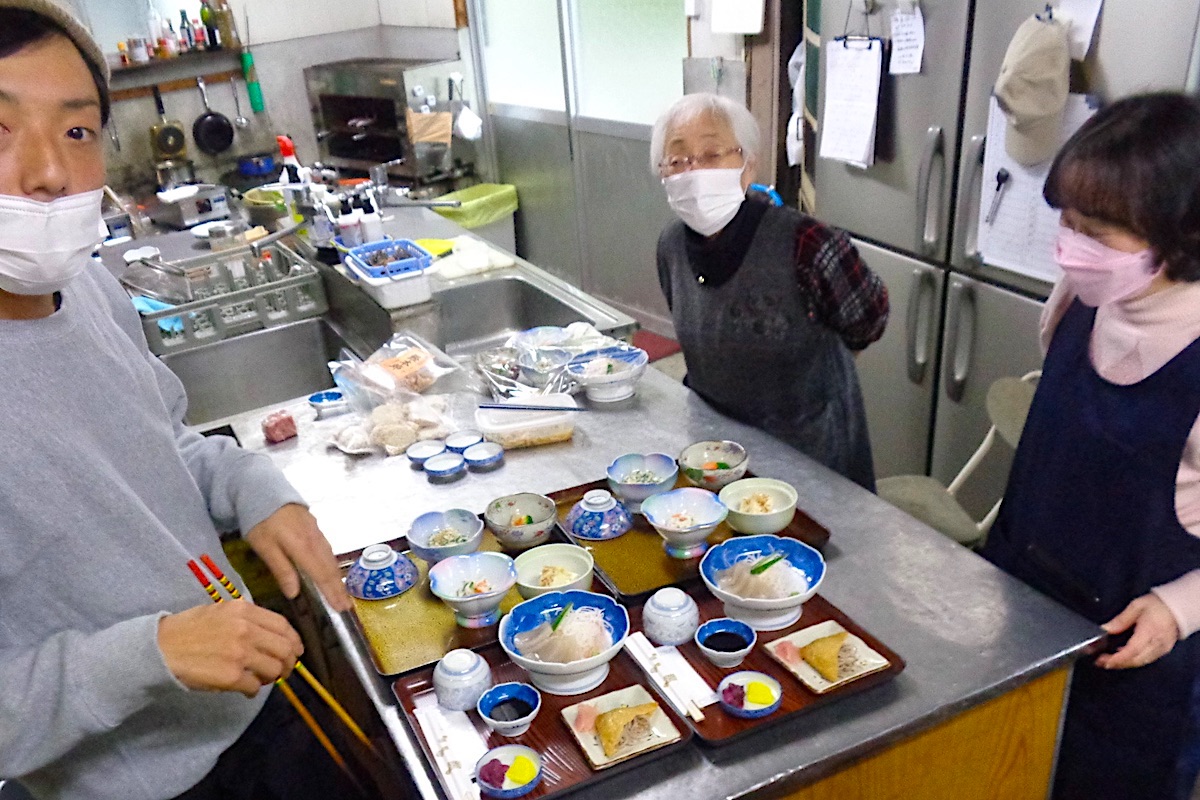 Despite not being born in Iya, Fukuko has been making Iya-style dishes for 50 years, and learned the local tastes from Kazuya's grandmother. Now a master of Iya cuisine, she has garnered lots of fans over the years.
Kazuya is also a skilled chef, and aside from having watched his mom in the kitchen for as long as he can remember, he also attended culinary school in Kyoto and then worked as the chef at an Italian fusion restaurant nearby his other home in Tokushima City.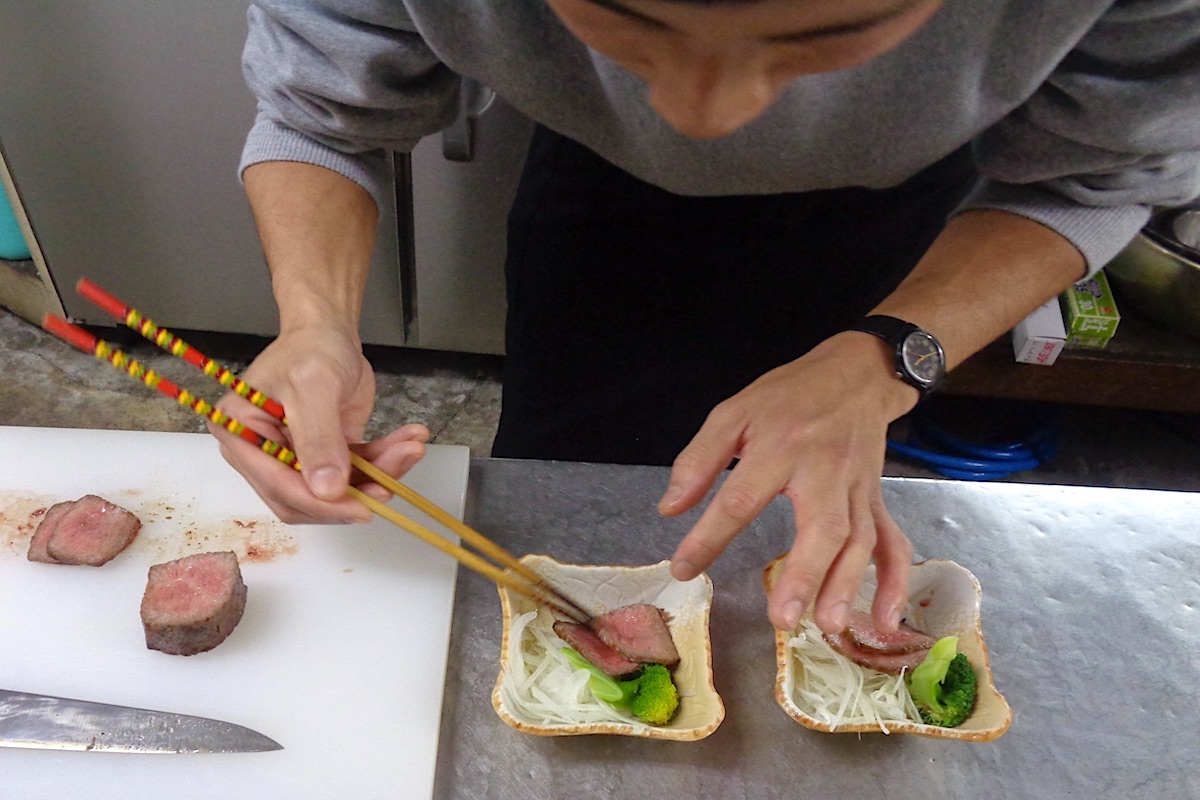 For decades the inn also served lunch to whoever dropped in, but nowadays they just serve dinner and breakfast, and only to their guests, much to the disappointment of both other visitors and the people of Iya.
But indeed, for whoever stays at the inn, they are surely in for at treat.
A dinner with a range of Iya flavors
If staying at the inn, my only advice would be to come hungry, since the epic dinner set meal offers up a huge variety of Iya-style food.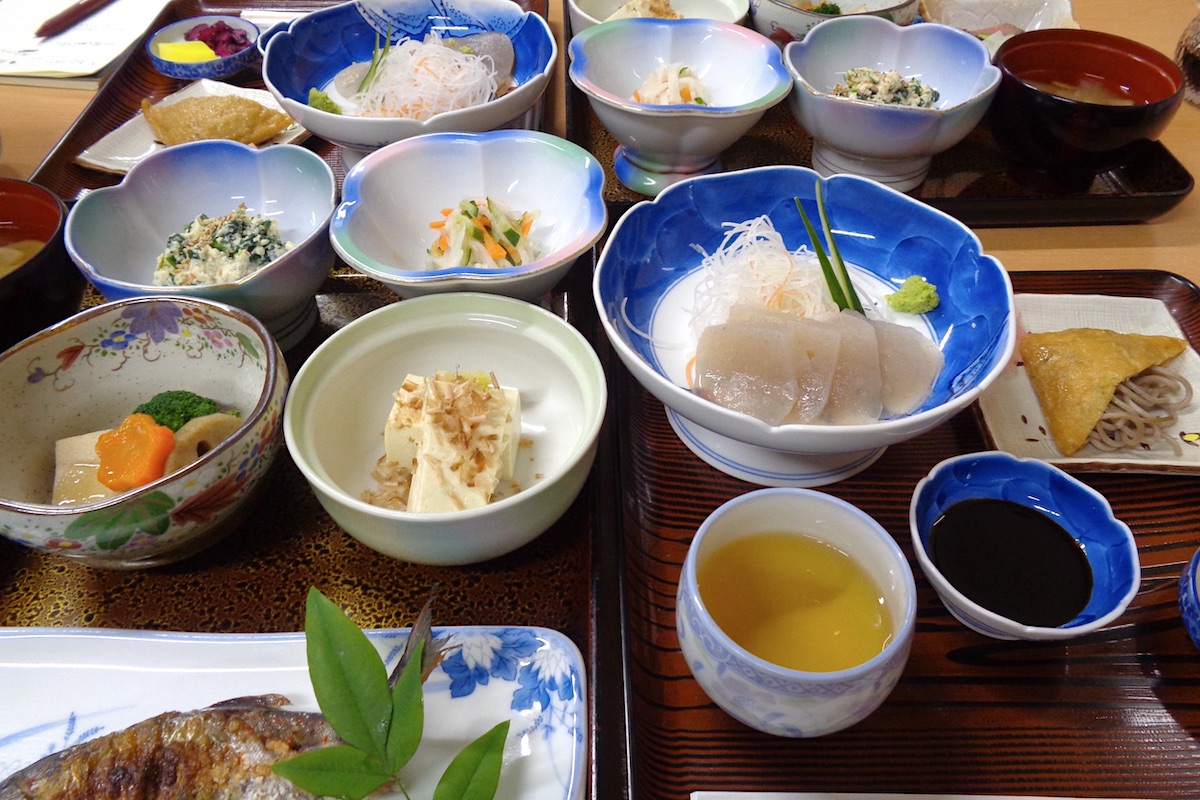 The actual dishes usually change with the season, and on the day I visited they had a literal bounty laid out before me. Grilled amego river trout, slice local konnyaku yam, soba (buckwheat) porridge, Iya "stone" tofu, dense Iya potatoes with miso paste, and pickled daikon radish that was grown by one of the neighbors.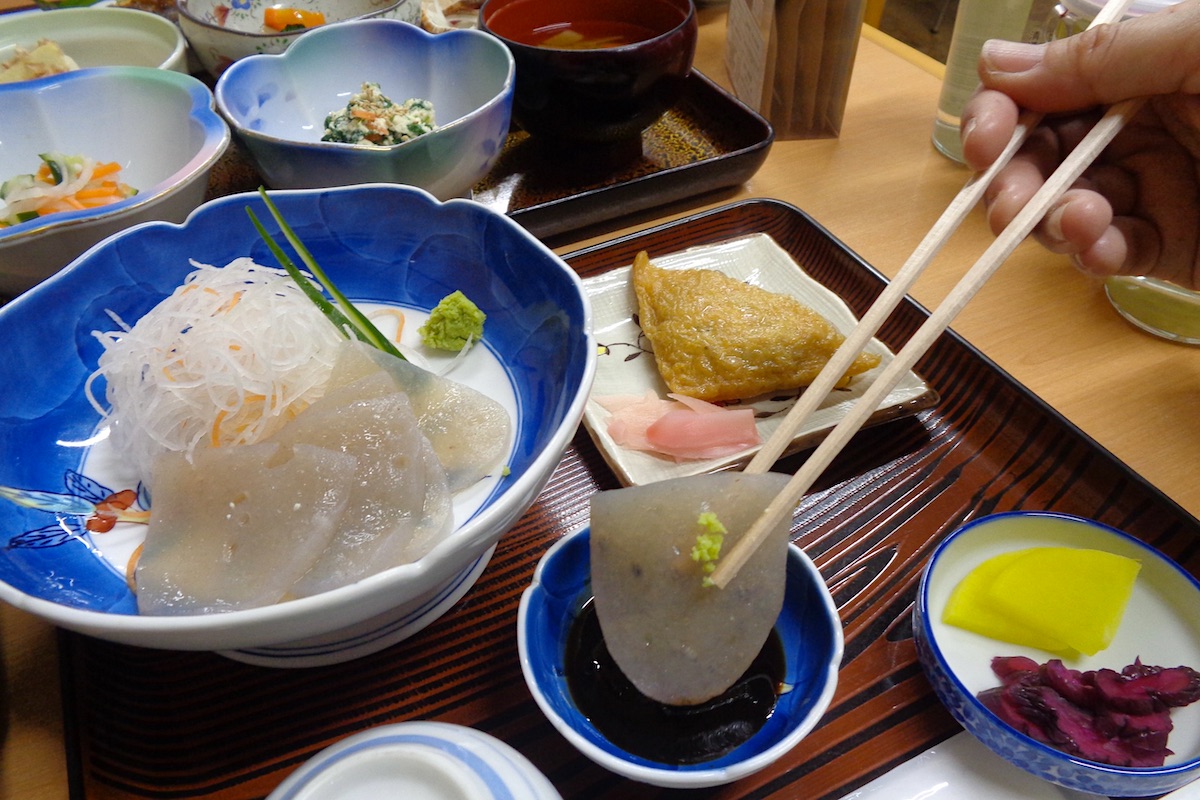 Kazuya showed off his culinary skills by also grilling up some succulent Awa roast beef served with homemade ponzu sauce, and even though it isn't a traditional Iya food, it went well with everything. He says that he always likes to try something different.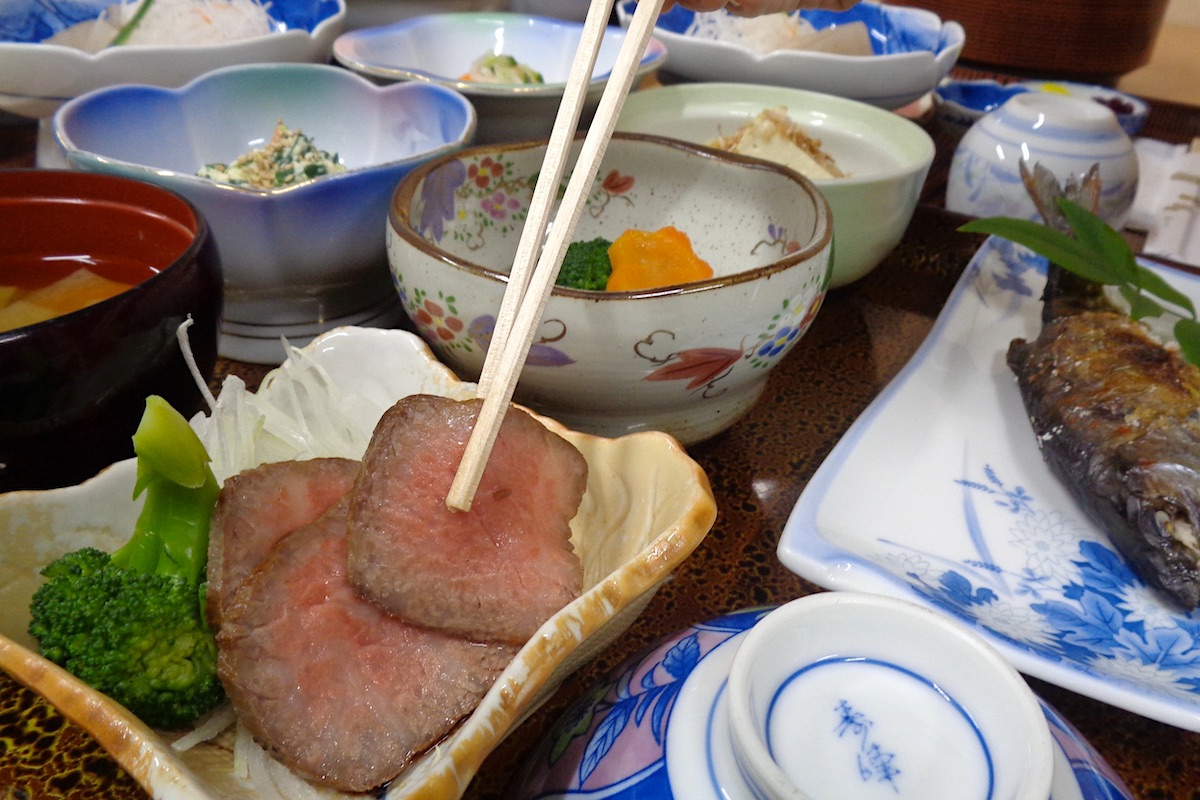 There were also a variety of salads and other treats, such as pockets of fried tofu stuffed with Iya soba noodles, which is their own unique version of the classic Japanese dish called "oinari-san" that would usually use rice.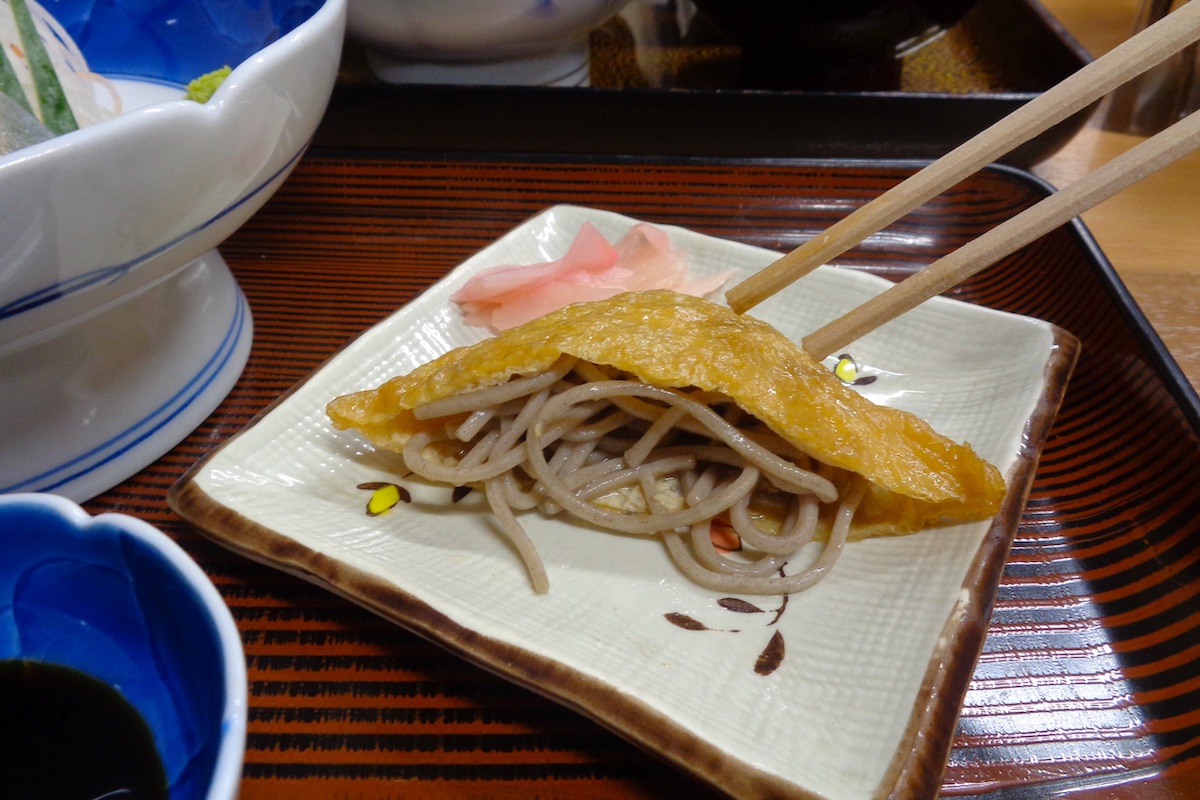 To compliment the meal they also have on hand a range of locally produced sake to sample, as well as beer, locally grown tea, and other soft drinks.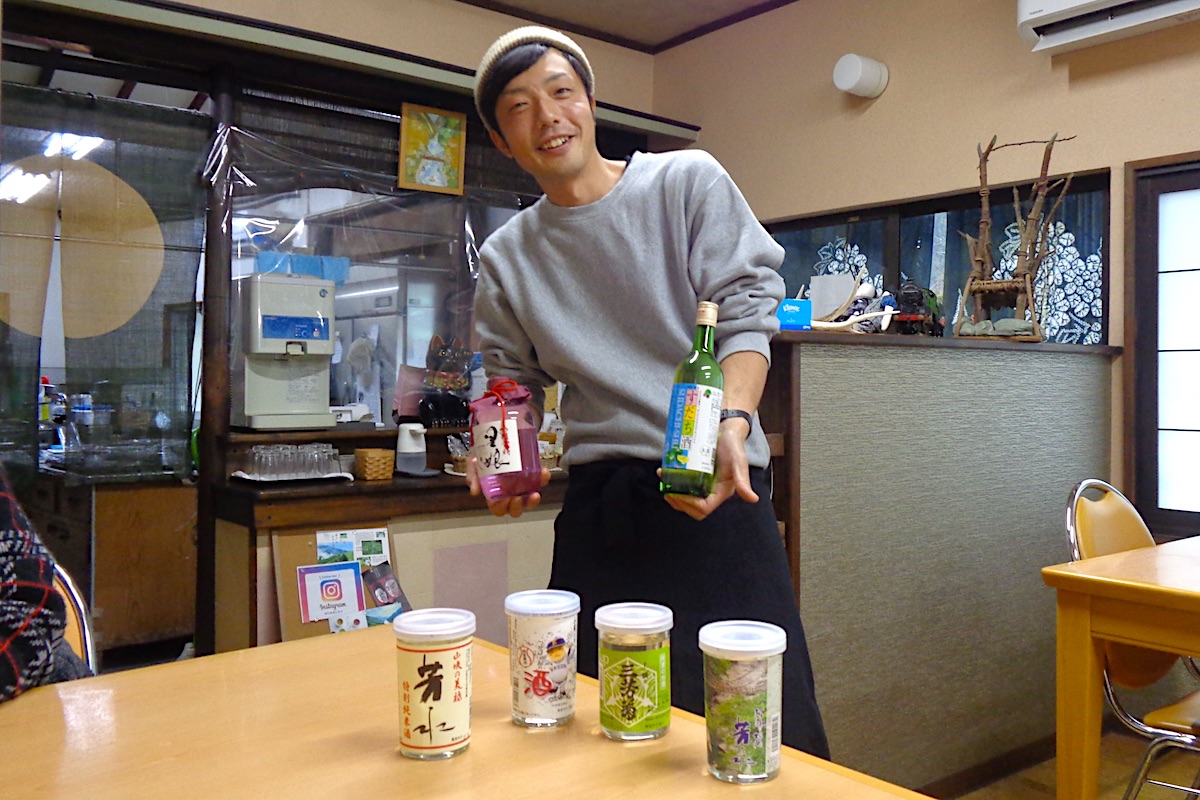 Again, the menu tends to change a bit with each season, and will feature whatever vegetables are fresh at the time. And in winter it is also common to have hot pot made with locally hunted wild boar.
For breakfast it is also Japanese style, and features miso soup, eggs, seaweed, rice, fruit and grilled fish.
Looking towards the future
I spoke more with Kazuya about his plans for his family's traditional-style inn. He had explained earlier how he had been spending the past couple years updating and restoring things, but I wondered would be next once he was done with all that.
"We have a small building next door that I want to convert into a small private cottage for guests to stay in," he explained.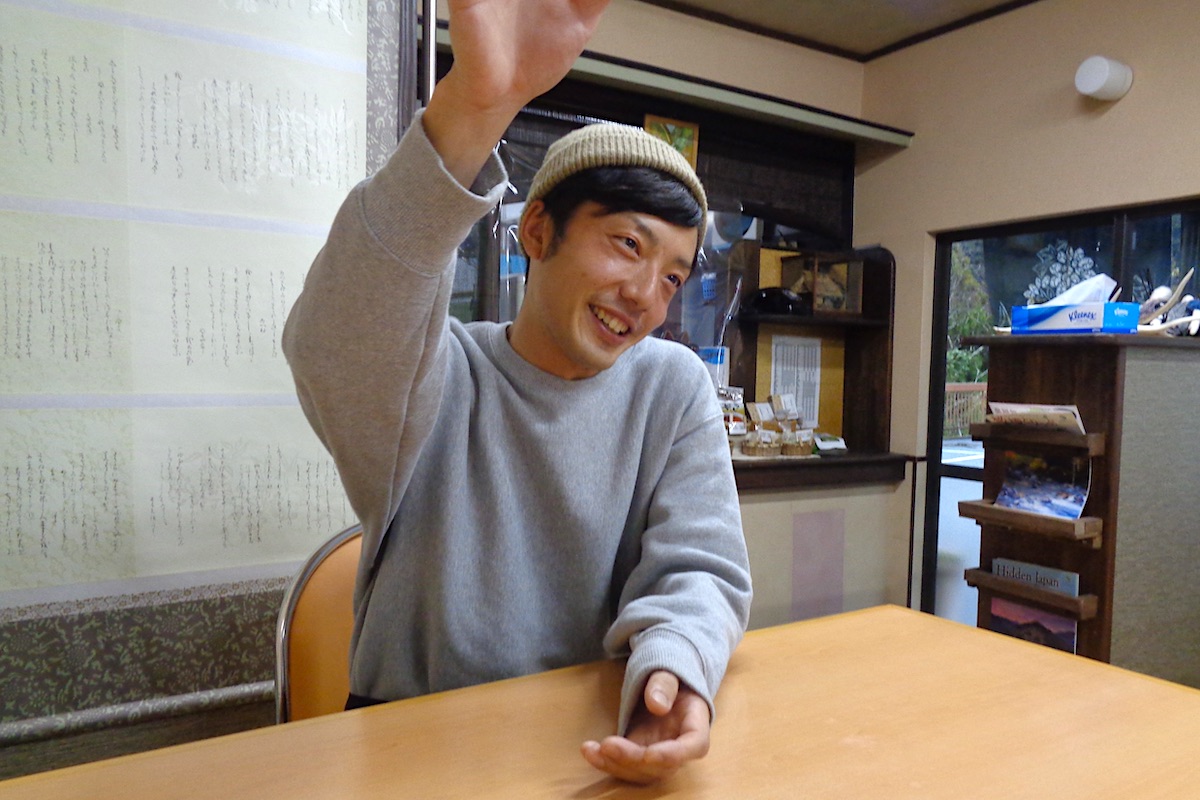 "And up on the hillside looking out to the mountains I would like to make a bit of sitting space, where people can enjoy coffee in the morning and have some drinks in the evening while gazing at the stars."
So as such old-school ryokan like this, which used to fill the Japanese countryside, become ever more increasingly rare, it was inspiring to hear his imaginative ideas for his family's inn while also knowing that the future of Iya Kanko Ryokan was in good hands.
Iya Kanko Ryokan
For more information, you can check their website (but it is in Japanese only):
Or for info English, check their listing on the IyaTime website, which also explains how to make reservations:
https://www.iyatime.com/iya-kanko-ryokan
(Text & Photos by: Shaun Lamzy)