Mountain Romance with Iya Bijin – Part 3 | Tasting the Traditions of the Iya Valley
Tucked deep within the Iya Valley of western Tokushima Prefecture, the restaurant and inn Iya Bijin is not only an enchanting place spend the night, but is also a wonderful place for any visitor to the valley to enjoy lunchtime meal of handmade Iya Soba noodles as well as a wide range of other local delicacies.
【Previous post】
>>Mountain Romance with Iya Bijin – Part 1 | A Secluded Inn Overlooking the Iya River
>>Mountain Romance with Iya Bijin – Part 2 | Meeting the "Beautiful" Owners
A restaurant that encapsulates Iya
While the inn at Iya Bijin is becoming increasingly popular, perhaps they are most well known for being a lunchtime restaurant serving a variety of Iya style dishes.
Open daily all year, the restaurant has been offering up local creations for nearly half a century, and the Taniguchi family who operate Iya Bijin are proud of not just providing authentic Iya tastes to visitors, but also with doing so in a way that highlights the traditional mountain culture of this remote valley.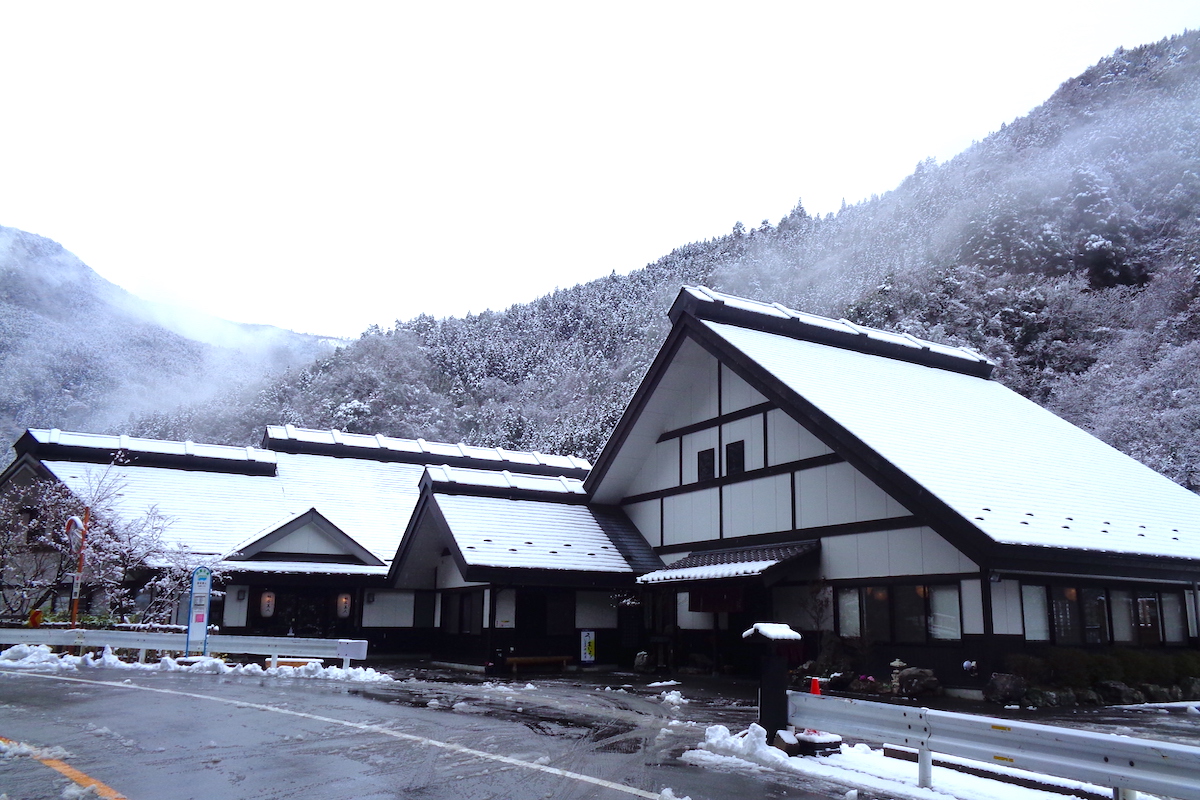 The building of Iya Bijin was built in a traditional architectural style, and its position within an uninhabited stretch of the valley means that no other constructions can be seen from their location. Just lots and lots of dense forest.
Inside, the restaurant maintains its classic and cozy feel with sliding paper screens, wooden furnishings, and exposed beams. There are both tables with chairs available, as well traditional tatami mat seating on a raised floor.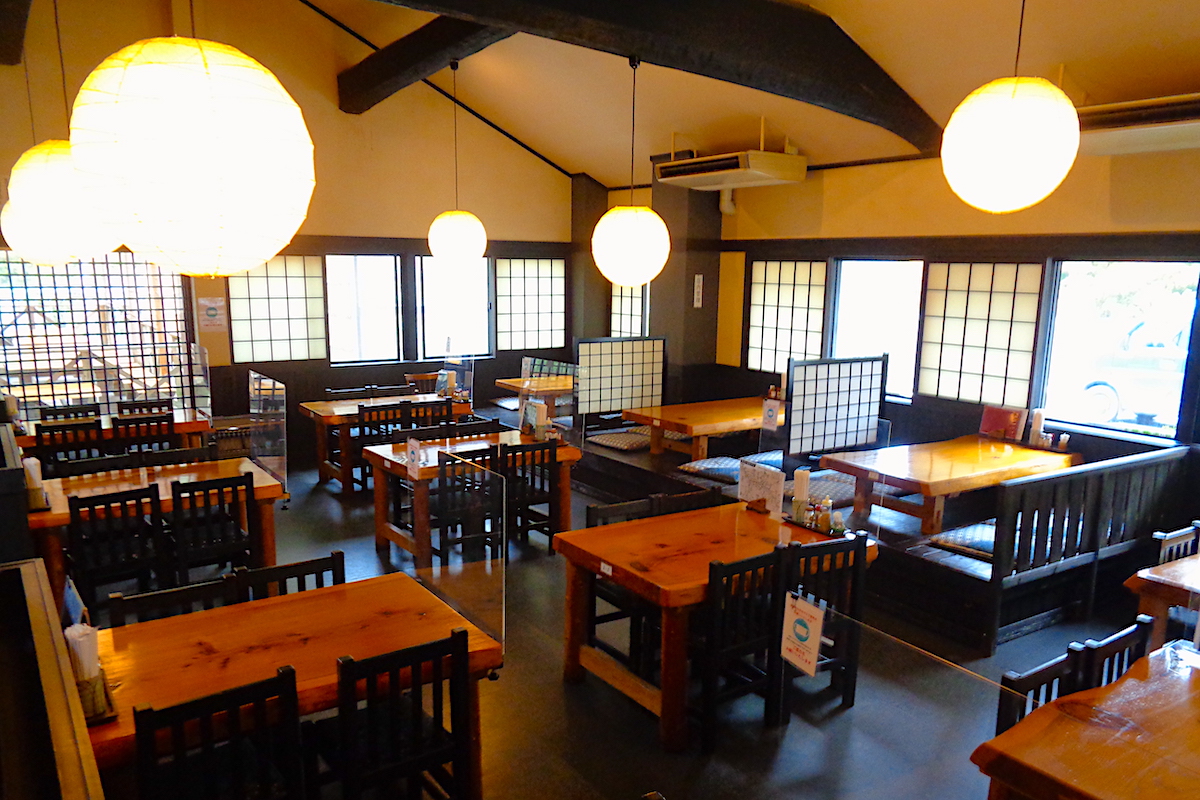 But perhaps the best place to have a meal (as long as its not too cold) would be on their large terrace out back, which has several log tables in the breezy open air.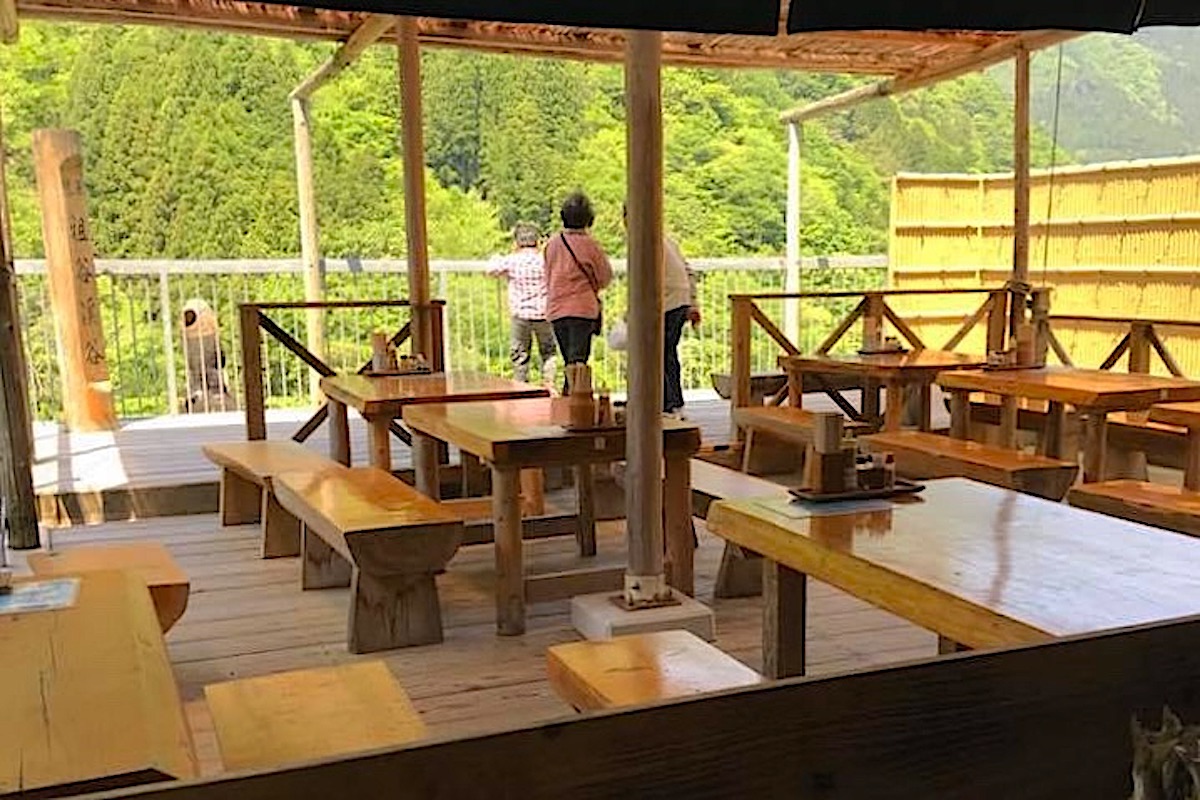 The view from their terrace is spectacular due to its position high above gurgling the Iya River. No matter what the weather, the surrounding forest always looks idyllically tranquil as it changes from season to season.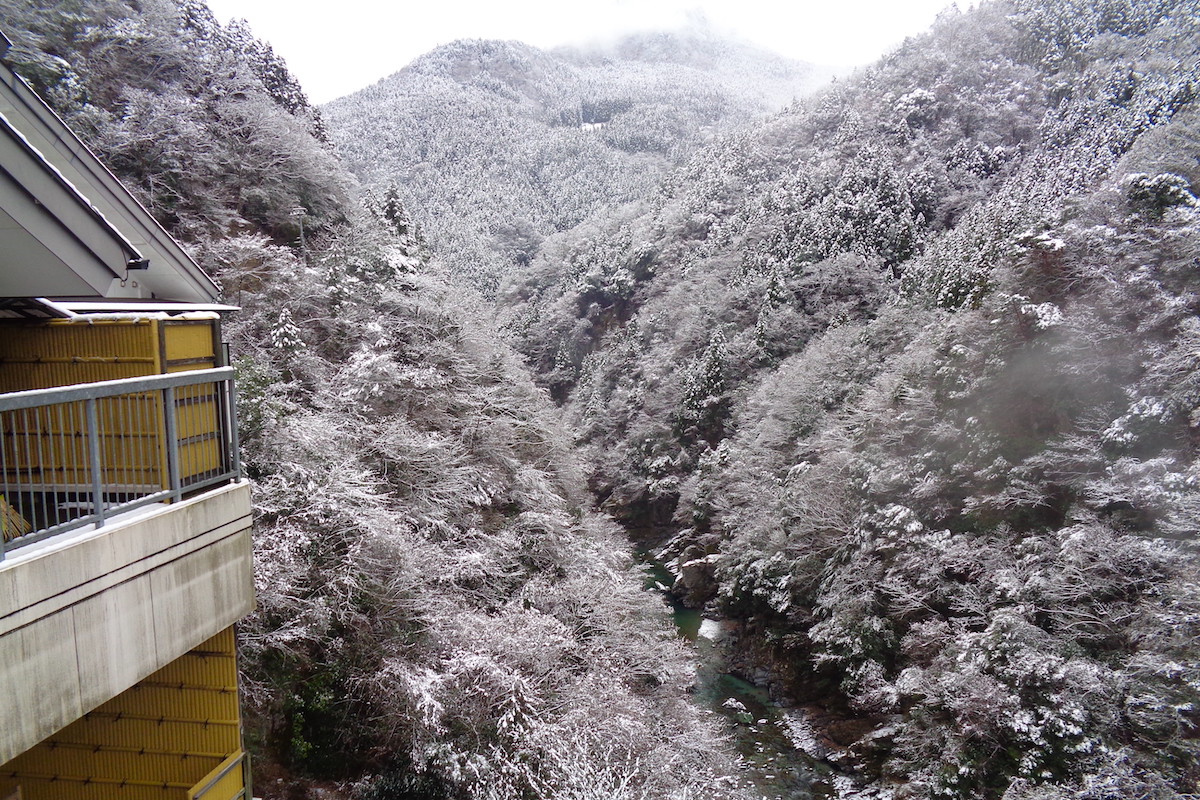 Also playfully peeking off this balcony is a "tanuki" (a type of raccoon) statue that is inspired by the famed Peeing Boy Stature of the Iya Valley.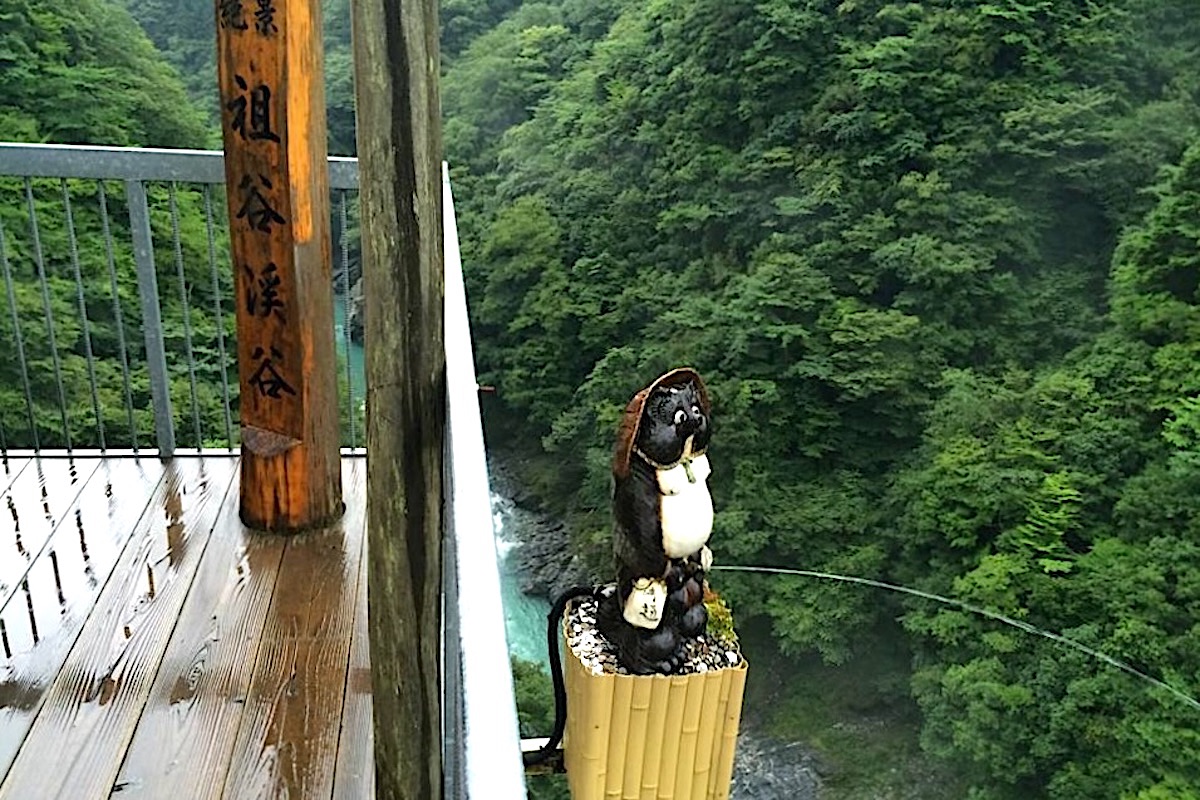 A foundation in soba
Being that the steep hillside villages of the Iya Valley have limited flat space along with rocky terrain and cooler weather, the residents of Iya had long relied on growing buckwheat ("soba") as opposed to rice since it could thrive in such rough conditions. 
Accordingly, a deep culture surrounds Iya soba noodles, so when the original Iya Bijin restaurant opened in 1975, its focus was with serving this endemic dish.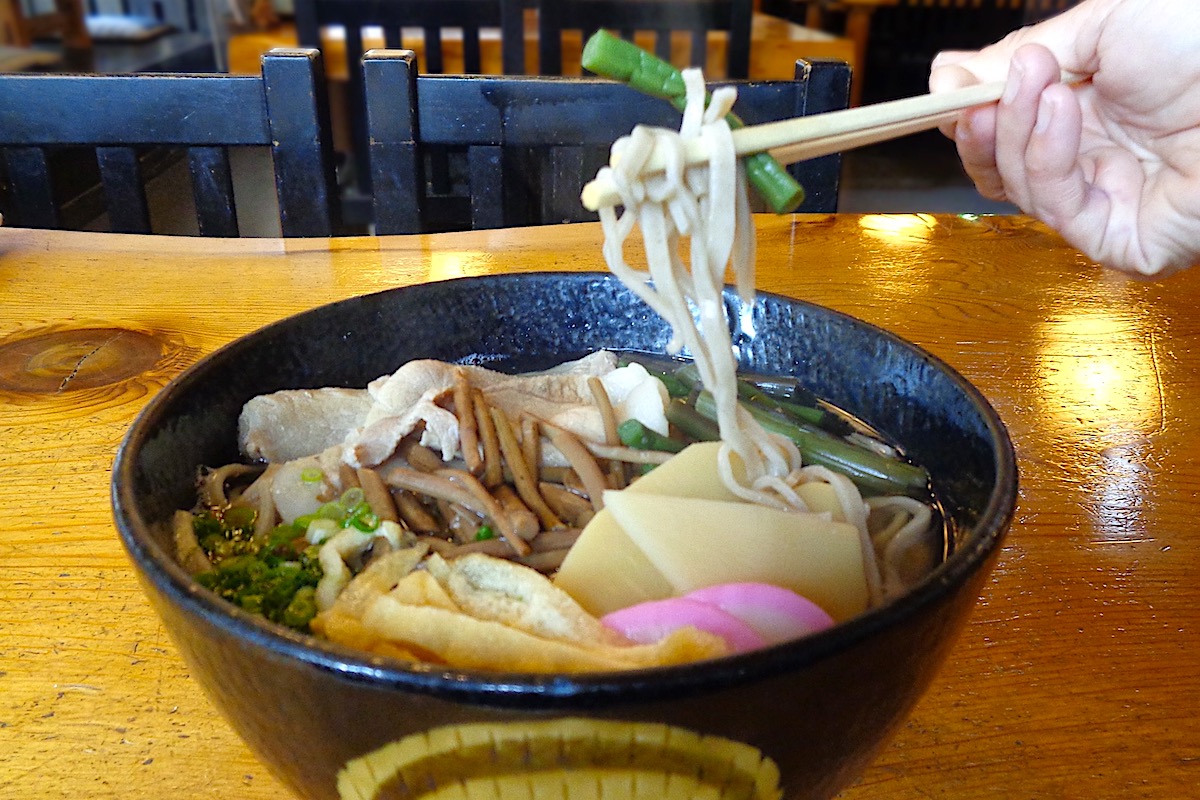 That tradition continues today, and the lunch menu at Iya Bijin focuses on their fresh hand-made soba noodles served in a variety of ways, including with wild mountain sprouts ("sansai"), mountain pheasant ("sanzoku"), or grated sticky yam ("yamakake"). 
I opted with a hearty bowl of soba with wild boar ("shishi") and the robust slices of game meat together with the chewy noodles and rich broth made for a perfect meal on a cold winter's day.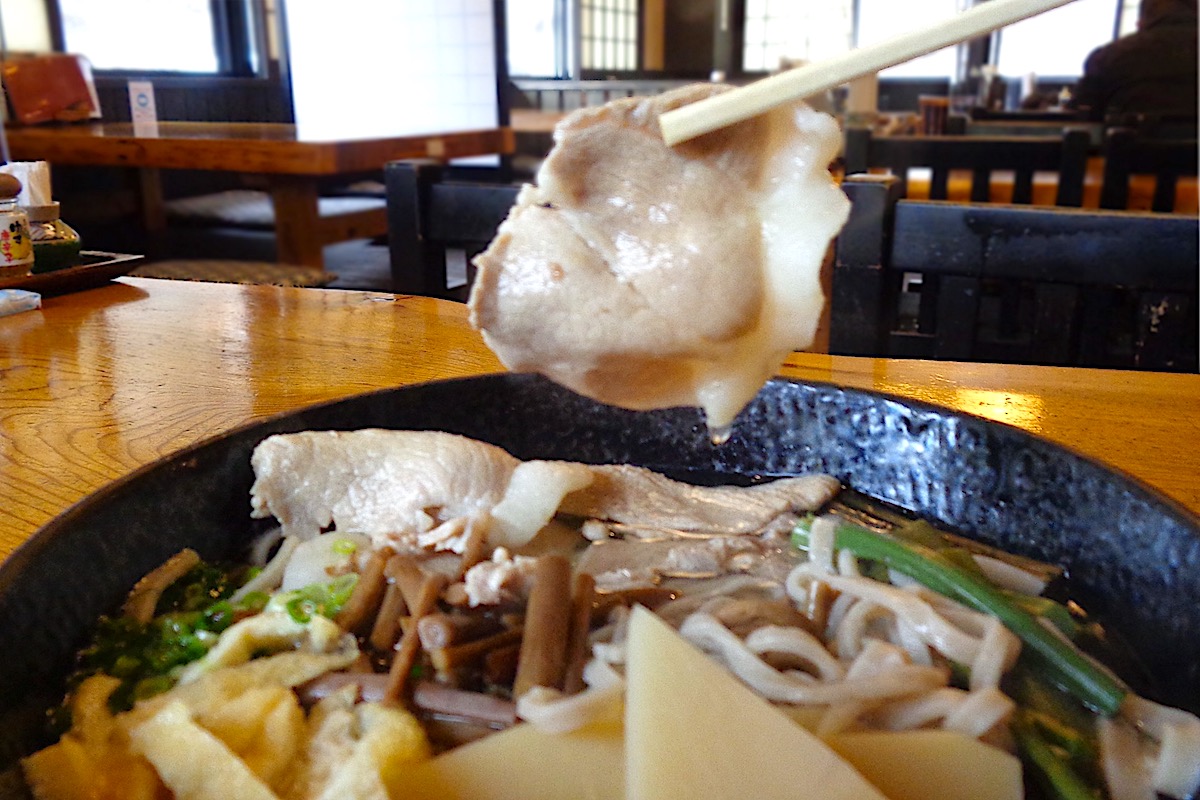 Sampling the bounty of Iya
They also have a range of set meals available featuring bowls of soba together with  some of their many side dishes.
But all dishes can be ordered individually if you prefer, with some notable options found roasting on skewers around a charcoal fire in the corner of the restaurant.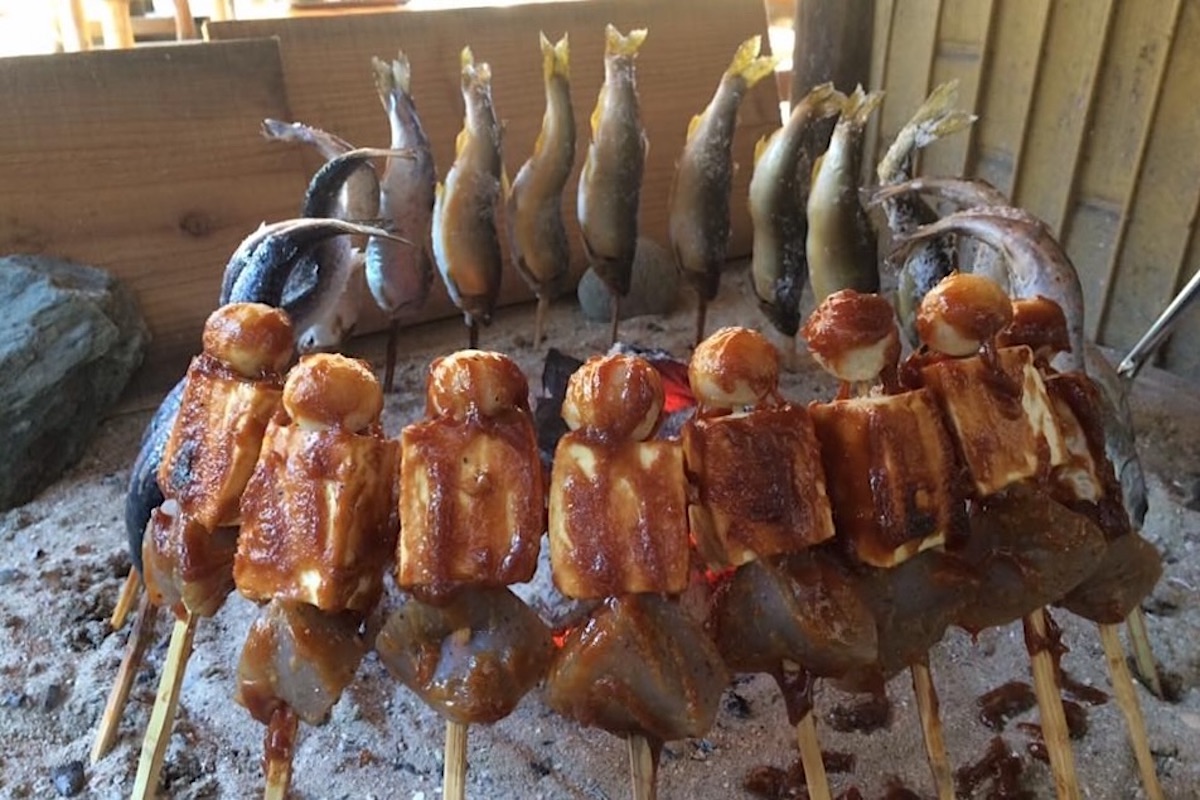 One of these is "amego", which is a type of river trout that is first encrusted in salt before being slowly roasted to perfection. Crispy on the outside while soft and juicy inside, this fish has a long history of being enjoyed in the Iya Valley.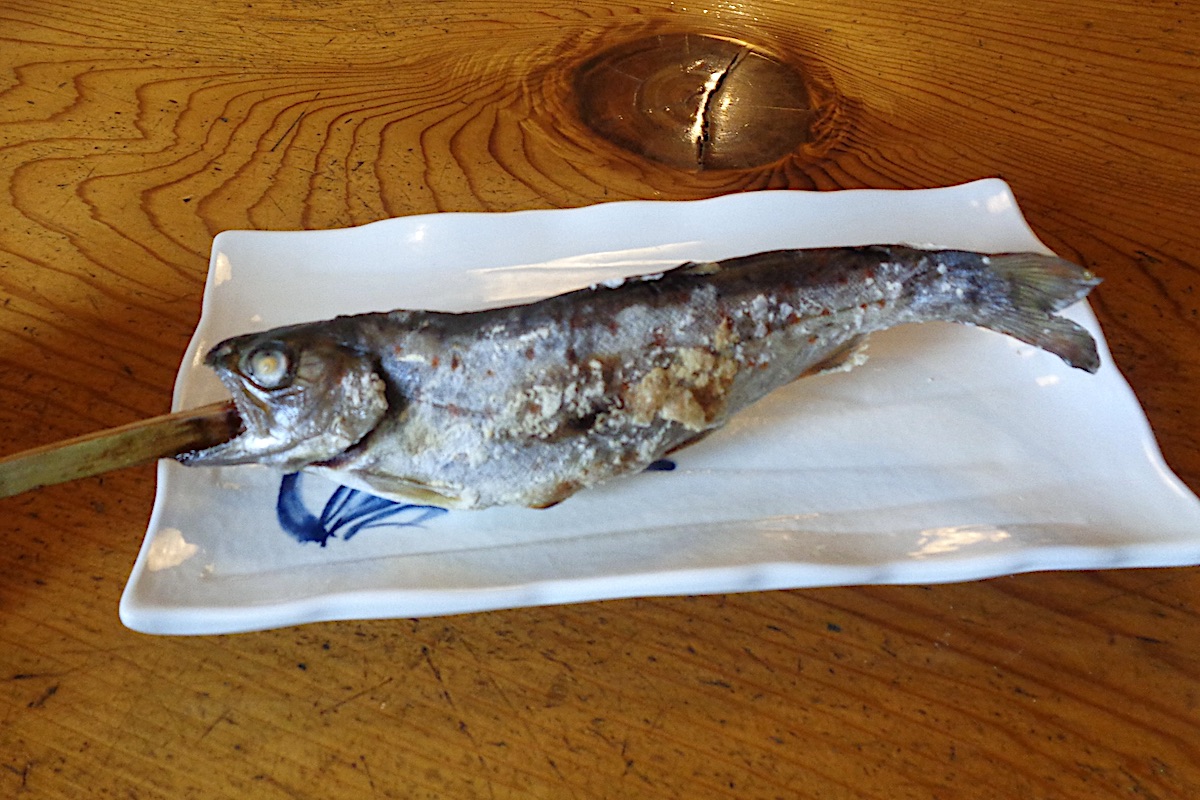 Another bit of skewered goodness on offer that is wholly unique to Iya is "dekomawashi", which means "wooden puppet doll" and takes this name due to its shape.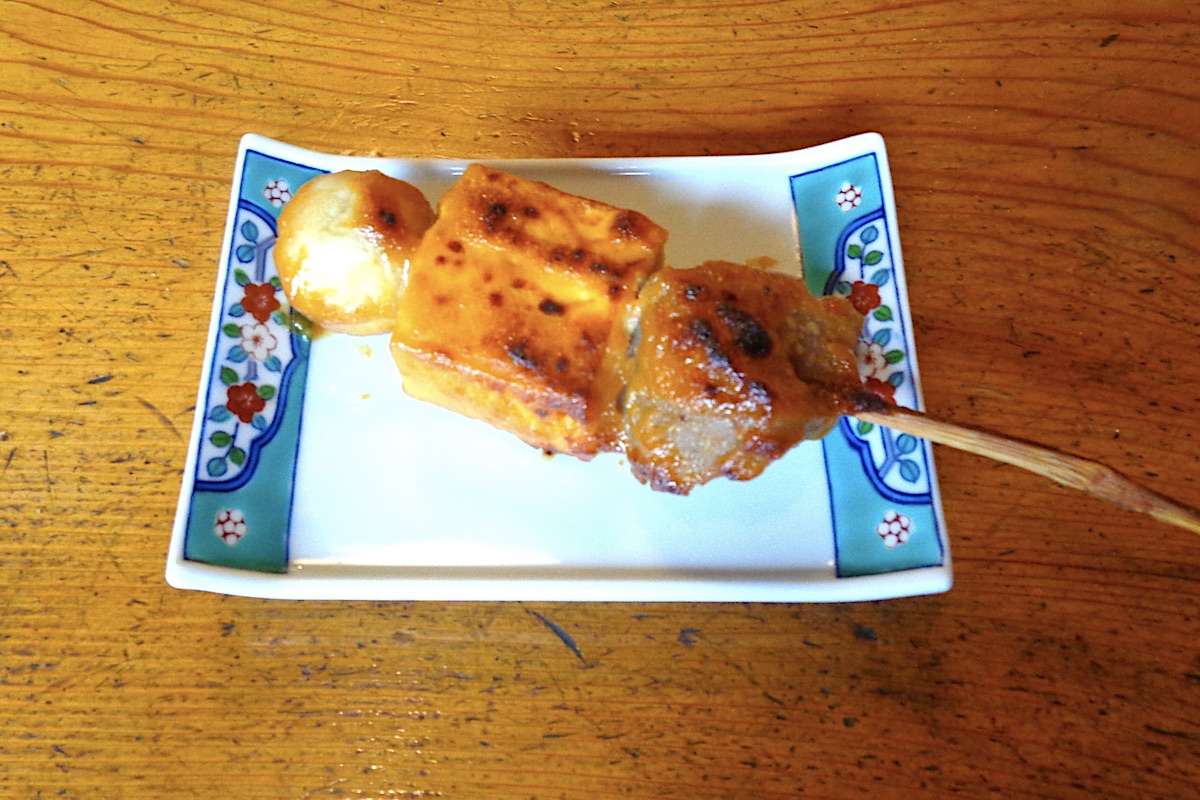 Made up of a dense wedge of gelatinous "konnyaku" yam, a thick cube of Iya's "ishi" ("stone") tofu, and a round "soba dango" ("buckwheat dumpling"), they are all slathered in sweet miso paste and roasted around the coals. For anyone seeking a true Iya treat, this is something you must try. 
And for anyone staying overnight at their inn, the dekomawashi is the inspiration for the rooms' playful keychains.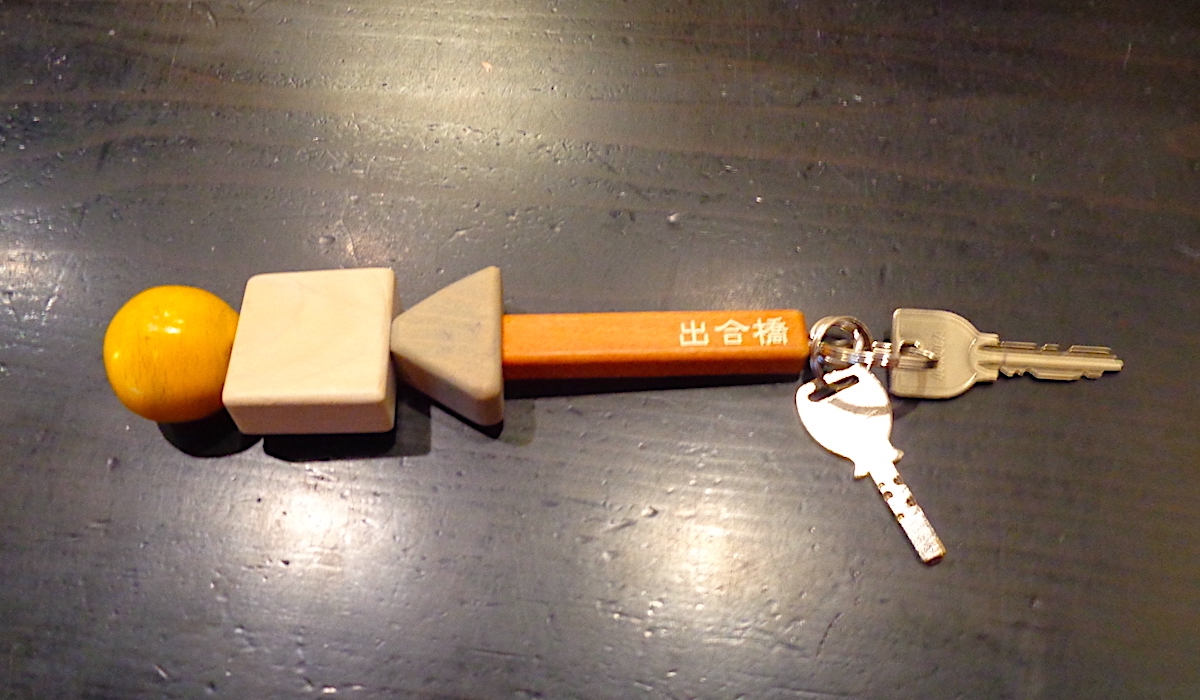 Keeping it fresh
Aside from making their soba noodles by hand everyday, Iya Bijin strives for using fresh ingredients with all they serve.
Actually, as I was speaking with manager Seiji Taniguchi, a delivery of hefty "konnyaku" yams had just arrived.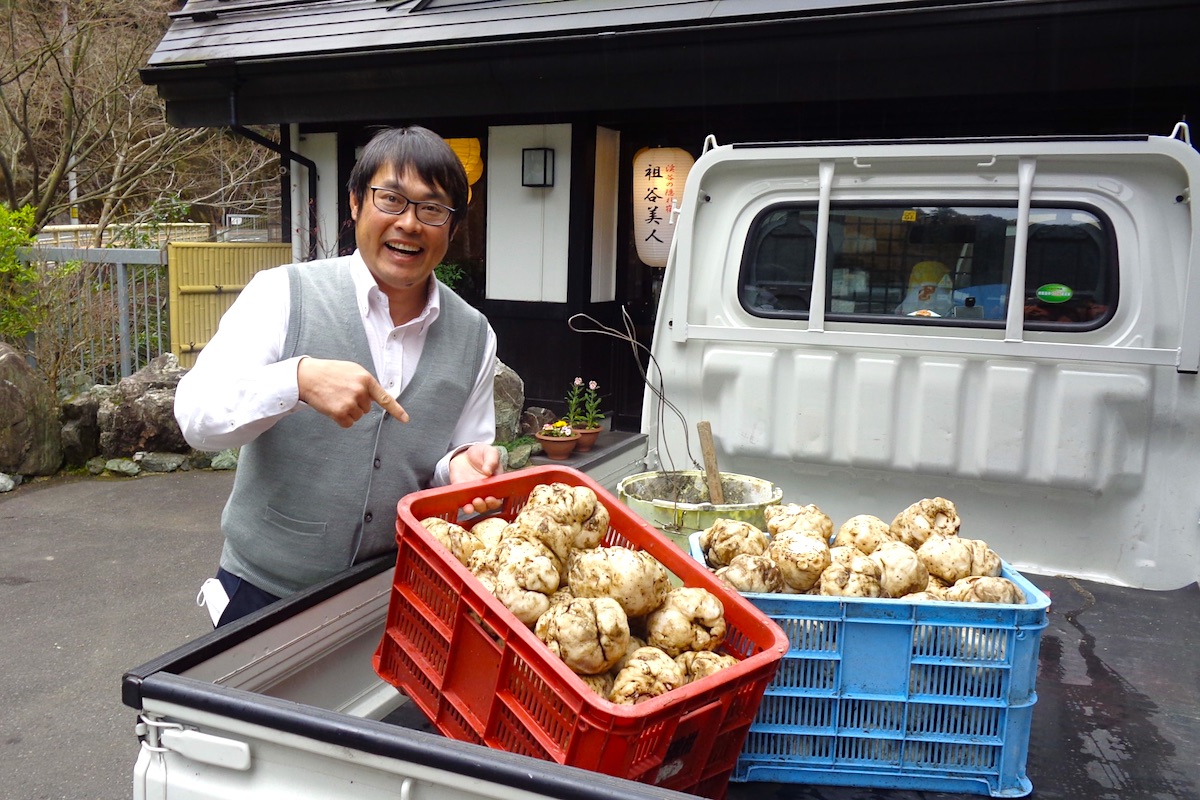 Inedible in their natural state, the process for making konnyaku gelatin is quite labor intensive. But he explained that they make it fresh every day because the results are worth the effort.
Many foreign people often feel that konnyaku gelatin is strange due to its rubbery texture, and perhaps this is why I could only find it as a side dish on their Japanese language menu and not on the English one.
But for anyone seeking a unique and natural flavor (which is actually quite healthy), you would be wise to order a side dish of their "konnyaku sashimi", which is sliced thin and served cold. 
This is not the factory processed stuff commonly found in supermarkets, so if there was ever a way this food might win over non-Japanese tastebuds, the fresh konnyaku sashimi of Iya Bijin might just be it.
But no matter what you order at Iya Bijin, it is all made fresh with ingredients produced locally.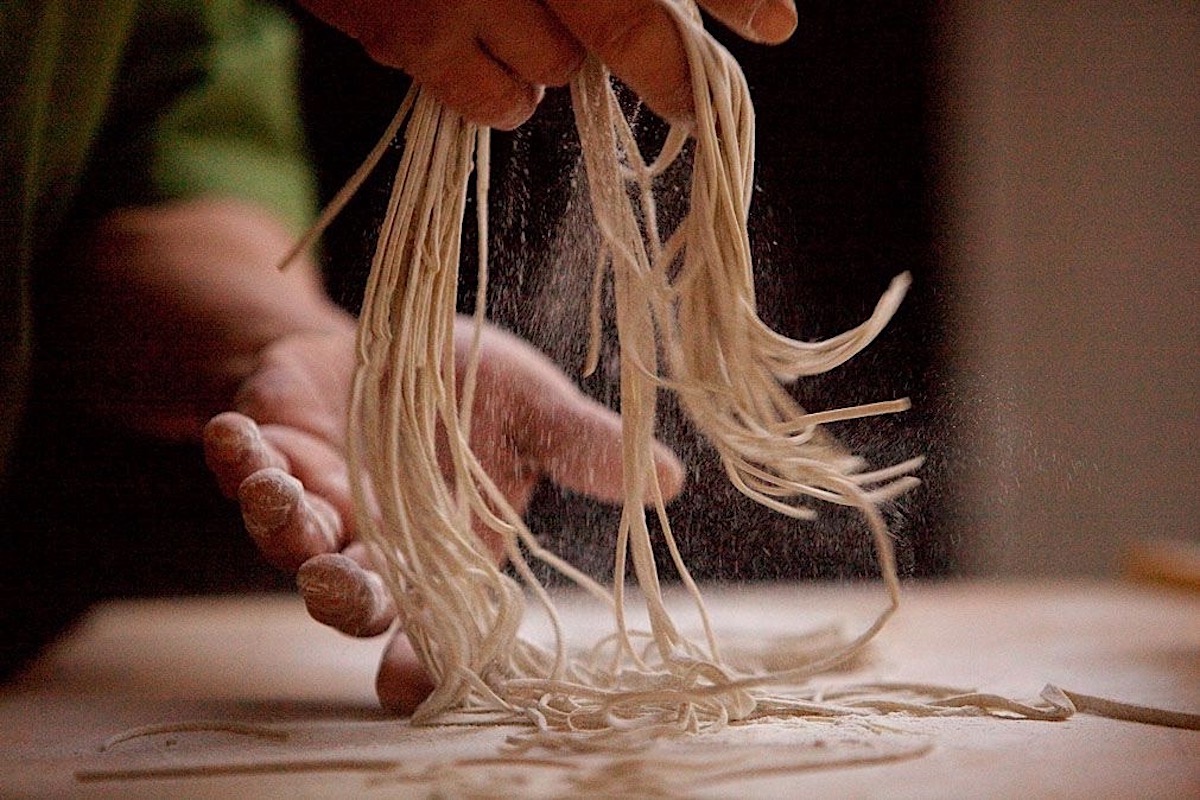 So whether looking for a special place to spend the night or if just hungry for a local lunch, then Iya Bijin is a great place to discover the authentic tastes of the remote Iya Valley which have developed over centuries, while also experiencing traditional style, the majestic landscape, and friendly Iya hospitality.
Iya Bijin
Keikoku no Kakure Yado Iya Bijin
("Hidden Inn of the Valley, Iya Bijin")
(Text by: Shaun Lamzy, Photos by: Shaun Lamzy & Iya Bijin)