Mountain Romance with Iya Bijin – Part 1 | A Secluded Inn Overlooking the Iya River
The Iya Valley is renowned for its natural remoteness within the mountains of central Shikoku, and one result of this historic isolation is that both the landscape and its people still maintain a traditional charm that has vanished elsewhere. One place where such local enchantment can be experienced is at an inn and restaurant called "Iya Bijin".
Discovering hidden luxury and tradition
Deep within the mountains of western Tokushima Prefecture's Miyoshi City lies the isolated Iya Valley, which is famed as being one of the "Three Hidden Regions" of Japan. It is a place of breathtaking natural splendor, traditional hillside villages, and unique historic sights like its "Kazurabashi" vine bridges.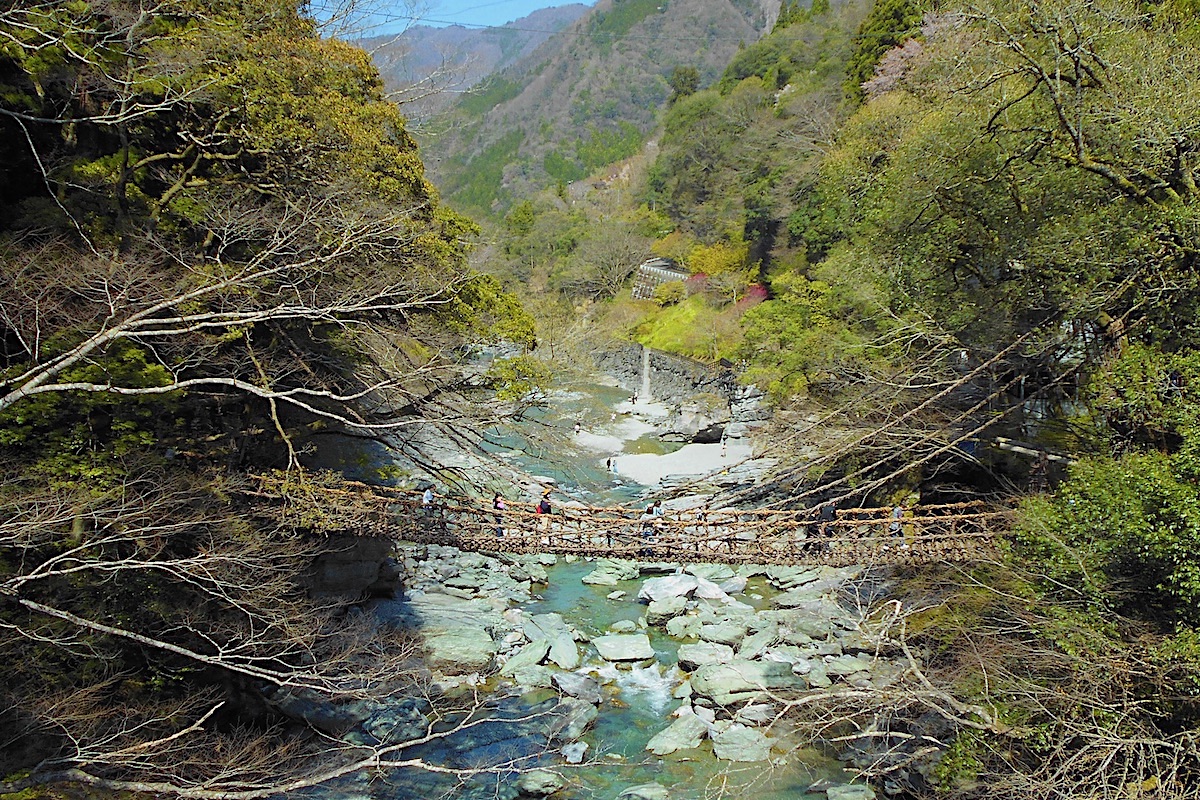 Though there are several places for visitors to stay here, ranging from modern hot-spring hotels to thatched-roof farmhouses, the Iya Valley is far from being overbuilt. And due to the valley's abundant forests and overall size (about 60km in length) no matter where you go there is always a strong feeling of remoteness not found elsewhere in Japan. 
Within the Nishi-Iya ("West Iya") part of the valley and perched above the emerald waters of the Iya River can be found Iya Bijin, a traditional style inn and restaurant which offers both modern luxury while also maintaining its longstanding local heritage.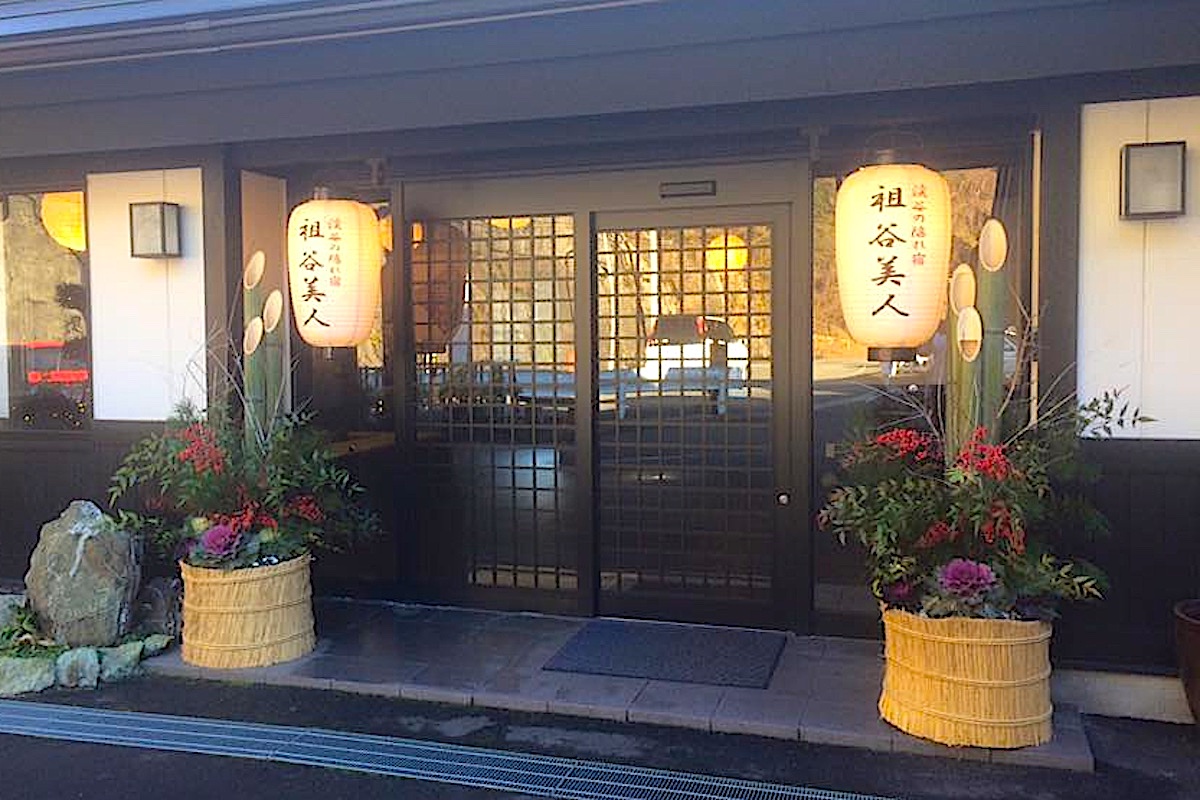 A central location on the way to the Kazurabashi
Located on Prefectural Rt 32 (not to be confused with nearby National Rt 32), Iya Bijin sits within an uninhabited pocket of forest overlooking the serene Iya River and its traditional architectural style blends nicely into the landscape. 
The winding Rt 32 is Iya's main road, so access to Iya Bijin is relatively easy, and the inn's central location within the valley makes it a nice base for exploring the area.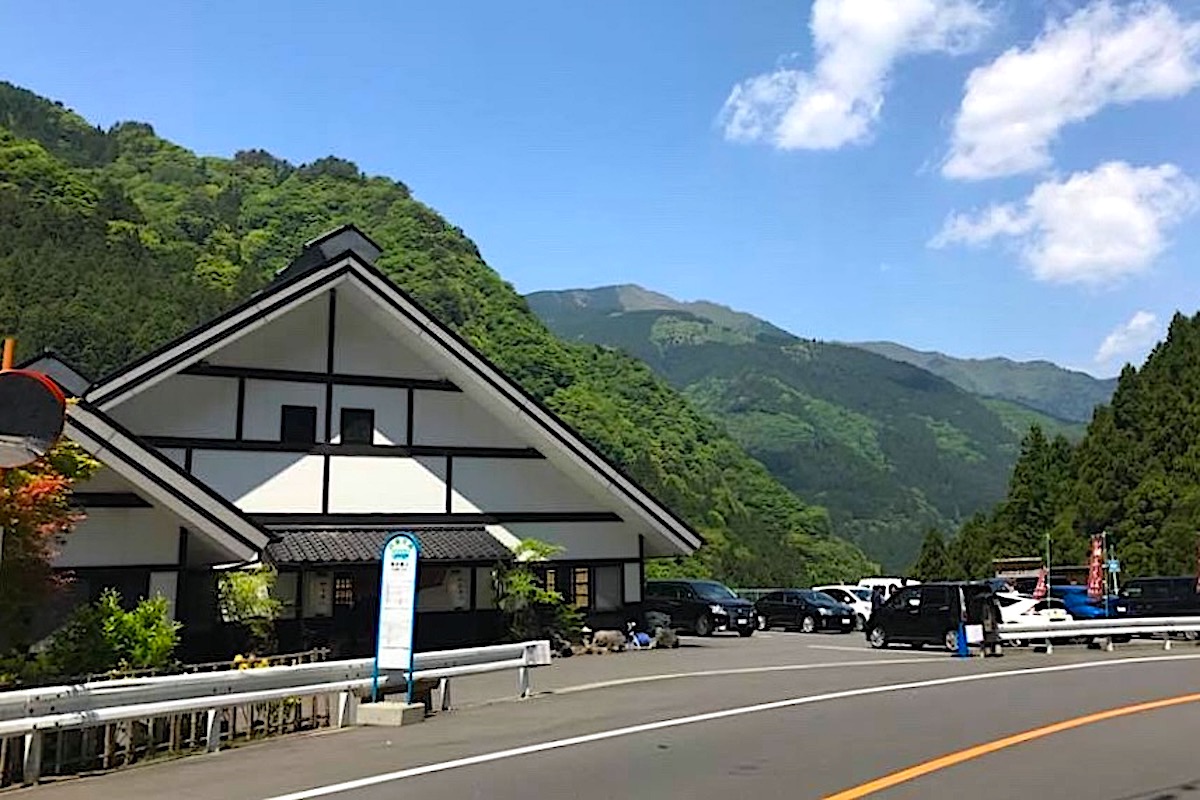 As mentioned, the three historic "Kazurabashi" vine bridges are perhaps the Iya Valley's most famous sights, and the largest and most famous one, the Iya-no-Kazurabashi, is located about a 5 minute drive away from the inn.
There are two aspects of Iya Bijin, the restaurant which is famed for its Iya-style lunches (explained in Part 3 of this article), and the boutique-style inn for overnight guests. 
For those who are staying here, upon entering the main lobby you feel like you are stepping into an old traditional house, with its sliding paper "shoji" screens, exposed wood beams, and large "irori" hearth surrounded by "tatami" mat benches.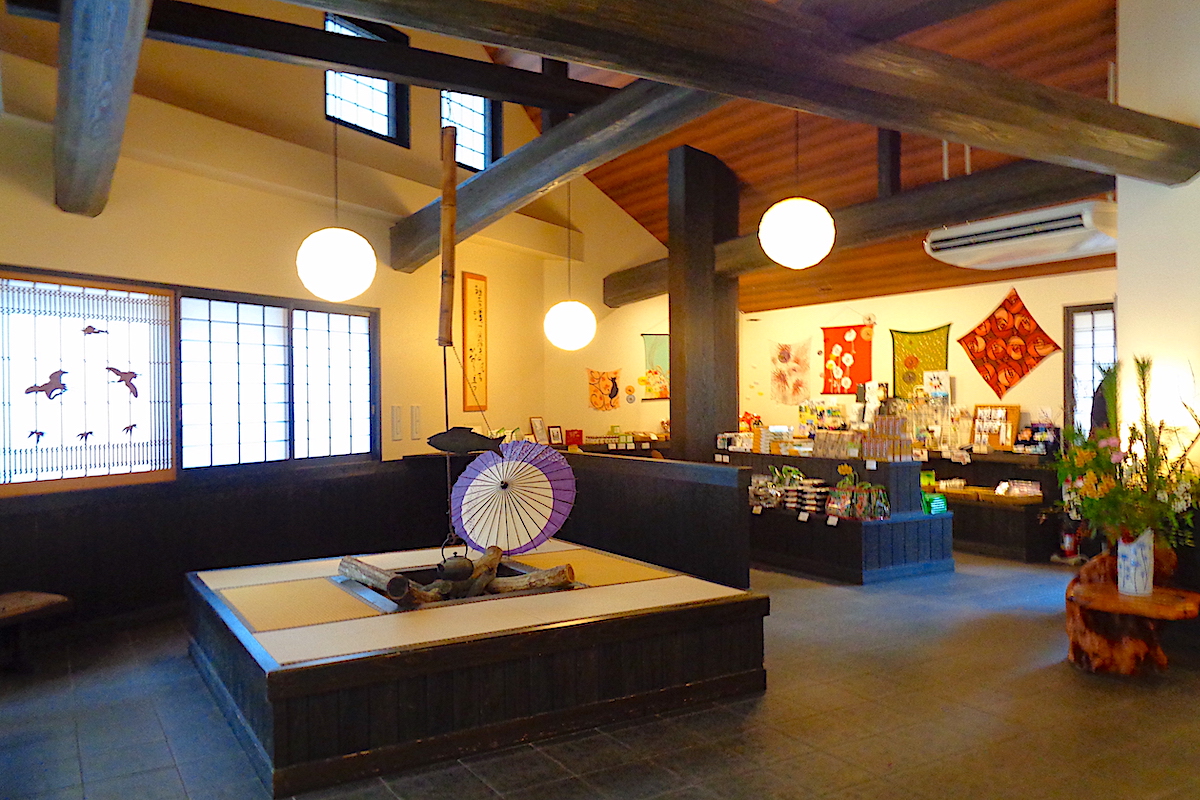 Traditional Japanese elegance with open-air baths
Though spacious, the officially name "Keikoku no Kakure Yado Iya Bijin" is not a large hotel, but the attention to detail is delightful. There are only nine rooms in total, and among them are four different types with varying degrees of opulence. 
All rooms are traditional Japanese style, with tatami flooring and minimalist elegance. Some are multi-room suites that are popular with families or for those simply seeking even more spaciousness. And the largest suite has its own private dining room with separate server's entrance.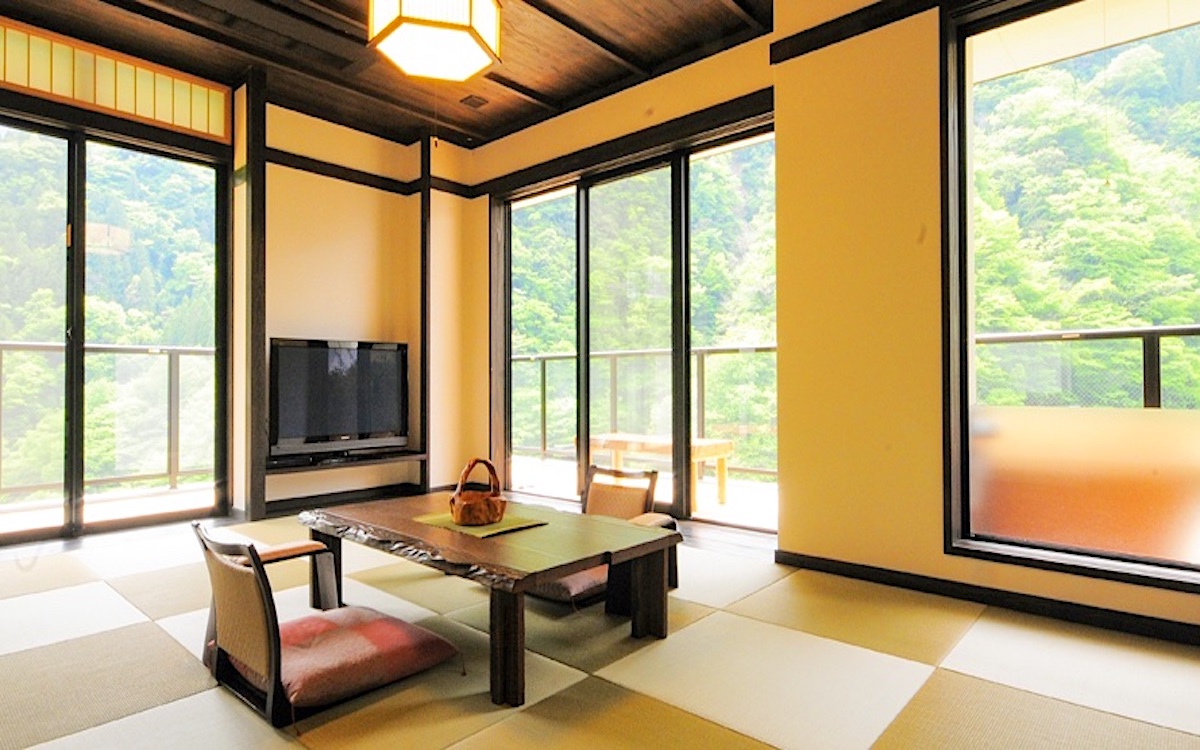 Natural materials feature prominently in each room, with the most pronounced aspect being the view looking out across the valley unto the dense forest and river below, which in the evening is brilliantly illuminated with spotlights. 
But perhaps the greatest highlight is that every room has its own balcony upon which sits a private bath tub large enough for two to comfortably enjoy. Privacy is ensured, so exposing oneself to the crisp Iya breezes comes without any awkwardness one may otherwise feel at the more typical shared hot-spring baths found elsewhere in Japan.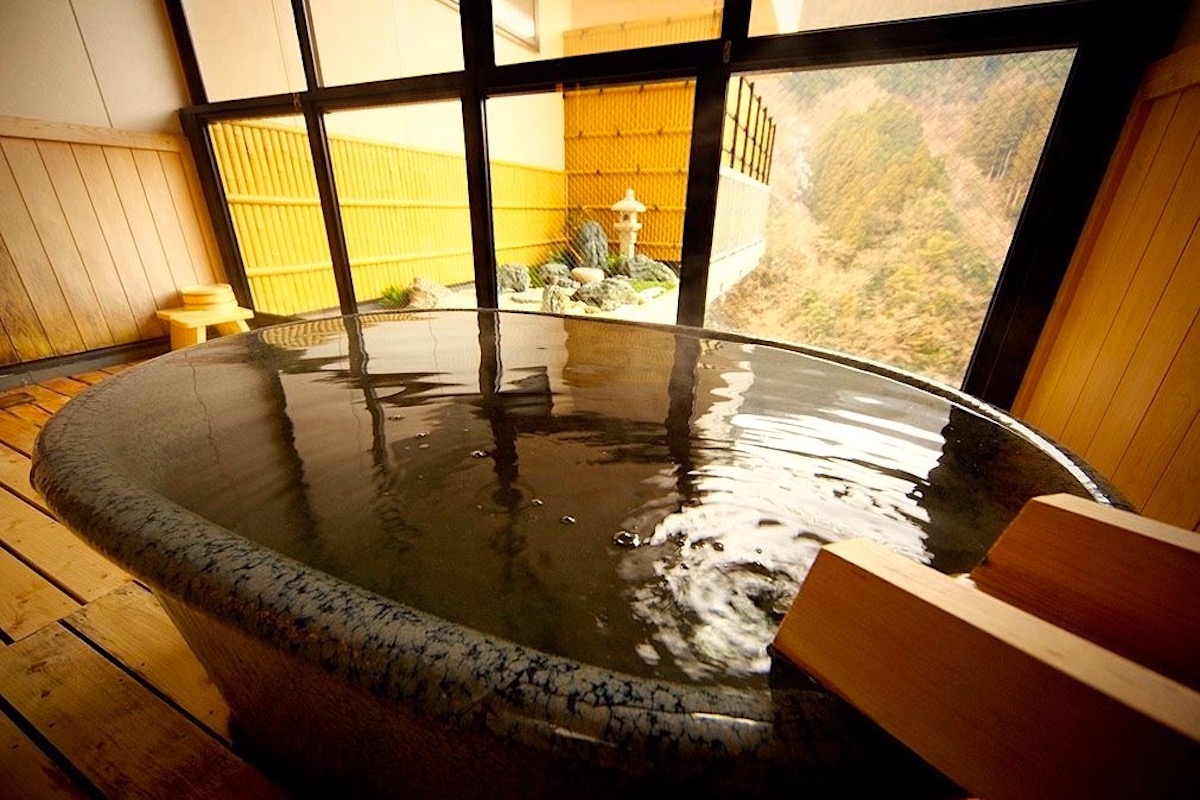 Indeed, if one is new to the whole "onsen" experience, then stripping down with strangers may be a bit off putting to some people, but there are no shared baths at Iya Bijin, just the private balcony tubs.
The steamy water for their baths are geo-thermally heated and pumped up from deep below the valley floor. Hot baths are drawn for guests before they arrive so that they can envelope themselves almost immediately in both the silky smooth waters as well as the natural rhythms of the tranquil landscape.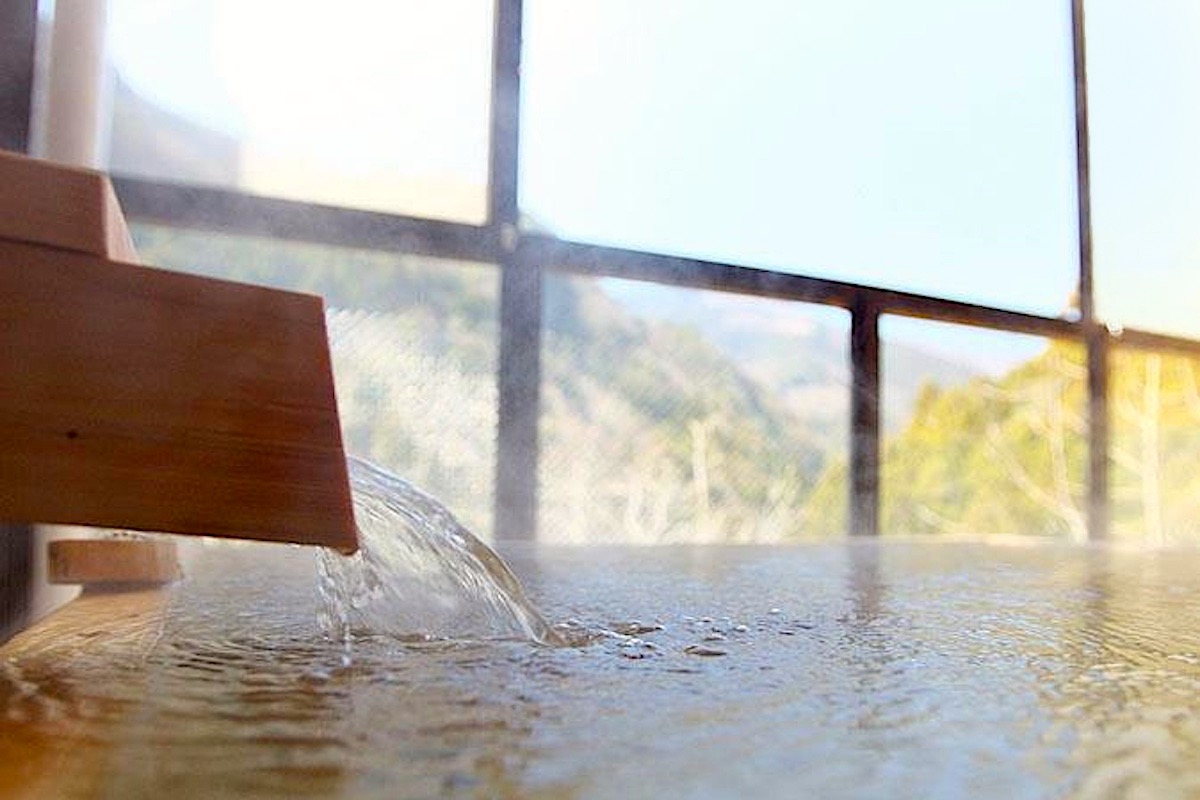 A hearth of your own
Another captivating part of Iya Bijin is the dining experience. Tables are within private rooms separated by sliding paper "shoji" doors, making one will feel like they are stepping back in time and discovering the "real" Japan.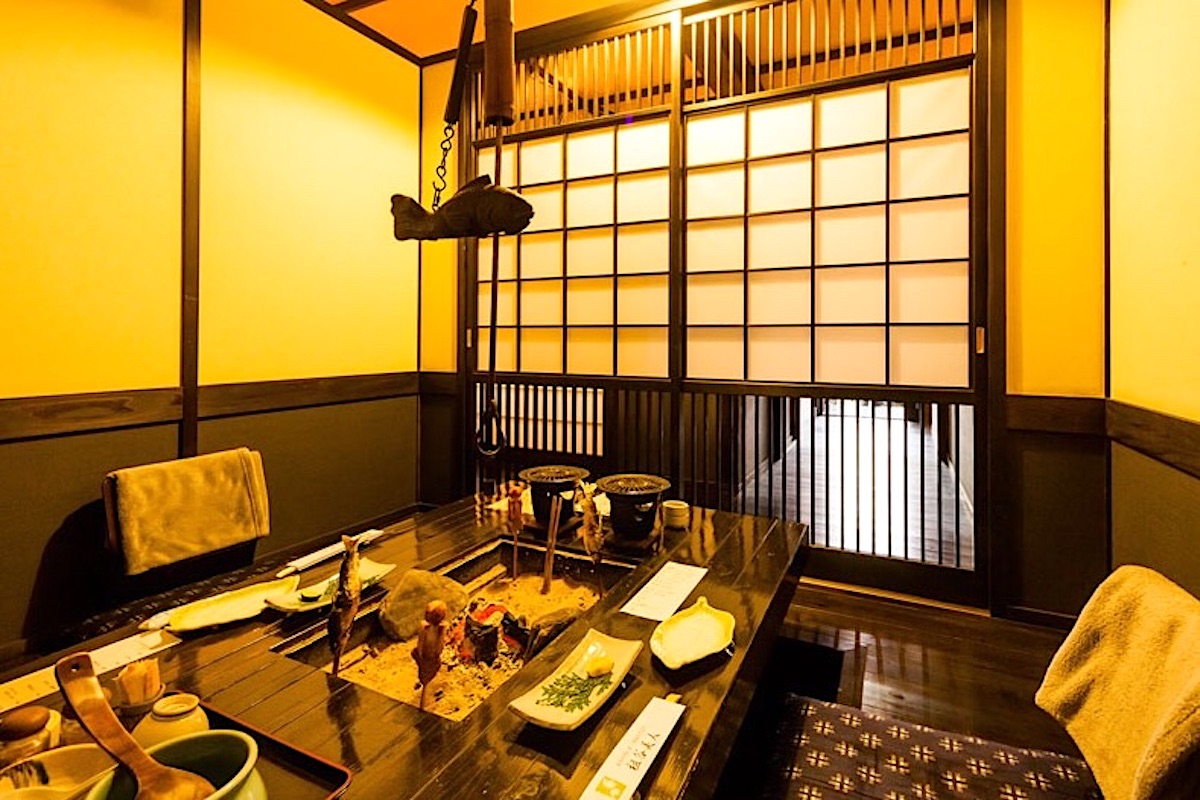 Guests have their own "irori" hearth to sit around, upon which their dinners are prepared. The multi-course meals feature a range of traditional Iya dishes and local ingredients such as wild mountain sprouts, dense "stone" Iya tofu, grilled Iya River trout, and locally hunted wild boar.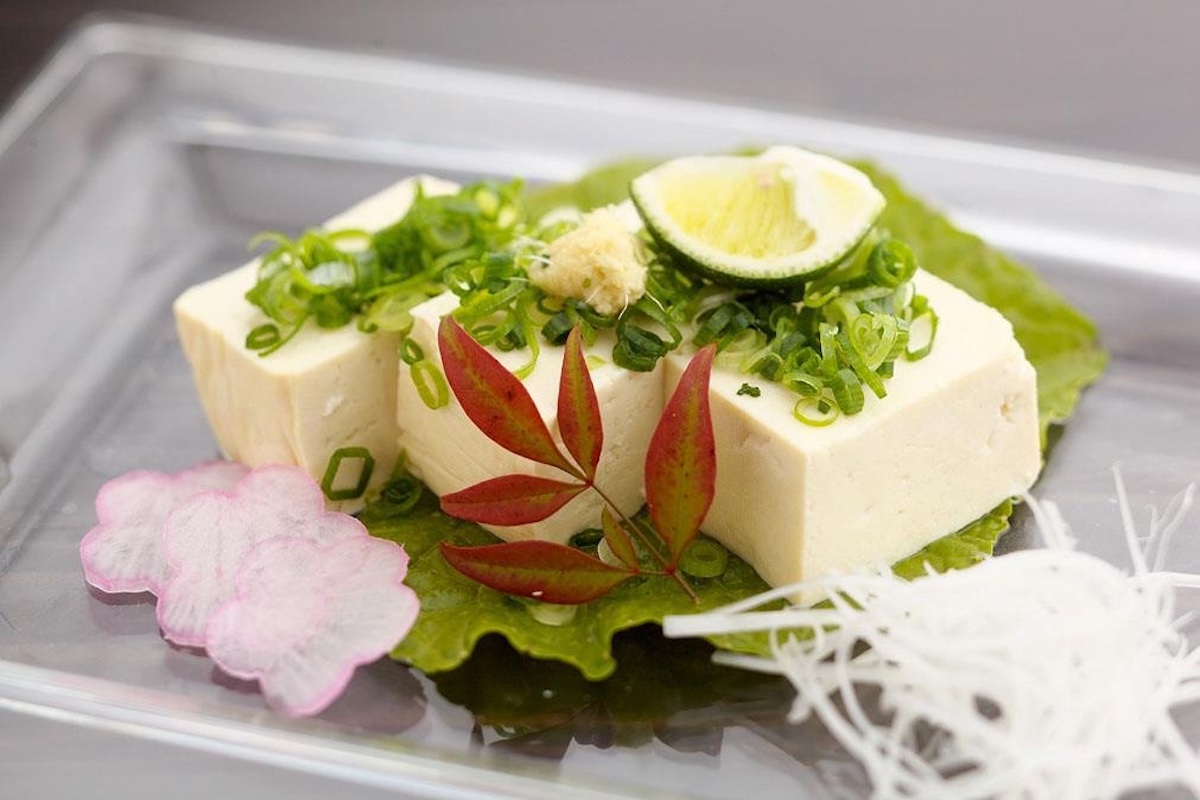 Actually, the family that runs this lovely place are proud of their heritage in the Iya Valley and their ability to provide a home-made taste that spans generations, and in Part 2 we meet the family that owns and operates Iya Bijin.
【Next post】
>>Mountain Romance with Iya Bijin – Part 2 | Meeting the "Beautiful" Owners
Iya Bijin
Keikoku no Kakure Yado Iya Bijin
("Hidden Inn of the Valley, Iya Bijin")
(Text by: Shaun Lamzy, Photos by: Shaun Lamzy & Iya Bijin)