Iya Summer Festival – Part 2 | Enjoying Food and Fun at this Countryside Celebration
For the first time in 3 years, the Miyoshi City's Iya Valley was able to hold their annual summer festival on July 23rd. Local people and visitors were particularly excited to finally be able to come together for an evening of celebration.
previous post>>Iya Summer Festival – Part 1 | The Revelry has Returned After 3 Years of Waiting
A wide variety of tastes
This year's Iya Summer festival had several food tents and a food truck all run by various cafes from the surrounding area. It seems that what was on offer was a little bit different than the usual festival grub, and the people here welcomed the variety of tastes.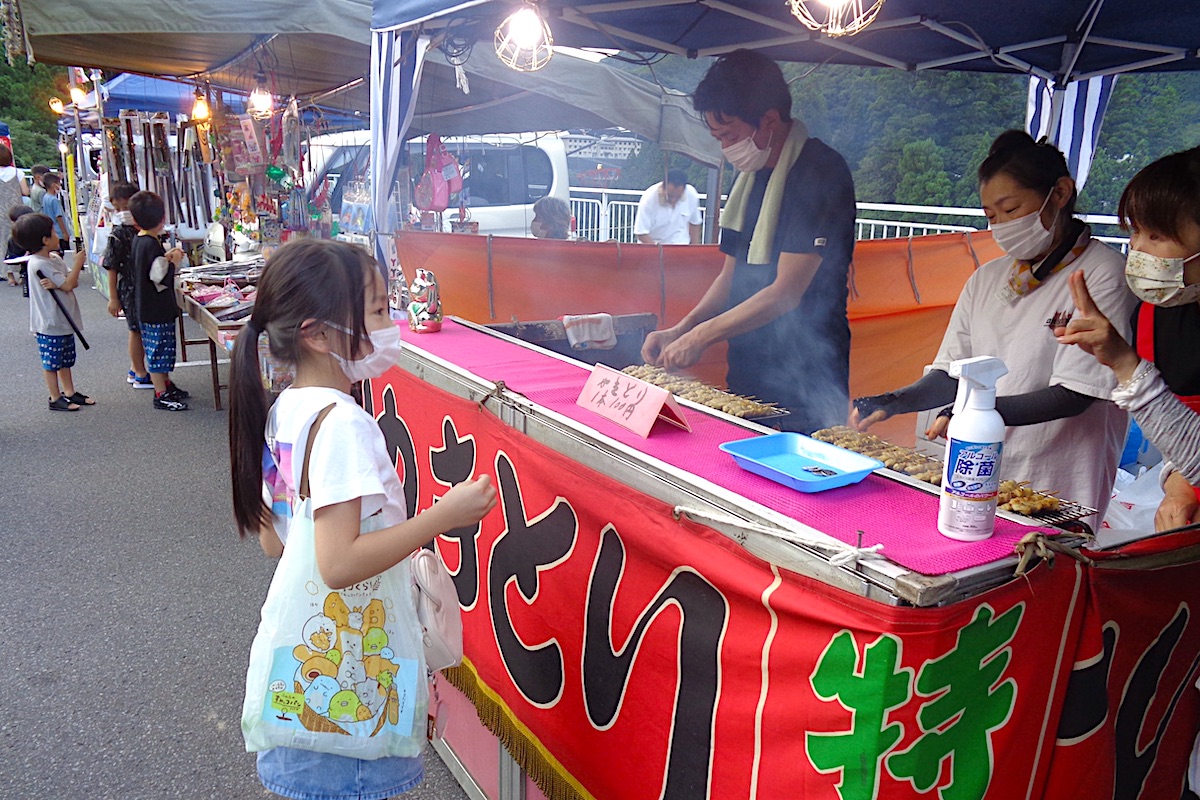 Of course, yaki-tori (grilled chicken skewers) were available, which went well with a cold beer.
But one thing that stood out was the snazzy food truck (known as a "kitchen car" in Japanese) operated by SARAI Kitchen from nearby Mima City. They had a range of dishes on their menu, including yaki-soba noodles, churros, and barbecue beef skewers.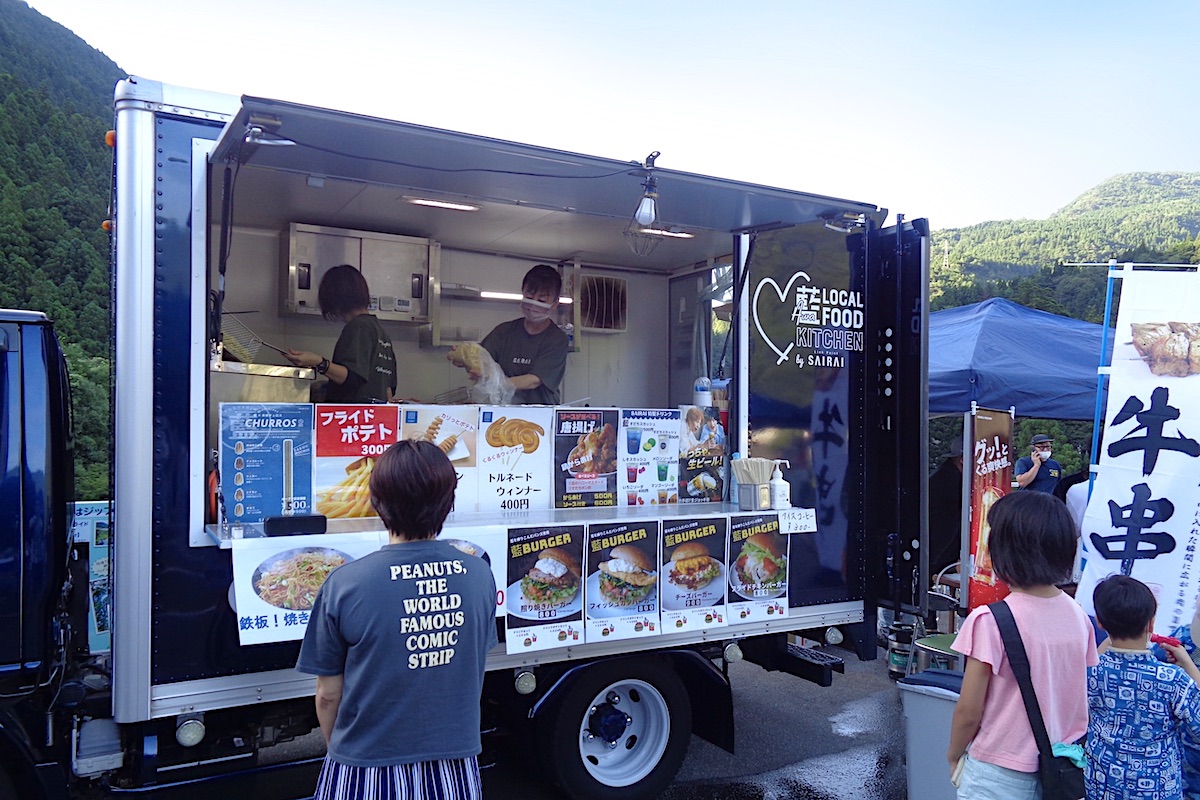 They also had a tasty blue drink died with actual indigo plants, which is grown in the Mima City area of Tokushima Prefecture.
Sampling the local flavors in a hidden valley
Also available were the sweet creations of the "cafe culcul", which is based in the Yoshinogawa Highway Oasis of neighboring Higashi-Miyoshi Town. Their Cup Castella fruit cake was particularly popular.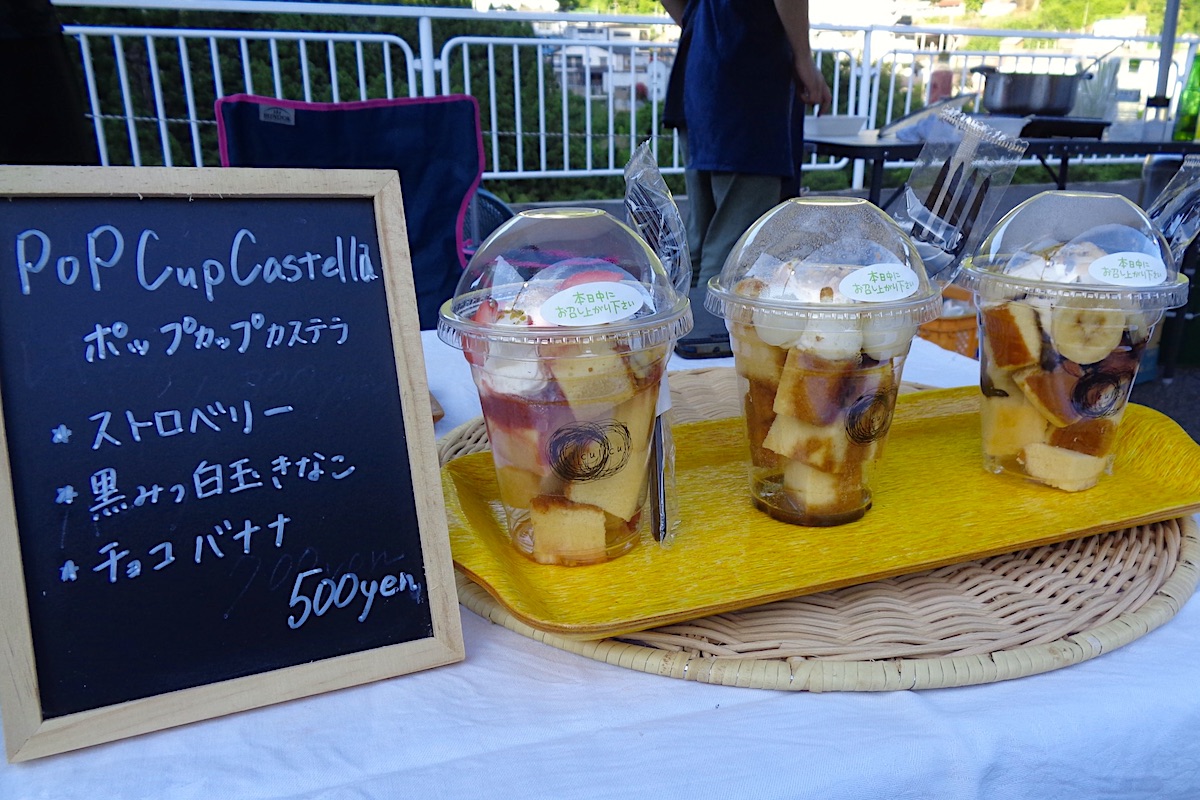 The staff from the Oboke Michi-no-Eki's "Cafe & Jibie" were serving up curry made with locally produced "Awa Chicken", as well as some delicious French Toast delights.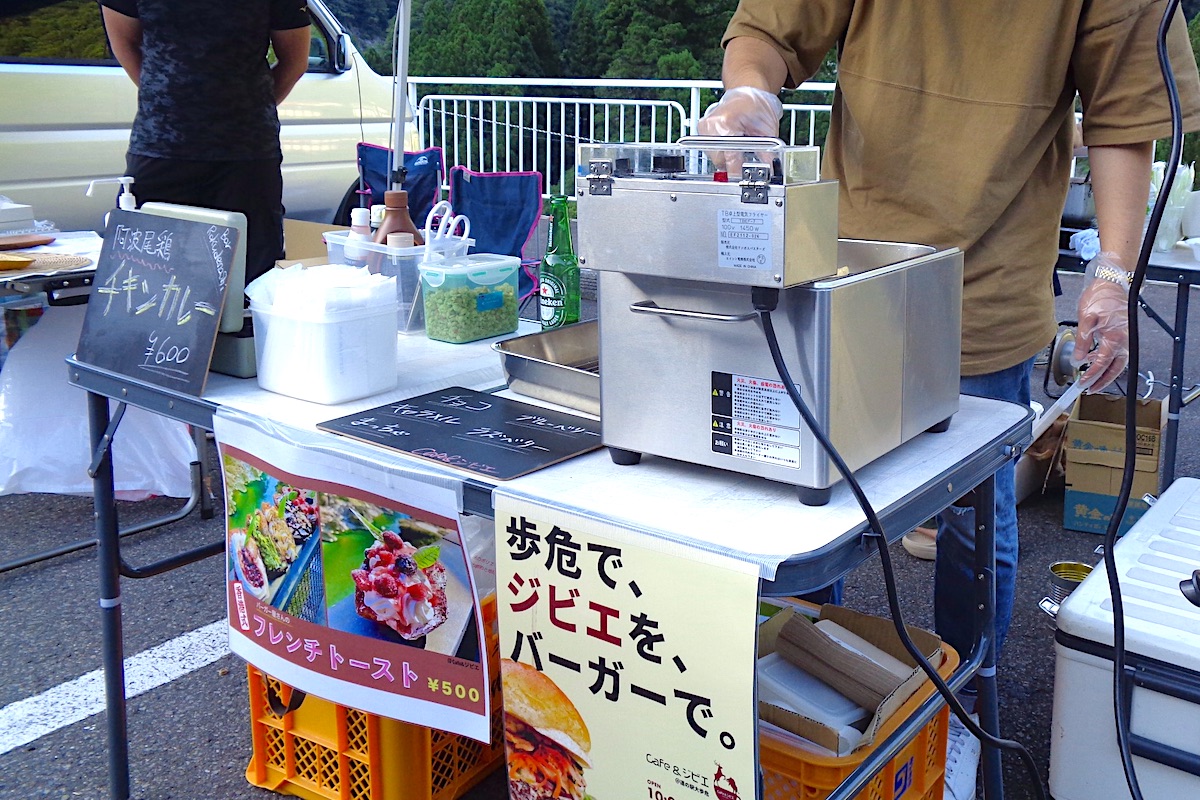 And the cheerful owner of Hanan Coffee, which is located just across from JR Oboke Station, had a wide range of drinks available, including colorful cocktails and shaved ice desserts.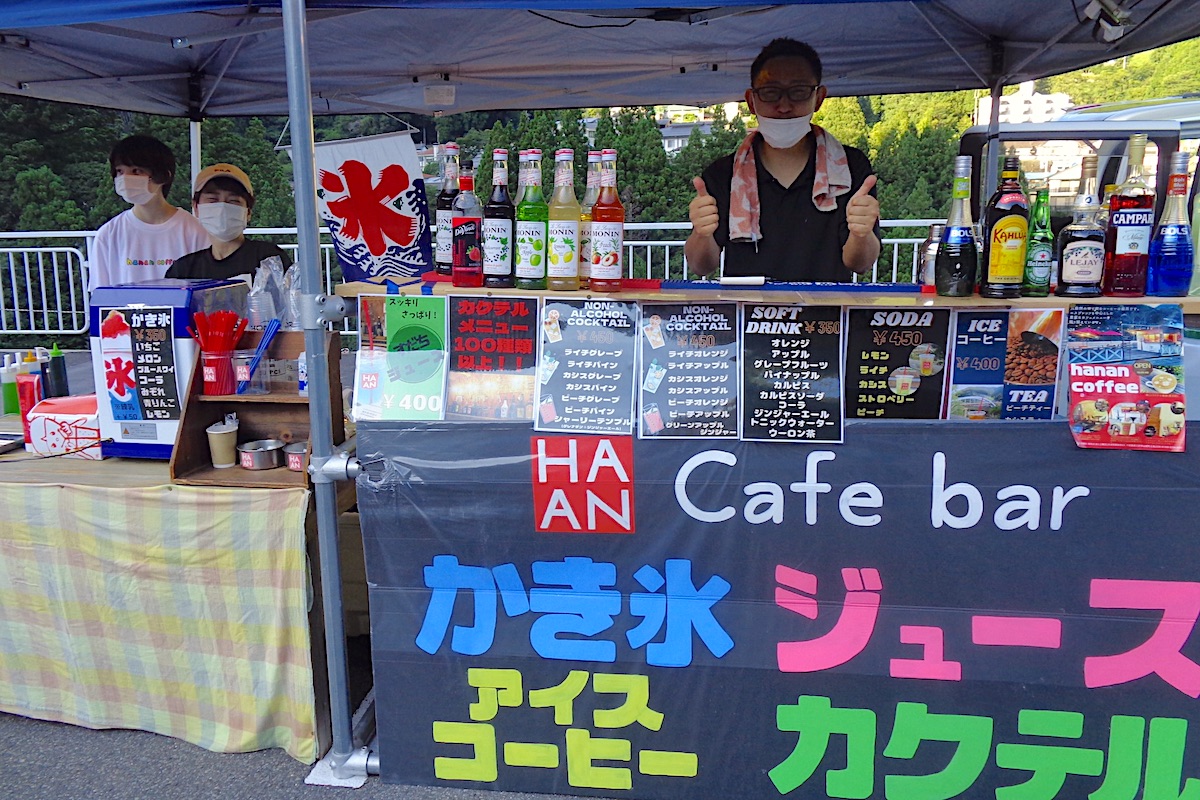 Families enjoying the summer evening
Aside from the food and drinks, there were also games available for children with prizes for the winners.
Ring toss and disc throwing games attracted lots of kids, who were quite excited to finally be able to enjoy such an event after three long years of hiatus.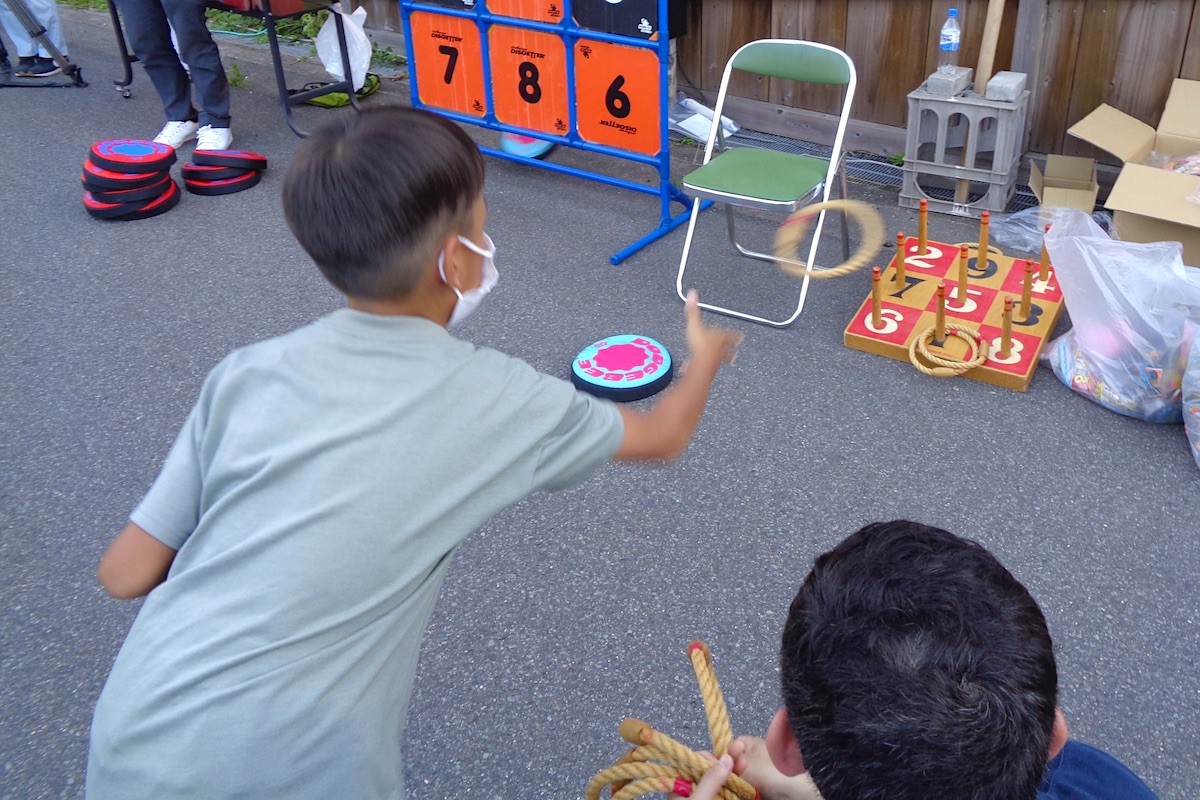 Indeed, having a chance for the local families to get together for some fun as they enjoyed the lovely summer weather had been something everyone missed during the pandemic, so having a chance to finally do so made this year's event even more special.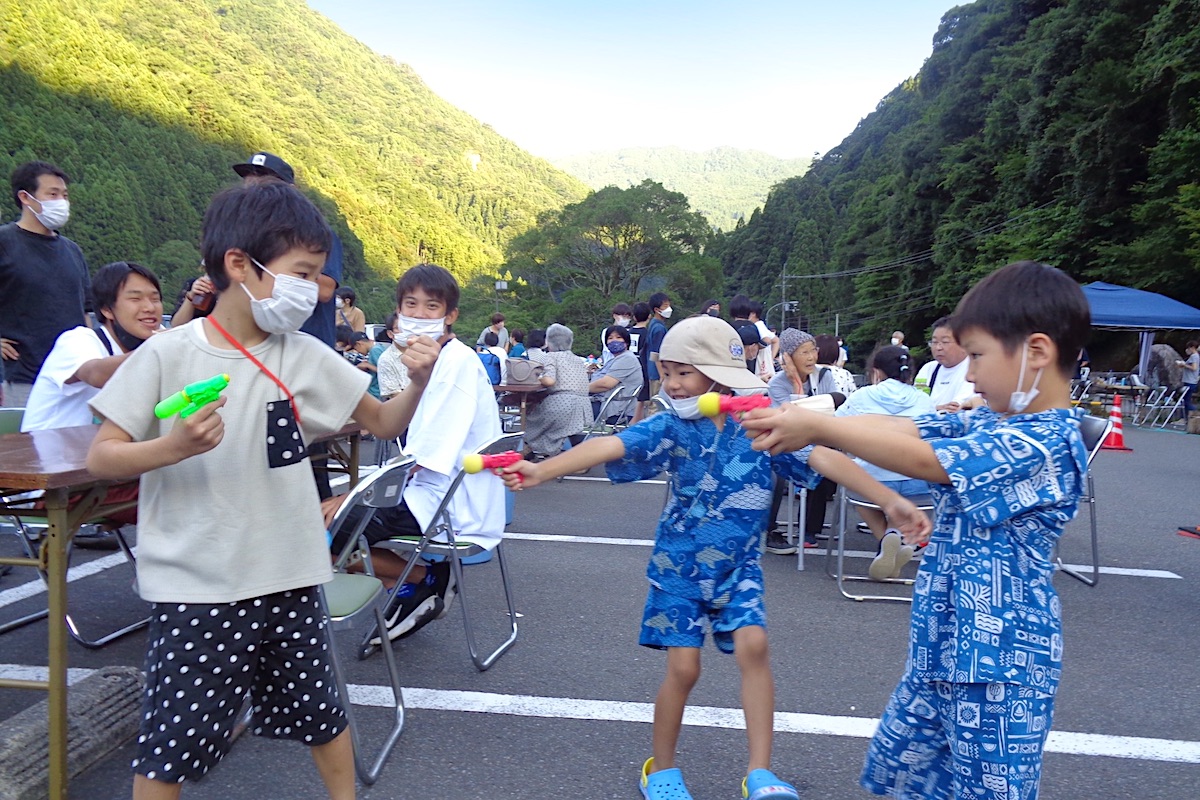 In Part 3 we report on the Big 3 final events of the Iya Summer Festival.
next post>>Iya Summer Festival – Part 3 | Dancing, Prizes, and Fireworks Cap Off a Joyful Evening
Miyoshi City Festivals
For more information about future events in the Iya Valley area, check the Event Page on the IyaTime website:
https://www.iyatime.com/events
(Text & Photos by: Shaun Lamzy)