Iya Summer Festival – Part 1 | The Revelry has Returned After 3 Years of Waiting
Miyoshi City's Iya Valley held its summer festival on July 23rd for the first time since 2019. With the coronavirus reducing in severity, both the local people and visitors were thrilled to finally get together for this annual event with lots of food, fun, and fireworks.
Coming together along the river in the central Iya Valley
The Iya Summer Festival was held at Iya Fureai Park in the Nishi-Iya section of Miyoshi City. Surrounded by verdant mountains, this event space is located in the center of the Iya Valley on Rt 45 near the Nishi-Iya Michi-no-Eki (Roadside Station).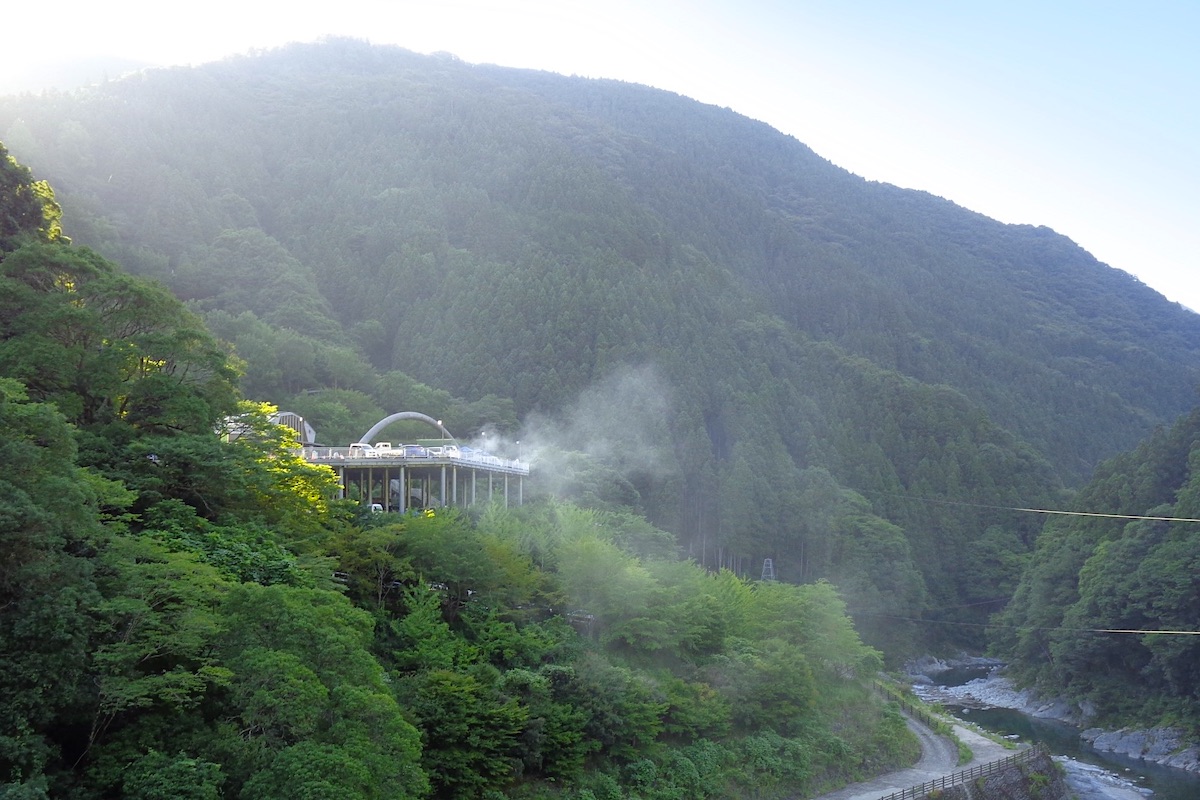 At other times, the Iya Fureai Park is a popular place for activities including the Forest Adventure tree climbing and zip-line, and the cute Ladybug Monorail. It  also has a campground below with great access to the Iya River.
A Long Awaited Summer Tradition
Due to the coronavirus, events in the area have been cancelled for the past three years, so having the Summer Festival this year on July 23rd was particularly jubilant.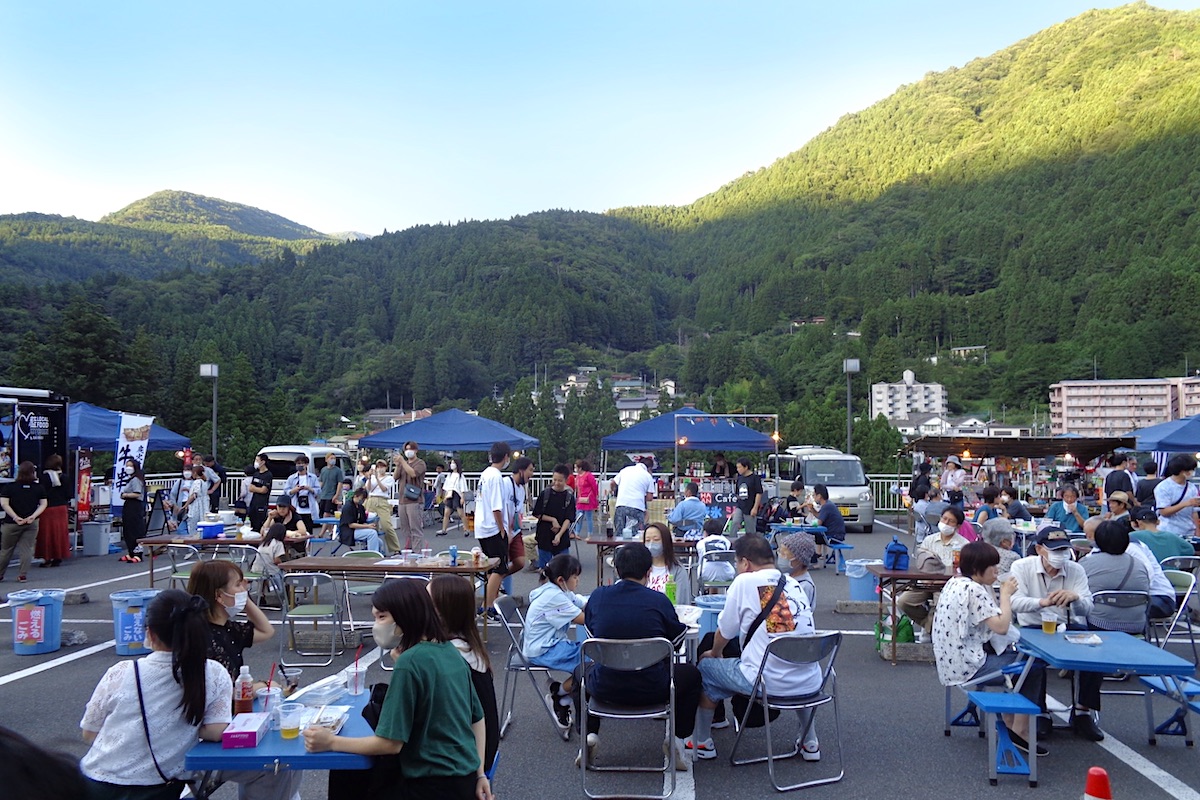 The festival was organized by several local groups, including the Nishi-Iya  Accommodation's Fireworks Committee, the Higashi-Iya Chamber of Commerce, and the members of the "Y-Team LOVE" group of Nishi-Iya.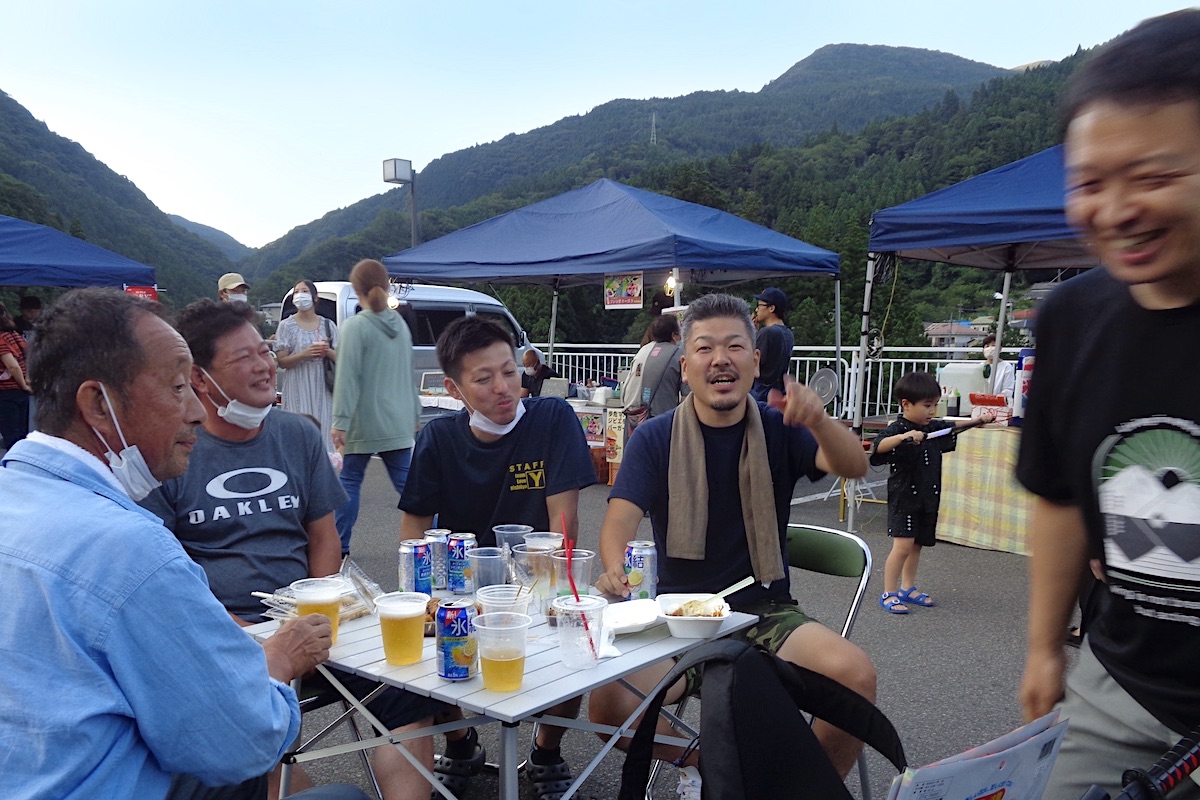 Festivities began around 5pm, and lots of people merrily converged to the site from not just around the Iya Valley but from neighboring towns as well. Outside visitors were of course also welcome. And due to the virus still being a concern, efforts were made to make it a safe and hygienic gathering.
Proclaiming the passion of Iya through Karaoke
In the early evening the main event was open-mic karaoke, and judging from the spirit of the singers, it was clear that they were excited to finally have a summer festival again.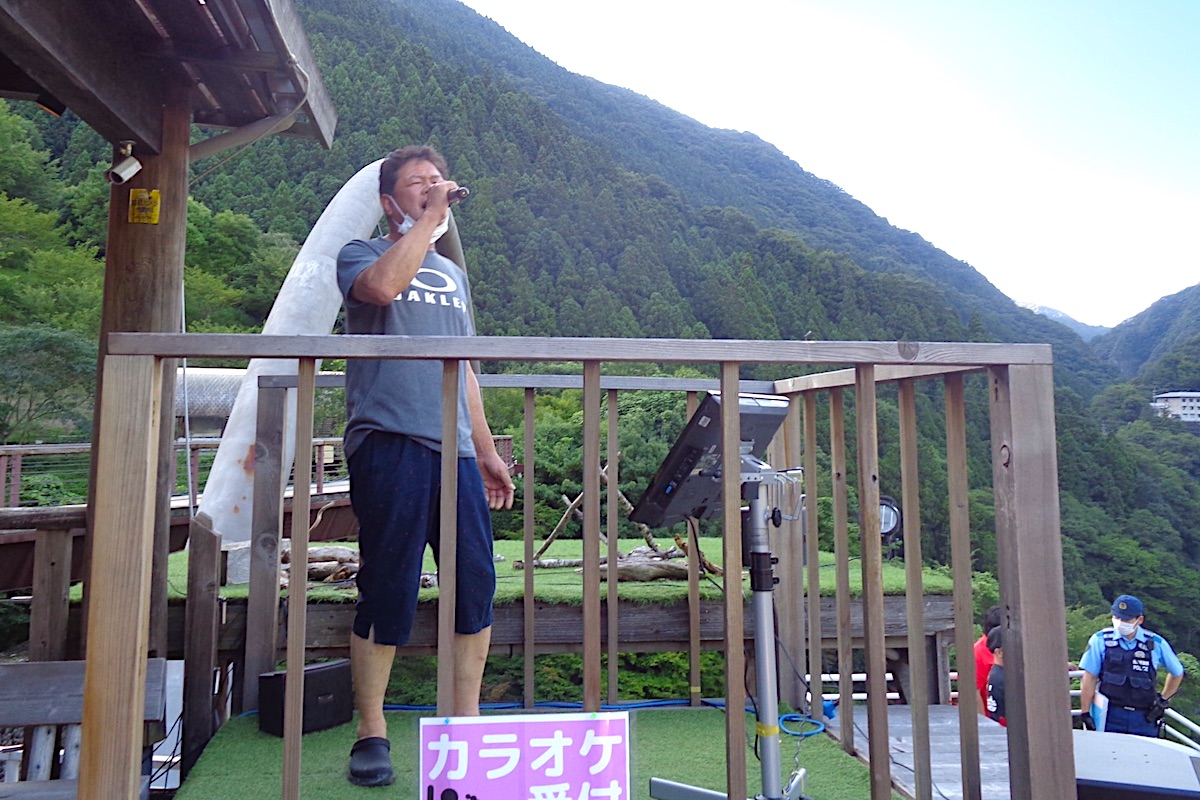 A stage was set up overlooking the crowd, and while the performers sang they were all warmly cheered like concert stars.
Anyone was welcome to participate, and the singers ranged in age from young to old, and there were even a couple duets. There was also a variety of songs chosen, from classic enka ballads to modern J-pop, and even some anime hits.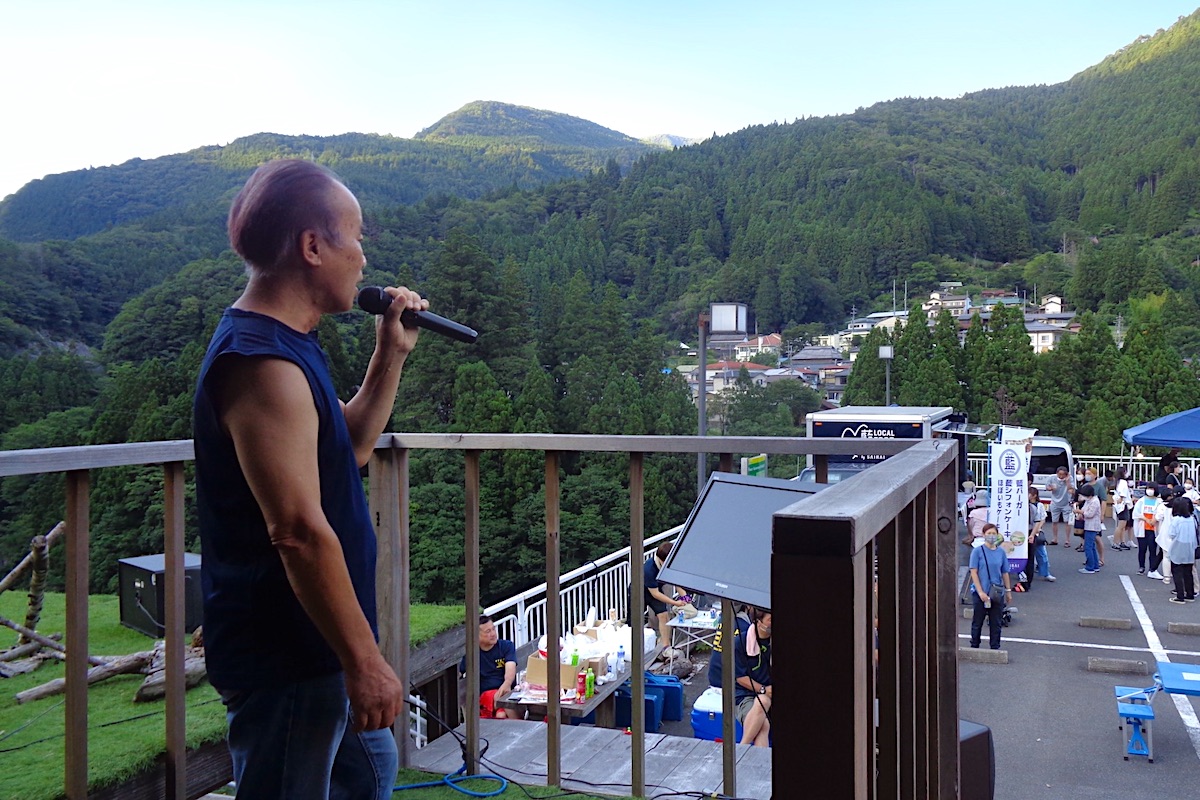 But for sure, while other larger towns and cities may have big-name acts at their festivals, the small-town feel of this mountain-enclosed event, where the local people were their own entertainment, made the summer festival seem more like it was a party of friends and family.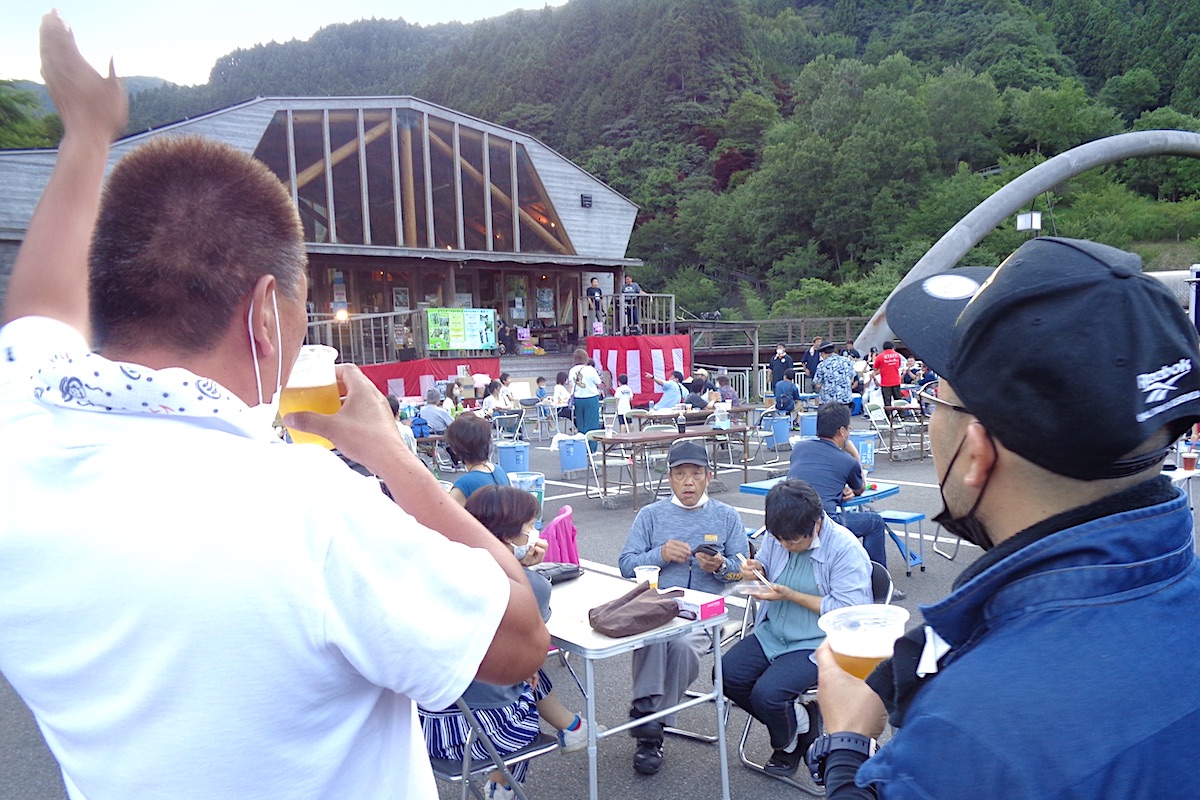 And as the evening grew darker, more and more people arrived and the atmosphere became even more excited.
In Part 2 we find out what else was on offer at the Iya Summer Festival.
next post>>Iya Summer Festival – Part 2 | Enjoying Food and Fun at this Countryside Celebration
Miyoshi City Festivals
For more information about future events in the Iya Valley area, check the Event Page on the IyaTime website:
https://www.iyatime.com/events
(Text & Photos by: Shaun Lamzy)