Tastes of Iya at Senkichi – Part 3 | Local Flavors Featuring Hand-made Iya Soba
In the isolated Iya Valley section of Tokushima Prefecture's Miyoshi City, a well-known restaurant named "Senkichi" can be found along the main road as it twists its way into the valley. Featuring local foods, a lovely traditional interior, and currently celebrating its 20th anniversary, this captivating place is a delight to all the senses.
previous post
>>Tastes of Iya at Senkichi – Part 1 | A Restaurant in a Hidden Region, where Ninjas also Lurk
>>Tastes of Iya at Senkichi – Part 2 | A Vibrant Chef Celebrates 20 Years of Creativity
Hand-made Iya Soba served with home-made broth
The menu at Senkichi is fairly diverse (also available in English and Chinese), but to begin with I decided to order what is understandably the most popular item, "Iya Soba Tempura".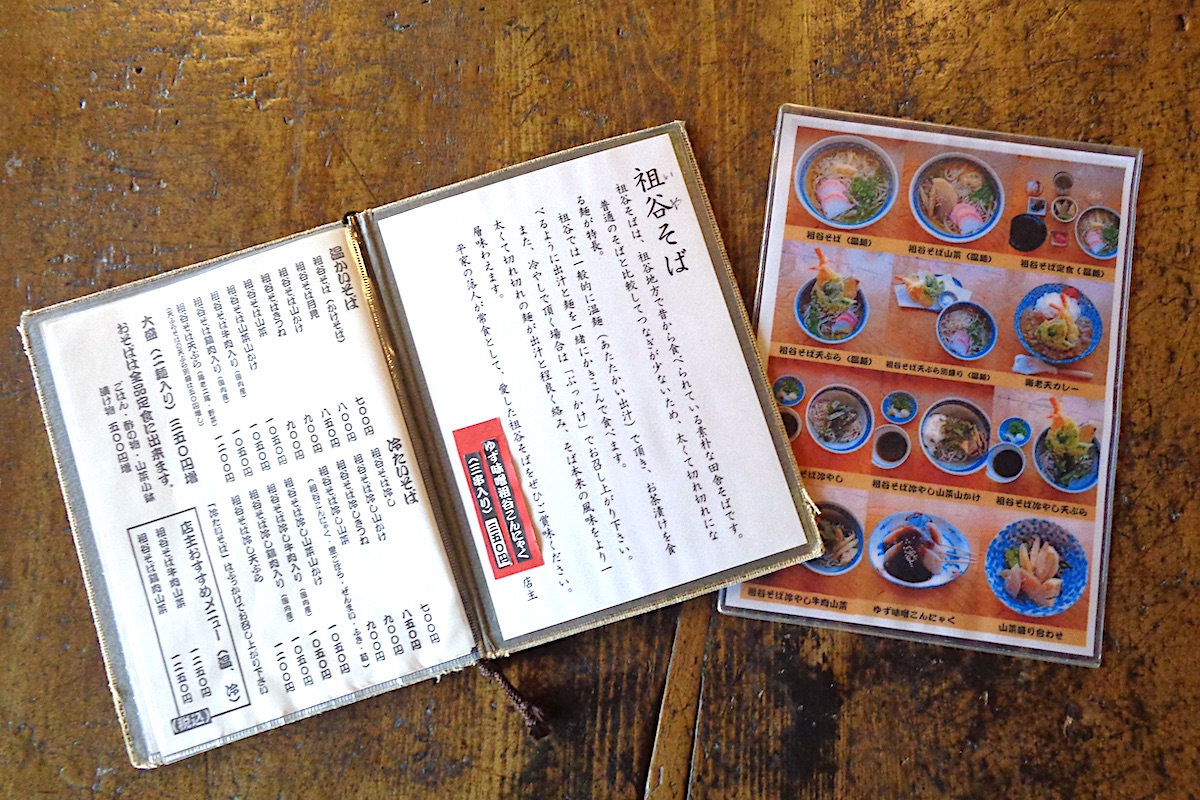 For those who don't know, the Iya Valley is famed for its hillside villages, and over the centuries the area developed a culture for growing buckwheat ("soba") since rice cultivation was rather difficult upon the steep mountains.
And one thing which sets Iya Soba noodles apart from the soba noodles of elsewhere is how in Iya they do not use binding agents (like wheat flour) within the dough. Making them with only buckwheat gives the noodles a more hearty taste, but it also means that they tend to break apart rather easily. 
And being that the soba noodles at Senkichi are hand-made, with each one individually cut by a knife, it results in a slightly different thickness with every noodle. For certain, this is artisan Japanese cuisine at its finest.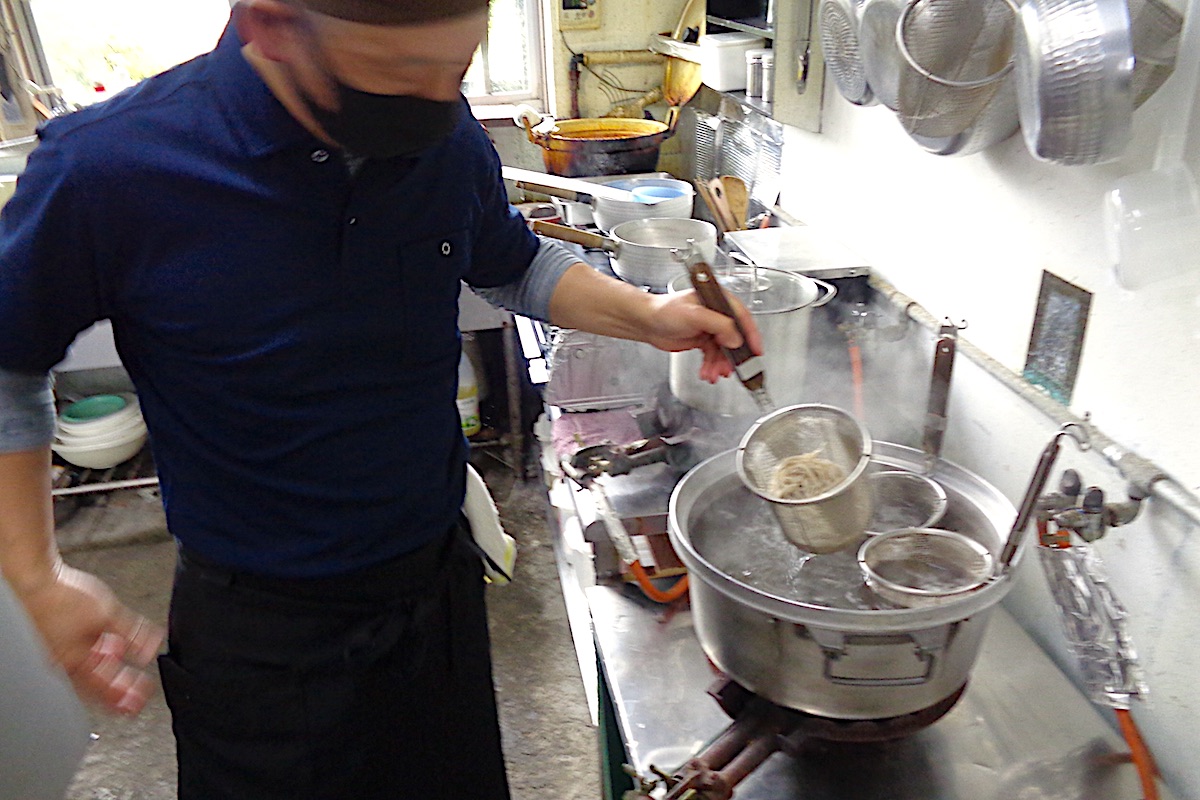 Also at Senkichi, the soup broth in which the noodles are served is slow-cooked by owner-chef Masao himself with a recipe he carefully developed over the past couple decades.
Tempura with wild mountain plants
The deep-fried tempura and the toppings that came with the Iya Soba at Senkichi apparently change with every season, and being that it was April when I visited it meant that various spring vegetables as well as "sansai" ("wild mountain plants") were being featured.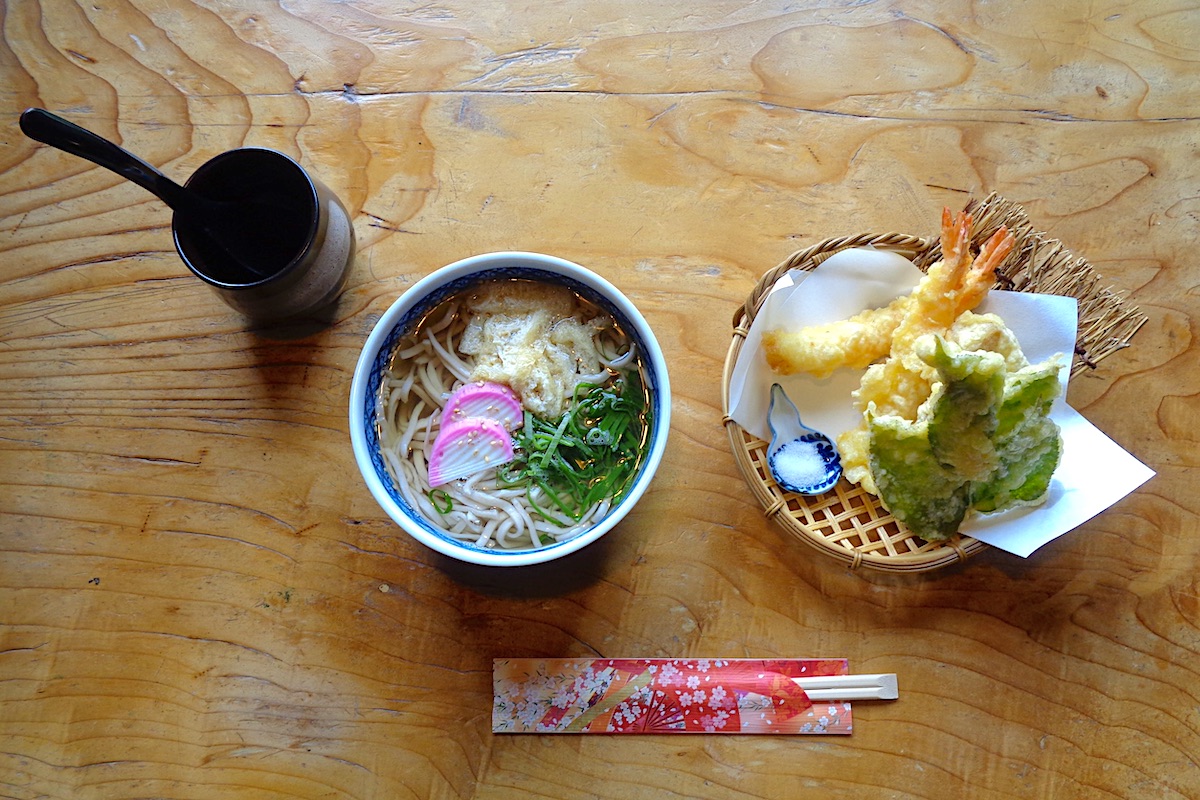 These included bamboo shoots and other wild sprouts that grow in the mountain forests of Iya which are picked and cured during this time of year. Indeed, such delicacies are what make rural Japanese cuisine so unique.
Yuzu Miso Konnyaku: the most popular side dish
At the recommendation of Masao I also ordered a plate of his "Yuzu Miso Konnyaku", and for those unfamiliar with Japanese food, allow me to explain.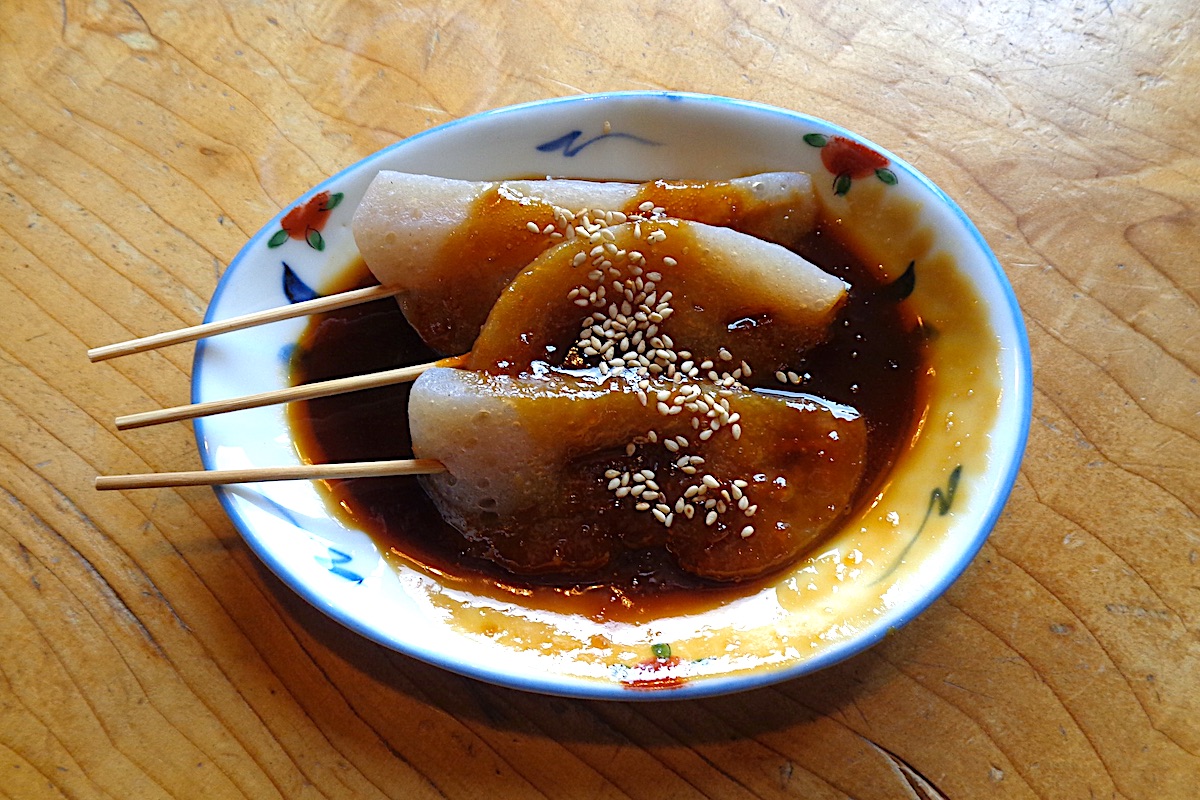 "Konnyaku" is a type of gelatin paste made from the konnyaku potato (also called "konjac" or "devil's tongue") which has a long tradition for being grown in the hillside farms of Iya and is renowned for its health benefits.
This gelatin is sliced thin for this dish and served with a "yuzu miso" sauce that Masao makes himself. "Miso" is a thick paste made from fermented soy beans, and "yuzu" is a type of citrus fruit that is grown in this part of Shikoku and is beloved by chefs worldwide due to its smooth yet zesty flavor. 
Masao picks the all pesticide-free yuzu himself each autumn for his sweet and tangy sauce, and though he is often asked to sell this scrumptious creation for take-out, it is so time consuming for him to make that he only offers it in the restaurant.
Beef Soba with Sansai
Another popular way to enjoy Iya Soba is topped with meat, and Senkichi offers it with either beef or chicken.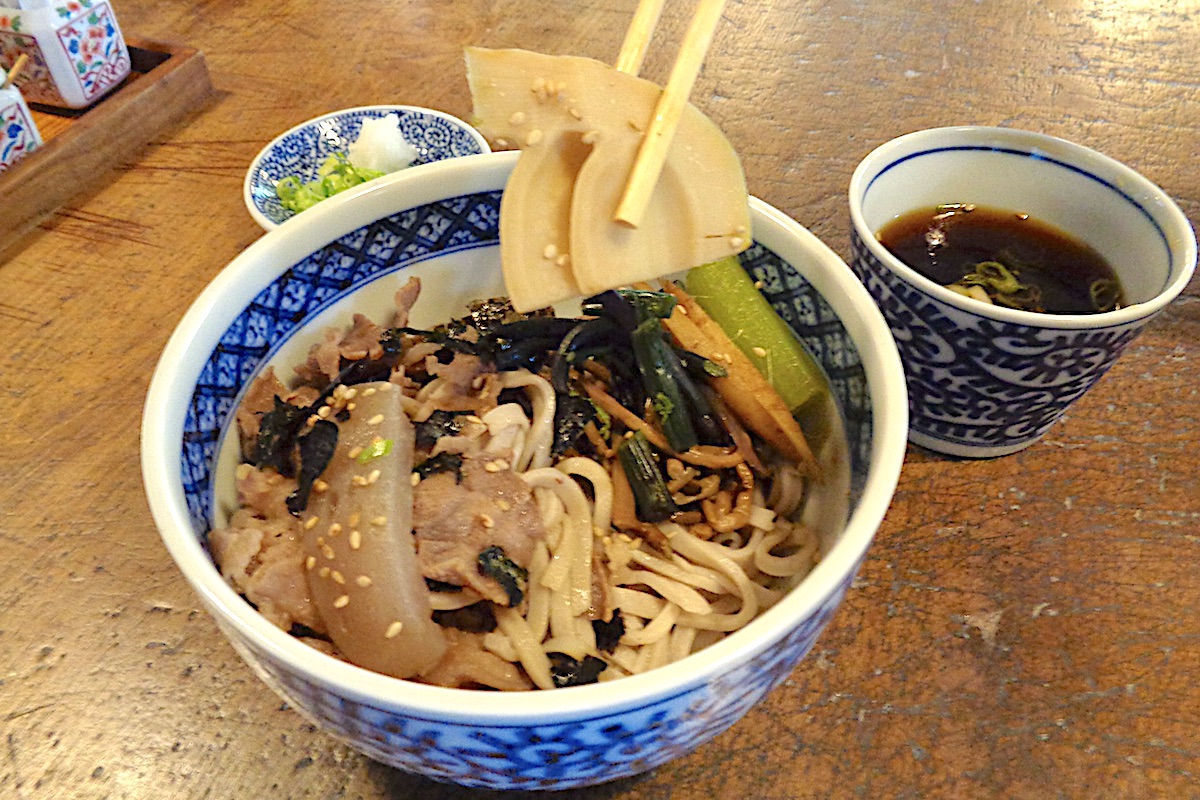 The beef soba was indeed ample and together with a range of the "sansai" mountain sprouts on top of the hearty local noodles, there's no doubt that this would be sure to satisfy one's inner cravings.
Twenty years on, Senkichi heads to the future
Before leaving, I asked the owner-chef Masao about any future plans. 
"Even on days when there are few customers, even if I only sell one bowl of soba," he explained, "I just want to continue having place which is sure to offer local, well-crafted tastes that make people happy they came to Iya."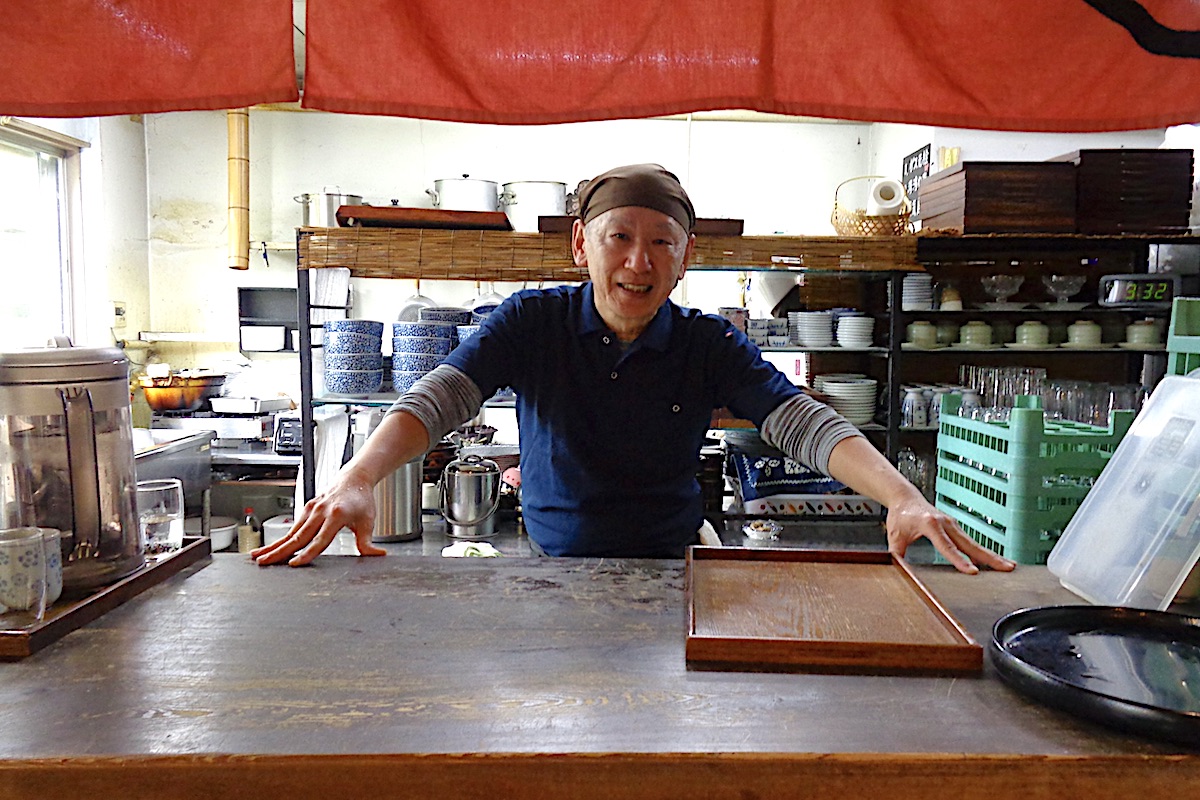 "In the winter it can be difficult when there are no visitors, but during this time I can enjoy being crafty by doing repairs and creating new things. I just want to have fun making things myself."
Senkichi
仙吉
Open daily for lunch 11am-4pm
Closed Thursdays*, and closed in winter from early December to end of February
*may be closed occasionally on other days
For more info in English, check the listing for Senkichi on the IyaTime website:
https://www.iyatime.com/Senkichi
323-3 Oinouchi, Nishi-Iya-Yamamura, Miyoshi City, Tokushima Prefecture
Tel: 0883-87-2733
(Text & Photos by: Shaun Lamzy)