Tastes of Iya at Senkichi – Part 1 | A Restaurant in a Hidden Region, where Ninjas also Lurk
The road leading into the remote Iya Valley in Tokushima's Miyoshi City is full of expansive views and twisting curves. As you descend into the valley along here you pass a wonderfully situated restaurant named "Senkichi" which features hand-made Iya Soba noodles. Celebrating 20 years in business this spring, this beautifully decorated place is sure to satisfy.
The challenge of entering Iya
Located in the middle of the mountainous interior of Shikoku, the Iya Valley of Tokushima Prefecture is noted for not just being a hidden place, but in fitting with such seclusion, it is also known for its winding, cliff-hanging roads. As the broad, straight highways of regular Japan are left behind, whoever enters Iya is sure to wonder how far such perilous conditions shall continue.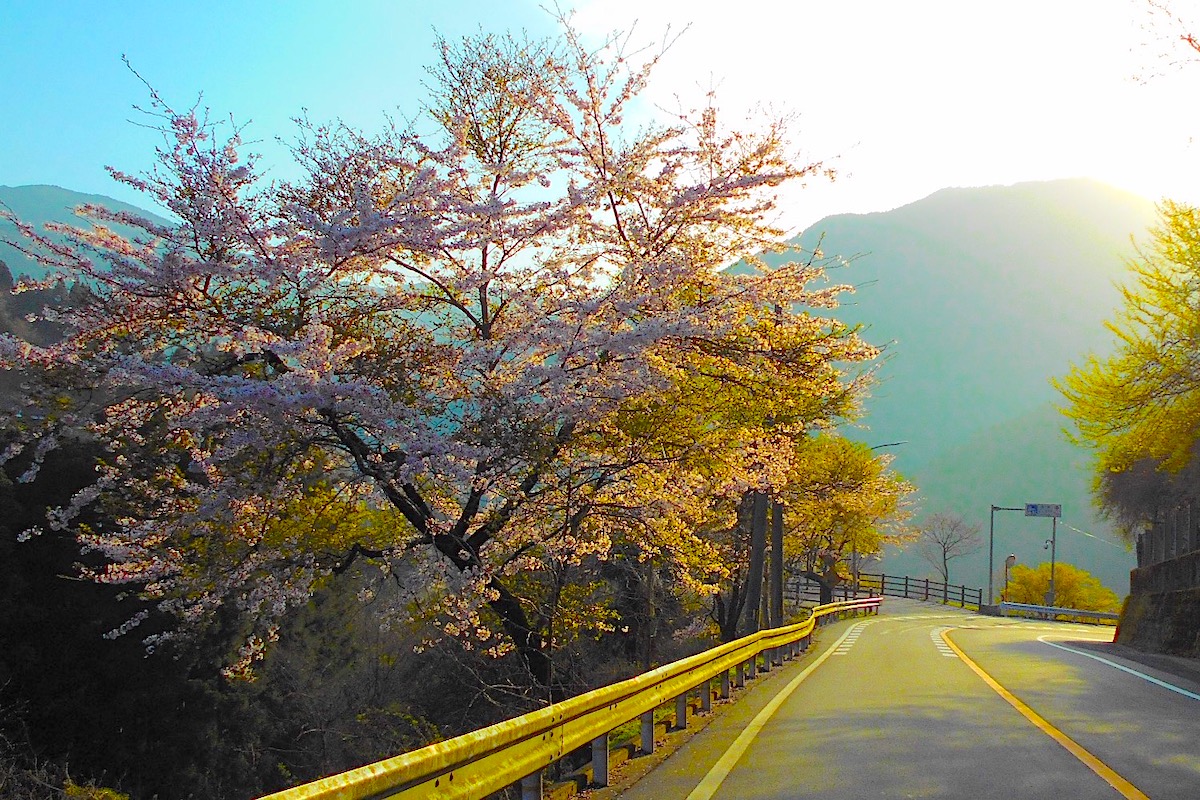 The main road for accessing Iya and its famed Kazurabashi Vine Bridge is Route 45, which comes in from the Oboke area. The road first snakes its way up a mountain, and after passing through the long Iya Tunnel at the top, it begins to steeply descend into the Nishi-Iya (West Iya) section of the valley. Along the way, plenty of hairpin curves await.  
What's that shadowy figure at this isolated restaurant?
As you continuously weave lower on Route 45 into the Iya Valley, about halfway down in the middle of a series of sharp bends you come upon by a soba restaurant. In front is a large late-blooming cherry tree (beautiful in mid-April) and the building is designed in traditional Japanese style.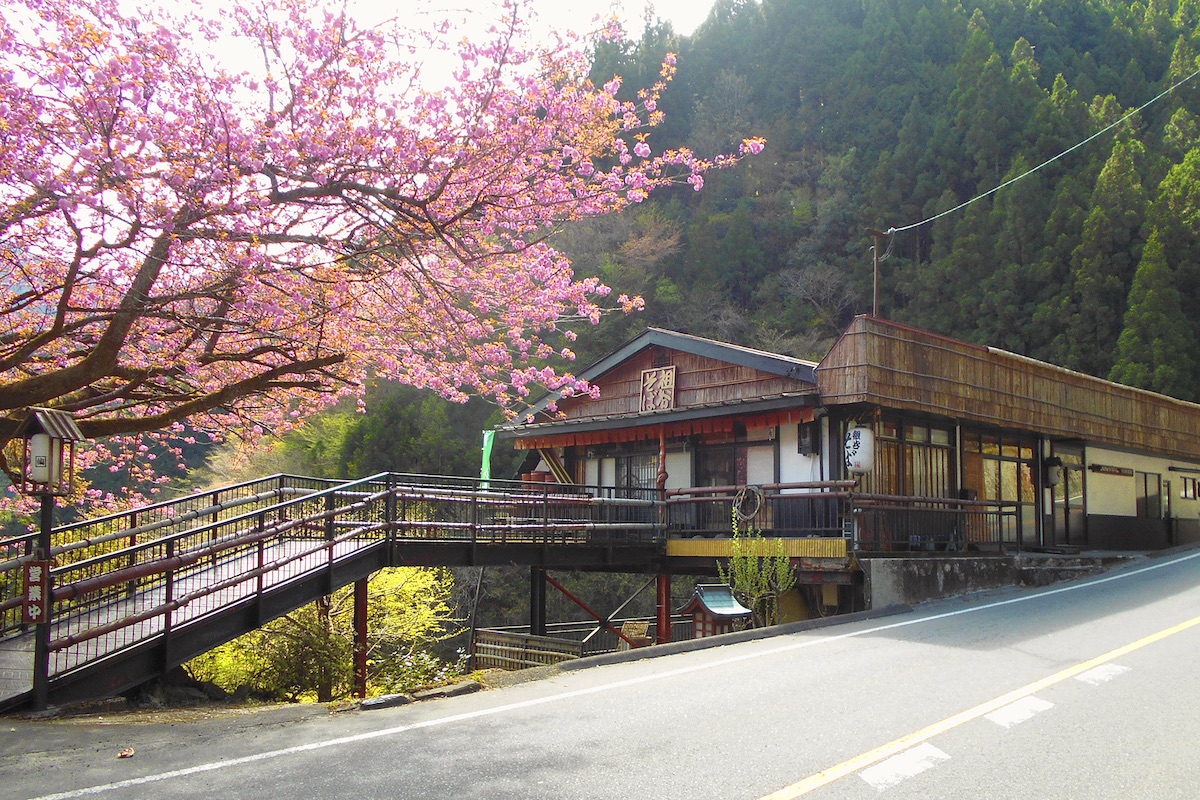 It's the only shop anywhere along here, but if you pass by, immediately afterwards you hit another hairpin curve, and as you come back past the restaurant from below you encounter what looks like a human figure clinging to the underside of the place.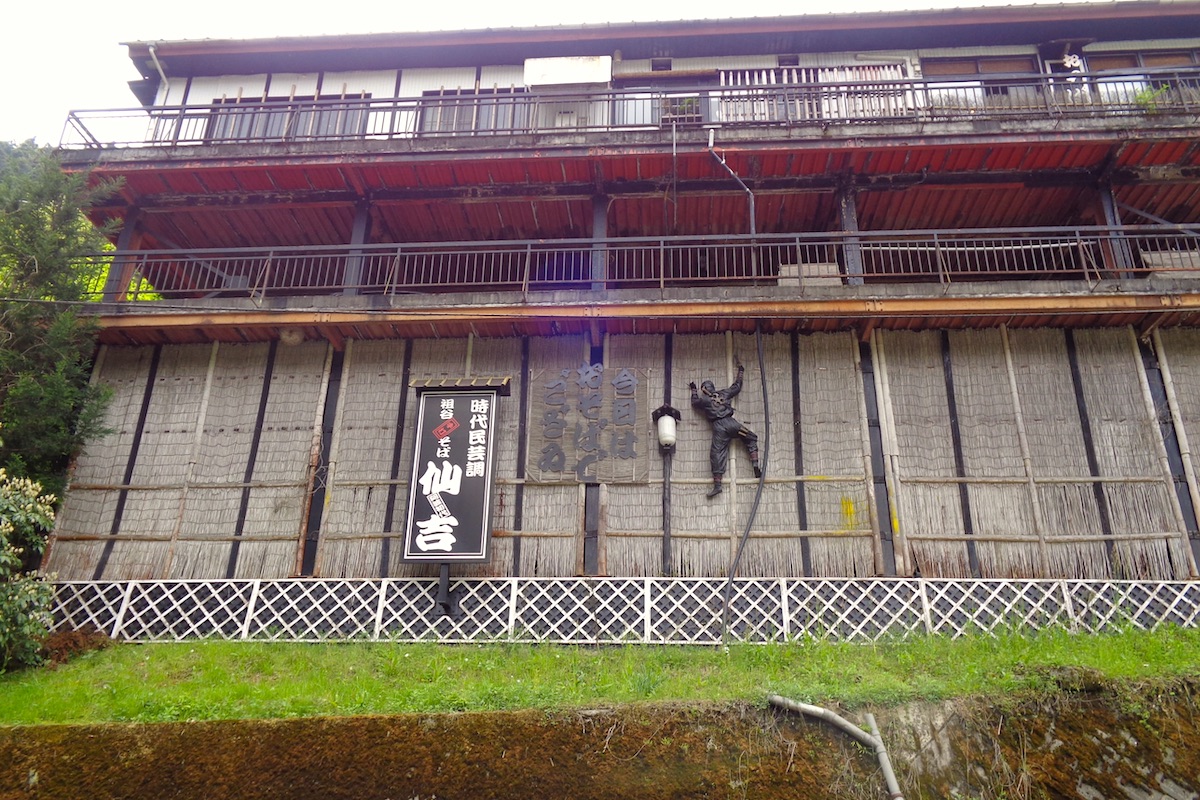 Curious as to what this is, many people stop to check it out.
A ninja on the wall!
There's a spot to pull over here, and up on the underside wall of the restaurant is a fully outfitted ninja, equip with a sword, throwing stars, and completely clad in black.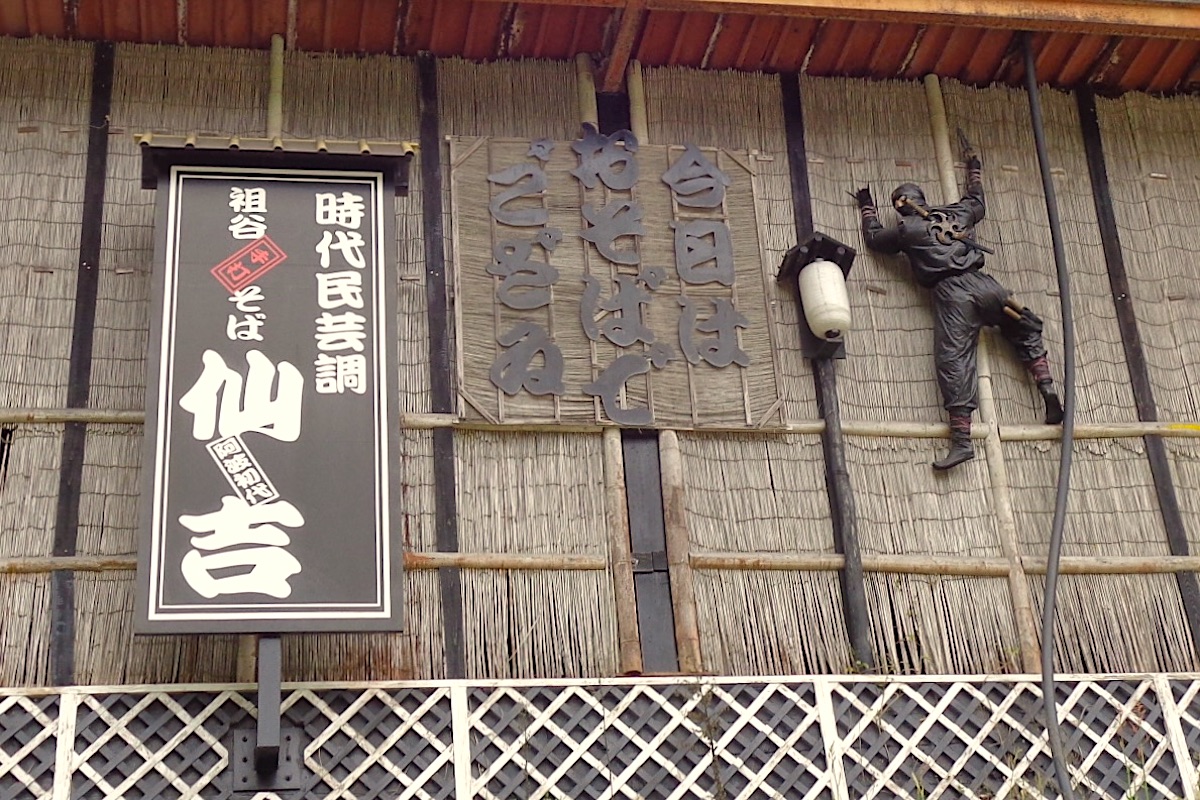 Next to the ninja, a sign announces in Japanese "Jidai Mingei-chō Iya Soba Senkichi", which translates as "Old-time Antique Style Iya Soba Restaurant Senkichi". 
Though tasty and tidy, many restaurants in Japan unfortunately tend to be rather simplistic or even dull with the interior design. But just from judging the eye-catching display outside, it could be imagined that Senkichi here was anything but drab, so like many others I'm sure, I turned around and went back up to get some lunch.
Ninjas prowling a parallel world
As mentioned, there is a large cherry tree in front of Senkichi, and as I approached the walkway bridge that leads to the door, the tree's bright pink petals were fluttering to the ground. With its location deep within the mountains, it felt for a moment that I was about to enter another world.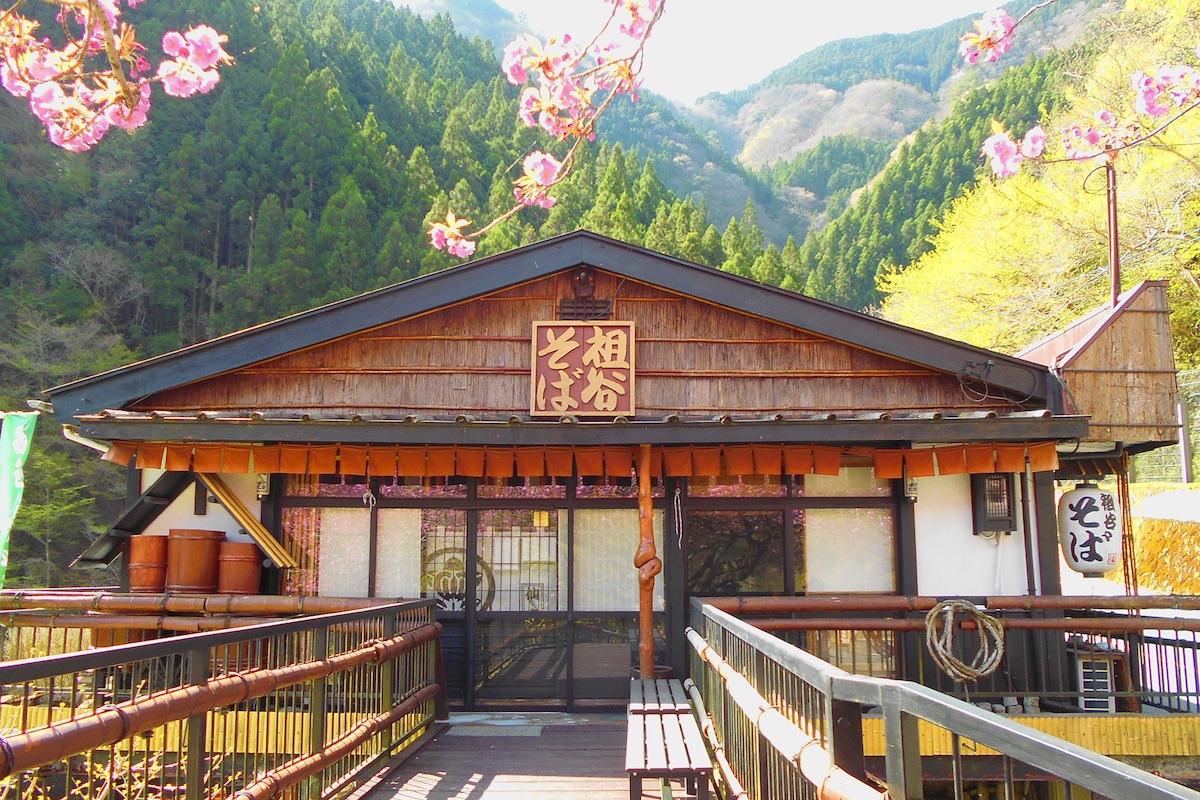 As I went through the curtains to enter, the atmosphere was indeed otherworldly. The woodsy interior had a warm and inviting feeling, with neatly arranged antiques and elegant paper lamps on display everywhere.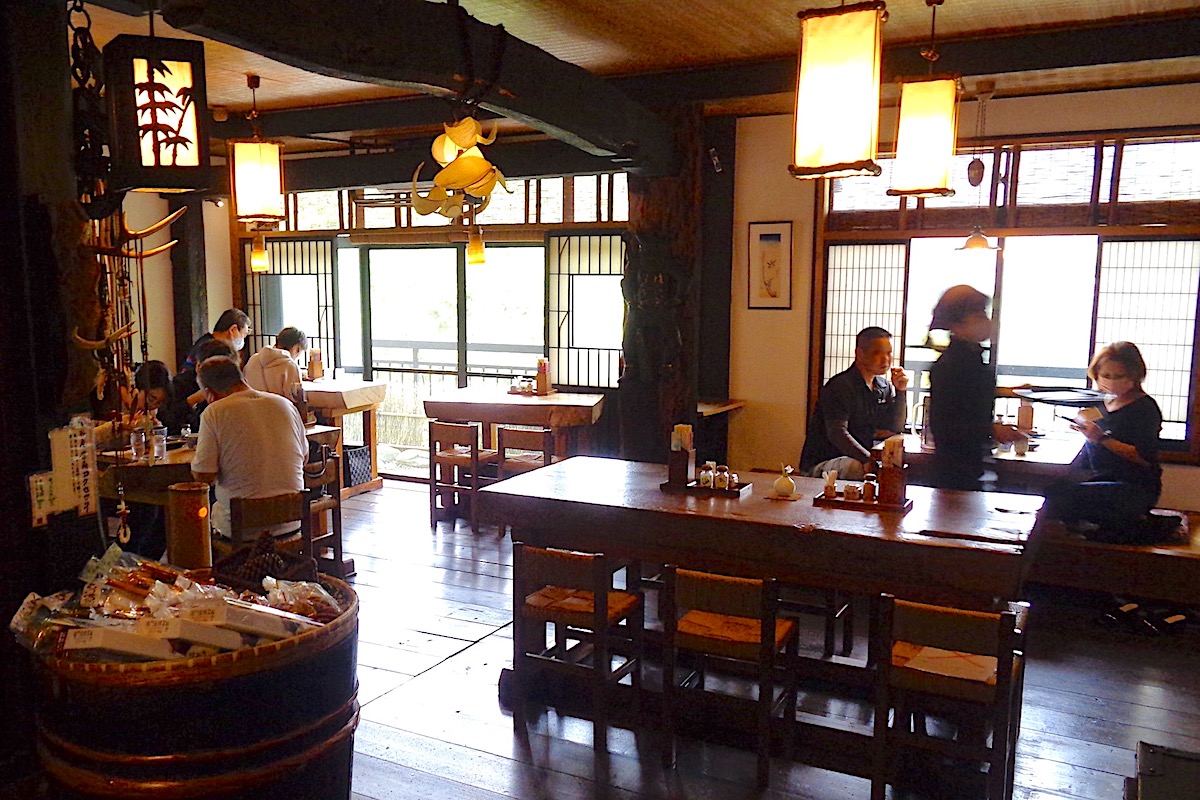 Off to one side was a seating area with traditional "irori" floor hearth, and from the windows were broad views of Iya's endless mountains.
But the attention to detail extended to every corner of Senkichi, and sure enough, hidden almost out of sight, I spotted another Ninja silently lurking…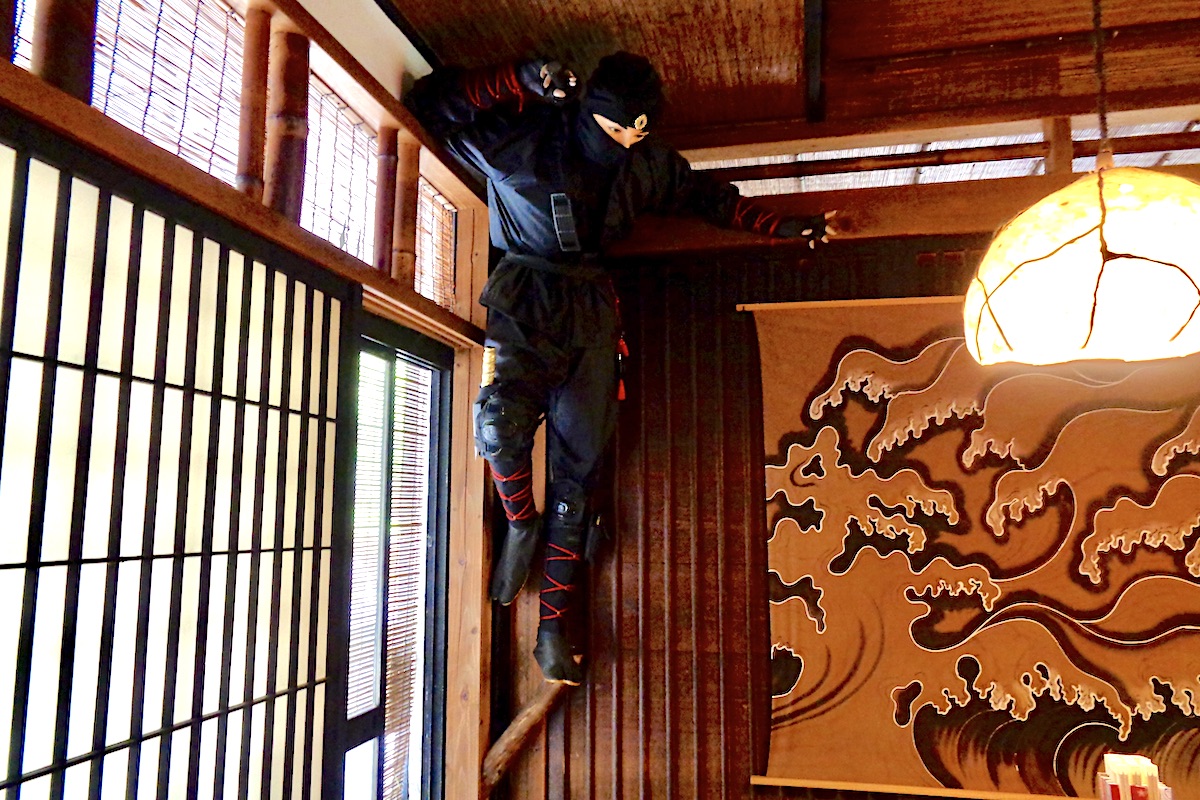 In Part 2 we meet the other ninja of Senkichi, who is also the owner and chef.
next post>>
Tastes of Iya at Senkichi Part 2 | A Vibrant Chef Celebrates 20 Years of Creativity
Senkichi
仙吉
Open daily for lunch 11am-4pm
Closed Thursdays*, and closed in winter from early December to end of February
*may be closed occasionally on other days
For more info in English, check the listing for Senkichi on the IyaTime website:
https://www.iyatime.com/Senkichi
323-3 Oinouchi, Nishi-Iya-Yamamura, Miyoshi City, Tokushima Prefecture
Tel: 0883-87-2733
(Text & Photos by: Shaun Lamzy)