Touring the Iya Valley – Part 2 | Enjoying Local Life in a Remote Region
The secluded Iya Valley of central Shikoku is renowned for its lost-in-time lifestyle, and with Japan now fully re-open to foreign tourists, many intrepid visitors are once again seeking out this off-the-beaten-path area in search of the "real" Japan, with locally based Iya Valley Tours showing them the way.
Previous post>>Touring the Iya Valley – Part 1 | Discovering a Hidden Place with Local Guides
On the trail for adventure in the Iya Valley
"This is not what I imagined Japan would be like," declared Sarah, who was visiting Japan for the first time from her home in England with her husband Andy. "I always thought Japan was mostly just dense cities with some Buddhist temples scattered in between. But this place is heavenly!"
They were standing on a trail en route to the top of Mt Tsurugi, which at 1955m is the highest among the many mountains that surround the Tokushima Prefecture's isolated Iya Valley.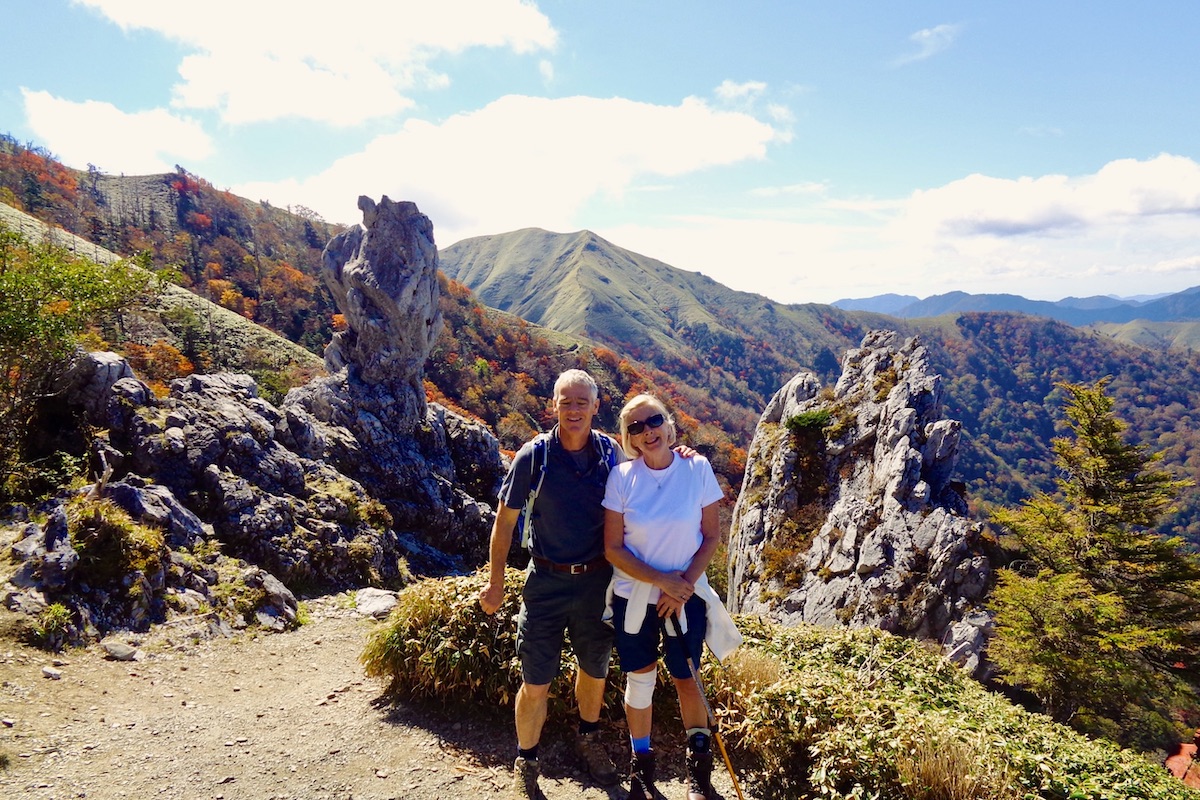 Their guide Aki, from Iya Valley Tours, explained how the mountain was full of legends that go back centuries.
"People say that the young emperor Antoku came to Iya to hide from an opposing clan 800 years ago, and then he buried his royal sword within this mountain so that it wouldn't be discovered by those hunting him. However, he died before he could ever get it back, and now nobody knows where it is."
A rural retreat lost in time
Many foreign people don't realize that Japan is a country with many facets, not just urban sprawl. While the big cities like Tokyo and historic sites like Kyoto tend to get the most visitors, the country's countless rural areas are slowly being sought out by people curious to discover something more authentic. And amongst the most deep locations in the Japanese countryside, the Iya Valley is perhaps a superlative.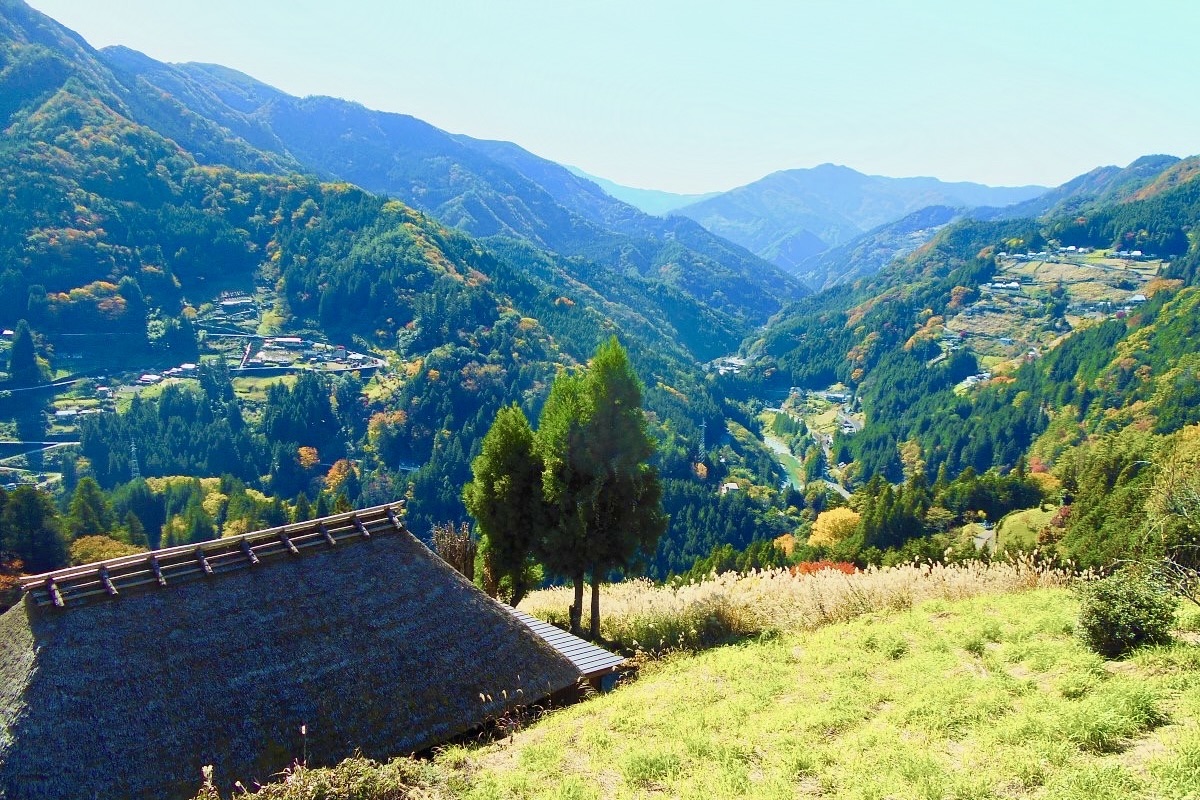 With no convenience stores, no stop lights, and just a single stop sign along the 60km main road that snakes its way through this steep valley, at first glance its hard to imagine that not only do a couple thousand hearty souls live here up on Iya's hillsides, but they have been doing so for centuries.
"We've been to many foreign countries," explained Sarah, "and after seeing all the modern development and crowds of tourists in most places, we would think, 'Too bad we didn't come here a few years sooner'."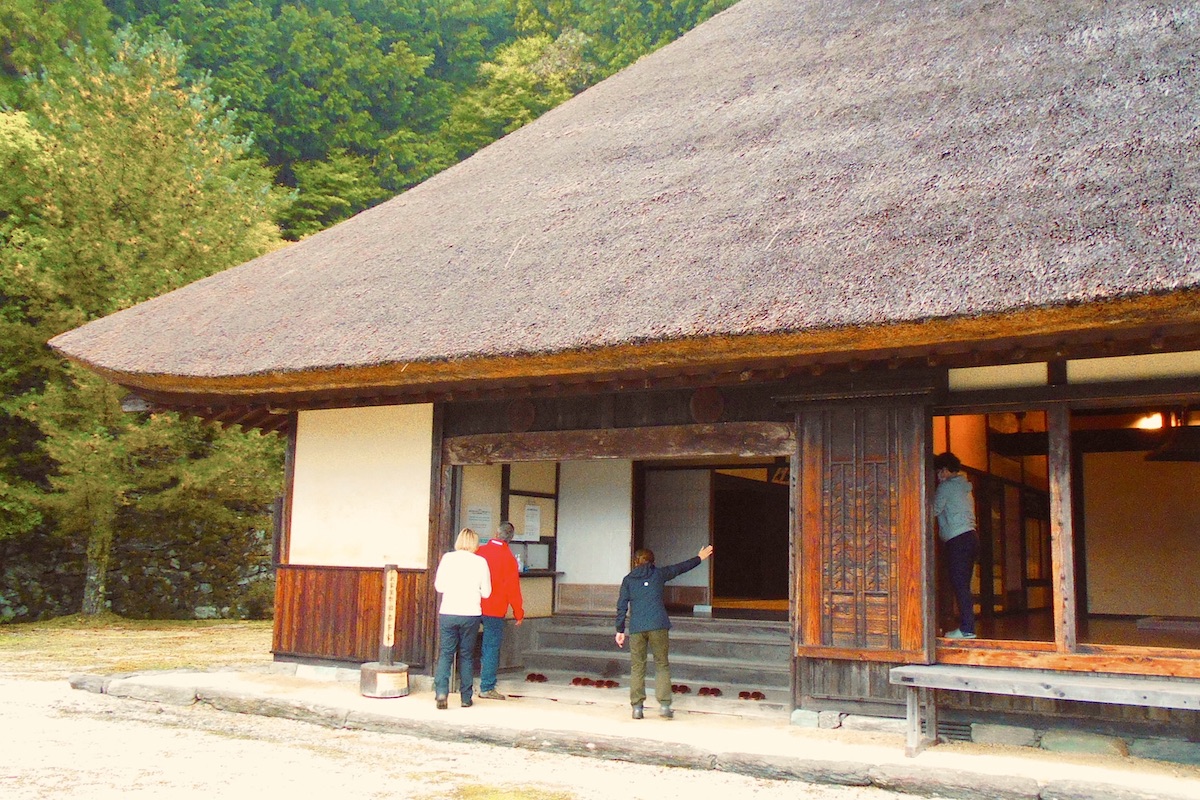 "Well, I doubt Iya will ever be over-developed like that," said Aki. "You've seen how people need to live here. It takes a special type of person to handle it. I think Iya is now as developed as it's ever going to get."
The previous night Sarah and Andy had stayed at one of Iya's family-run guesthouses called Kouya, which is a traditional thatched-roof house perched on the mountainside. Their Iya-style meals here were prepared in a way that people in these mountains have been doing since times immemorial, with wild game, river fish, and vegetables picked that day from the house's garden all cooked over Kouya's "irori" floor hearth.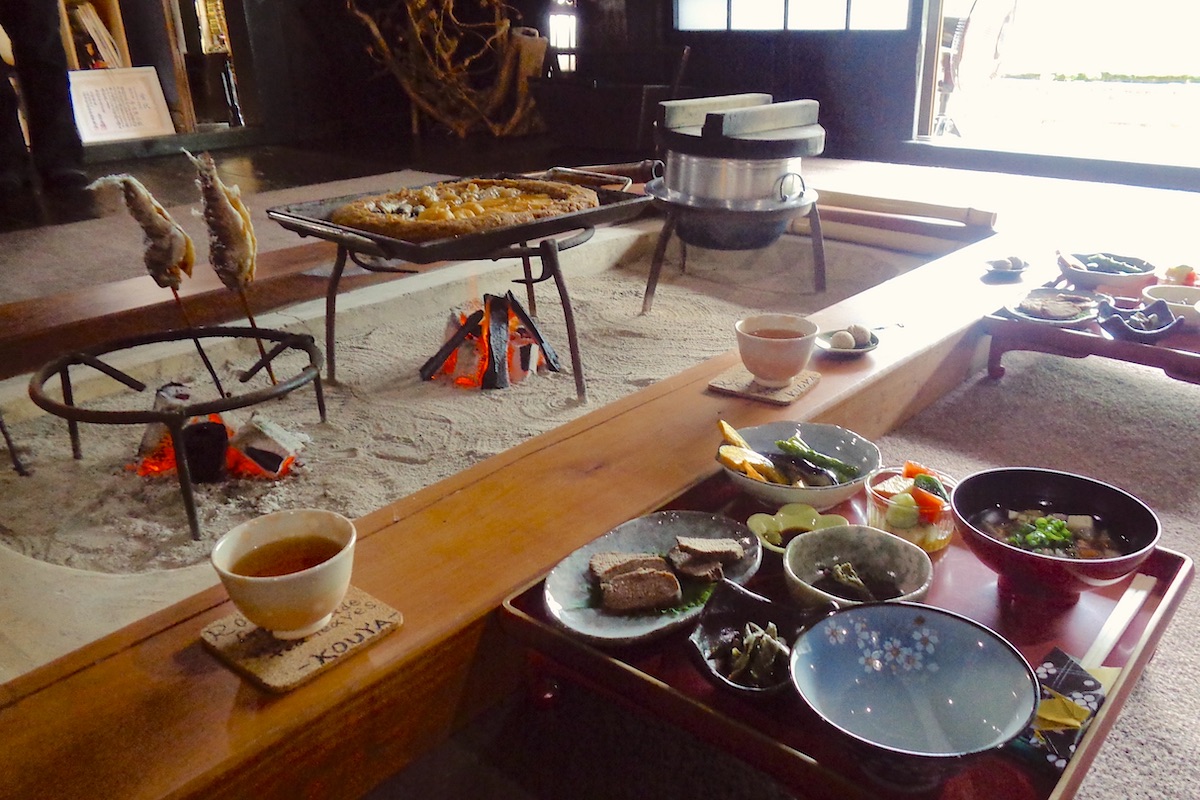 With water that comes from high mountain springs, twisting one-lane roads for access, and deep snow in the winter, Aki told how all of Iya's villages are situated on similarly steep hillsides since there is no flat land down near the river, making daily life all the more challenging.
When asked by Sarah why anybody would have ever started to live in such a harsh place to begin with, Aki explained, "Such mountain areas are full of natural resources like wood and animals, and since Iya is so hard to enter, especially before the first road was built into the valley, then it was a perfect place for anybody who wanted to get away from it all, just like the emperor Antoku."
Sarah and Andy laughed, "Ha ha, well this still is the perfect place to get away from it all, even today!"
Savoring the bounty of Iya
Unlike Sarah and Andy, Jon and Avi opted to stay at Hotel Iya Onsen, which is one of the valley's several small but well-appointed hotels, offering tranquil riverside hot spring baths that are accessed by cable-car.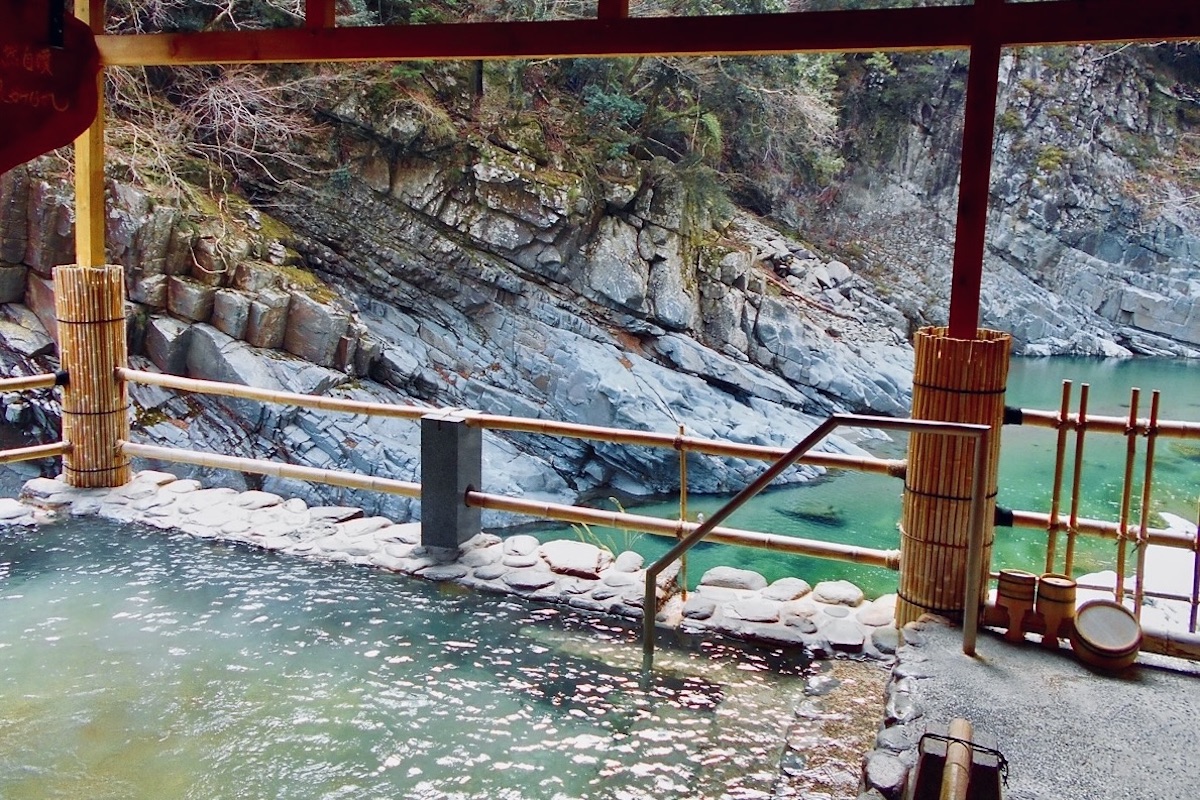 "The baths here are so beautiful. We've been to Japan many times before and came to Iya because we thought it would be remote. But we weren't expecting it to be this remote!"
Led by Aki along the ancient footpaths of historic Ochiai Village, the pair were amazed by the architecture of the thatched roof homes and the terraced farm plots still cultivated by the agrarian residents.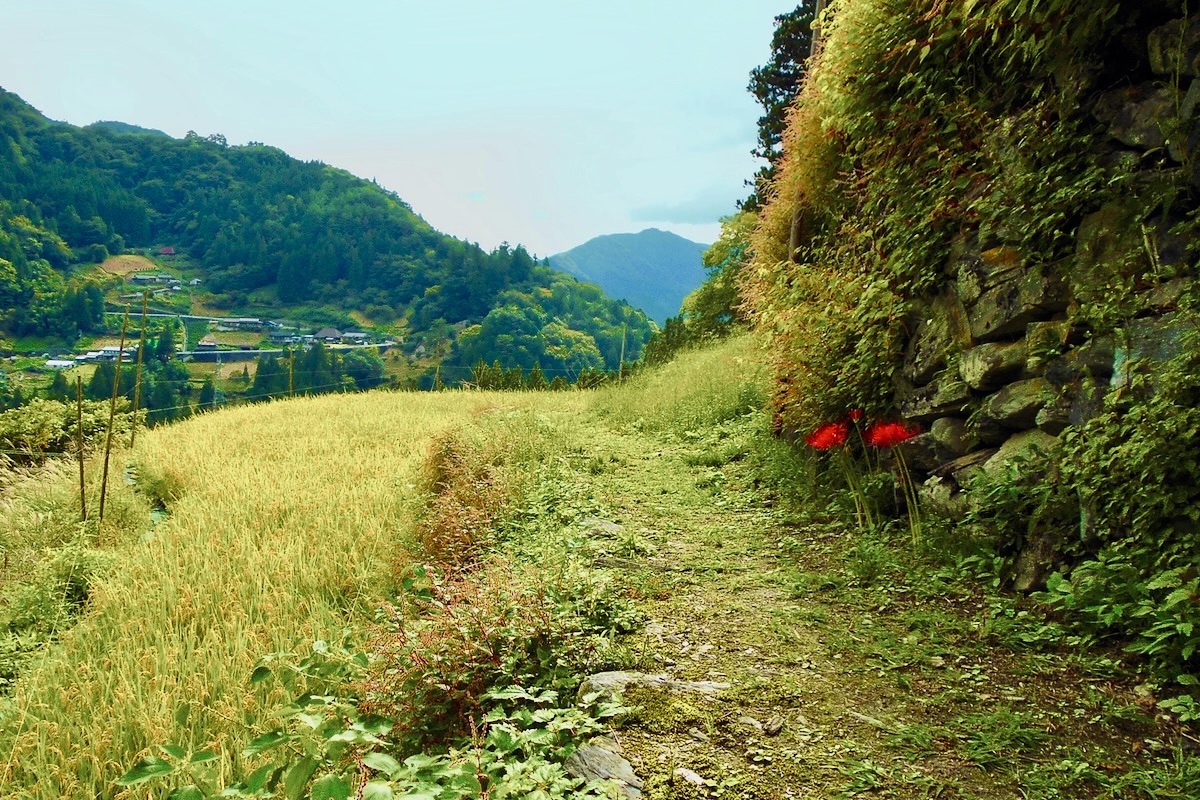 "The traditional farming styles that the Iya people developed for such a steep area are now recognized by the United Nations for their significance," explained Aki.
Soon after, they got a chance to taste first-hand the locally grown produce at a countryside house which Aki had arranged for them to eat lunch.
"This is konnyaku, which is paste from Japanese yam, and that is what Iya people call 'iwa-dofu', which means 'stone tofu' since it is so dense. Actually, it's so stiff that people used to carry big bricks of it with just a piece of rope strapped around it!"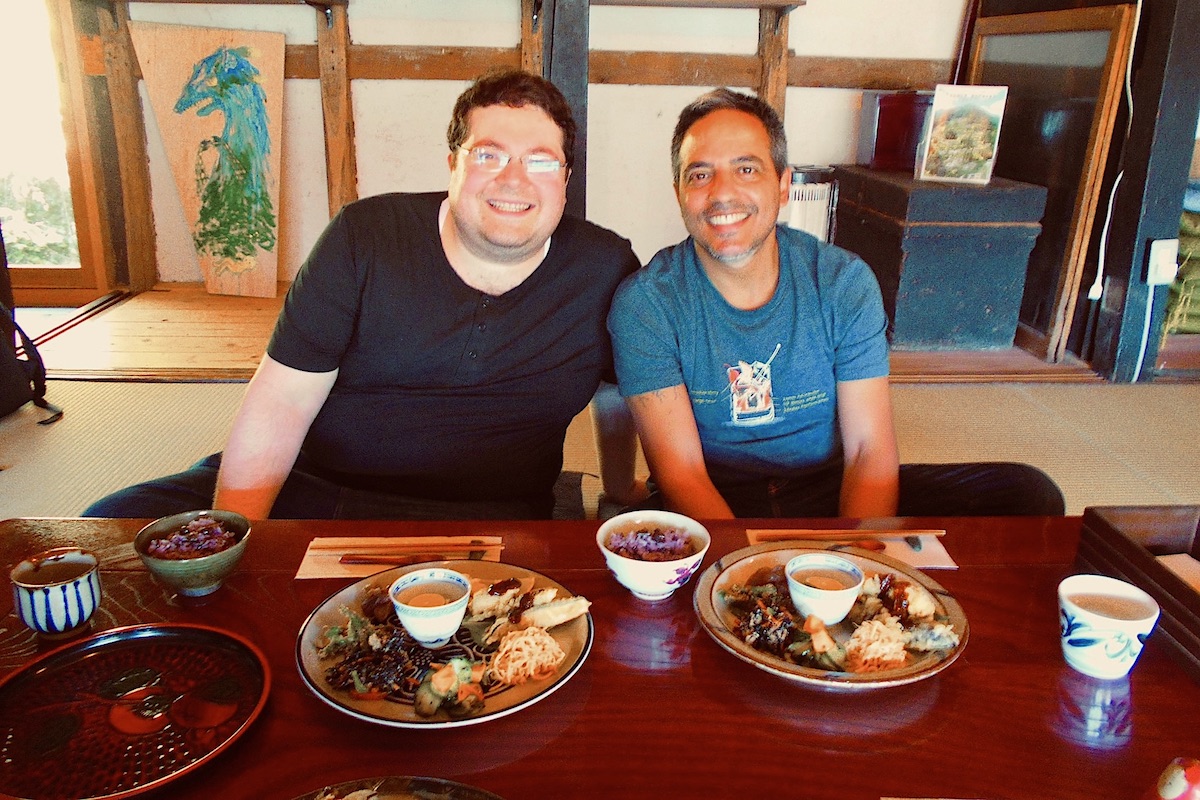 "Well, it is all so delicious!" exclaimed Jon.  "We've often had trouble arranging vegetarian meals in Japan, but this is one of the best meals we've had just about anywhere!"
Connecting with the Iya community
"Iya is a place people should enjoy more slowly. It is different than big cities," explained Aki. "Visitors don't realize how big the valley is and how far apart things are. It is rare in Japan that people live inside mountain valleys like this, so lifestyle here is very different than other places."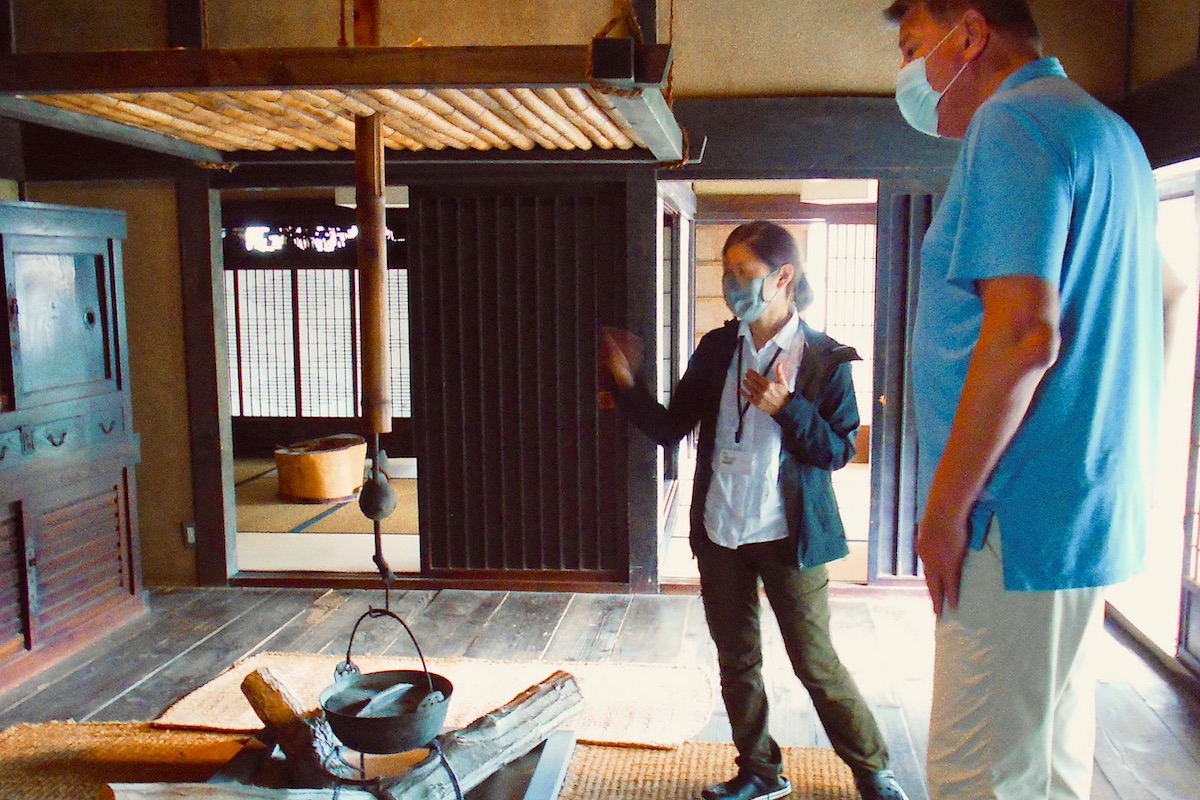 "Some of our guests try to visit Iya in a day trip. They stay somewhere else like Takamatsu (a city in the north of Shikoku), then come in early morning by train, and then want to go everywhere in a day before taking train back." Aki shrugged with a bit of lament. 
"The best way to experience Iya is to get in harmony with the environment, not just seeing sights. Staying at least one night at hot spring hotel or old farmhouse gives much better experience, but to really get in tune with Iya's nature and lifestyle, it takes at least two or three days."
"I feel sad if people move too fast and don't have time to connect."
In speaking with Aki, she also explained how Iya tends to attract not just a different type of traveler, but also a different type of resident. 
"Iya may be a slow place, but the people are pretty out-going and self-sufficient. Certainly not typical shy Japanese who are used to convenience! And most people here have a variety of skills, including me. Not only am I a guide and interpreter, but I'm also a yoga and fitness instructor, animal trapper, and local art teacher for kids and elderly people. And in my free time I help my husband restore our old farmhouse."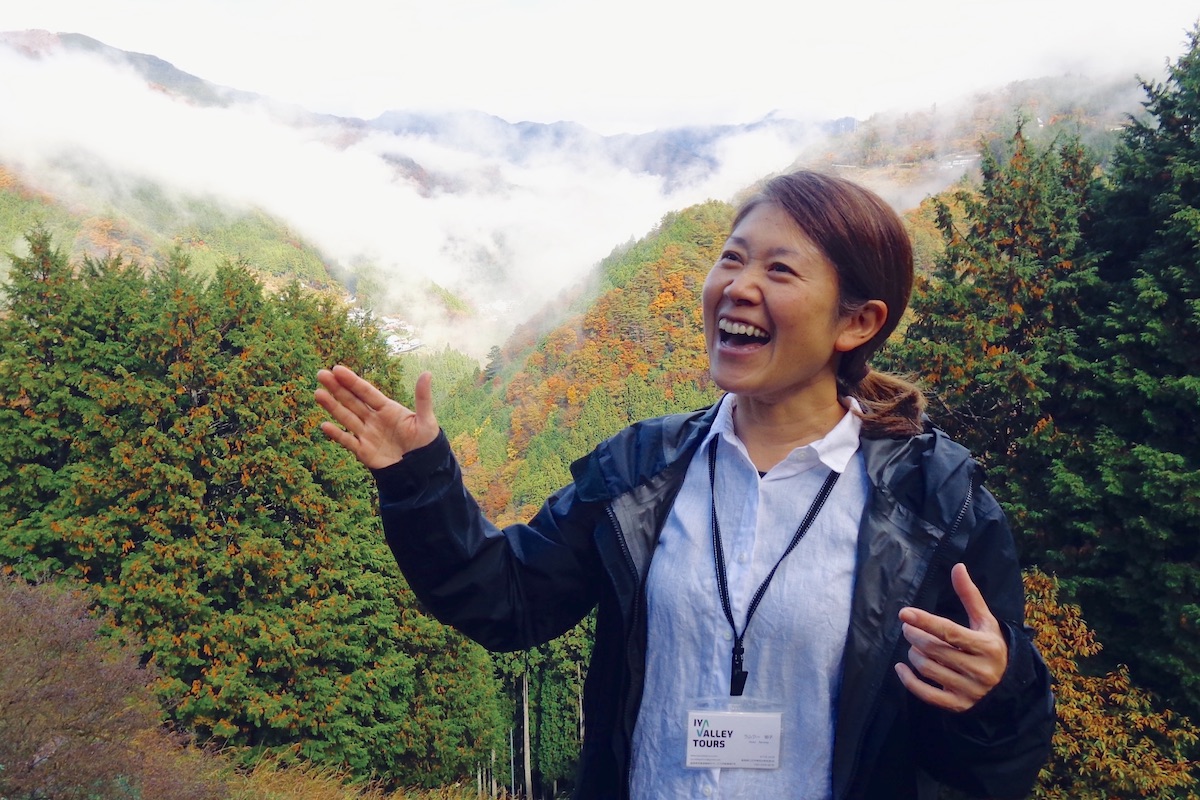 Laughing at her somewhat bizarre resumé in colloquial but proficient English that she picked up during her earlier years of backpacking around the world, she then spoke of her dreams. 
"I really hope to help develop things in Iya's community so that people living here can connect more with outside visitors. Actually, I'm now learning Spanish and some Thai so that I can introduce Iya to even more people." 
"Iya is not only an amazing valley, but the people living here are what makes it most special."
—————–
Access: 
The Iya Valley is located in southern Miyoshi City, which is in the western part of Tokushima Prefecture in central Shikoku Island. Most people access the area via train at JR Oboke Station, or by rental car via one of Shikoku's major cities. From the Oboke Station area it is a 15-20 minute drive by car, bus, or taxi to the first sights in the central part of the Iya Valley.
Travel information for the Iya Valley
Iya Valley Tours
 https://www.iyavalleytours.com/
Kouya Farmhouse
  https://kouya18508.wixsite.com/kominkayado
Hotel Iya Onsen