Ryugugake Park – Part 3 | Activities on Offer Amongst the Natural Splendor
The Iya Valley section of Tokushima's Miyoshi City is known as being one of Japan's three "Hidden Regions", and nestled within the valley is the serene Ryugugake Park. This tranquil location offers activities including swimming in the Iya River, picnicking and barbecuing with friends and family, and doing yoga within the lush landscape.
previous post>>
Ryugugake Park – Part 1 | A Place to Relax Within Tranquil Nature
Ryugugake Park – Part 2 | Hidden Cabins Nestled within the Forest
Enjoying your time in Miyoshi City's Iya Valley
While the Iya Valley has lots of great sights to discover, many people who stay at the cabins of Ryugugake Park use it as a base for sightseeing around the valley due to the central location.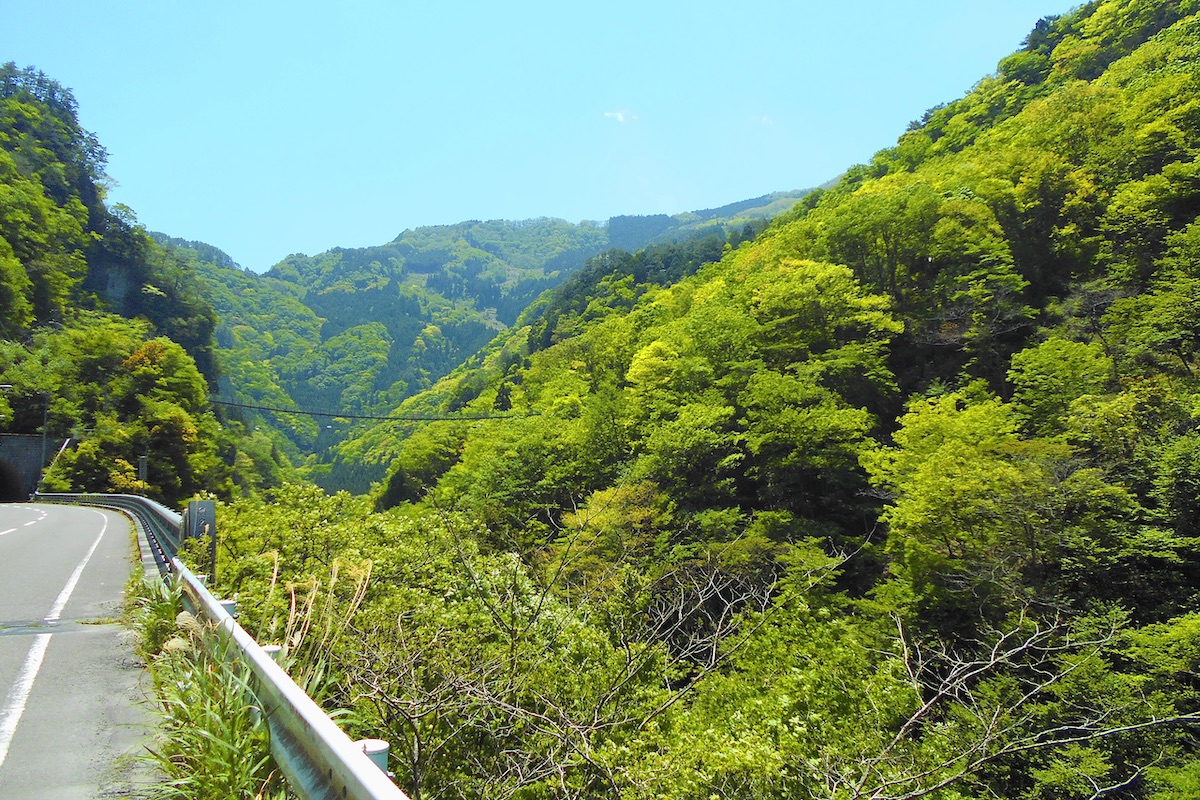 But there are also lots of ways to enjoy the natural landscape of Iya without even leaving the park.
Birds-eye views of the Iya River
The suspension bridge of Ryugugake Park is probably its most notable attraction, and the views are indeed breathtaking.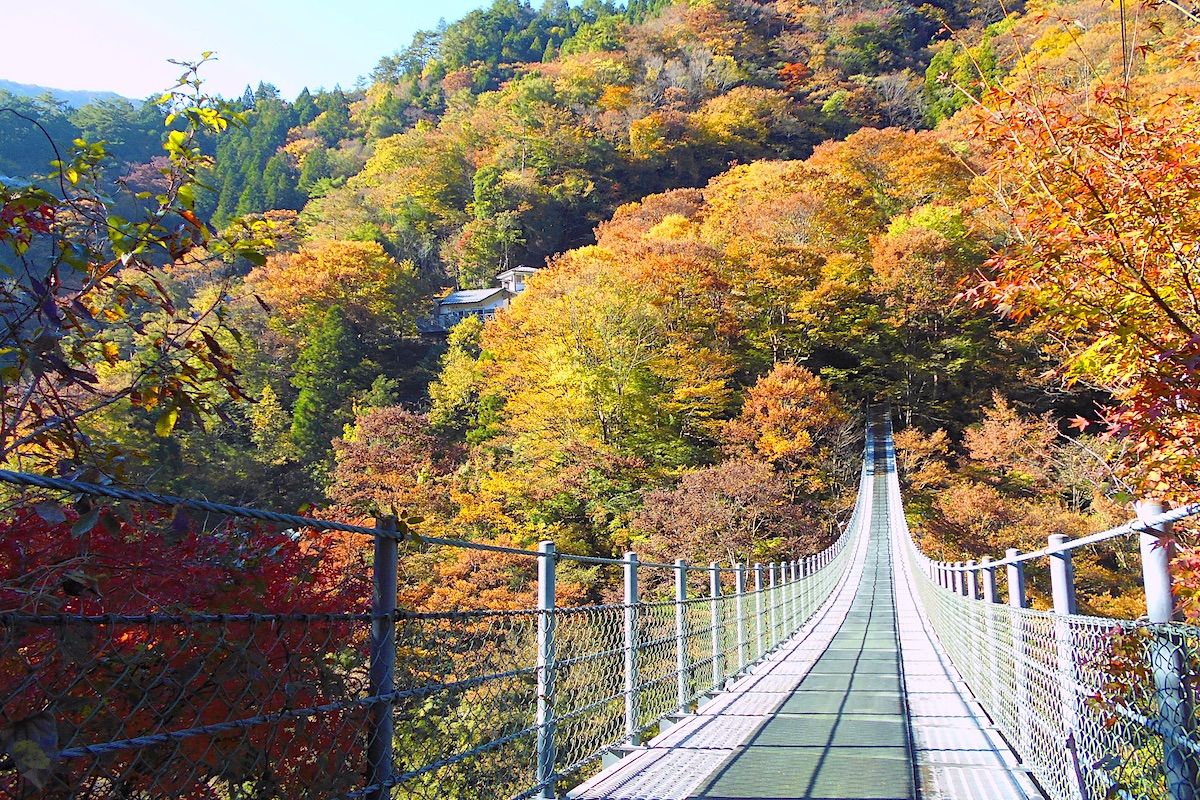 Hanging 70 meters above the Iya River below, many people come not merely for the views but to also spend time photographing the seasonally changing landscape from this uniquely positioned location.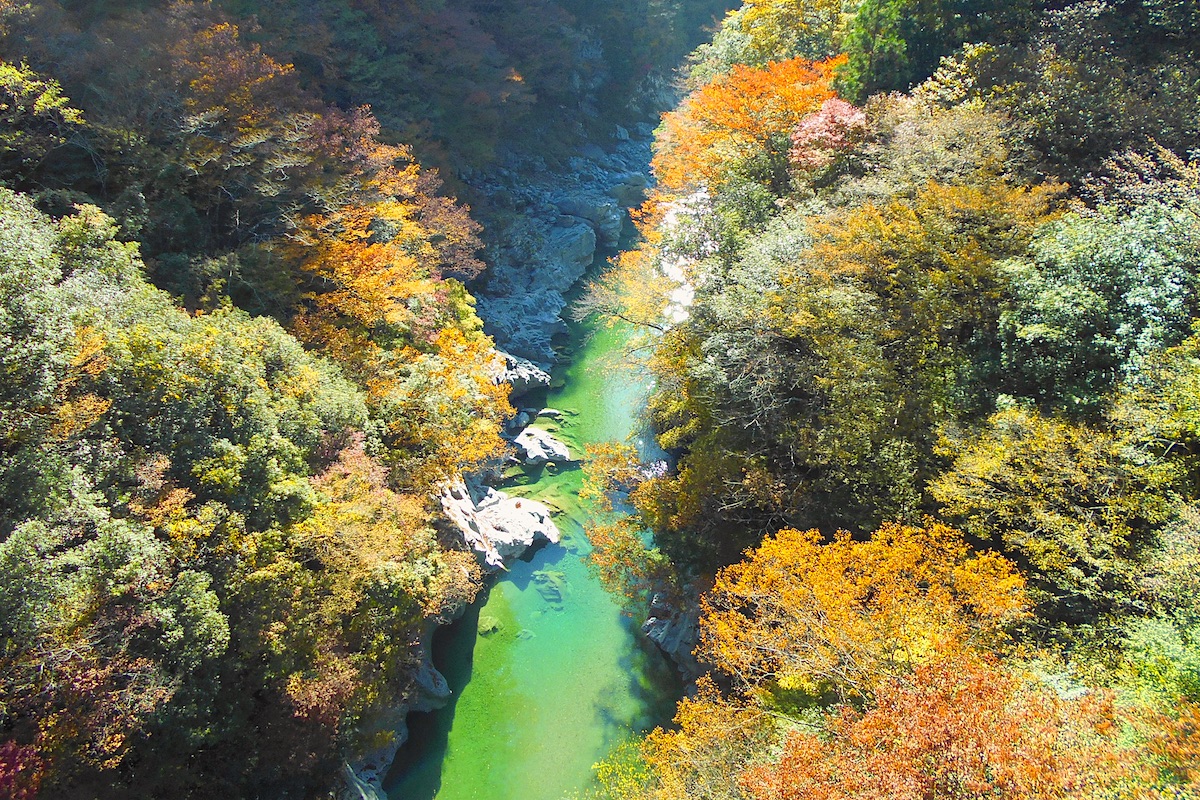 Immerse yourself within the turquoise waters
On the opposite side of the bridge near the cabins one of the paths leads down to the Iya River below.
The trail is a bit rough (watch your step!) but it is set up with broad natural steps that are easy to follow. It only takes about 5 or 6 minutes to go down.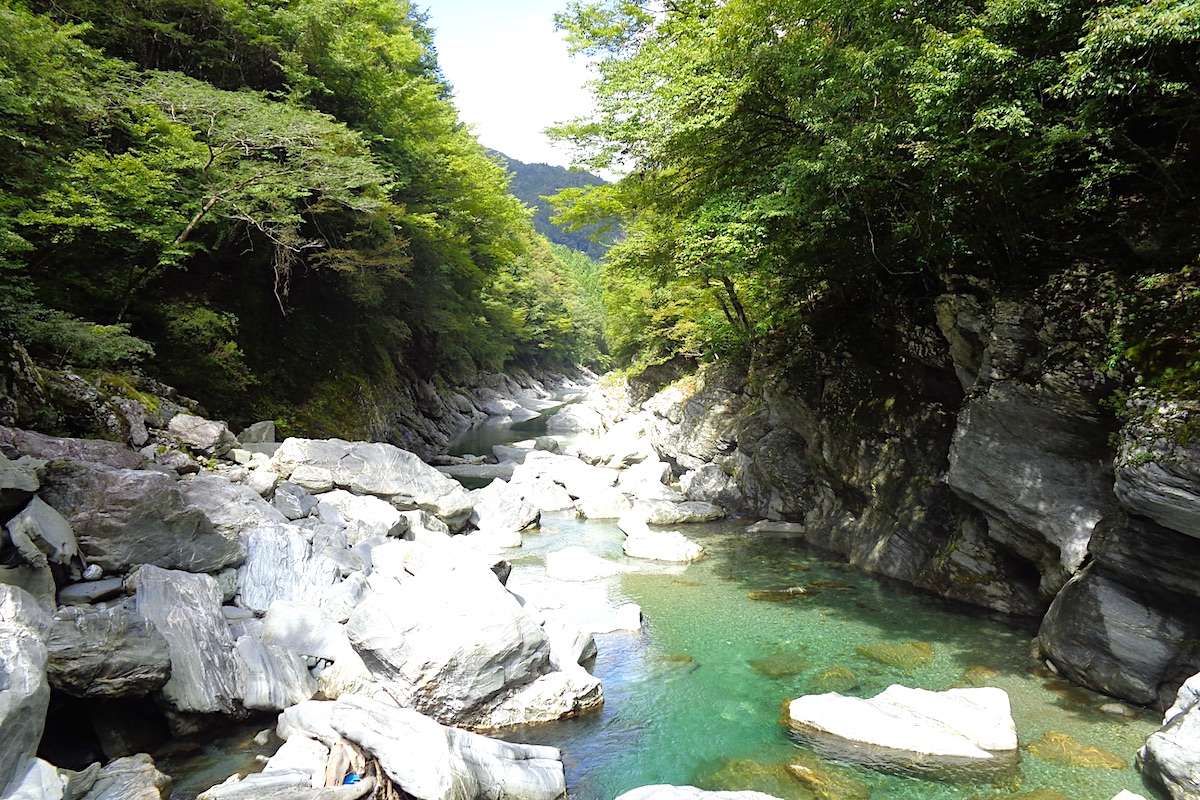 Once at the bottom, the placid shallow pools look particularly inviting, and on a hot summer day the cool, clear water is particularly refreshing. The blue-grey river stones give the river its unique turquoise color.
With the foot bridge hanging high up above, the broad boulders and small gravel beach here are also great for a relaxing picnic in what feels like a secret spot.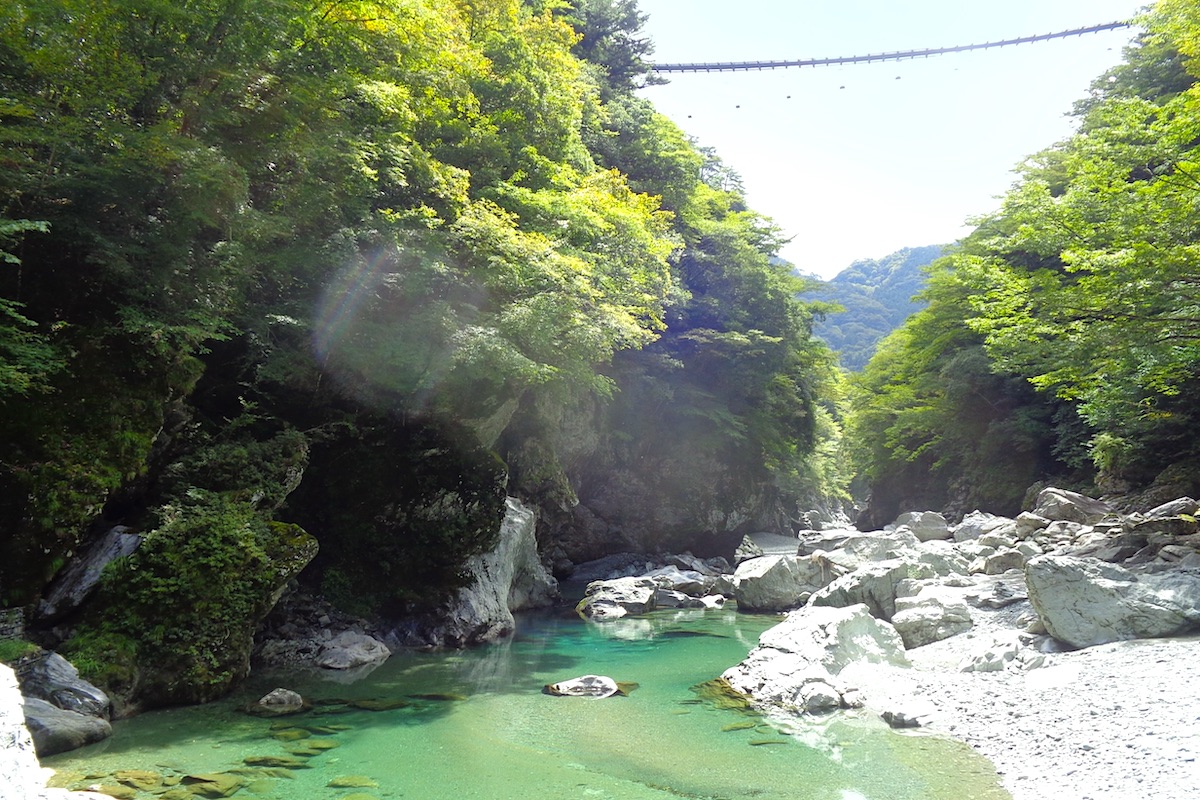 An outdoor barbecue within the secluded forest
Up amongst the cabins there is also a spacious barbecue area that is nicely arranged for roasting up a bit of wagyu or even some locally caught game.
The BBQ area has a couple long charcoal pits and lots of stools around it for even large groups to enjoy.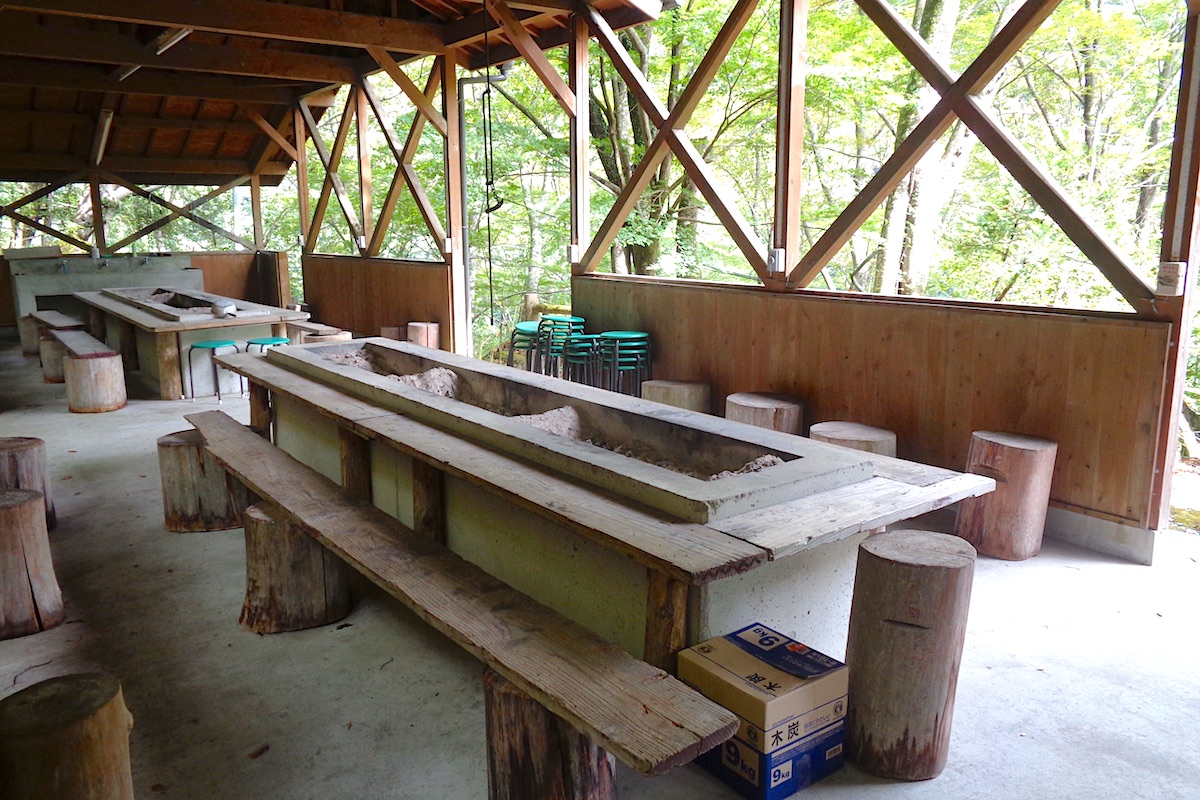 The space also has a roof which protects from either strong sunlight or rain, making it possible to enjoy no matter what the weather is like and allow you to cook and eat to your heart's content.
If you would like to use the BBQ area, reservations are needed and there is an additional fee of 210 yen per person (non-guests of the cabins can reserve it too). You also need to bring all of your own food and charcoal, but there are only a couple small stores in Iya, so its best to bring in groceries from elsewhere like Ikeda Town.
Enjoy deeper natural relaxation with yoga
Ryugugake Park is also the location of the Yama Yoga Studio. The English speaking instructor lives in Iya and has been offering lessons here to both local people and visitors for over a decade. 
At 10am most Sunday mornings drop-in group classes are offered in the main administration building, with herbal tea served afterwards. Usually several people living in Iya come out to attend, but anybody is welcome to join.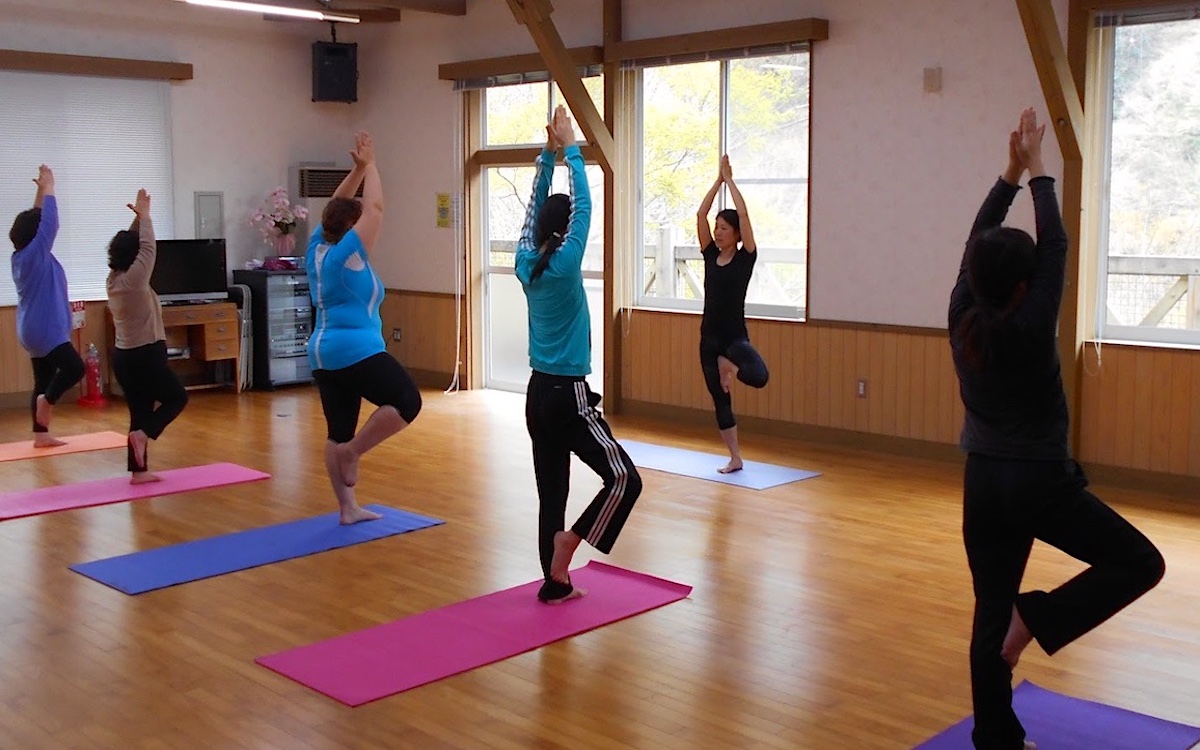 Private classes can also be reserved for other times, and these can be done either in the main building or outside amongst the nature. People who have extended stays at the cabins often seek special yoga programs tailored to their specific requests.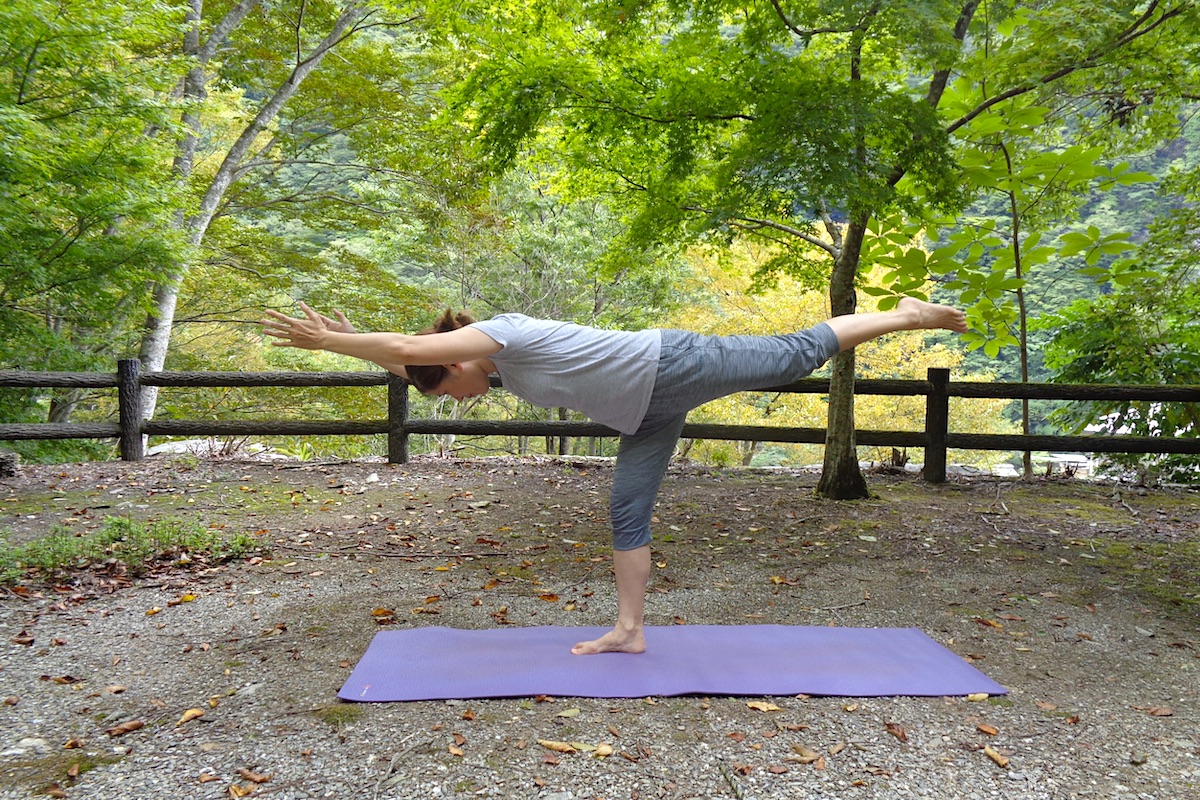 It is also possible to go elsewhere for a yoga lesson such as to a traditional farmhouse or beside a village shrine, and since the Yama Yoga instructor is also a local guide, she can even take you on a tour to some of Iya's amazing places.
So no matter how you would like to enjoy and engage with the Iya Valley, Ryugugake Park has lots of ways to satisfy you!
For Yama Yoga Studio
Sunday drop-in yoga classes 1000 yen.
Private lessons from 5000 yen per group (500 yen discount for people staying at the cabins).
https://yamayoga-english.weebly.com/
For Staying at Ryugugake Cottages
Open April to November (closed Dec to March)
Web: http://www.ryugugake.com/
Tel: 080-2981-6221
*Direct reservations are taken by phone in Japanese only. If looking to reserve online in English, contact the Miyoshi City Tourism Department (since the location is a town park, it is owned and managed by the town government). You can contact them via email here:
https://miyoshi-tourism.jp/en/inquiry/
Cabin rates: 4,110 yen per person per night (2,570 yen for children aged 6-15. Under age 6 free)
BBQ rates: 210 yen per person (100 yen for children aged 6-15. Under age 6 free)
(Text & Photos by: Shaun Lamzy)