Scarecrow Mother Ayano Tsukimi – Part 1 | Iya Valley's Famed Scarecrow Village
Located at the deepest end of Miyoshi City's Iya Valley, the small hamlet of Nagoro has become world famous for being home to over 350 life-sized "scarecrows". Resident Ayano Tsukimi is the artist behind this renowned concept, and in this series we find out more about her creative inspiration and other activities.
Finding scarecrows in the hidden heart of Shikoku
It was my first time driving out to the remote Double Vine Bridges of the deep Iya Valley (the Oku-Iya Niju Kazurabashi) that I saw the first ever scarecrow. It was the summer of 2002, now 20 years ago. As I drove through Iya's final hamlet of Nagoro, which was hardly more than a scattered collection of weathered houses along the roadside, I had to give a double-take to what I saw in a small, fenced-in farm plot between two homes.
Life-like and positioned in a way to look like a person working the field, the scarecrow there was particularly well-done. For a moment it had me fooled, and I remember simply thinking at the time that it was just a quirky bit of local kitsch.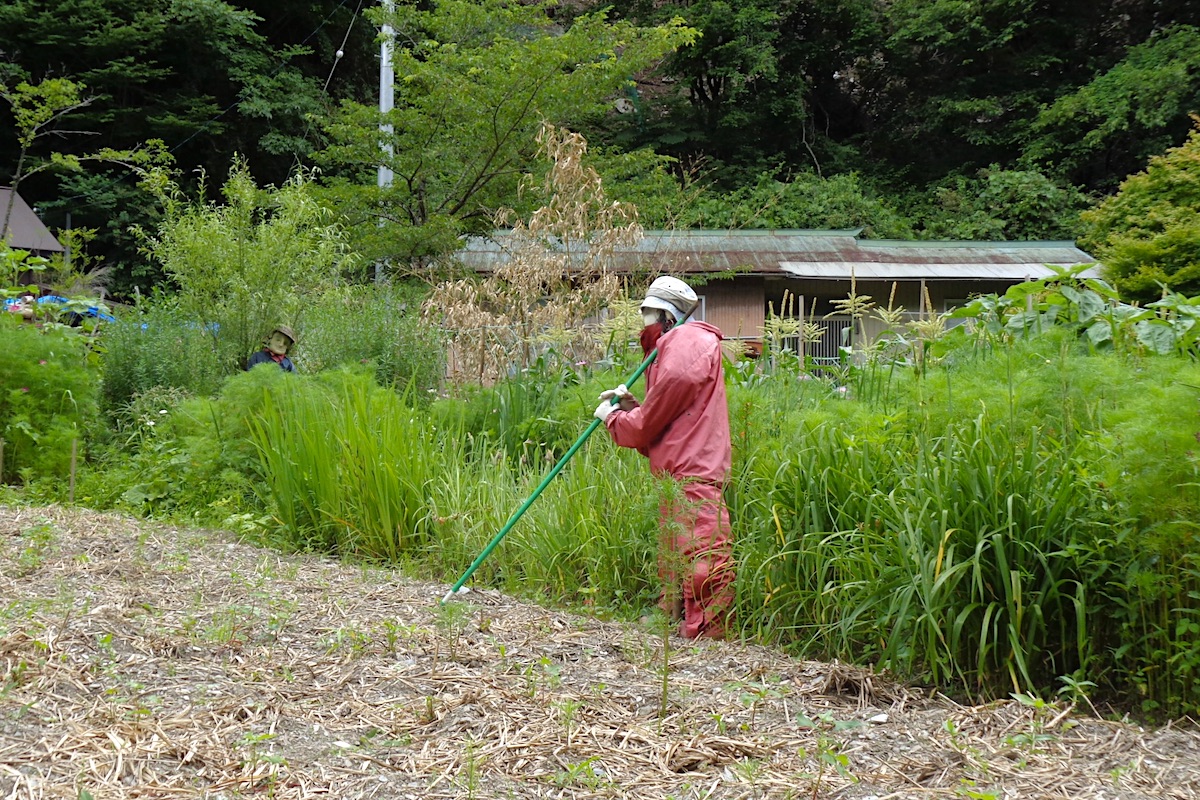 There was only that one scarecrow in existence on that day two decades ago, but little did I know that this solitary figurine would eventually become the seed for something symbolic and acclaimed worldwide.
Over the following years I recall how every time I subsequently passed through I'd see more and more of them, but no longer merely working in the field. Some now pulled carts, others sat in groups, and soon they even occupied whole buildings.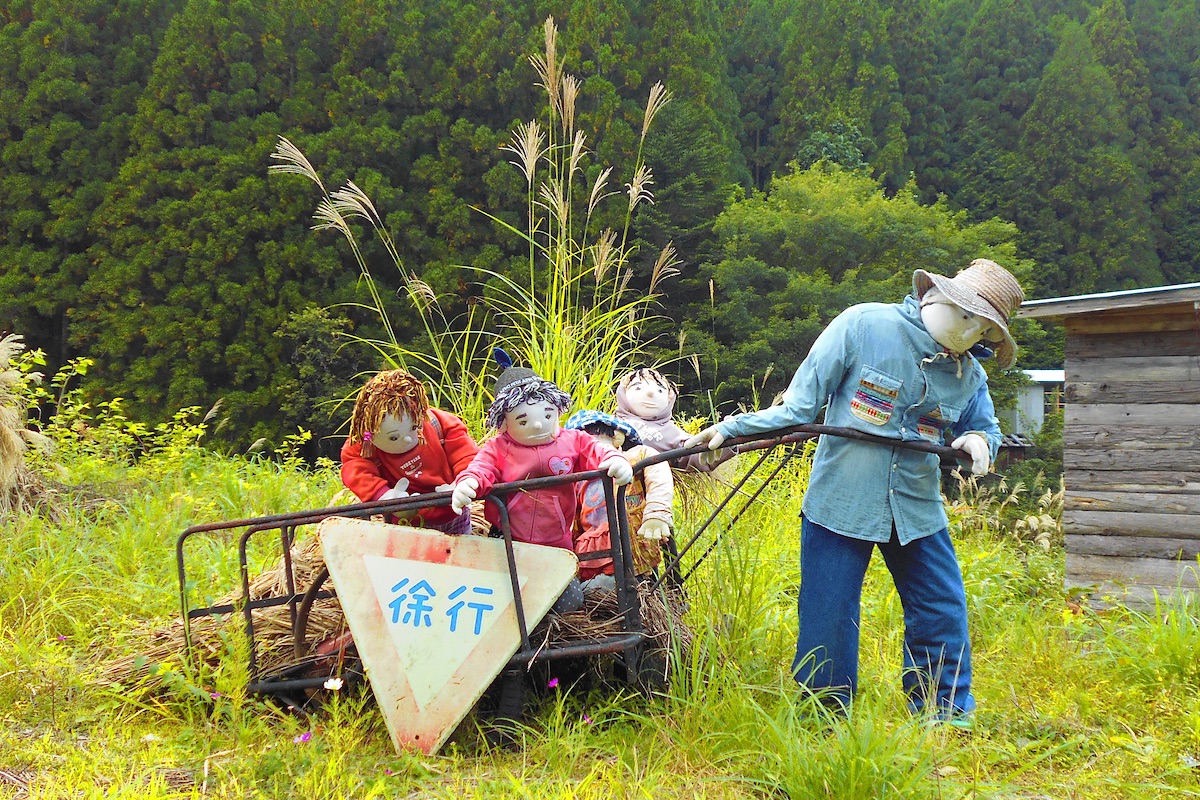 Flash forward to today, and before even entering Nagoro you begin to notice the scarecrows along the road as you approach.
Then once within the small hamlet, the sheer number of these full-sized dolls, located everywhere and engaged in a variety of activities, feels as if the whole village has come out to welcome you.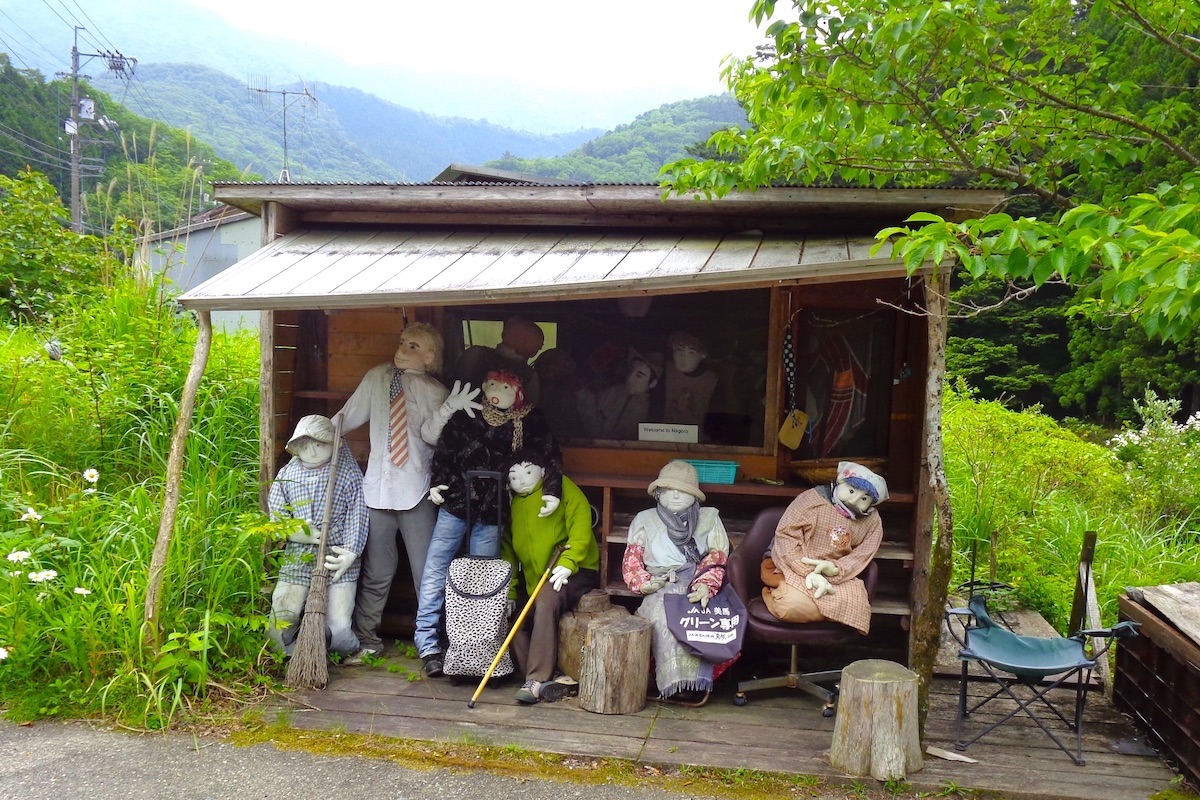 When I got to the "Scarecrow Bus Stop", the artist behind this massive creation, Ms Ayano Tsukimi, was already there, adjusting one of her works. She welcomed me with a smile and invited me up to her house to chat at a table outside, which of course, was surrounded by scarecrows.
The origins of Scarecrow Art
Ayano was born and raise in the village of Nagoro. She eventually moved to Osaka when she grew older, but in 2002 she moved back to her home here to take care of her ailing father. While in Osaka she developed her creativity by sewing and by studying ceramics for about 10 years.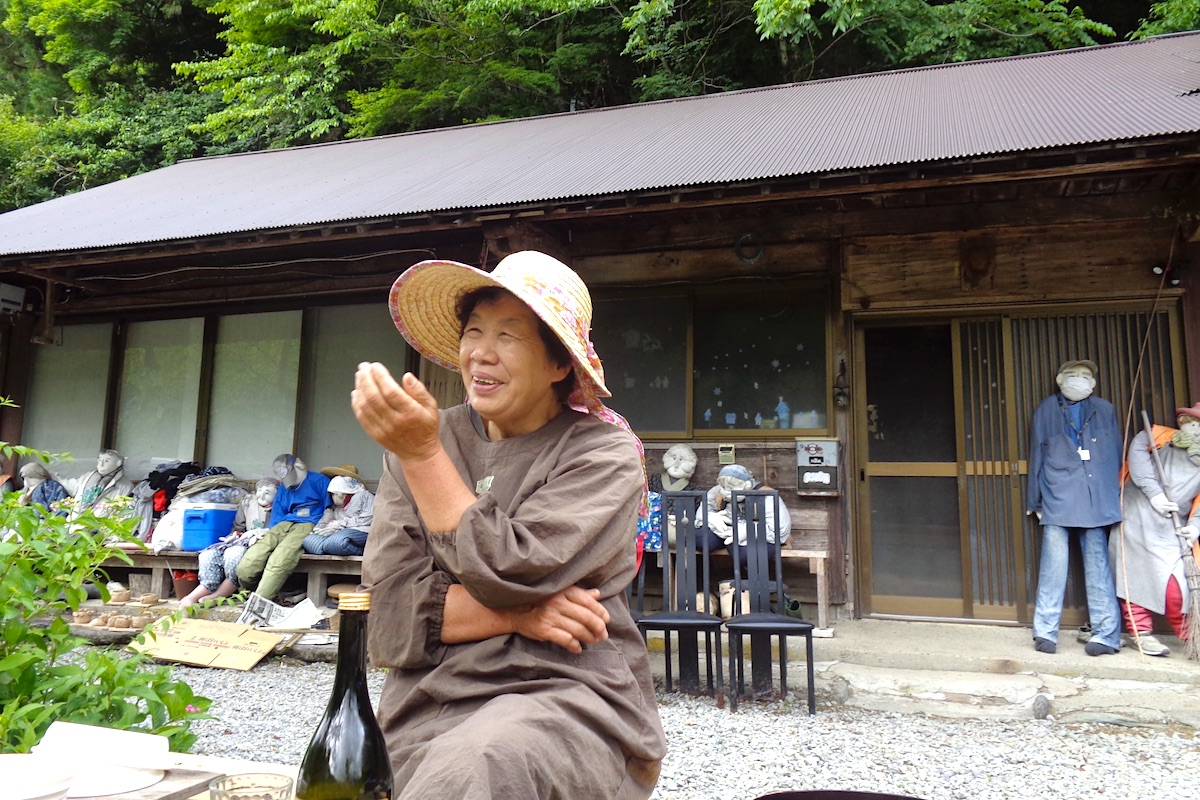 Upon returning to her home in the Iya Valley she began farming in her family's fields, but was quickly discouraged because nothing was sprouting. She worried that birds had eaten the seeds she planted, so she accordingly made a scarecrow. 
I mentioned my memory of seeing that first scarecrow long ago, and she explained how she had modeled it after her father. When I asked if it worked with scaring away the birds, she laughed, "I'm not really sure about the birds, but it did attract attention."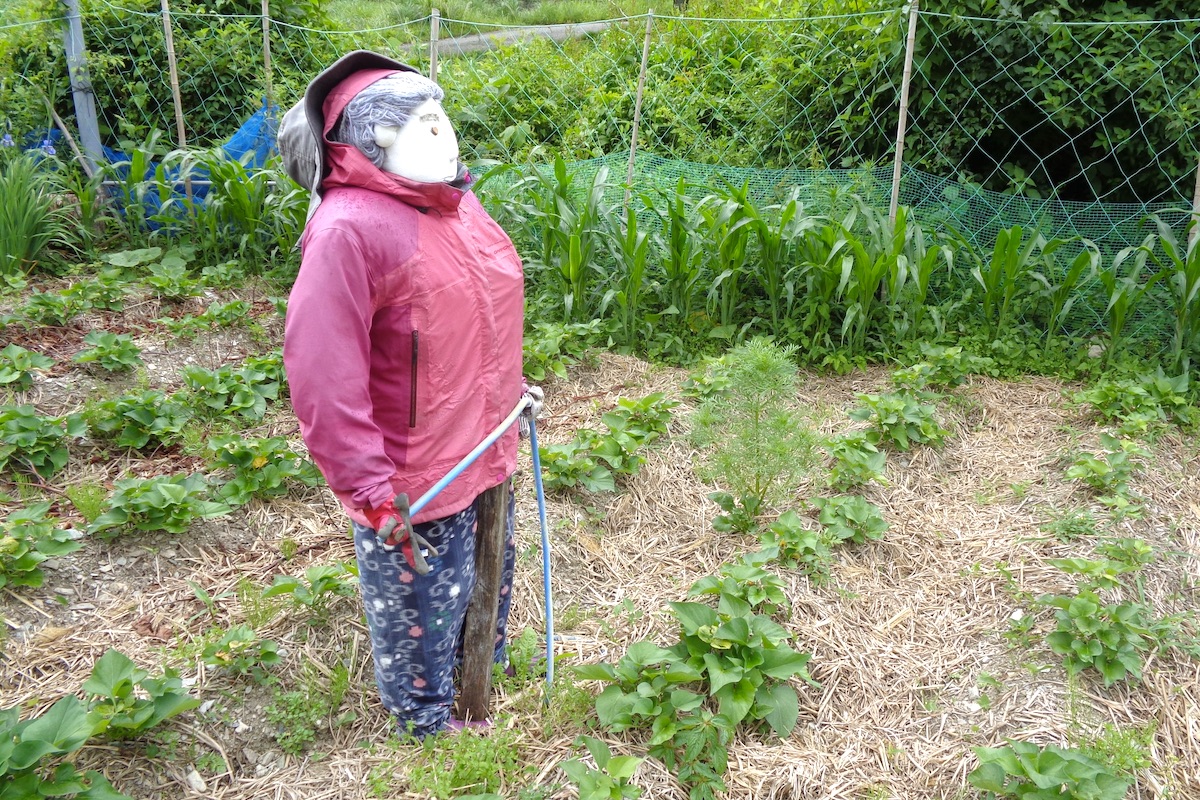 As it went, her neighbors were particularly delighted by her first scarecrow, with some even mistaking it for a real person such that when they walked by they would casually greet it. Equally amused in watching the situation unfold and feeling that she was bringing a bit of life back to her now fading village, she made another… and another.
Though the village's population had severely decreased compared to when she lived here as a child, she found inspiration in the positive feedback she received and set out to re-populate her neighborhood with some new residents. And as the number of scarecrows grew, many people from beyond the Iya Valley began to take notice.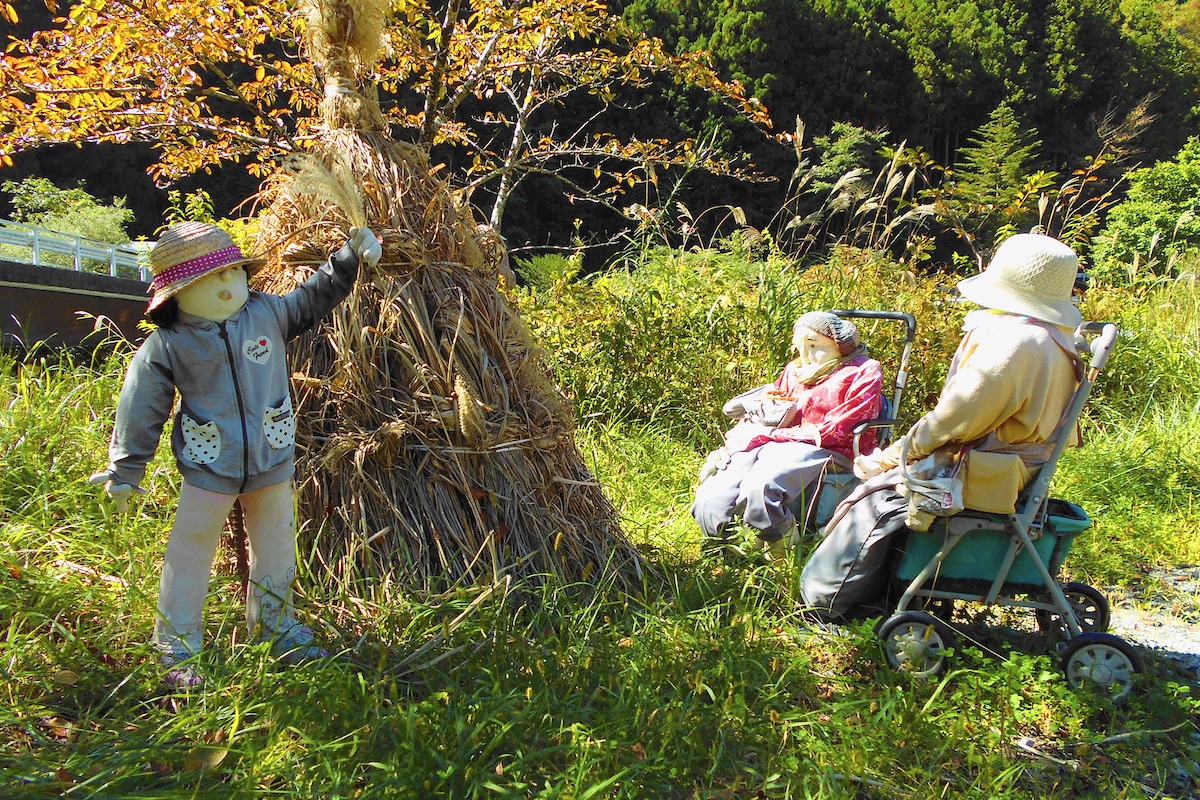 The internet makes Iya's Scarecrow Village world famous
One of the main turning points was in 2014 when a small group of German university students came out to make a documentary about this place. Upon being released on the internet, the short video exploded in popularity and Ayano's scarecrows drew world-wide recognition. 
Valley of Dolls from Fritz Schumann on Vimeo.
Unexpected fame in a remote corner of Tokushima Prefecture
In the years since, her now dubbed "Scarecrow Village" ("Kakashi-no Sato") has become an acclaimed tourist attraction in its own right. Various media outlets from across both Japan and the world continuously come in to cover Ayano and her creation. 
Part of the lure is in how her idea is interpreted as a heartwarming yet poignant reaction to the realities of rural depopulation, which is an issue not just affecting the entirety of the Japanese countryside, but also countless small towns across the world.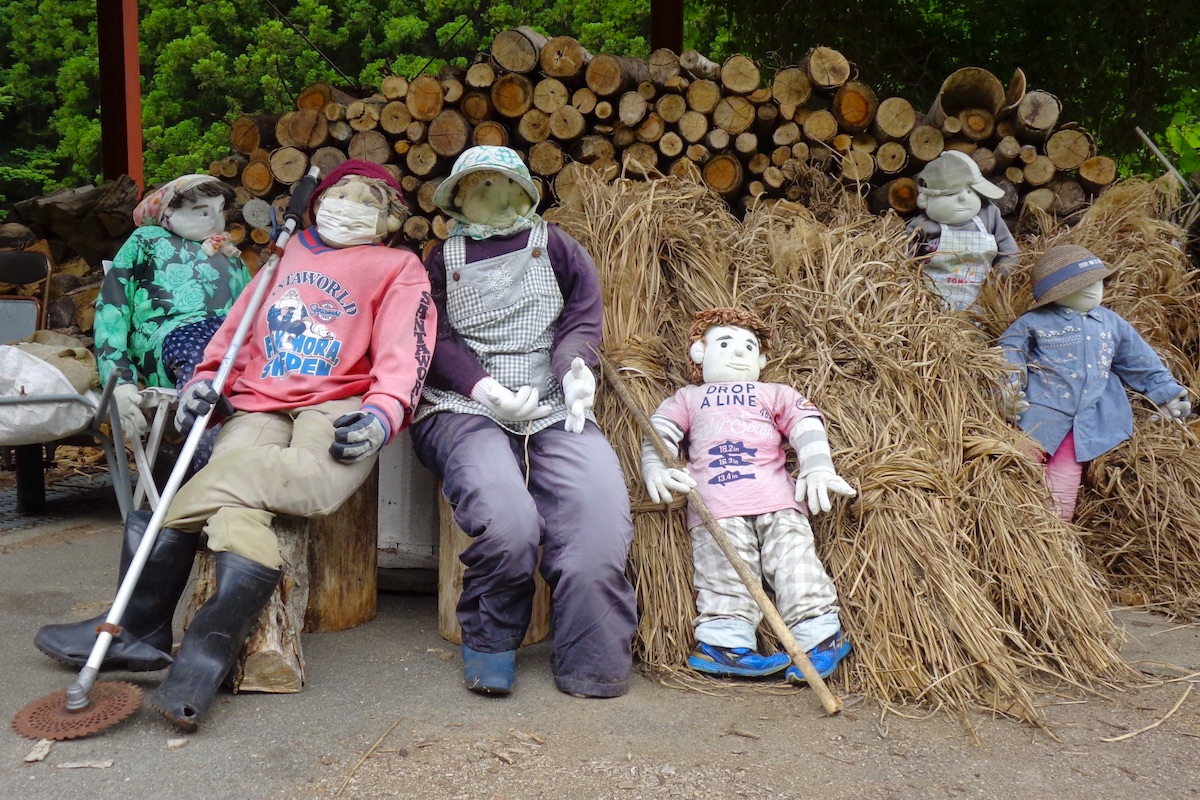 When I asked her about the attention she has garnered, Ayano gave a pensive smile, "It's surprising because I never had the dream (to be famous). I still just feel the same." 
But she did explain how deep inside, her Scarecrow Village has indeed affected her life. "I've met so many people (because of the scarecrows) and my relationships have expanded to include such a variety of people.  It's been really fun."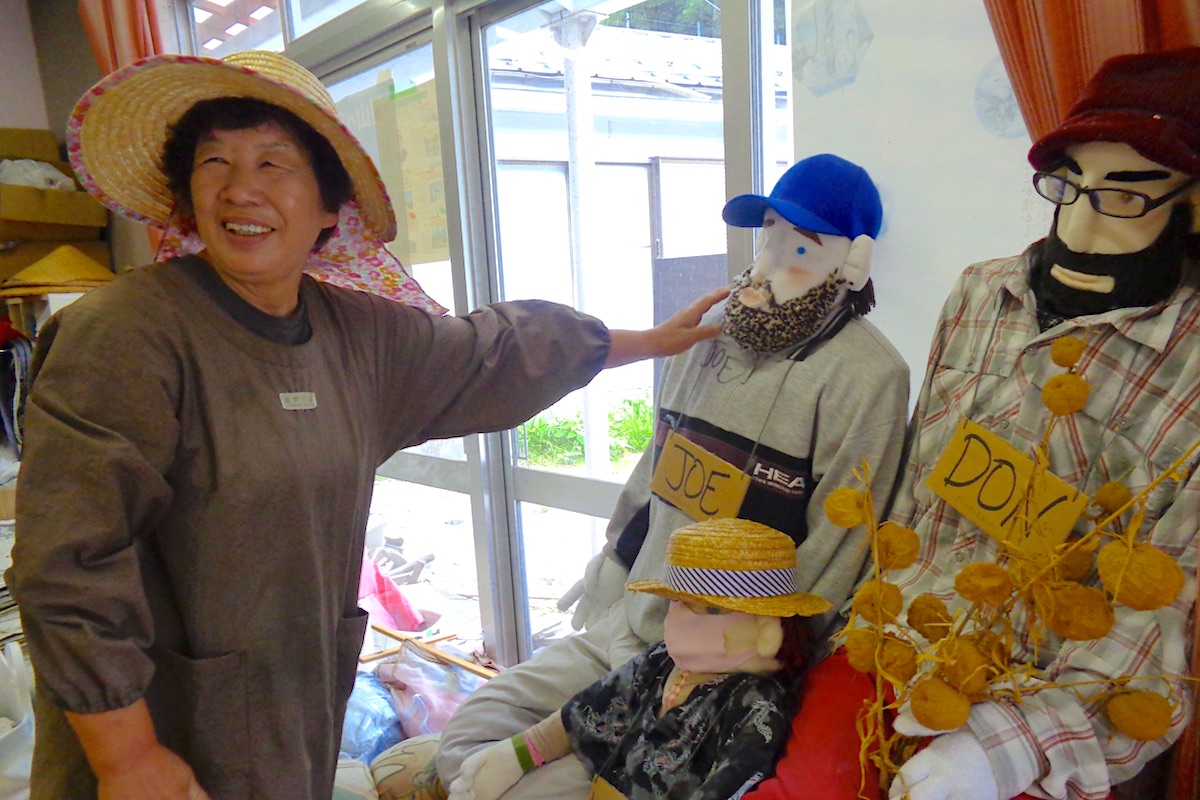 In Part 2 we explore the true depth of Ayano's creation and find out more about Nagoro.
next post>>
Scarecrow Mother Ayano Tsukimi – Part 2 | Visiting the "Scarecrow Studio" and Scarecrow School"
Nagoro Scarecrow Village (Kakashi-no-Sato)
The Scarecrow Village is available to encounter year-round but when visiting, please be respectful that actual people do still live here, and avoid trampling on fields or stepping into private property.
For more information about how to visit the Scarecrow Village, check the IyaTime website:
https://www.iyatime.com/nagoro-scarecrow-village
(Text & Photos by: Shaun Lamzy)