Immerse Yourself – Enjoying The Hot Springs of Miyoshi's Iya Valley (Part 1)
Soaking in an Iya Valley hot spring is one of the nicest ways to enjoy the area, particularly in an outdoor "rotenburo" bath that offers great views amongst the natural splendor. In this series we visit three of Iya's hot springs that are open to day-time visitors as well as overnight guests.
Rustic bathing tranquility at the Hotel Kazurabashi
Located in the Iya Valley's western half (known as Nishi-Iya), the Hotel Kazurabashi is just minutes from its namesake, the famed Kazurabashi Vine Bridge. 
This family-run business has one of the most inviting outdoor hot spring bath areas in all of Shikoku, and one can easily idle away hours here soaking in the tubs and enjoying their well-kept gardens.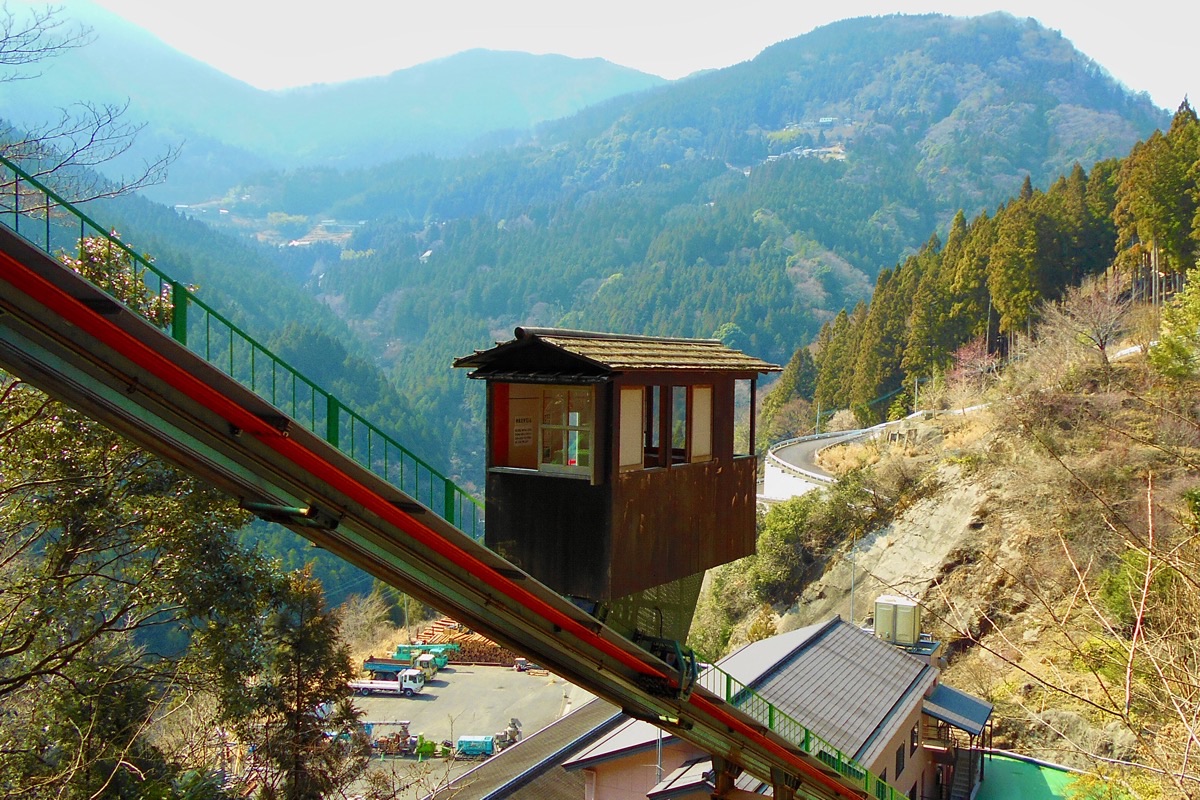 To access their outdoor baths, their woodsy cable-car needs to be taken a short distance up the mountainside behind the hotel building. Upon reaching the top, you are immediately overcome with the stunning natural atmosphere.
With stone-paved pathways leading about this meticulously tended place, the first thing encountered is their gorgeous thatched roof teahouse, but more on that later since this is best to enjoy after taking an initial soak in the baths.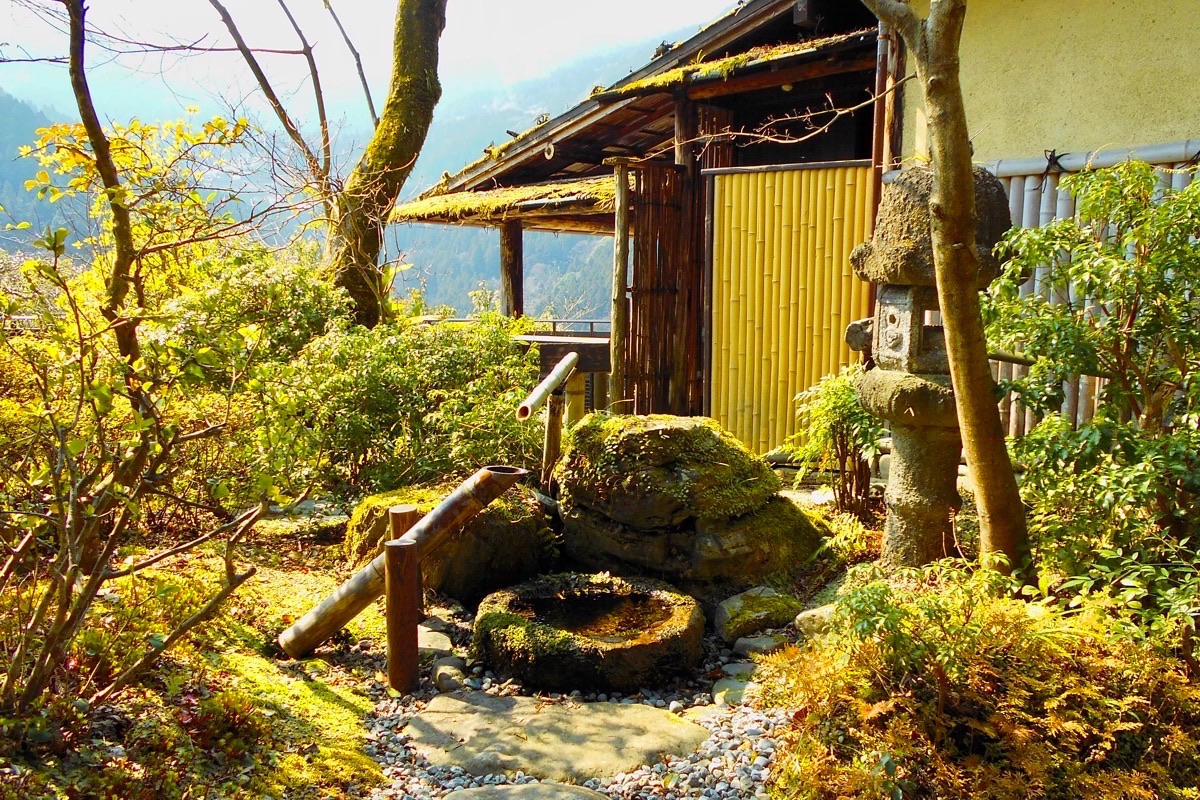 Further along the path are the separate men's and women's entrances, where their breathtaking main baths await. Lined with Awa-blue stones taken from the Iya River and offering a splendid view unto the valley, all your worries are immediately evaporated as you ease yourself into the steamy water.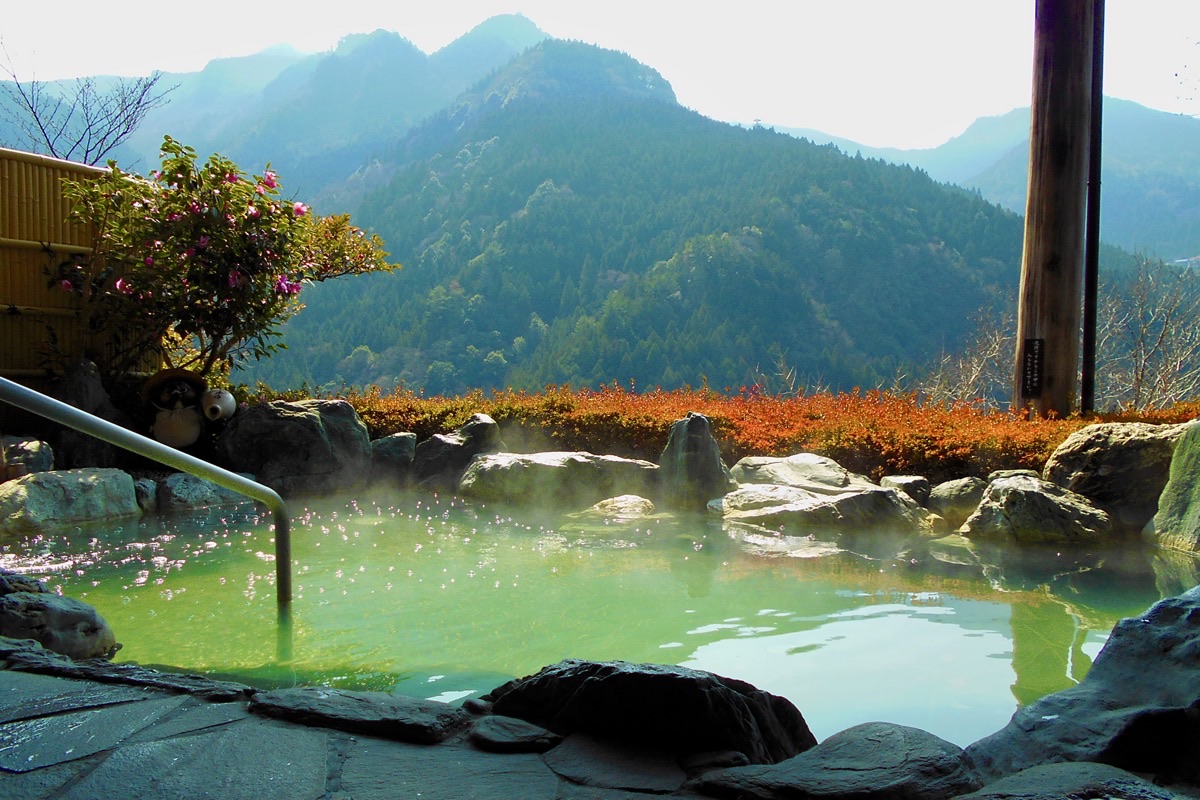 Also here are their large "tanuki" ("raccoon") tubs which are one-person baths that look like giant porcelain bowls and adorned with playful tanuki sculptures. Stepping in, the continuously filling water erupts off the top as its displaced from your body.  
More than just a bath
Now properly cleaned and deeply heated, it's time to further relax back over at their teahouse. Built in traditional style, this thatched roof hide-away has a lovely slow-burning irori floor hearth inside.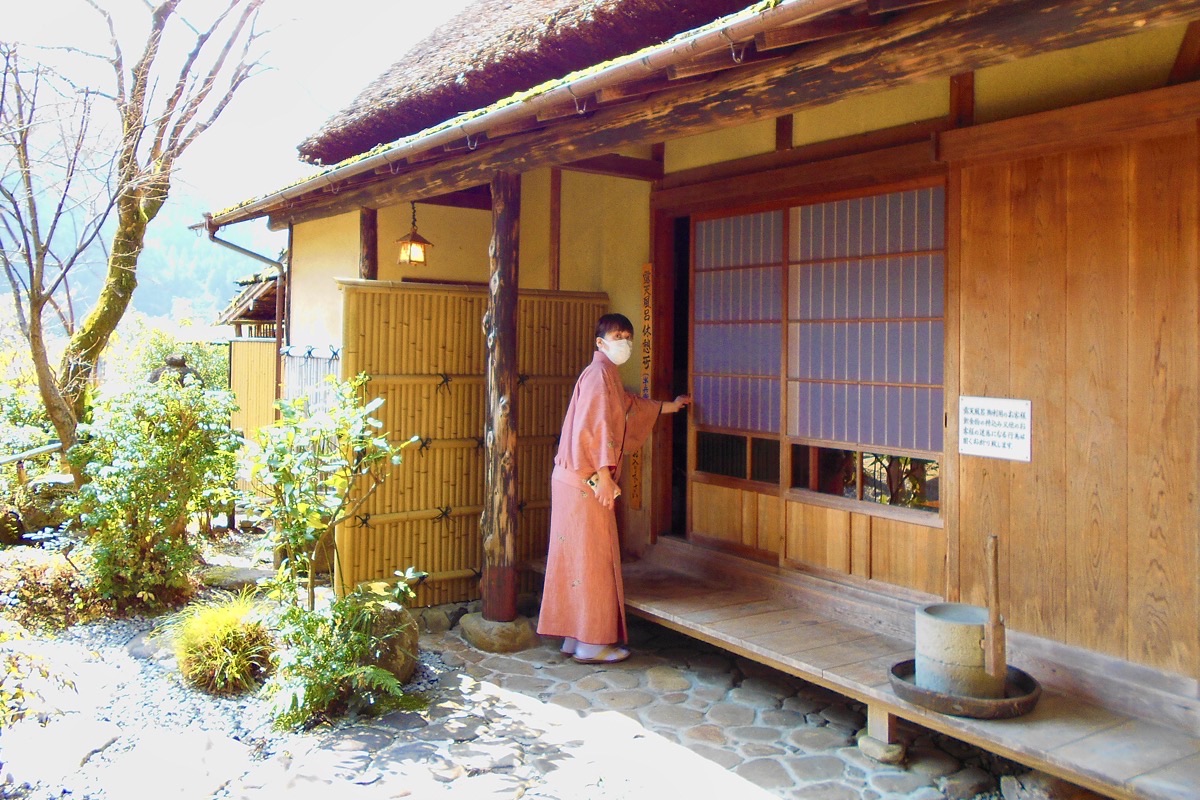 Due to decades of use, the gentle smoke from the irori has ever so slowly given the entire inside of the building a deep burgundy glaze. Self-serve tea is available, and sipping a steamy cup while sitting around the irori feels like stepping back in time.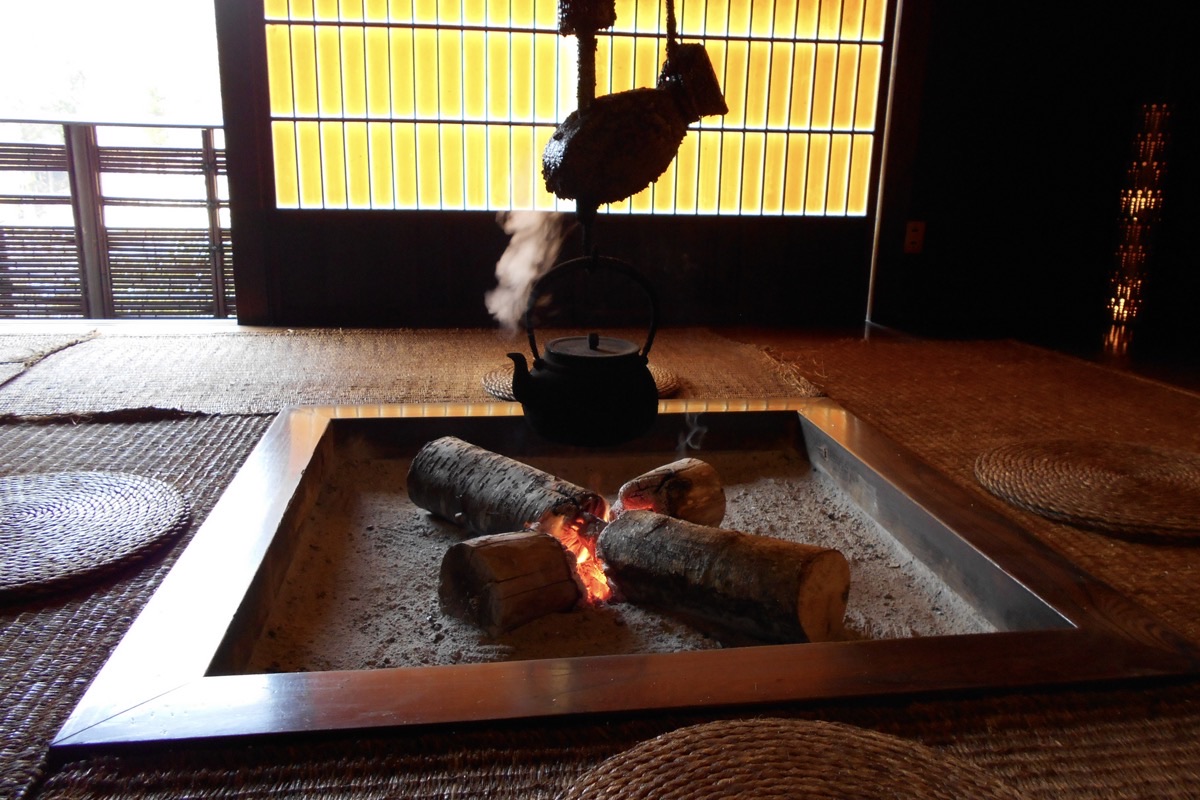 But the relaxation isn't finished yet. Wandering out from the teahouse onto the back patio, you will be further spirited away with their long "ashi-yu" footpath. Here you can sit with just your feet immersed in their thermal spring water as you take in the suburb panoramic views across the valley.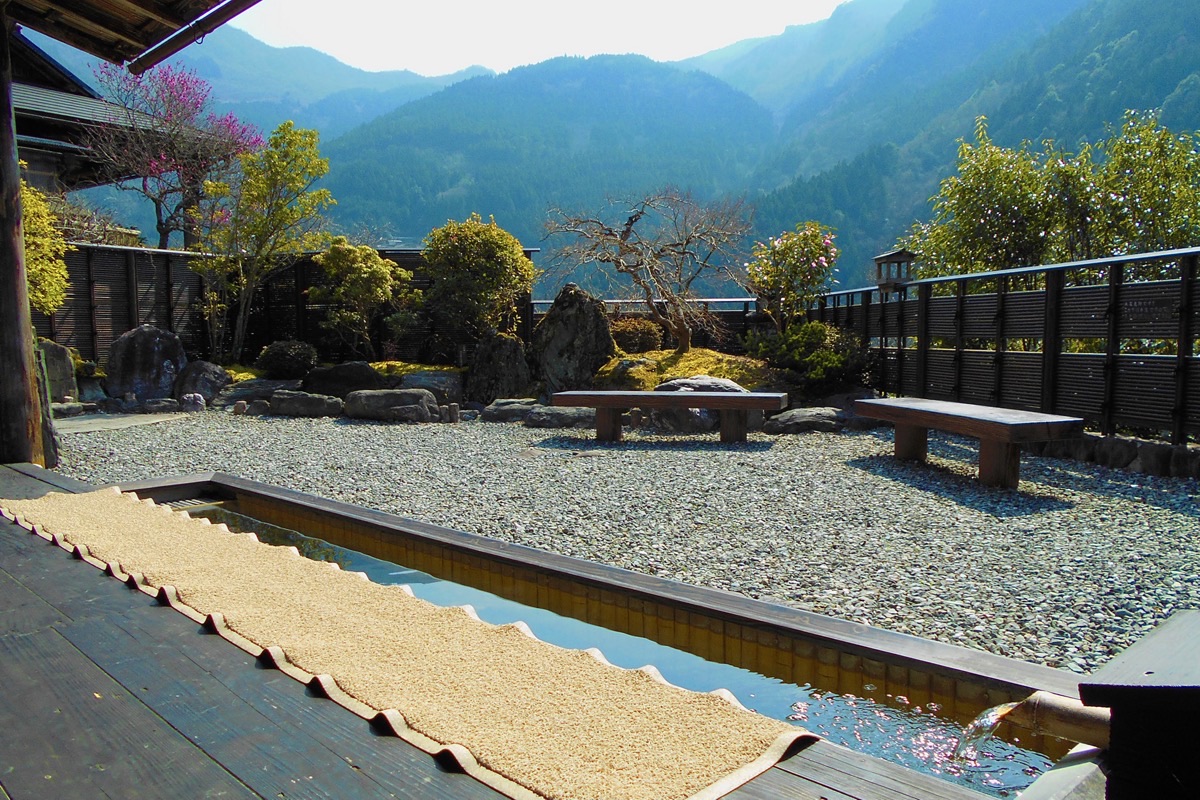 Opt to take another bath (or two) in their outdoor tubs, and if somehow you are still seeking more, back down at the hotel building their indoor baths also await. Here you will find more bubbling pools, a hot sauna room, and fully equip changing rooms.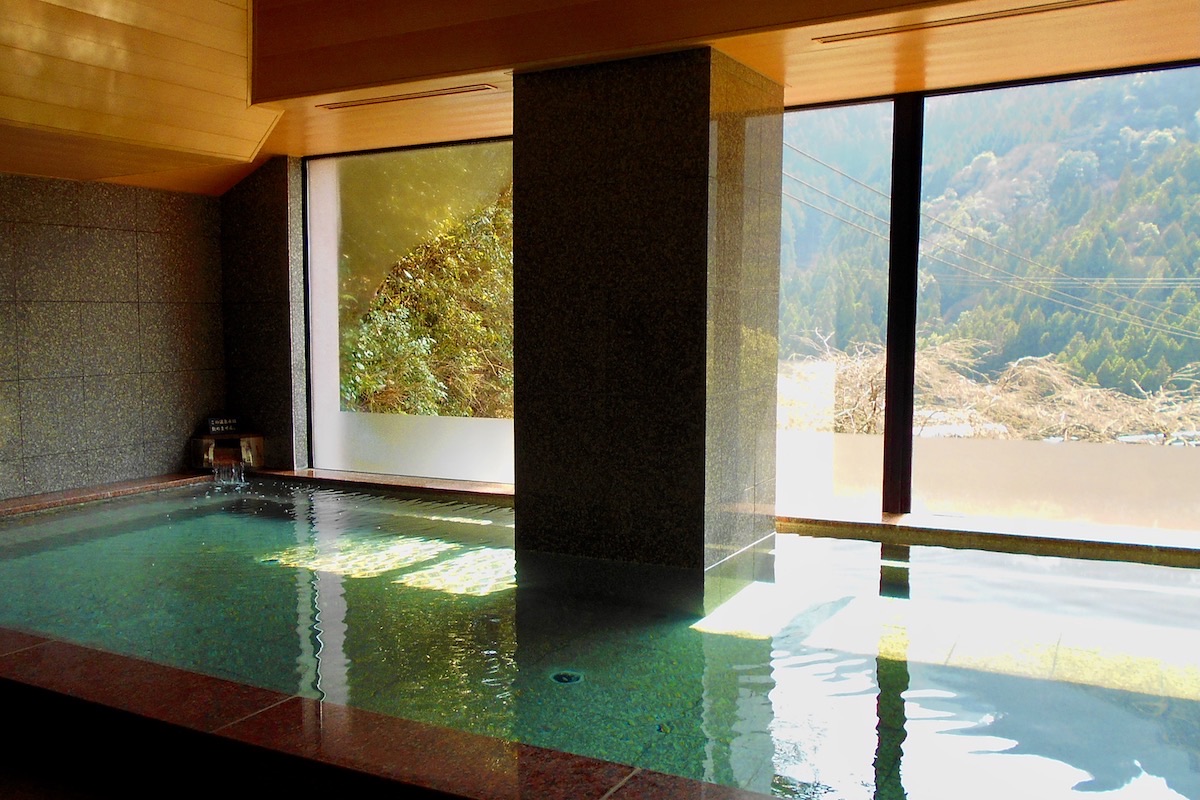 The Hotel Kazurabashi hot springs are open daily to non-guests from 10:30am to 4pm for 1200 yen per person (children discounted), and those who want to be pampered further can also reserve one of their fantastic lunch sets to have either before or after bathing, which feature an array of local specialties (from 3500 yen + tax per person and includes the hot spring baths).
And for those staying at the hotel, overnight guests are not only able to enjoy the baths later into the evening as well as in the early morning, but they can also have even more bathing options (oh yeah, there's more…) including in their private outdoor bath, or even in one of their "goemunburo" baths, which is a traditional style iron tub that is heated from below by a wood fire.
But no matter how you soak in them, the hot springs of the Hotel Kazurabashi provide a one-of-a-kind chance to sooth your soul.
For more information, check the Hotel Kazurabashi's website.
(By: Shaun Lamzy)
For more information about travel in Miyoshi, check IyaTime.com
Official Travel information:https://miyoshi-tourism.jp/en/