Iya Fureai Park -Part 2 | Riding the Ladybug Monorail and Other Outdoor Fun
Offering a wide variety of activities, the Iya Fureai Park is a wonderful place to interact with the nature of Miyoshi City's remote Iya Valley. Located in central Nishi-Iya, the park offers a chance to do woodworking crafts, camping, the cute Ladybug Monorail, and a tree-climbing rope course.
previous post>>Iya Fureai Park -Part 1 | Connecting with the Iya Valley's Natural Bounty
A pleasant spot along the Iya River
One of the nicest aspects of Iya Fureai Park is its peaceful location in the center of the Iya Valley beside the Iya River and surrounded by the verdant mountains.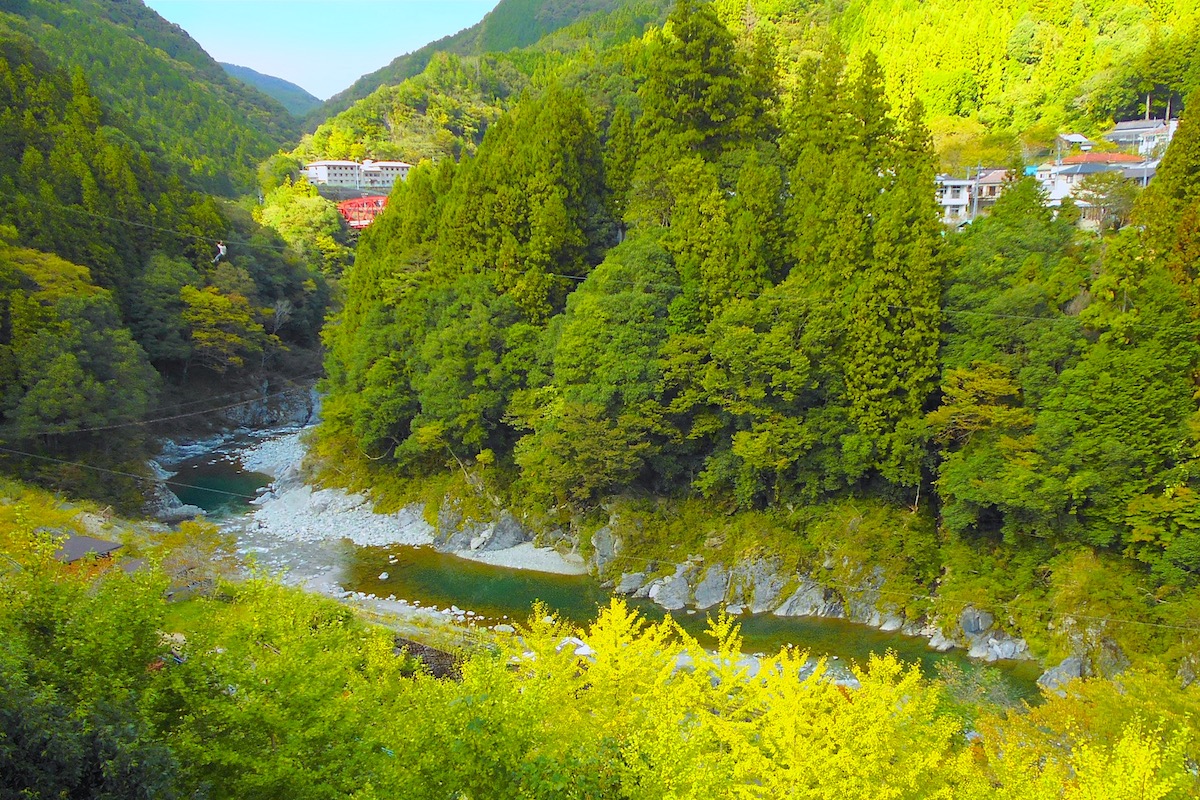 The river can be accessed by going down the small road behind the parking area. From there you can walk down the paths to reach the river. Generally calm and not too deep, it is a wonderful place to splash about in the cool water during the warm summer months.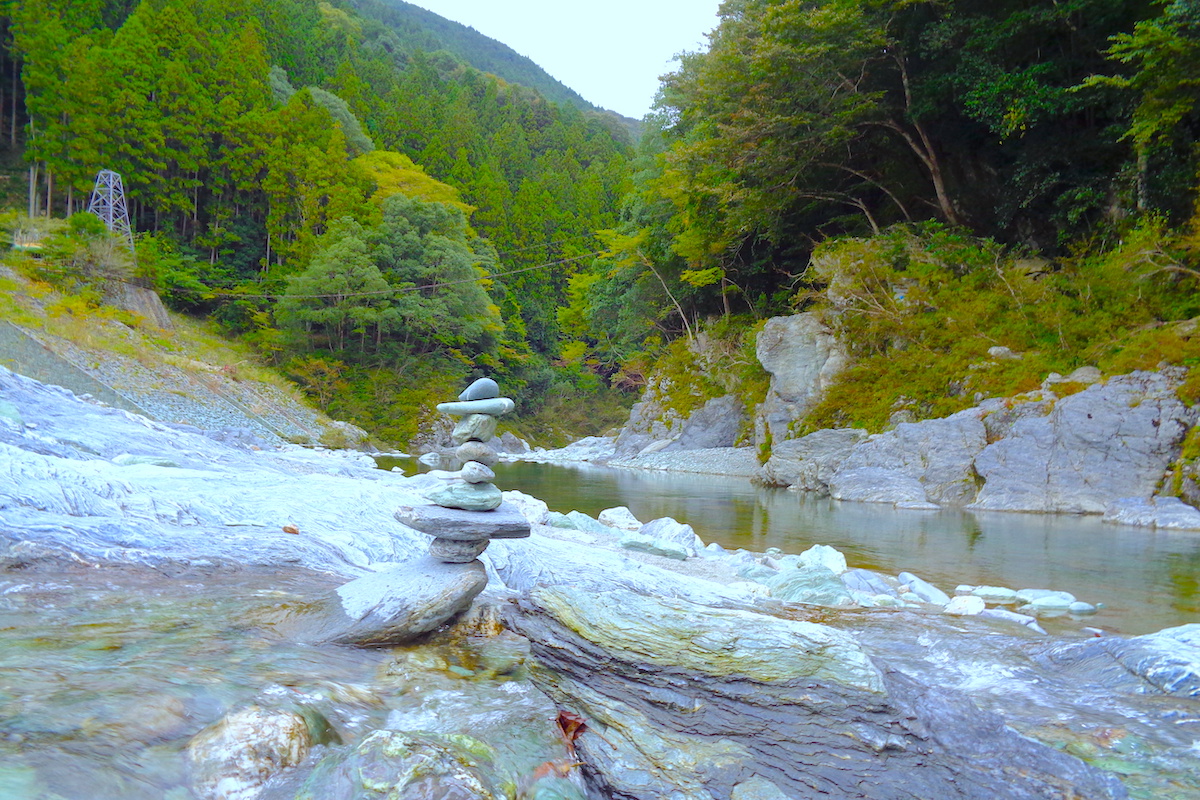 And the blueish river stones within the clear waters give this serene spot an otherworldly feel.
Camping and picnicking at Iya Fureai Park
Also down along the banks of the river are some camping spots set among some flat patches of grass, allowing anyone to enjoy the natural surroundings all evening.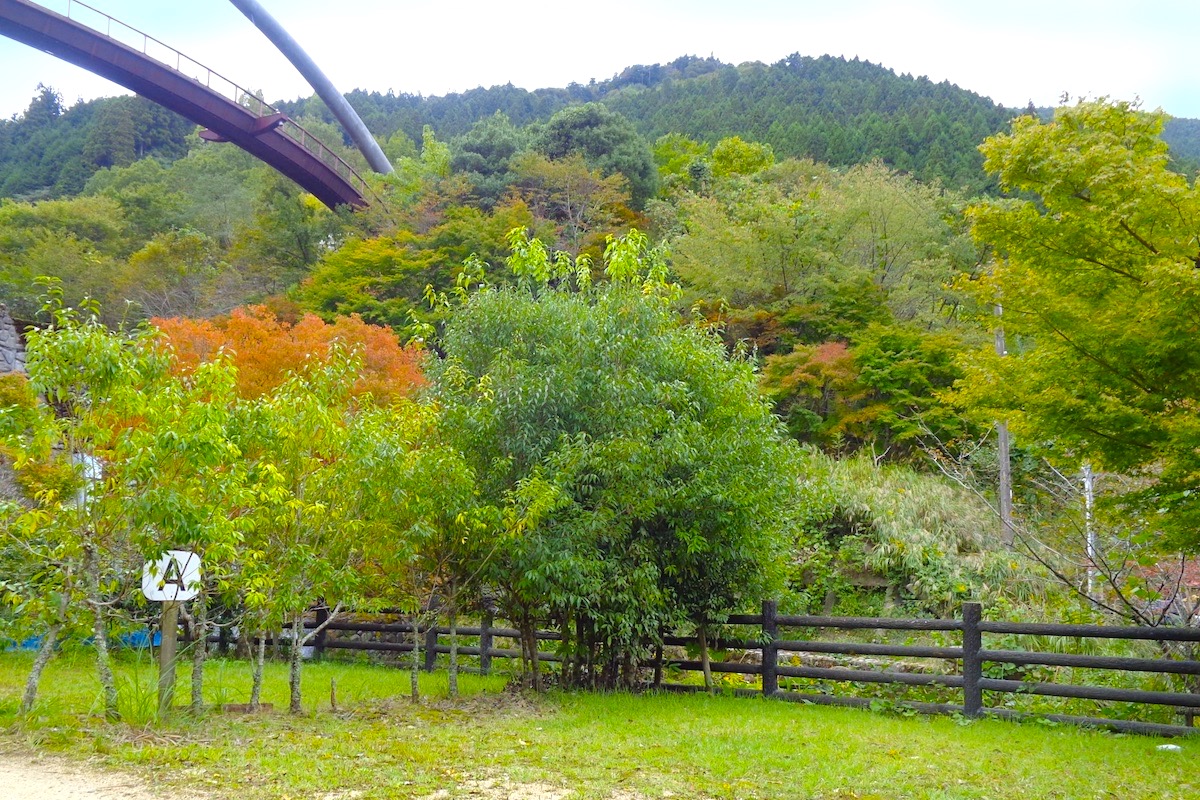 Camping is possible from April to early September, and during the early summer the area is known for being home to lots of fireflies. There are also some covered picnic tables located here which can be used either by campers or by day-trippers simply seeking a nice place to bring their lunch.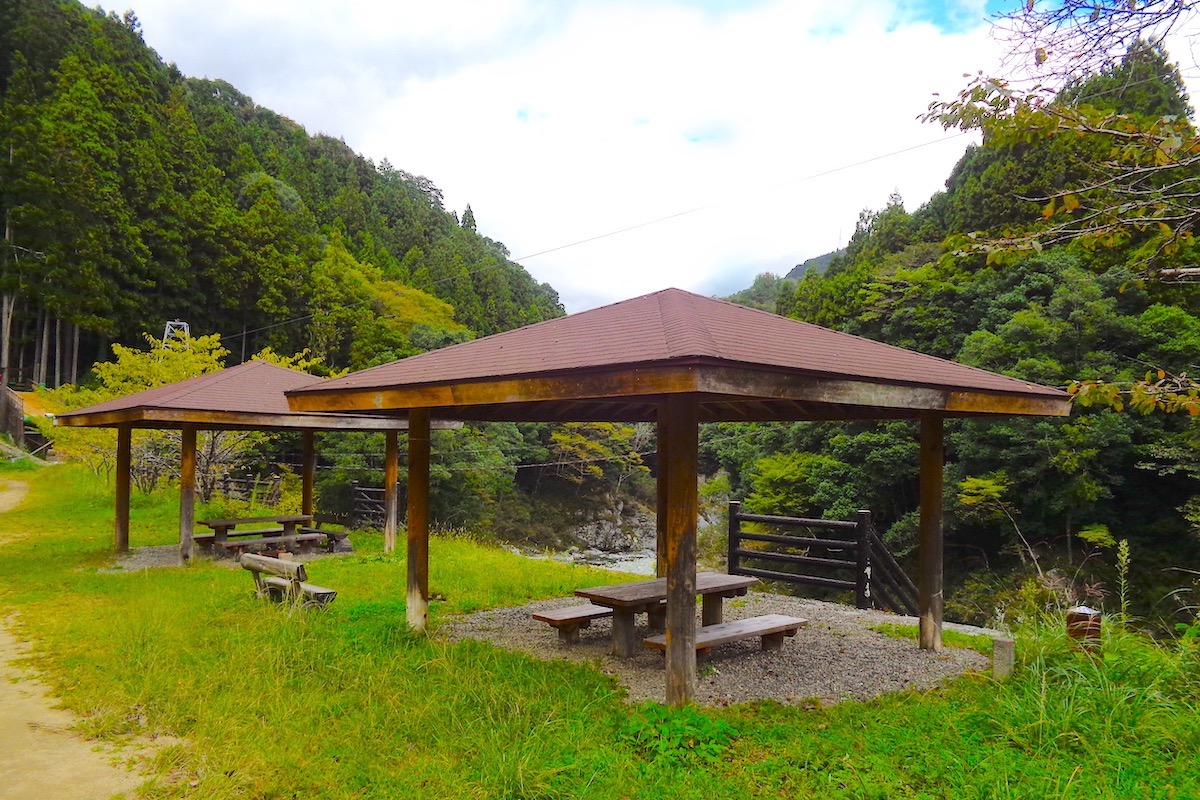 The fee for one of the campsites is 1500 yen and you should bring all of your own equipment. If looking to camp then it is asked to contact beforehand to make a reservation.
Taking a ride… in a ladybug??
And one fun activity which can be enjoyed by everyone is the one-of-a-kind Ladybug MonoRider.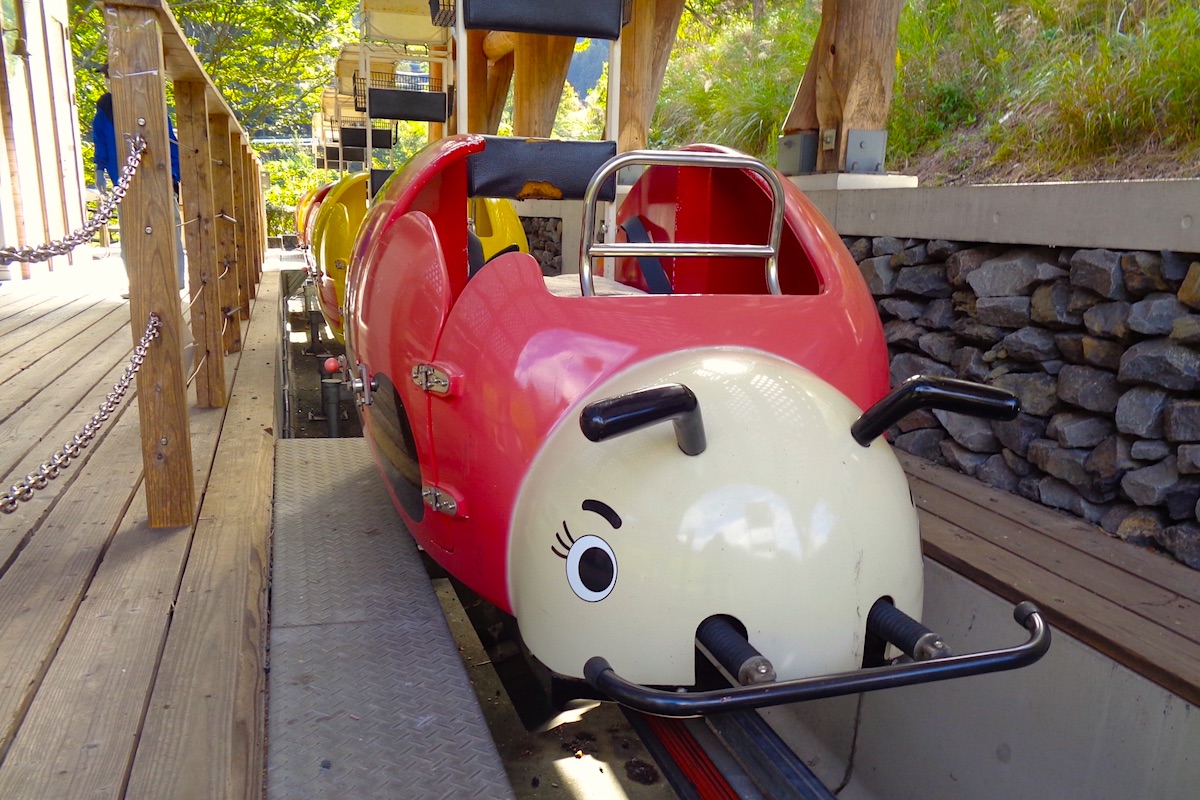 Located on the other side of the arched footbridge and featuring cars shaped like colorful ladybugs, this monorail ride gently toots around the hillside here on a course that takes about 10 minutes. It is perfect for not just young children, but for anyone looking for a unique photo opportunity.
No reservation is necessary for the MonoRider, and up to two people can ride in the cars. The hillside is full of maple trees, so autumn is a particularly beautiful time to enjoy the brilliant red and orange leaves of the lovely forest.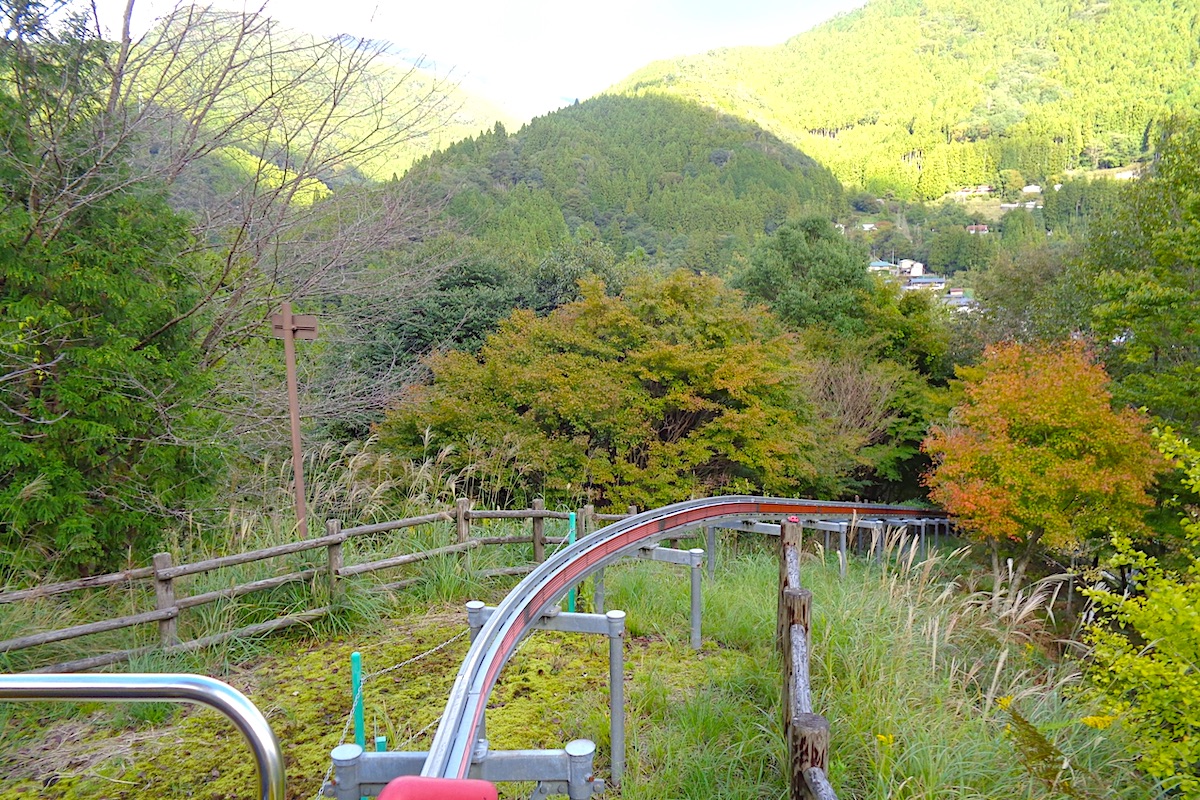 Fees for the Ladybug MonoRider are 500 yen for adults and 300 yen for children.
In Part 3 we test our mettle on the rope and zip-line courses of Forest Adventure.
Iya Fureai Park
Open daily 9am-5pm (closed Jan 10- March 1)
Tel: 0883-76-8585 (Japanese only)
https://miyoshi-tourism.jp/en/spot/祖谷ふれあい公園/
For English, contact the Miyoshi Tourism Department here:
https://miyoshi-tourism.jp/en/inquiry/
(Text & Photos by: Shaun Lamzy)