The Iya-no-Kazurabashi – Part 2 | Sampling the Local Tastes Around the Vine Bridge
The famed Iya-no-Kazurabashi Vine Bridge is considered one of Japan's 3 most unique bridges and is located in the Iya Valley section of Tokushima's Miyoshi City. After crossing this amazing bridge, it is also great to sample some of Iya's various delicacies that are on offer nearby.
Tasting local treats as you stroll around
When walking around the Iya-no-Kazurabashi Vine Bridge you will be sure to notice the several small, traditional restaurants offering up meals and treats unlike anything you may have seen elsewhere.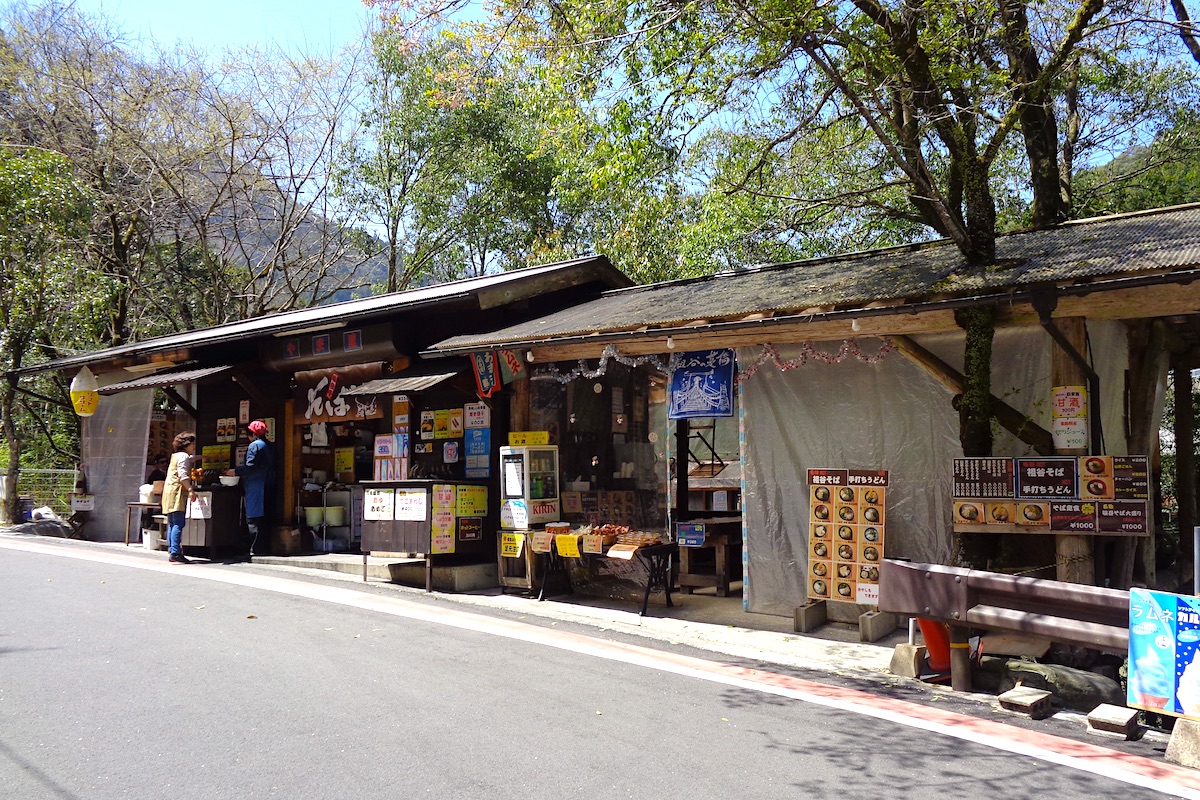 And probably the first thing to catch you attention would be the charcoal fire-pits  most places have along the roadside which are for roasting up various things on skewers.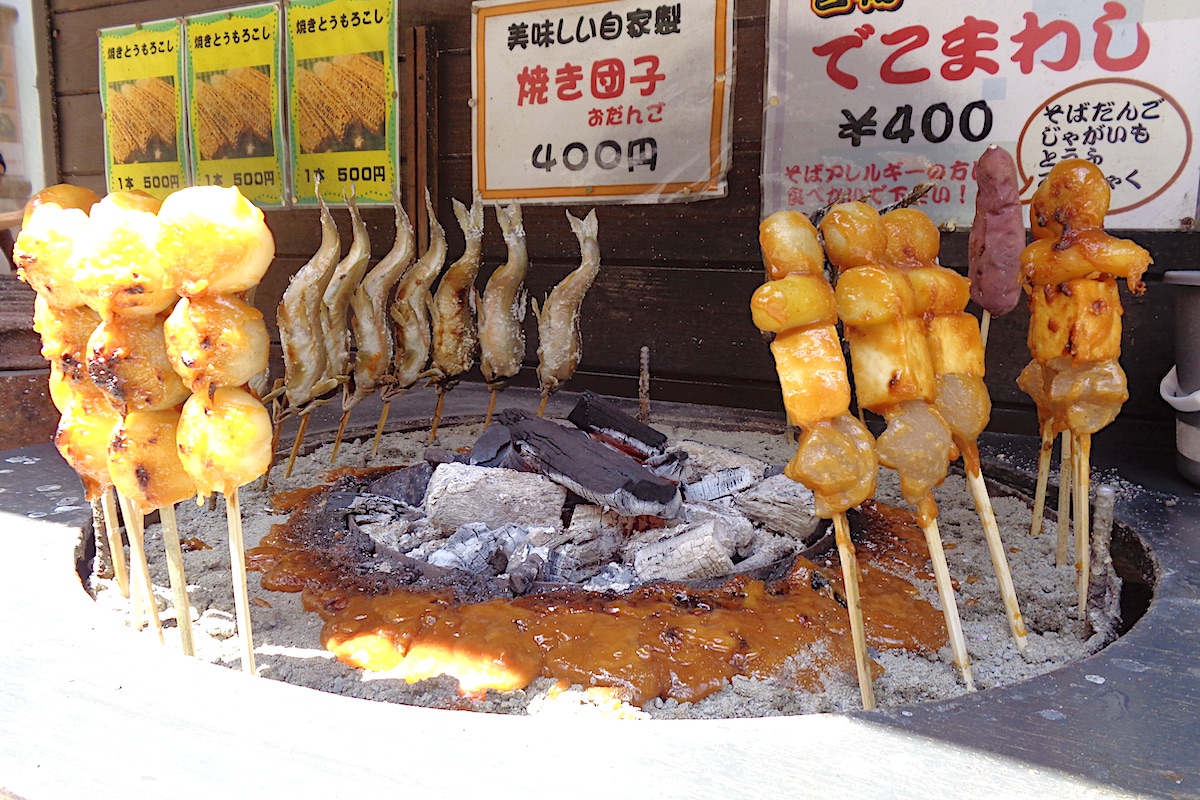 Among the skewered delights available are "dekomawashi" and "amego", both of which are traditional foods of Iya and in the past were cooked at local homes in the same way around the "irori" floor hearths.
A local specialty
Only found in Iya, "dekomawashi" is made by using some of the valley's most noted ingredients. 
To make it, first a thick wedge of "konyaku" (konjac yam gelatin) is skewered, followed by a stiff cube of Iya's "stone" tofu, then a dumpling made of soba (buckwheat), and it is all capped off with a small dense Iya potato.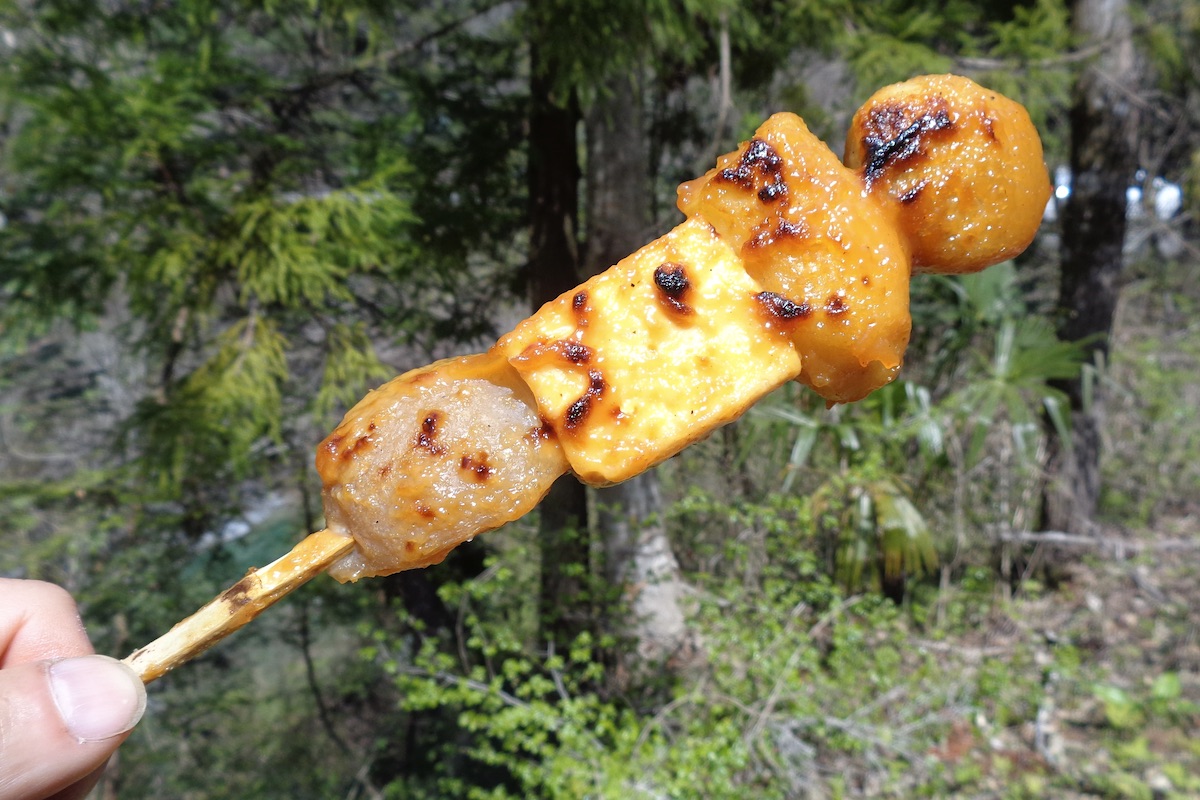 It is all then slathered with sweet miso paste, roasted to perfection, and tastes delicious!
The unique name "dekomawashi" refers to a traditional wooden puppet since this is what this local creation looks like.
Skewered fish
Along with the dekomawashi, you will be sure to notice the "amego" river fish also being roasted on the charcoal.
A type of river trout, the amego only live in clear mountain streams, for which there are abundance of in the Iya Valley.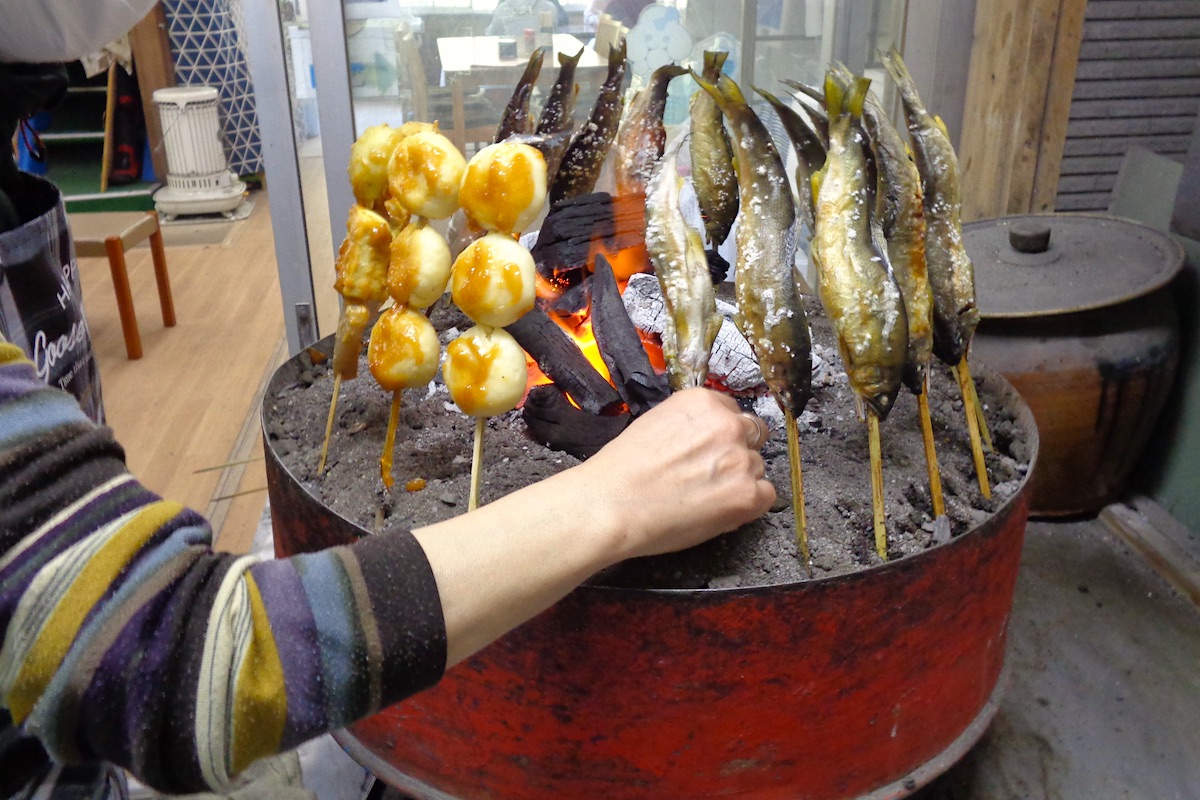 The fish are covered with salt which becomes encrusted as it cooks, and it is said that they are skewered this way to make them look like they are swimming through the water.
Gazing at the waterfall beloved by the Heike
A short walk from the Iya-no-Kazurabashi Vine bridge is the Biwa Waterfall. It is said that long ago, when the Heike Samurai came to Iya to hide, they would gather here to sing songs about their old homes and did so while playing the "biwa", which is a traditional type of Japanese lute.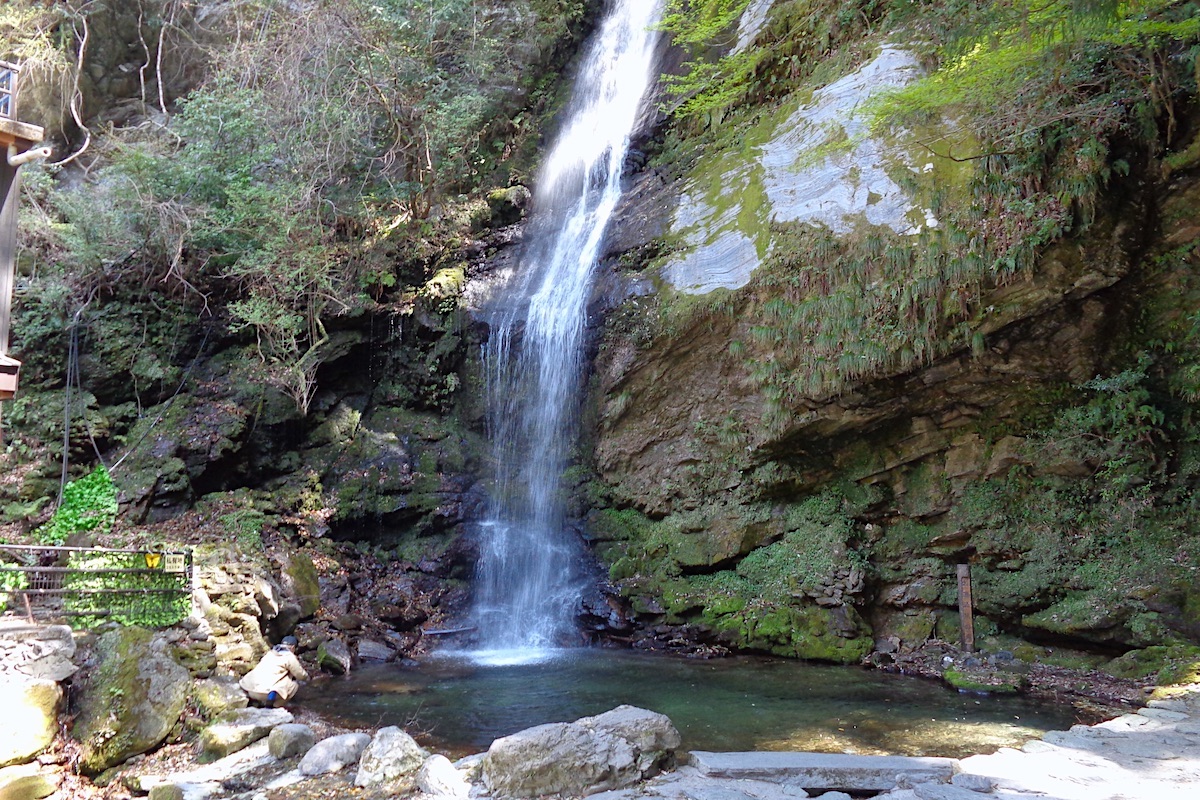 At the small restaurant right next to the waterfall I stopped in to have one of Iya's most famed dishes while watching the fabulous waterfall cascade down right before me.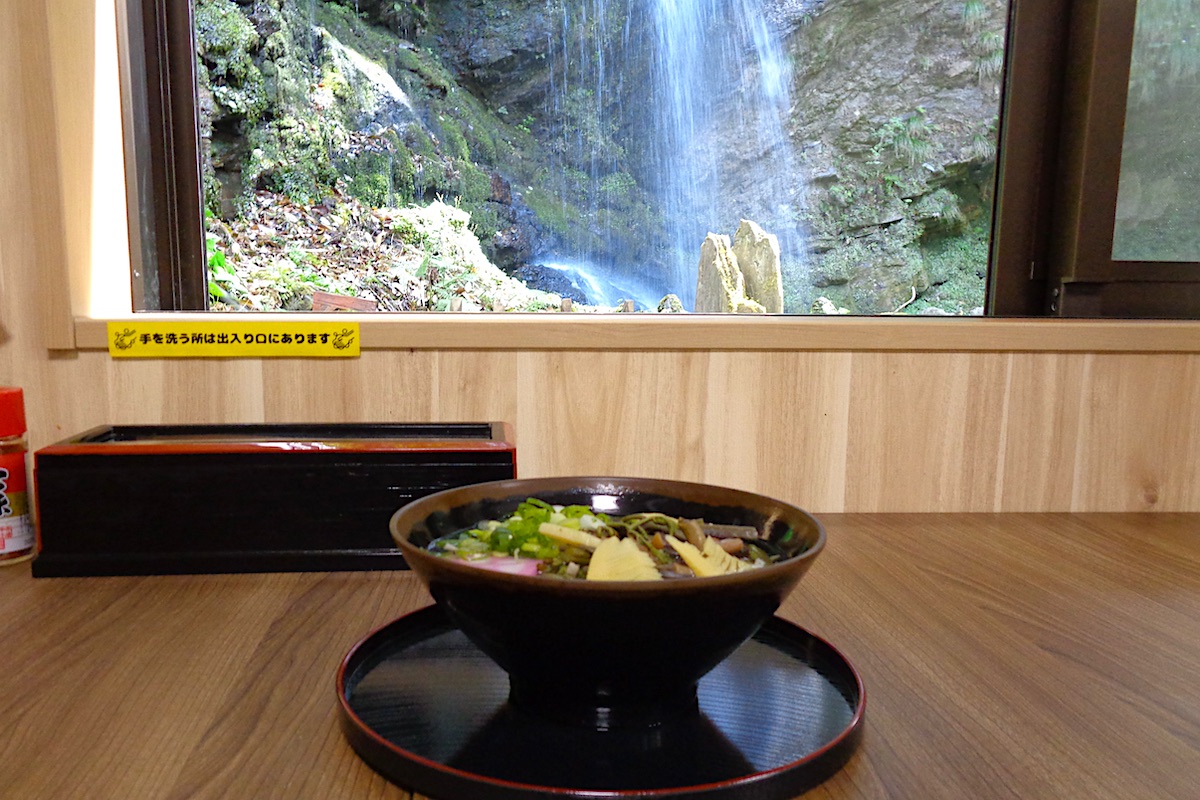 Here I ordered "Sansai Soba", which was a bowl of handmade Iya soba (buckwheat) noodles that was adorned with a heaping amount of wild mountain sprouts.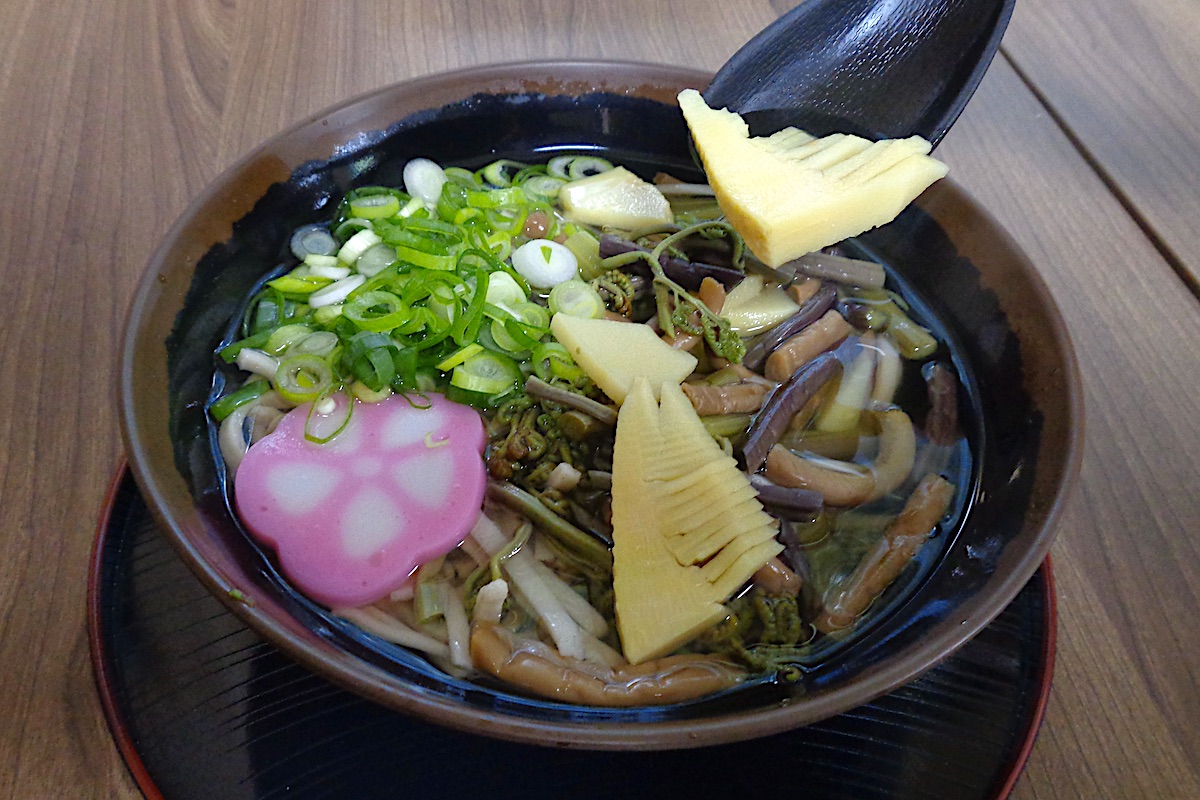 Enjoying a honey cafe with the local wildlife
And for those looking for a bit more of a modern taste, be sure to stop in at the "Mori-no-Kuma" cafe ("The Mountain's Bear") for some desserts that feature lots of local honey.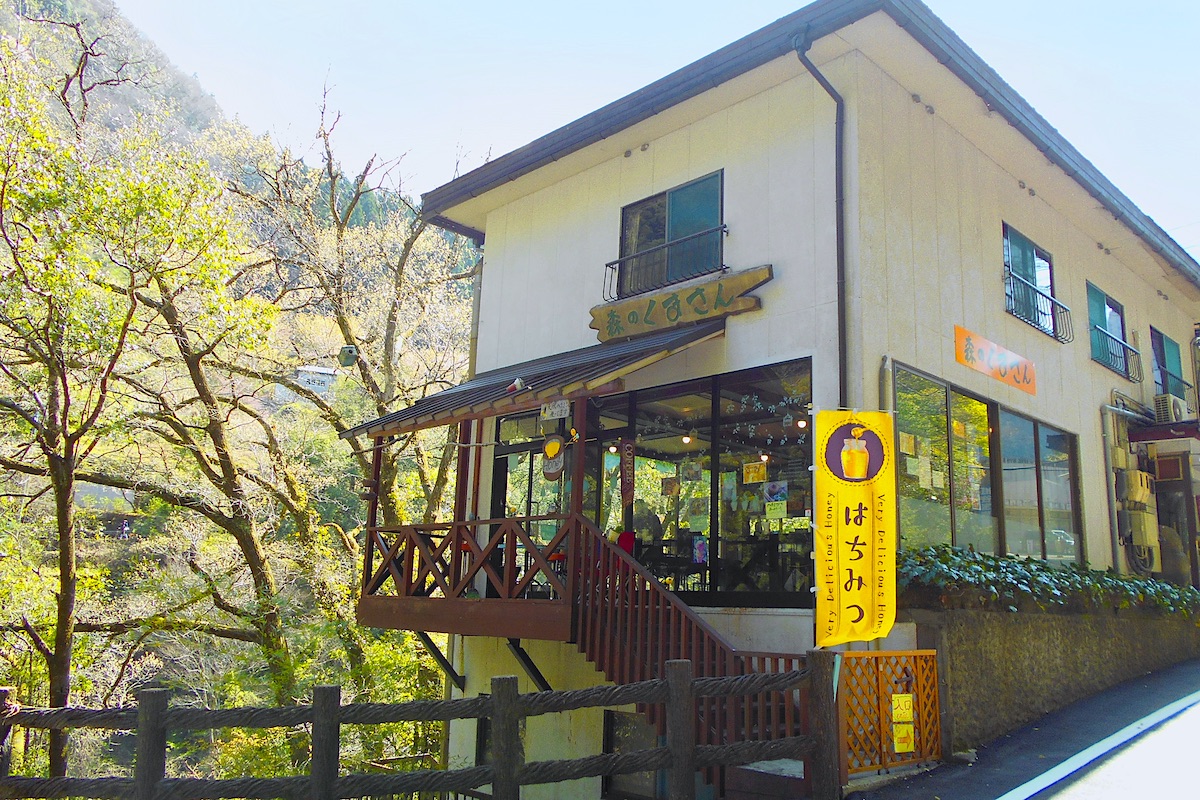 Situated near the entrance to the Vine Bridge, the menu features various things like grilled sandwiches and fresh french fries, but what's best is the selection of home-made treats that use pure Iya honey.
I got one of their most popular dishes, which was a thick, fluffy hotcake served with an ample flask of golden honey.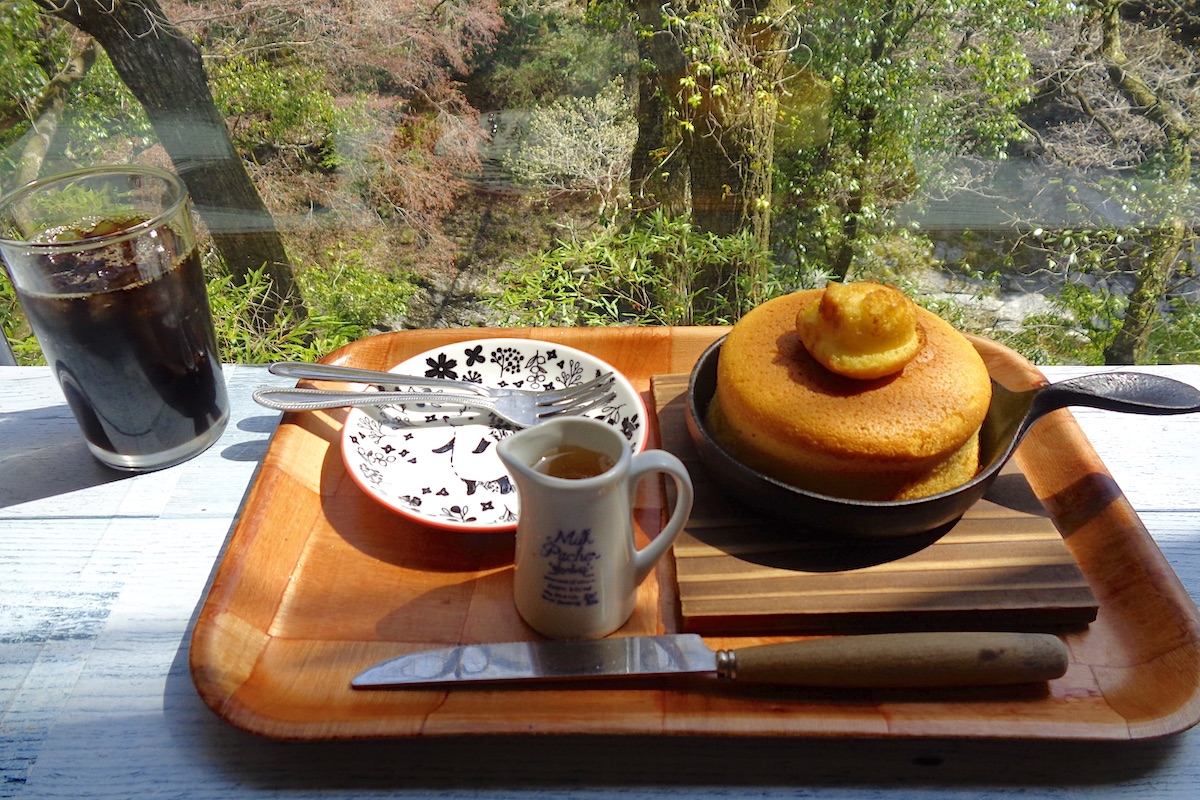 And aside from the natural goodness harvested from the surrounding forests, its also possible to encounter nature here yourself first-hand!
On the front balcony just take some of the seeds or nuts available, hold them out, and within a minute or so one of the wild mountain birds will swoop in to have a little treat for themself!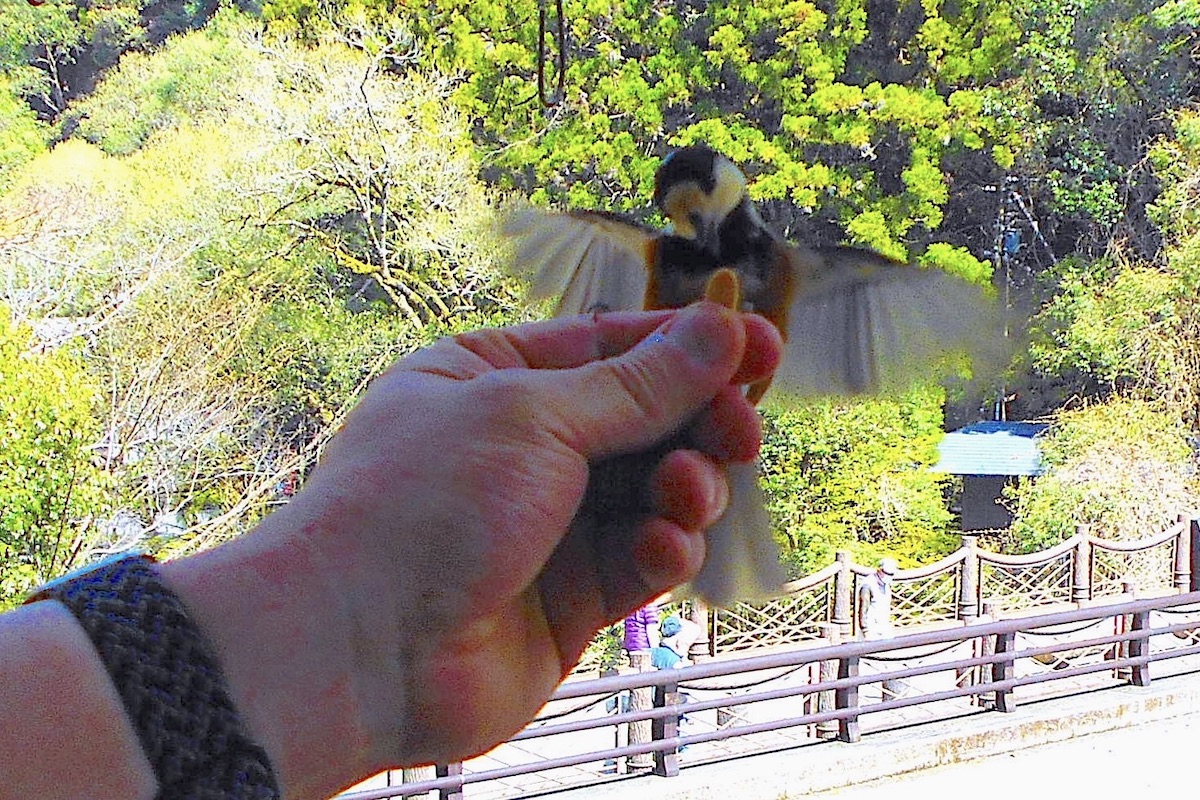 No doubt, there's lots to taste and encounter while enjoying yourself around the Iya-no-Kazurabashi Vine Bridge.
In Part 3 we will check out the large visitor's center for the Kazurabashi.
The Iya-no-Kazurabashi
Open everyday of the year (weather permitting )
April – June  8am-6pm
July – Aug  7:30am-6:30pm
Sept – March  8am-5pm
In the evenings from 7pm – 9:30pm the Kazurabashi Bridge is illuminated with special spotlights. At this time it is free to view, but not possible to cross.
For complete access details in English, check the Kazurabashi's listing on the IyaTime website:
https://www.iyatime.com/iya-no-kazurabashi
 (Text & Photos by: Shaun Lamzy)