Immerse Yourself – Enjoying The Hot Springs of Miyoshi's Iya Valley (Part 3)
Soaking in an Iya Valley hot spring is one of the nicest ways to enjoy the area, particularly in an outdoor "rotenburo" bath that offers great views amongst the natural splendor. In this series we visit three of Iya's hot springs that are open to day-time visitors as well as overnight guests.
Spend your day in baths overlooking a mountain village at the Hotel Hikyo-no-Yu
Situated in central Nishi-Iya, the Hotel Hikyo-no-Yu has convenient access to many of the Iya Valley's top sites and features the most elaborate indoor baths for the whole region. It's only about 10 minutes by car/bus from JR Oboke Station, 7 minutes to the famed Kazurabashi Vine Bridge, and is located just next to the Nishi-Iya Roadside Station ("Michi-no-Eki") and its tourist information center.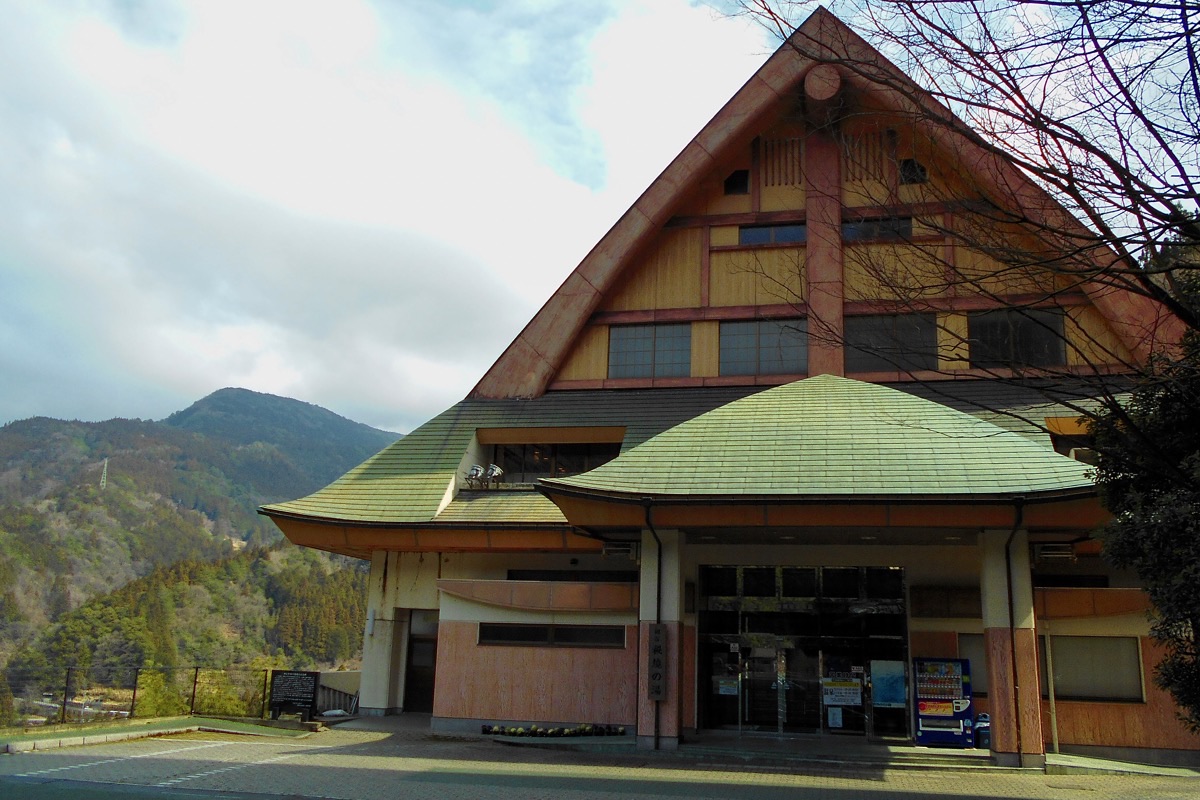 The spacious hotel grounds consist of a couple buildings with ample parking and lush mountain views in every direction. The large hot spring building ("Onsenkan") is directly accessible for those coming for just a day trip, with the reception lobby and vast men's and women' baths on the first floor, and their restaurant named "Otokiya" upstairs.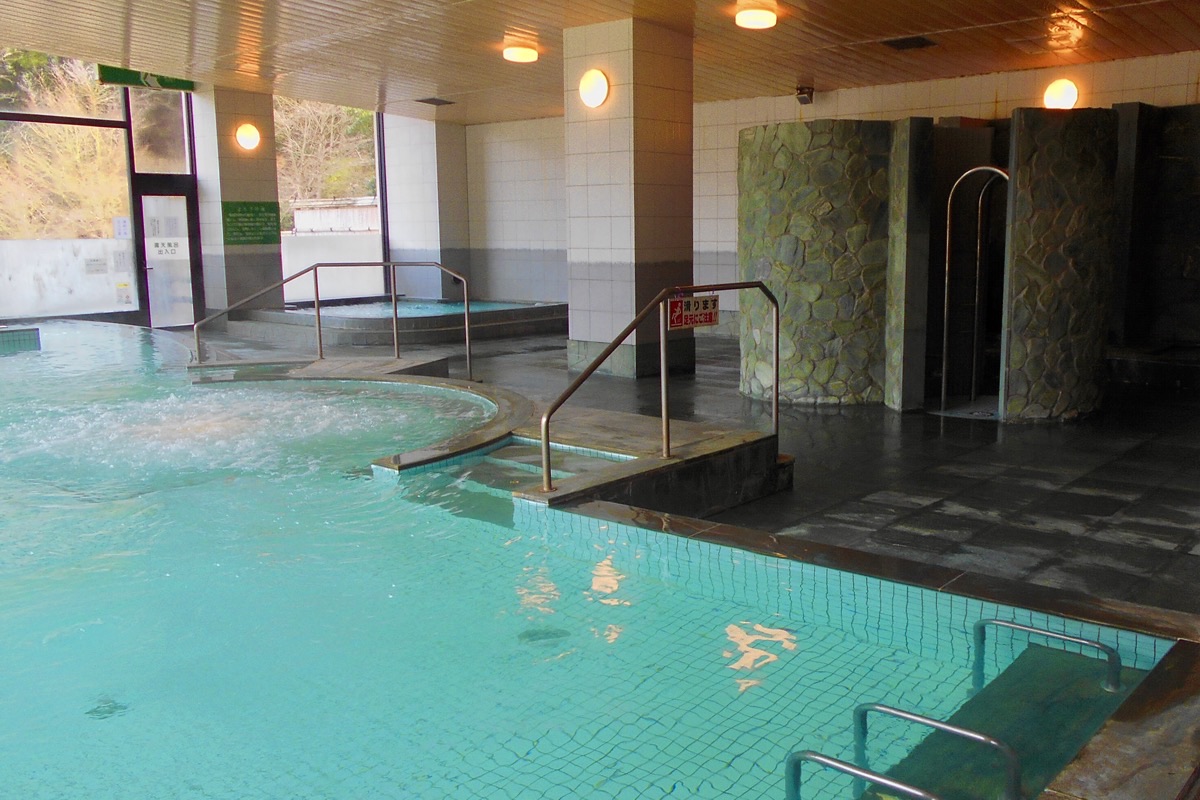 Upon entering their large bathing area you immediately realize that there is certainly a lot on offer, so do plan yourself enough time to experience it all. There are multi-directional jet showers, falling water tubs, big bubbling pools, and reclining jacuzzis.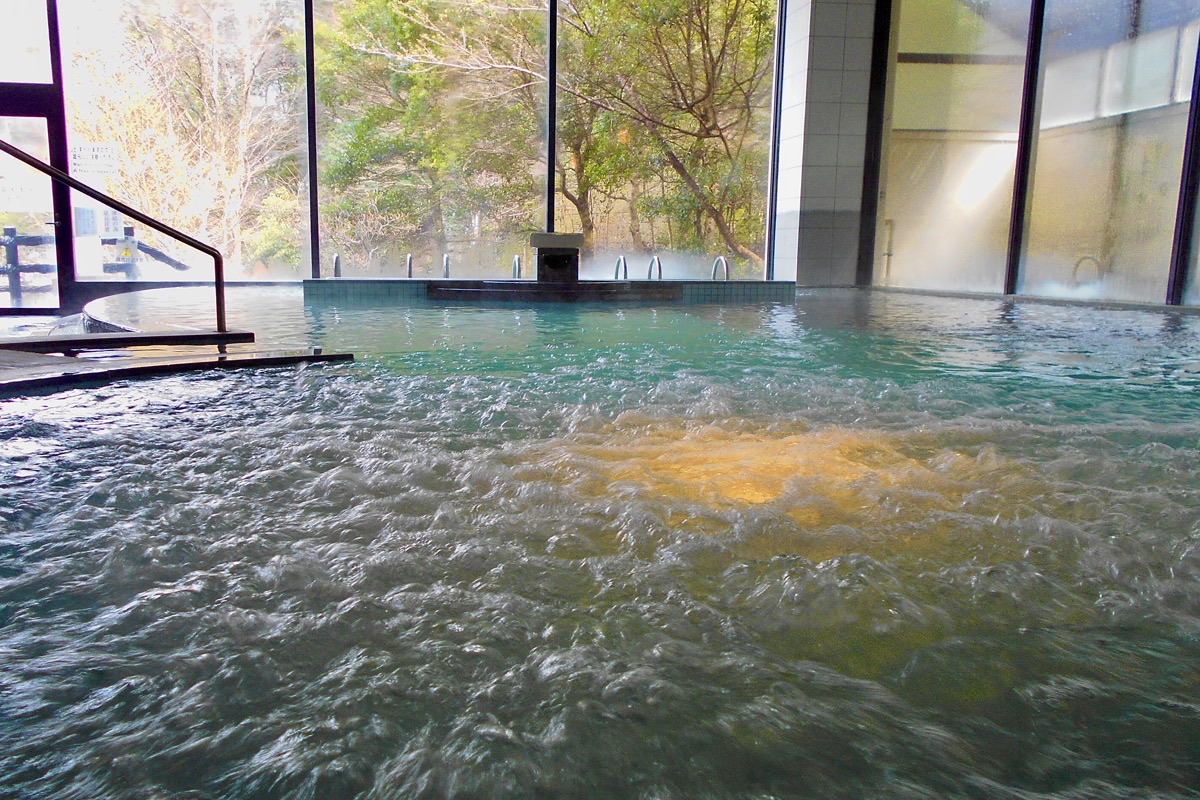 One pool also has herbal hot water that is enhanced with "yomogi" (mugwort) which is particularly effective for aiding blood circulation, improving skin, and relieving lower back pain.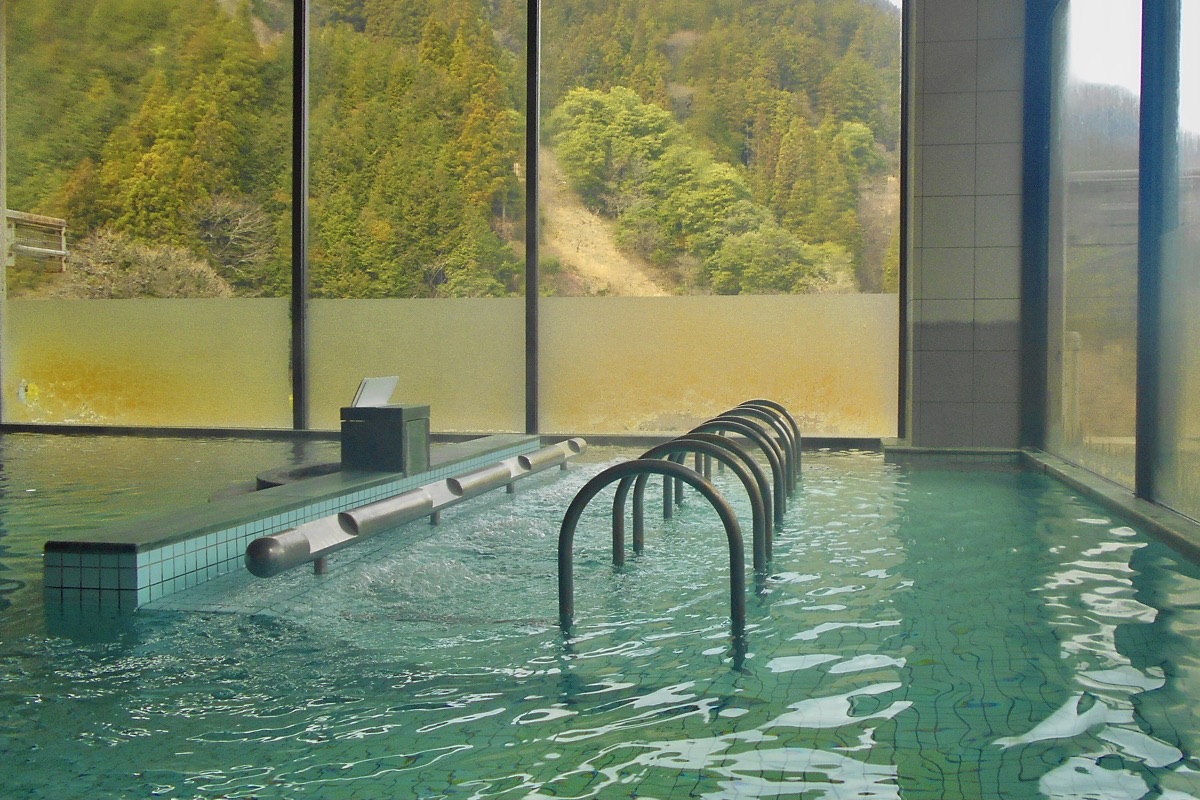 They also have a large dry sauna room with a hefty container of coarse salt in the middle, whereas you can scrub handfuls of this sodium goodness all over your body as you sweat to help exfoliate your skin.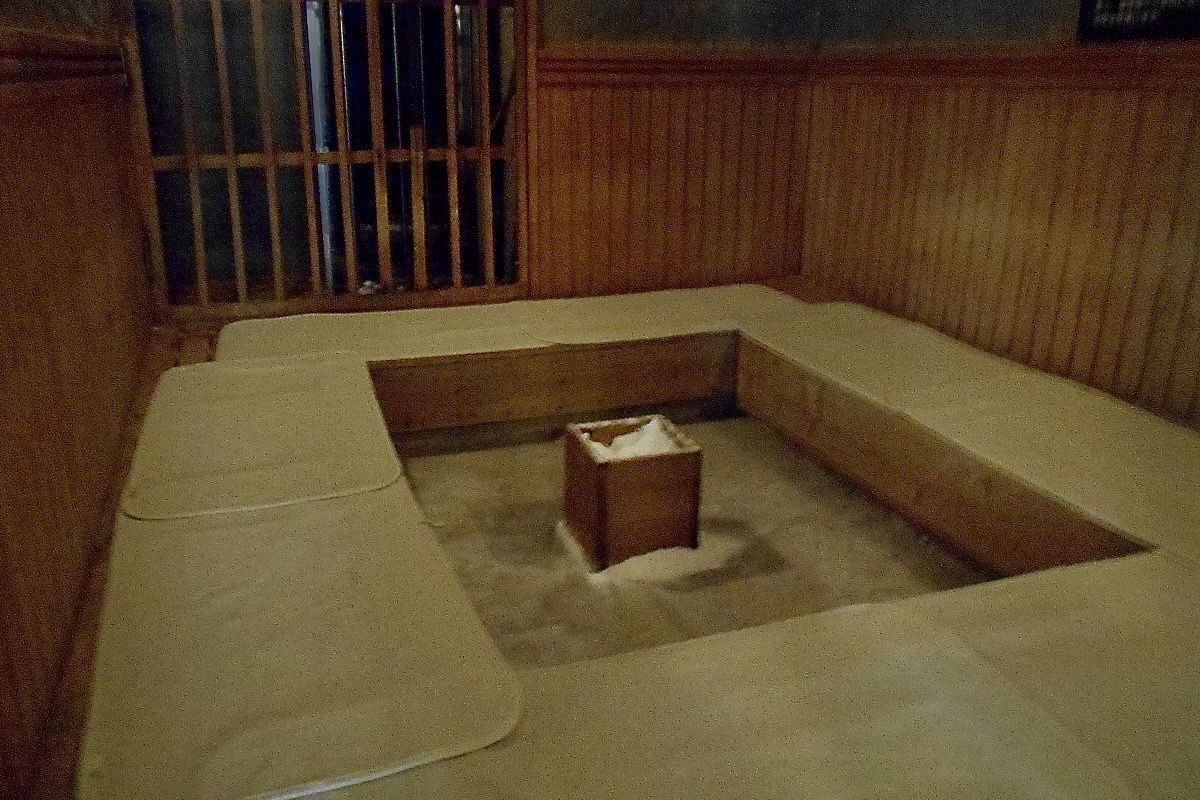 Indeed, with so much going on, it's understandable that the hot springs here are popular with locals who are looking to relieve their daily fatigue.
But your spa experience is not over yet! Stepping out back leads to their open air bath which is made with the blue stones of the Iya River. From this natural space there are tranquil views of the surrounding mountains and villages of Nishi-Iya. And with the vast sky spreading overhead, as mentioned, do be sure to allow yourself plenty of time for so much relaxation!
For day-trippers, the Hotel Hikyo-no-Yu is open weekdays from 12:00 noon to 8:00pm (last entry 7:00pm). On Friday, Saturday, Sundays and holidays they are open 11:00am to 6:00pm. But they are closed every Tuesday, as well as on the second Wednesday of every month. The fee for adults is 1000 yen, and kids are 500 yen.
They also offer bath and lunch set plans featuring an array of Iya dishes which start from 3000 yen per person (reservations necessary). Their restaurant also offers various other meals from their regular menu, however due to coronavirus limitations, the restaurant is not currently operating as usual (but hopefully will be back in full swing in 2022!).
As described, the hotel location allows you to enjoy the hot springs either before, during, or after your day of exploring the Iya Valley, including the neighboring Forest Adventure at the Fureai Park that is just a minute away, with its mountain-monorail, tree climbing courses, and zip-lines that let you fly over the Iya River!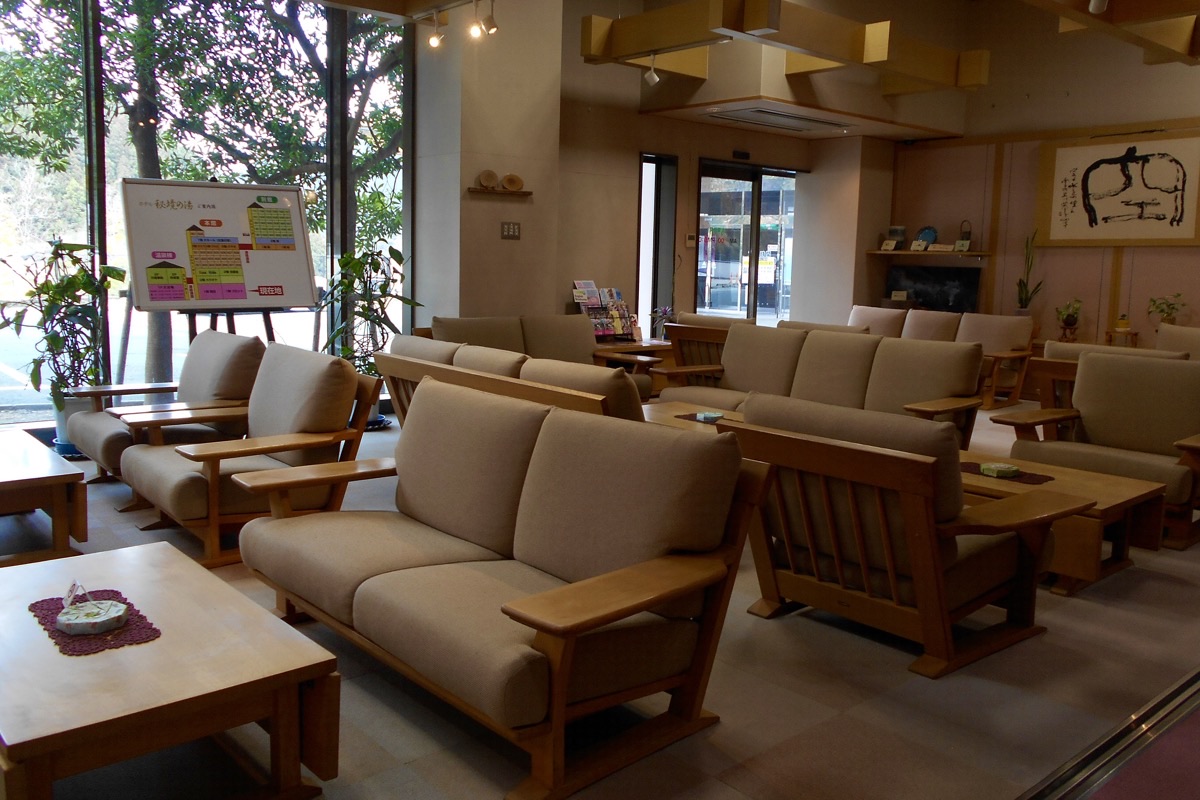 And for those looking to spend the night at the hotel, its central location and easy access are a great place to be based, and they have a large variety of rooms available that are suitable for any preference and even ideal for bigger groups.
So when visiting the Iya Valley with your family, be sure to take a hot spring break at the Hotel Hikyo-no-Yu while you enjoy all that the area has to offer!
For more info, check the Hotel Hikyo-no-Yu website
(Interview and article: Shaun Lamzy)
For more information about travel in Miyoshi, check IyaTime.com
Official Travel information:https://miyoshi-tourism.jp/en/