Insisting on organic. Making high quality tea that requires dedication of a great deal of time and care. | Kyokufuen.
Encapsulating the thought of "a blissful moment" with a cup of tea
Yamashiro, Tokushima Prefecture—tea is grown at here at Kyokufuen, on the steep slopes of the mountainous area of Oboke Gorge, without the use of agricultural chemicals. Surrounded by the unique natural environment, Kyokufuen is involved in tea cultivation, producing sencha green tea, of course, as well as distinctive teas such as Japanese black tea and iribancha (roasted bancha tea).
In around 1980, they built Kyokufuen's factory and had been engaged in tea cultivation for some time, but apparently it is only recently that they have started to manufacture, commercialize, and sell at their own factory.
The current representative is Mr. Hiroki Magari. He takes the lead, together with his family of three and staff workers, taking thoughtful and painstaking care with each passing day in their tea cultivation.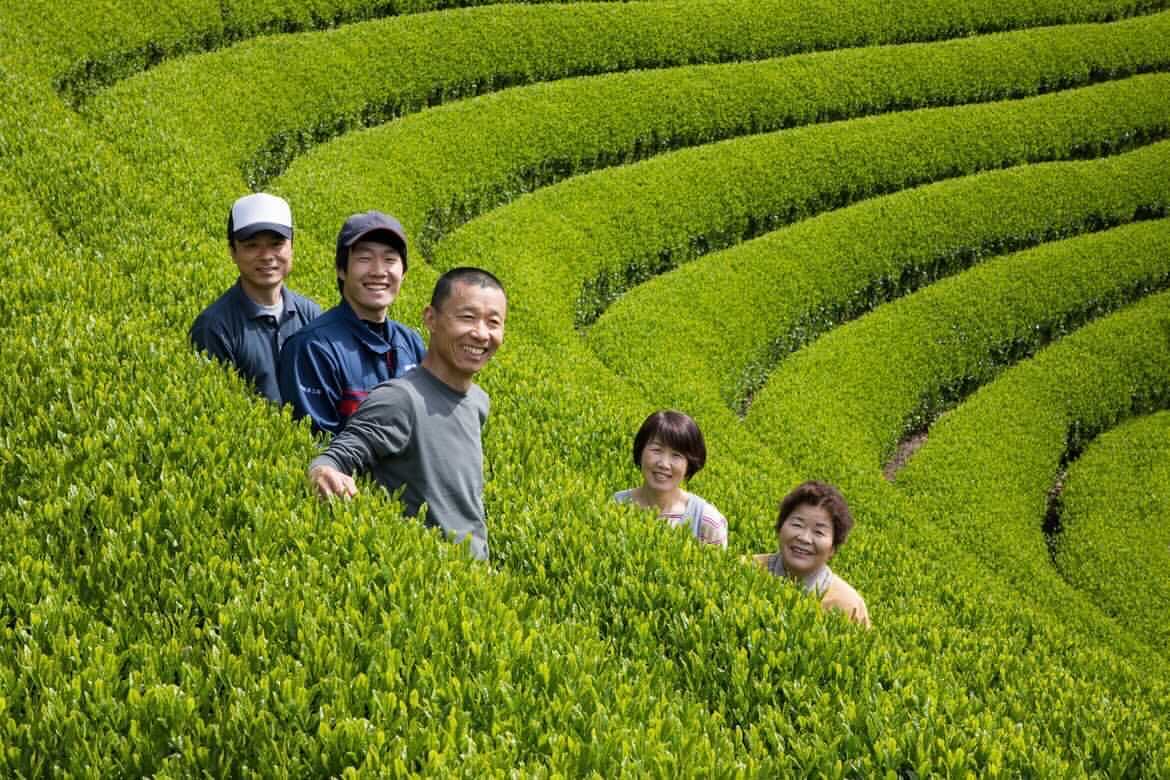 While the mainstream production method nationwide is to steam tea leaves for a long time, at Kyokufuen, their method involves shortening the steaming time in such a way that the leaves retain their aroma. This is the most important characteristic. They say that they are proud of their tea leaves that have a well-balanced aroma, flavor, and astringency.
And then what they place the most importance on of all, is, as you might expect, a desire. "We want to provide tea you can drink with peace of mind." With this wish, they continue to insist on organic cultivation.
Surrounded by mountains in all directions, Miyoshi City has a cool climate distinctive of mountainous areas that is suitable for tea production. A characteristic of the region is in that, compared to warmer places, there is lower incidence of pests and diseases, which means it is possible to make good-quality tea without the use of agricultural chemicals.
A critical part of producing high-quality tea is, of course, the land. At elevations of 200 to 500 meters, the sloping fields retain appropriate levels of moisture in the soil thanks to good drainage. In addition, the tea plantation is surrounded by a river flowing with good water where natural eels can be caught, and the suitable level of humidity leads to tea leaves retaining their flavor for longer.
Mr. Magari knows the nature of this land well and has been making full use of it, continuing to make their specialty tea for generations.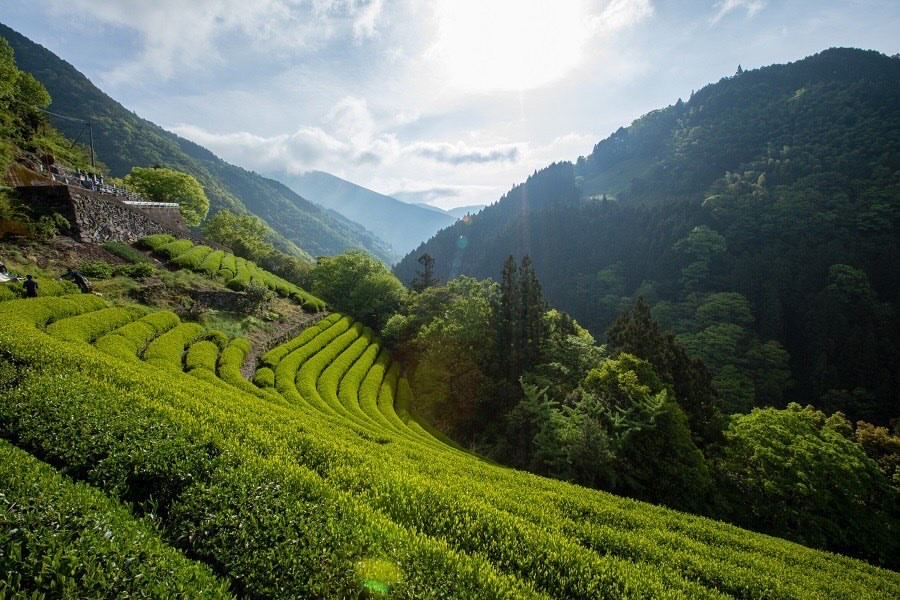 He explains, "Although the cultivation and production of tea in Tokushima is small when you look across Japan, the environment is right for making good tea. In such an environment, we are working to make unique tea, so I want, first of all, the people who were born and raised on this land, everyone who has moved and settled in Miyoshi, and the residents of Tokushima Prefecture, to drink this tea. And then, next, I want tourists and visitors from overseas to get a taste of Kyokufuen's tea."
He continues, "Miyoshi City is a place where you can work in a range of jobs, such as those utilizing the natural environment, tourism jobs, and more. Everyone here in Miyoshi is friendly, so I'd love for visitors to come some time."
"I moved to Miyoshi City in Tokushima Prefecture a few years ago. As writer who is highly health-conscious, I was captivated by the concept of 'tea.' I had thought that this high quality, delicious tea from Miyoshi City would be known nationwide, but heard that actually that was not the case. In the course of the interview, I've come to think that this land provides a good environment for tea cultivation—that the tea made here is truly precious."
On top of Kyokufuen's products being highly appealing, many of the outer packagings have an eye-catching cuteness or sophisticated design.
We asked Mr. Magari about his personal recommendations out of all the many tea varieties available.
First choice: Tokusen Sencha (Special Selection Sencha) 
Kyokufuen's best of the best. A tea with a good balance of flavor and astringency.
[Suggested way to drink]
Brew slightly cooled, not boiling hot, water.
Enjoy the harmony of the flavor and astringency.
Second choice: Oboke Wakocha (Oboke Japanese Black Tea)
This black tea is made from tea leaves picked from the fields of Kyokufuen. An easy-to-drink black tea with light astringency and bitterness, and a clean taste.
[Suggested way to drink]
Boldly! Drink it straight (no milk or sugar).
You can also enjoy a cup with a slice of lemon floating atop.
Third choice: Iriboke Bancha (Roasted "Boke" Bancha) 
Bancha tea is made by steaming leaves plucked in autumn and drying them in the sun, and then roasting them in a roasting machine to bring out the fragrance.
The roasted aroma of this tea makes it a great pair with meals. Low in caffeine, it can be enjoyed by people of all ages, including young children.
[Suggested way to drink]
Brew for a short time in boiling water.
Mr. Magari speaks with passion. "With all the stresses of society, there are many ways you can find to relax, but I want to provide a blissful moment for all with unique tea from Japan. I hope to continue to be making tea on this land for a long time to come. I will do my best to keep the tradition alive and to communicate messages about Miyoshi City and developments!"
It is heartwarming to think about how much feeling has been poured into each cup of tea.
We look forward to having a wonderful day with a cup of tea like that today too!
Why not enjoy a blissful moment with a cup of Kyokufuen tea?
*Kyokufuen products are available from the Kyokufuen online shop and also can be purchased at locations in Miyoshi City, Tokushima Prefecture.
[Kyokufuen products points of sale]
・Miyoshi City Tourism Information Locations (Michi no Eki rest area, Kazurabashi Yumebutai [Dream Stage] sightseeing facility, etc.)
・Hashikuratocoton
・Ueno Kawa no Eki rest area farmers market
Online Shop: https://kyokufuen.shop-pro.jp
Kyokufuen
Facebook: https://www.facebook.com/お茶の曲風園-399320960590392
Instagram: https://www.instagram.com/kyokufuen/