Mama-san's History|Establishment 1: Kayoko Zushi, Snack Eden in Miyoshi City, Tokushima Prefecture, vol. 1
As the town grows darker, the snack bar signs start lighting up. If snack bars are counted by their ratio to the population, then the town of Ikeda is one of Japan's most prominent snack bar towns. The landscape of lined-up snack bars reminds me of the prosperity of the town, which used to be filled with drunken patrons and was originally home to a JT (Japan Tobacco Inc. ) factory.
Each of the plentiful snack bars in Ikeda are unique, and each have their own charming
mama-san
, or proprietress. For the next articles, I would like to write down the histories of the
mama-san
, focusing on stories heard with a highball in one hand.
The first establishment I visited was Eden. Standing outside the snack bar, what I heard on the other side of the door was not the voices of karaoke singers, but the sounds of a shamisen.
Kayoko Zushi, the mama-san of Eden, is a shamisen teacher. She also travels to various facilities and events to play the shamisen as a performer. If a customer makes a request in the snack bar, she will entertain them with a brilliant performance and her beautiful voice.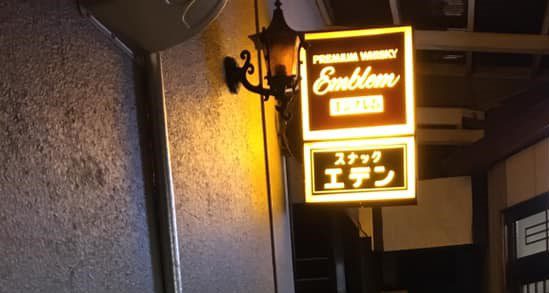 "My mother was learning to play the shamisen a long time ago, and I listened to the sounds of her playing up-close as a child. I guess that experience has stayed with me all this time. I didn't start practicing seriously until I was over 40 years old. Now, I have more pupils, and we can play together during performances, which I really enjoy," says Kayoko Zushi.
She can cover a wide range of genres and performs songs from a vast repertoire, including the Awa Odori song "Awa Yoshikono" and popular hits such as "Bokyo Jonkara," "Nada Sou," and even "Dschinghis Khan." When she's invited to perform at gatherings for senior citizens, her audience is always overjoyed.
From time to time, she holds special shamisen classes in the snack bar, during which she patiently teaches beginners who have never held a shamisen in their lives. In the past, when customers came from far away, such as Tokyo, the Kansai region, or even overseas, she would allow them to try the shamisen. Many returned home saying that the experience was a fantastic memory. Similarly, it's fantastic that a snack bar can be a place for people from outside of Miyoshi to interact with those here and create new memories.
Snack bars are, of course, places to enjoy drinks.
Besides the drinks, though, everyone has their own way of enjoying a snack bar—whether it's conversing with the mama-san or singing karaoke. That's why, even with so many snack bars, people are drawn to each one for a different reason. Eden's appeal lies in the addition of the essence of the shamisen.
Incidentally, the word "Eden" means paradise. It's an old story, but the movie East of Eden starring James Dean may come to mind for some of you. This may pique your interest in the origins of the snack bar's name, but that's I have all for now. To be continued next time.
Eden
1758-2 Ikeda-cho, Miyoshi City, Tokushima
Kayoko Zushi
Facebook: https://www.facebook.com/profile.php?id=100004145328141
(Interview and article: Tatsuya Ogake)